TK: When it comes to setting out an effective marketing strategy, one of the things that you've been exceedingly helpful with me is understanding how to think about these things in almost the scientific method, whereby you're going through the process of experimentation, looking towards a specific result.
Why do you think approaching things from that sort of scientific method, like framework approach, is much more effective than when you just do what you said earlier, "Hey, we're just going to set up a Twitter page and start tweeting. We're going to go on Instagram and find some hashtags." Yeah. Why is it so much more effective to go at it that way than it is to sort of shoot blindly?
Stapho:So look, I'm not going to say this is the method for everyone. Some people it's almost as if they're talking to God and God's telling them what to do. Like it's crazy. Like some people, they have such an intense relationship to the markets, where they don't need to experiment. They can just feel it.
But I believe that especially if you're a startup that has funding, or a loan behind it or something along those lines, that you have responsibility to the people that have invested in you to take the most science-based approach. Just because if you do it science based, you can explain and justify every single step that you've taken.
Let's say you do a little experiment, right? You're doing rapid experimentation and you experiment on Facebook ads, right? And in those two weeks you've said, "Look, this is the result that we want to achieve. This is how we know it's successful. This how we know it's not successful." You've had like 20 different ideas, and you score them with a buy score so you know which one was the best one to test. And then you put let's say 1000 bucks in it and it works. Then you can go to your investors, go to your team and you can say, "Look, the data clearly indicates that this is something that we should test further or just take another step in.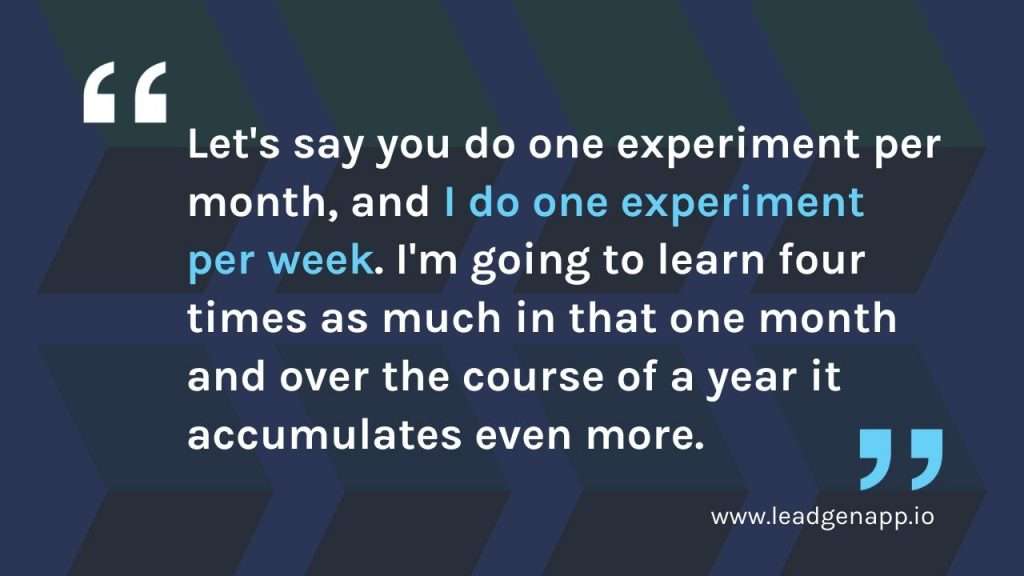 Stapho Thienpont quote on rapid experimentation in digital marketing
I think that's a really big part. It's just you can justify everything that you do, and you take out all of your biases. And there's a framework there, not only how to test if it's correct or not, but there's also a framework to figure out what should you actually test first. And I think that's huge. That's all incredibly, incredibly important.
The next thing is, ultimately the way our market is now it's all about our intellectual property, let's say, and the technology that we make and our expertise and this kind of stuff. If you learn more things than your competitor, that means you actually have a larger capacity to bring value to the market.
But if you can learn, let's say you do one experiment per month, and I do one experiment per week, and then somebody else who's good at math can explain this, I'm going to learn like four times as much in that one month and over the course of a year that accumulates. I'm not going to embarrass myself by doing the math at hand right now. But really like if you can calculate how much more you're learning, not only you learning more stuff, you also use the things that you've already learned to educate your new experiments, right?
So if you've done 20 experiments, you have 20 facts about things that work and don't work. That you never have to try again. Or maybe you could, but you just have the facts. This has worked for us, this has not worked for us, and so probably we should go a little bit in this direction. While somebody else, they have no idea.
If they're not running experiments at all, they might even think that something's working when it's not. And they're wasting all this money doing things that don't even work. And they don't even know. And they put their finger in the air and they guess like, "Okay, this is a good thing. Let's do more of this." While the data indicates something else. I hope that kind of answers your questions.
TK: Beyond answered, yeah. Very good, yeah.
Delegation and Focus
Chris:So Stapho, you work with lots of entrepreneurs, right? Like startups particularly, startup founders. What would you say is the thing that you see over and over again, where startups do something where you say, "I see this mistake over and over again, this is something that you guys should fix in your business"?
Stapho:I don't really think you're going to like this answer so much. But one thing I see a lot is that they suck at delegating. So, so they wake up five o'clock, they do a one hour Carefree meditation, fucking ready to hustle. Can I swear here? Because I've been swearing a lot.
TK:Yeah, we can edit it out :)
Stapho:So I love Carefree, don't get me wrong, but you know, you get up, you pump yourself up for the day, and you're like, "I am going to hustle. I'm going to do so much stuff today." And then they do a lot of stuff. They sure do. But there are also stuff they're not doing. They're not sleeping. They're not taking care of their health. They're doing stuff that they really shouldn't even be doing, stuff that could be delegated for cheap. Stuff that actually nobody should be doing in the first place. And they start and they have a hard time focusing on things that actually matter. Right?
So they have a hard time on doing the design work. They have a hard time making sure that the strategic stuff is in place. They have a hard time doing the work that they have a gift for. And I think that's a very common mistake. I guess it's not a business or marketing mistake, but it is just something I see and
I have suffered from it too.
New Social Tools and Super Apps
TK:Yes, that one definitely hit close to home. Awesome. So now we're coming into an age where it almost seems as if the platforms that exist now are the dominant ones. Well, I think almost 5, 10 years ago as we were moving from TV to online, we were at a point whereby there was something new emerging every couple of years. Snapchat came out, and then marketers had to learn how to use Snapchat, Twitter, so on and so forth. Is there any emerging platforms that you see now that are essentially like a wide open space for whoever learns how to market on them will essentially win?
Stapho:Well one that's been growing pretty rapidly is Telegram. Although I guess by now it's like a household name. But people that have never used Telegram they might not be aware yet. You have group chats with like 5,000 people in them. Something like this.
TK:Yeah.
Stapho:If you don't understand that there's 5,000 people, and I might be saying the wrong number so somebody can talk shit to me afterwards. But if you don't understand that there's 5,000 people in there that could get a notification if you say something, and they know who's who in the community, and they know who to listen to. If you don't understand how much potential there is there to build relationships and sell stuff, you're crazy.
Also in China they have this thing called WeChat, right? They have super apps. It's basically you have one app on your phone and it does everything. So we don't have that. We don't really have that in the west yet. I guess Facebook is getting closer. I guess you could even say Google is kind of doing it, but not really though.

And I talked to the people that are doing this in India. So they're also getting a super app. I think we're getting a super app. Why wouldn't we get a super app if everybody else got a super app, right. I think that's going to be a huge opportunity to marketers.
Then the voice stuff is pretty big as well. Like if I ask my Google to buy me something, my Alexa who is actually in charge of what it's going to buy for me? I can be like, "Yo, give me some toilet paper," and it'll get me a specific toilet paper. And it's going to be in my house in a week, or in a day, even, if it's in my Prime. Who's deciding what I'm getting? Right? There's a huge opportunity to market there.
I haven't really been paying attention too much to super-new platforms. I'm sure there's some stuff going on there that I'm not aware of. I pay mostly attention to functions within established platforms that I can work with. For example, I'm very excited about getting LinkedIn Live. So I'm still working in the same feed as everybody else. But I know the algorithm favors things of Live over regular posts now. I'm also excited about LinkedIn groups, although I haven't really done so much with it yet.
So I get excited about platforms that already have a billion users implementing a new feature that I can make use of to grow my business and my client's business.
TK:Yeah. Awesome. Amazing.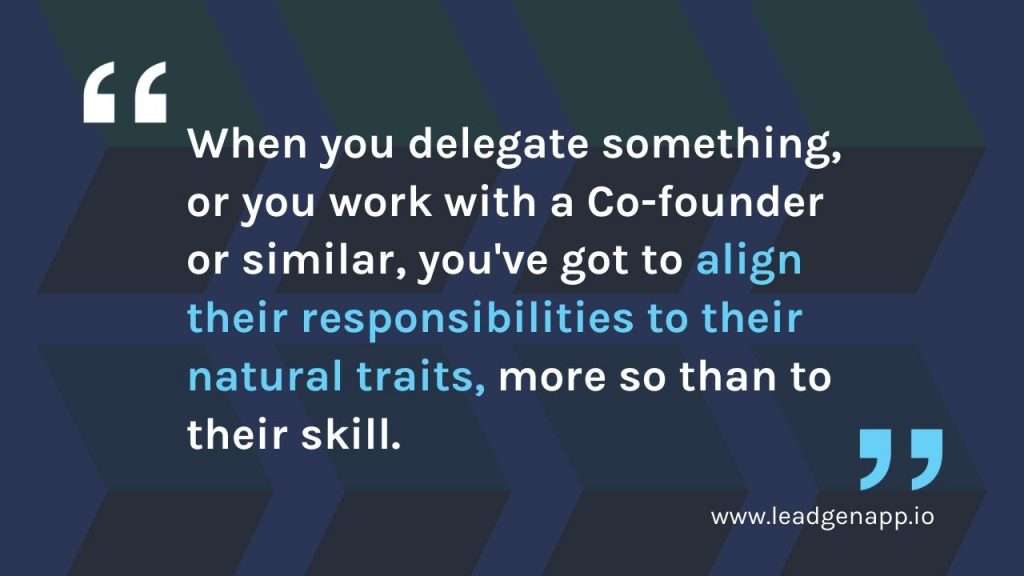 Stapho Thienpont quote on delegation in startups
People and Talents
Chris:All pretty interesting to me too as a marketer, all these different new opportunities. That's pretty exciting, what you said. So speaking about your own journey as an entrepreneur, what would you say was a struggle, or something that hit you by surprise? You know, something that just kind of got you out of your routines and everything and was like a surprise on your journey that you didn't plan for.
Stapho:I think one surprise has been that when you delegate something, or you work with a co-founder or similar, is that you've got to align their responsibilities to their natural traits, more so than to their skills a lot of time. I'm not talking about like super-technical jobs, like an engineer. If you're coding in Python, your engineer's got to know how to code in Python obviously.
But the more soft stuff, it's more than just having the skill to do something, it is having like a natural affinity to do it, and also enjoying doing it. So we had people in our company where they were good at what they were doing but it didn't give them the little glimmer in their eyes. So you can see every week they looked a little bit more sad. And you're like, "Why are you getting so sad?" And they can't really put their finger on it.
But it turns out that you put somebody in a role where they have to communicate all the time, but they're actually more introverted so they don't like talking to people all the time. Or they'll have to work with a lot of numbers because they have some accounting degree, but ultimately they're more interested in strategic side and not so much in doing the calculations.
And I had definitely underestimated how much this would impact the whole company. Because if one guy is getting frustrated and depressed because he's doing stuff that he's good at but he doesn't want to do, or it doesn't give him energy, that also leads to frustration with everybody else. Results go down. People start getting angry with each other. That's been a big one for me.
TK:Yeah. Never thought about that. So what would you say is the cure for that? Because then there's also this school of thinking about where it comes from the fact that, "Hey, we're an early stage company. Unfortunately you're probably going to have to do some things that you don't enjoy." So where do you draw the line between having people do things that they're passionate about and things that give them energy, and doing things that to get done?
Stapho:I think a lot of it is about getting together with them. And understanding their big picture vision, right? The classic question is where do you want to be in five years or whatever, right? And come to an agreement with them about what could be a future for them that they could be excited about?
So it could be like, "Look, I need you to do accounting for another year, but then we will be able to outsource this. So what do you want to do after this year?" "Well, I want to figure out how to use YouTube. I want to learn how to do all the hacks. All the hacks, I want to do all of them." And like, "Okay, so maybe not after one year, but in two years I think we could turn your position into something where you're figuring out new hacks full time. Right? So let's make a plan, within one year I will get this responsibility away from you. You will only do this. Plus you will take on this other job. That's a little bit shitty, but it's a little bit more fun. A year after that you're going to be working on this exact thing that you want to work on." Right?
So it's not just like, "Hey, you don't like doing this as cut it out." You can't usually do that, but you can make a plan, like, "Okay, let's get you 20% of the work time that you do, let's make it something that you enjoy doing. And then let's work towards 50%, work towards 70%." So that their personal vision of their life is aligned with the company vision and vice versa.
TK:Yeah.
Driven by Data: How To Set Marketing Goals
Chris:I think that's, that's a very, very important. So what I like about what you said is that you use quite scientific frameworks for how you work, and strategies, and so on. How would you go about goal setting? Can you share with us the process of how you would set goals for your business, also for a client's business?
Stapho: Yeah, so I want to be like a fake guru. Not everything you do is the most as scientific as it could be. For me it's more of a goal of working towards doing a little bit more of the data driven approach every month. It's like I see the ideal of doing things structured from start to finish. I see the ideal of running experimentation and split testing exactly like you're supposed to do it, and making sure that, do you have enough numbers so that the data is real and that kind of stuff. And every day you work a little bit more towards this goal. But I wouldn't want to sit here and lie to you and say that everything we do has a super strong method behind it. Though we are super-strategic and we do look at the data. I don't want to scare people away either.
So you set an objective and you're like, "Okay, so this is our big goal. It's a little bit fuzzy." You know let's say an objective could be, "Generate more leads for our clients." Or, "Double our business." Something like this. And then you add measurable components to that.
So like, "Okay, how do we know if we're adding more value to our clients?" Well if you double the amount of discovery calls they have, if they get featured in this many podcasts, and this blah, blah. So you have something a little bit fuzzy, and then you have like three, or five, or whatever, key results that are yes or no. So that you can say objectively, "I've managed to achieve 70% of my goal."
And so I think the OKRs are good. But I'd like to add that you've got to keep in mind the result that you're trying to create, okay? So a lot of people get caught in the doing, right? You have your to-do list, and there's a bunch of stuff on there and because it's higher on the to-do list, you should probably do it first. That's not true.
You've got to you can only do so many things today. And ultimately what are you trying to have as a result that day? Today my results were that I want one of the discovery calls I'm doing today to go to proposal stage, which happened. And I want to add as much value to both my coaching clients and the podcast that I'm on, you guys, I want to add as much value as possible. And then the third thing is I want to set a new 18 month plan for my business that I can follow.
These are the results I want. Everything else like, "Hey Stapho, can you check this? Hey Stapho, can you check that? What's up with that? Blah, blah, blah, blah, blah." That's all noise. That's busywork. Okay? Somebody should do it, and I'll do it after I've done my important stuff. But the first order of business is, what are results I'm trying to achieve today? What are the results I'm trying to achieve in three months?
TK:Yeah, amazing. That's great. Awesome. Well Stapho we can't thank you enough for joining us and sharing what I believe is an insane amount of value to everyone who's been listening. I just want to ask, anyone who's listening wants to reach out to you and have you turn their business around in the way that you have mine, where would they go to?
Stapho:Yeah, so since I've been so busy coaching people and doing client work. We actually don't have our website set up yet. So what they can do is they can reach out directly to me on LinkedIn. So it's just like Stapho Thienpont. There's only one Stapho, so it's not hard to find. Or they can join my Facebook group and ask a question there.
My Facebook group is The Marketing Family, and that's honestly the best way to get in touch with me. And soon enough I'll have the website to enable them to call.
TK: Amazing, awesome.
Chris: Thanks a lot from me as well. It was really interesting to speak to you, and to go deep into things like marketing. So yeah, I really enjoyed the conversation.
Stapho:Yeah, it was nice to meet you too. You're always smiling. I enjoyed it a lot.
TK:Awesome. Cheers guys.