10 Best SEO Consultants in the World
Welcome to our comprehensive guide on the "10 Best SEO Consultants in the World." In the vast and ever-evolving landscape of search engine optimization (SEO), finding the right consultant can be a game-changer for businesses seeking to maximize their online visibility and drive organic traffic.
In this carefully curated list, we showcase the top SEO consultants with exceptional expertise, proven strategies, and a track record of delivering outstanding results. 
Whether you are a small business owner, a marketing professional, or an entrepreneur aiming to dominate the digital realm, this guide will be a valuable resource to help you identify the industry's leading SEO consultants.
Each consultant on our list has been meticulously selected based on their industry reputation, client testimonials, thought leadership, and the tangible impact they have made on their clients' organic search rankings. 
From technical SEO wizards to content optimization maestros, these consultants possess the knowledge, skills, and experience to elevate your website's visibility.
As you dive into the profiles of these exceptional SEO consultants, you will discover their unique approaches, specialized services, and the strategies they employ to drive organic traffic and enhance search engine rankings. 
Whether you are looking for on-page optimization, link building, keyword research, or comprehensive SEO audits, these consultants offer various services to cater to diverse business needs.
So, without further ado, let's explore the "10 Best SEO Consultants in the World" and unlock the potential to boost your online presence, outrank competitors, and achieve sustainable growth in the digital landscape.
List of Top 10 SEO Consultants in the World
1. Brian Dean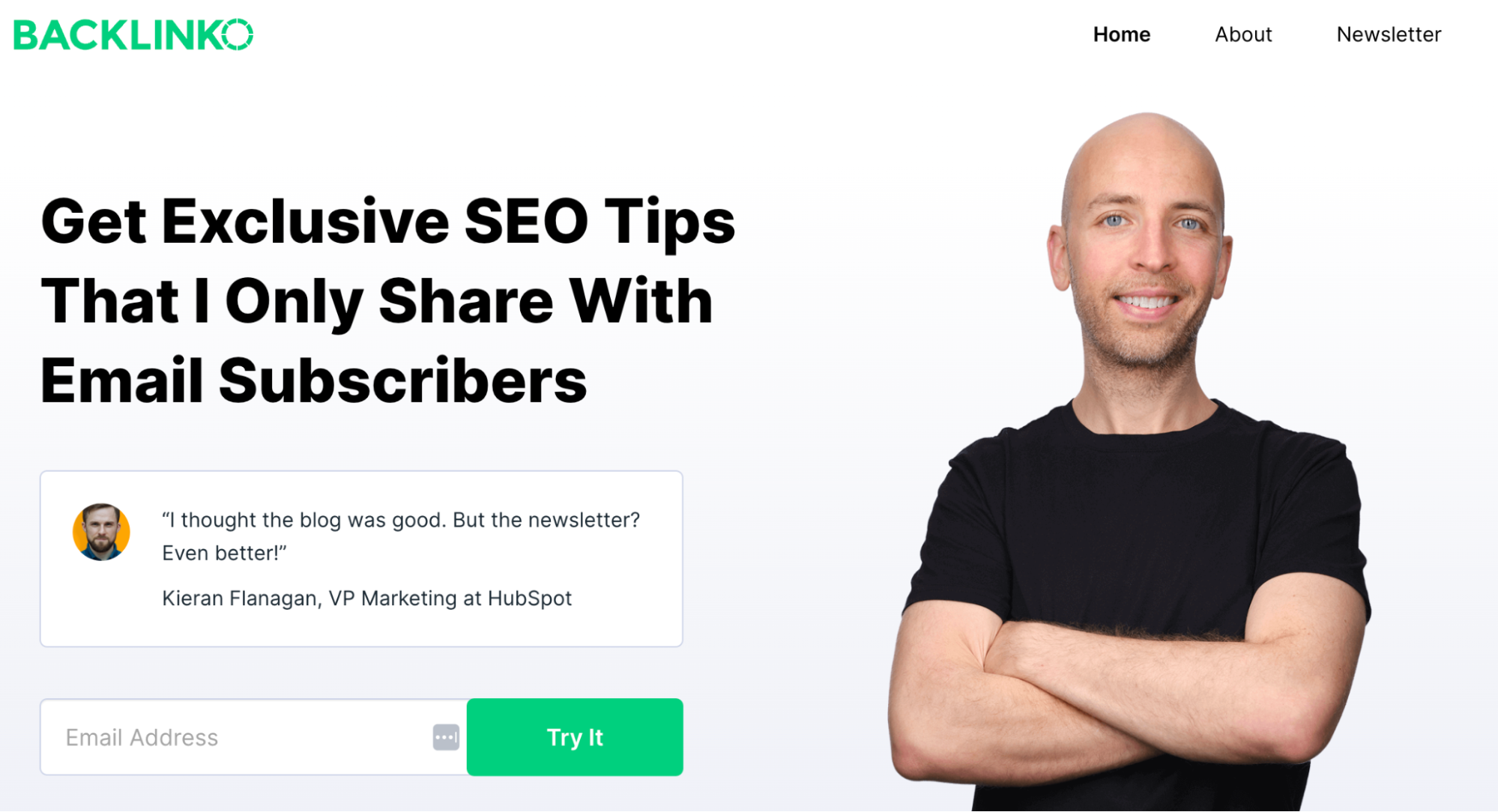 Brian Dean is a renowned entrepreneur and expert in the field of SEO. He founded Backlinko, a company focused on generating website traffic through effective link building, SEO strategies, content marketing, and conversions. 
Dean emphasizes the importance of mastering link building, user experience, and content promotion for optimizing websites in today's online marketing landscape.
Apart from his work at Backlinko, Dean provides subscribers a valuable free newsletter that offers proven SEO and traffic tips. He also maintains a strong presence on Twitter, where he has amassed a following of over 58,000 users
2. Rand Fishkin
Rand Fishkin, a seasoned SEO expert, is renowned as one of the most experienced individuals in the field. 
As the founder and former CEO of Moz, a prominent SEO software company, Fishkin has impacted the industry. Currently, he is the co-founder and CEO of SparkToro, a software platform focused on audience research.
Fishkin's expertise extends beyond SEO. He has authored a highly regarded startup book titled "Lost and Founder: A Painfully Honest Field Guide to the Startup World."
In this book, he shares invaluable advice tailored for young entrepreneurs, making it an essential read for those venturing into the startup realm.
Fishkin's contributions to the SEO community are noteworthy. In 2004, he launched the SEOmoz blog, which has since been rebranded as Moz, and it quickly became the most popular SEO community globally. 
His achievements have earned him recognition, including being named among the "30 Best Young Tech Entrepreneurs Under 30" by BusinessWeek in 2009. Fishkin's accomplishments have been highlighted in reputable publications such as the Seattle Times, Newsweek, and the New York Times.
3. Matt Cutts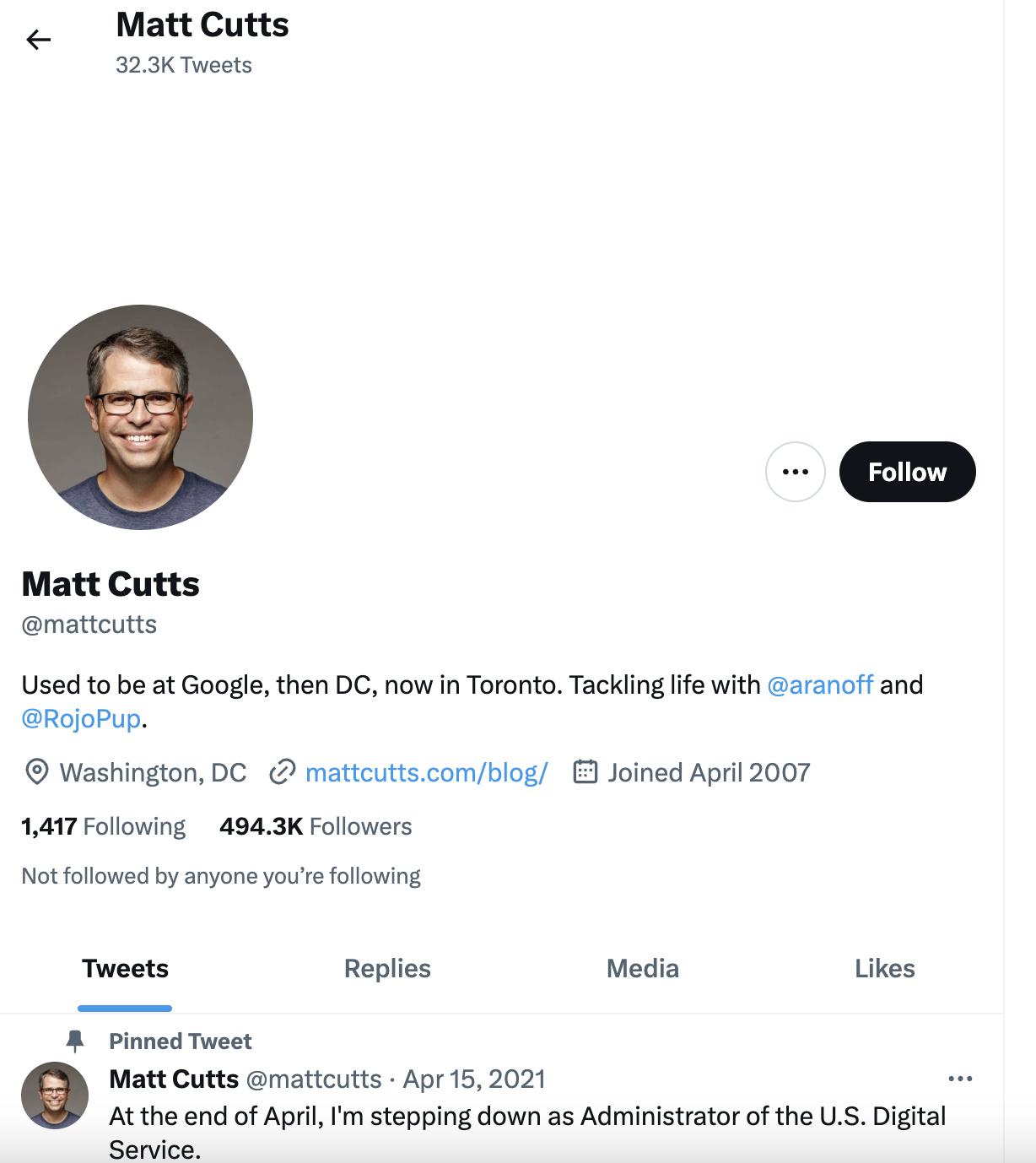 Matt Cutts, currently serving as an administrator at the United States Digital Service, has a notable background as the former head of Google's Webspam Team. As an American software engineer, Cutts has gained recognition for his valuable SEO tips and tricks. 
Following Matt Cutts is essential for those seeking to stay informed about the latest SEO news and information.
Acknowledged as one of the most influential web celebrities, Cutts has established himself as a reliable source for all things related to SEO. 
Through hundreds of informative videos, he generously shares his years of experience, assisting business owners in enhancing their search rankings.
With a substantial following of over 546,000 on Twitter, Cutts is widely regarded as a go-to authority for comprehensive insights on achieving top Google rankings. 
Whether you are aiming to improve your website's visibility or gain a deeper understanding of SEO strategies, Matt Cutts' expertise is invaluable.
4. Neil Patel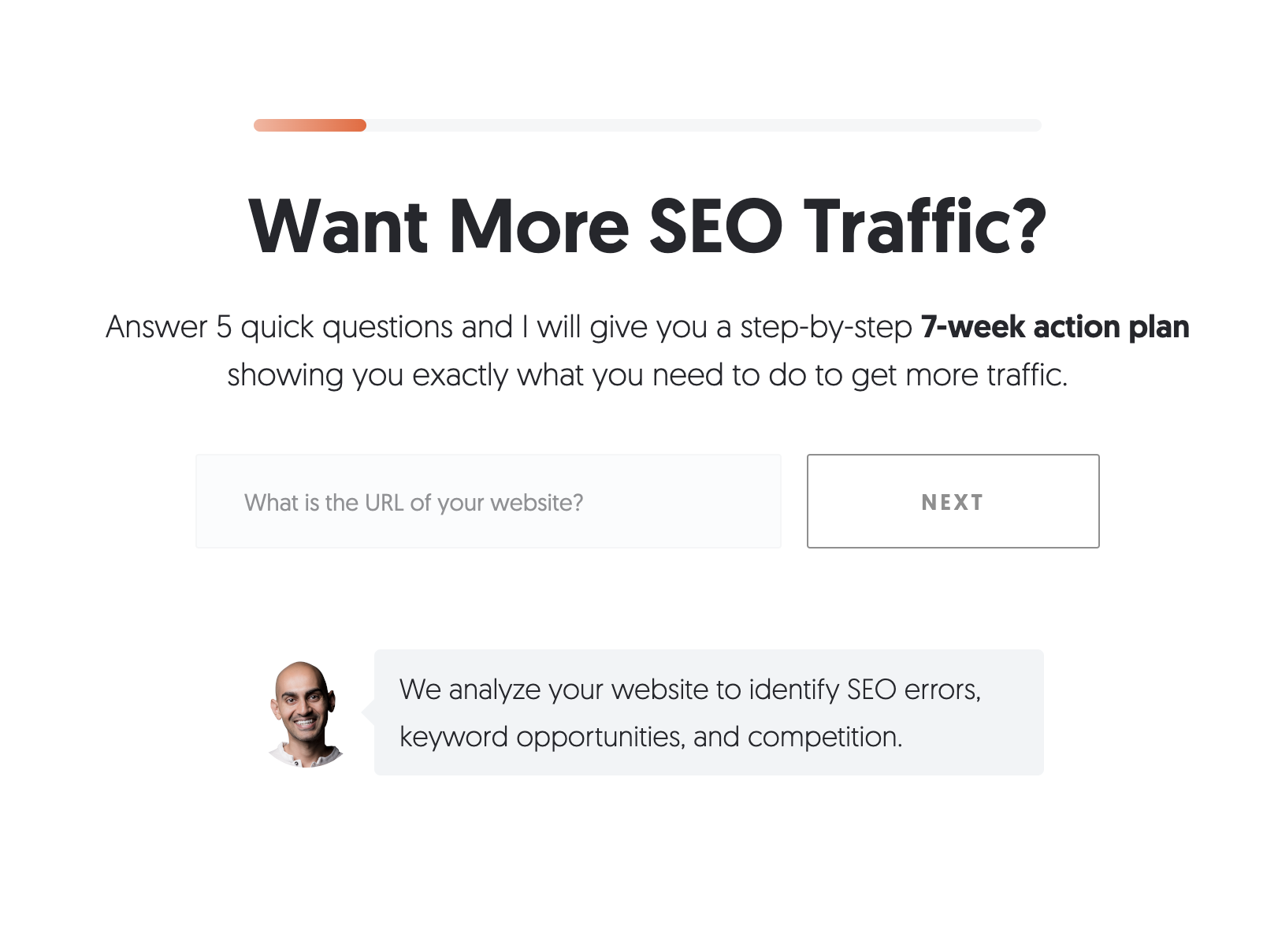 Neil Patel, an accomplished entrepreneur, investor, and influencer, has co-founded several highly successful businesses, including Crazy Egg, KISSmetrics, Hello Bar, and Quick Sprout.
His expertise and contributions have gained widespread recognition.Patel has received recognition as a major online influencer by The Wall Street Journal, Forbes named him one of the top 10 internet marketers, and Entrepreneur Magazine named one of his firms among the 100 most innovative in the world. 
Notably, he was named one of the top 100 entrepreneurs under the age of 30 by President Obama, and the UN honored him as one of the top 100 entrepreneurs under the age of 35.
Patel's influence extends to his role as a columnist for prestigious publications such as Forbes, Inc., Entrepreneur, and Huffington Post. 
He is also an active blogger, sharing valuable insights on his blog, Quick Sprout. With over 275,000 followers on Twitter, Patel maintains an engaged audience interested in his expertise and industry knowledge.
5. Danny Sullivan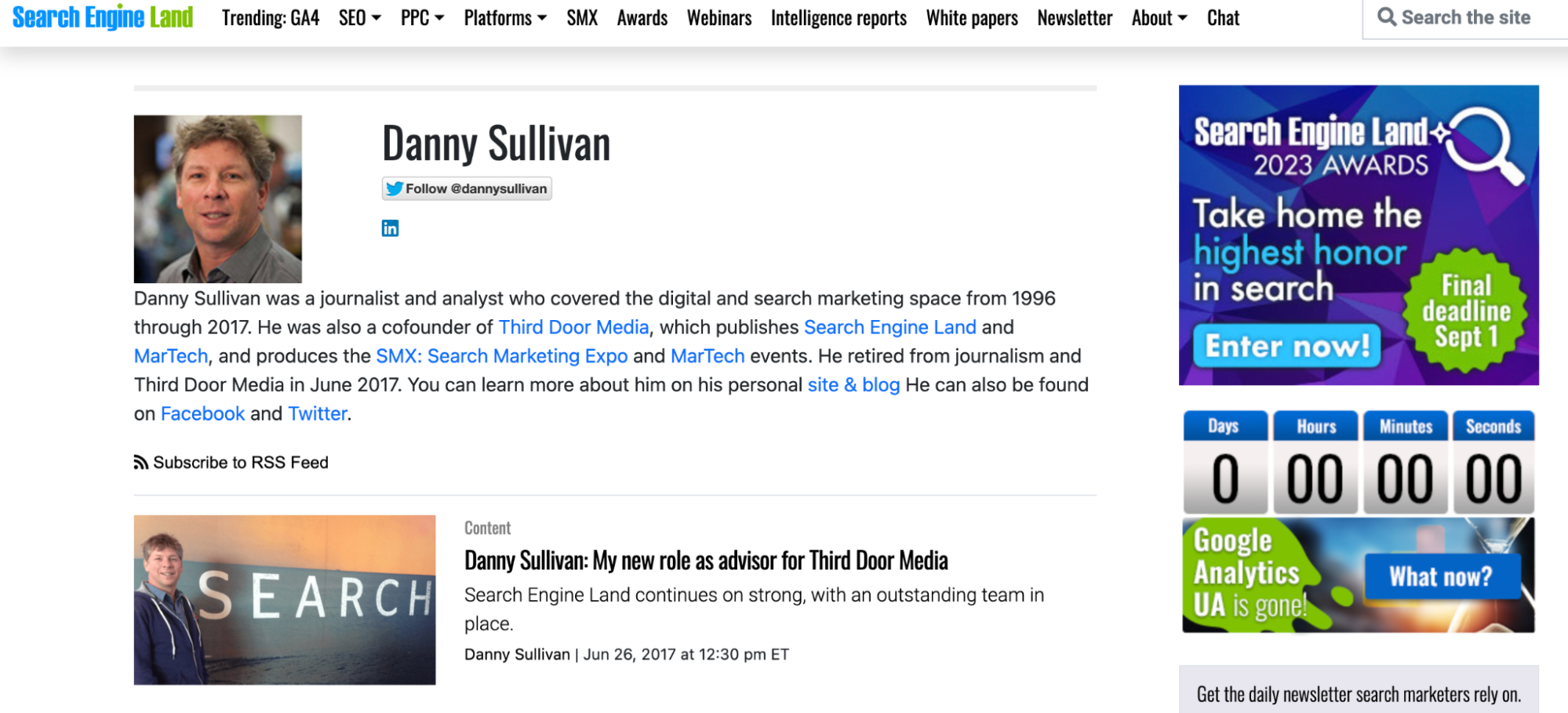 Danny Sullivan, the esteemed founding editor of Search Engine Land and co-founder of Third Door Media, is well-known for his expertise in the realm of SEO techniques. 
With an impressive 21-year tenure as Chief Content Officer at Third Door Media, Sullivan has been a prominent figure in the industry.
Following his retirement from Third Door Media, Sullivan assumed the role of a public liaison of search for Google. 
He now dedicates his time to bridging the gap between the general public and Google's SEO employees, sharing invaluable insights into the world of SEO through his blogs.
Sullivan's work has garnered widespread recognition and praise from SEO experts for its depth and relevance. 
Furthermore, he plays an active role in organizing events at MarTech and Search Marketing Expo, further cementing his influence and contribution to the SEO community. Following Danny Sullivan's blogs promises to provide incredible insights and invaluable knowledge in the ever-evolving field of SEO.
6. Shahid Shahmiri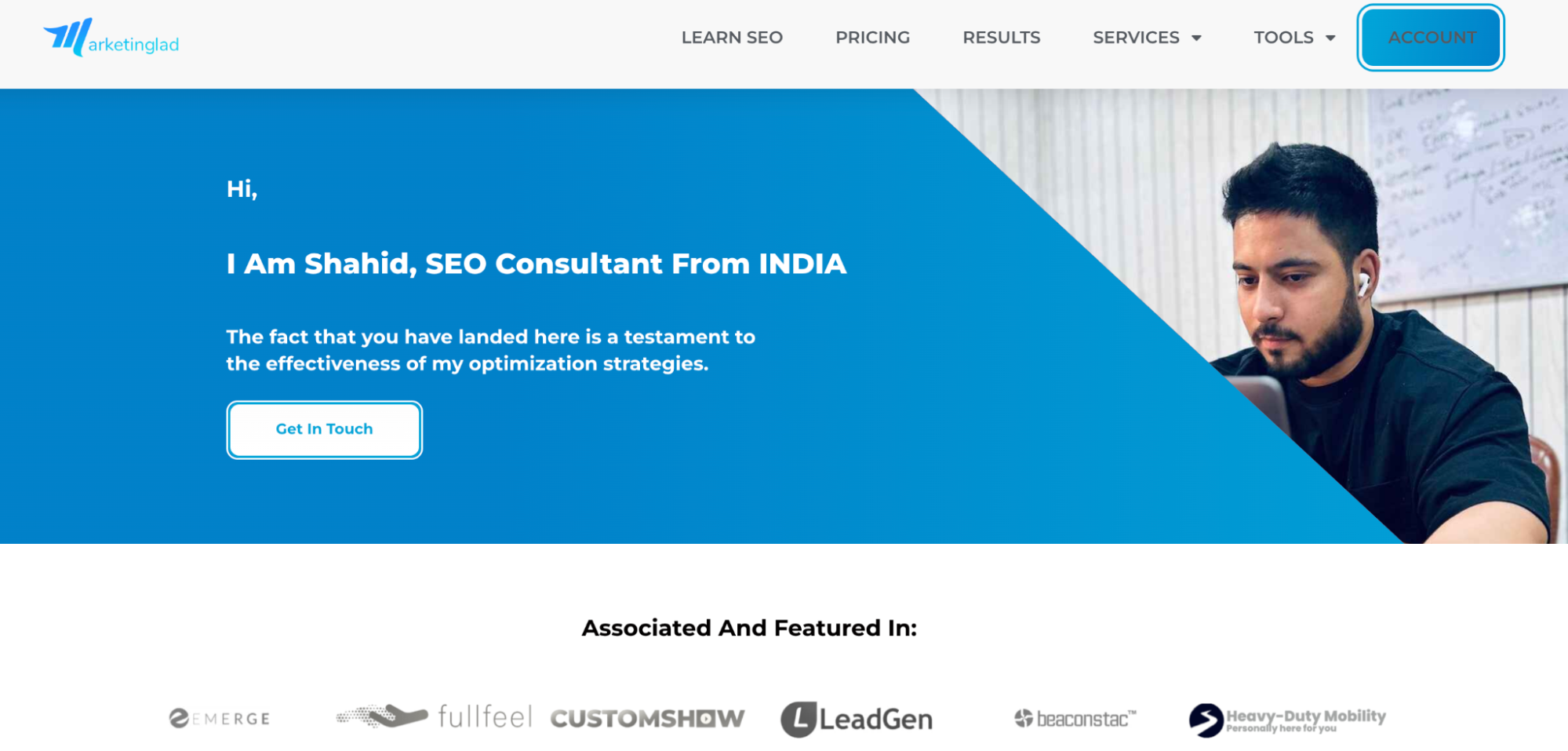 Shahid Shahmiri, the visionary behind Marketing Lad, is a highly esteemed SEO expert in India who has made a significant impact through successful collaborations with renowned brands like Unacademy, BeconStac, LeadGen App, and other major players in the industry. 
With his expertise, Shahid has effectively scaled their marketing and SEO efforts, leaving a lasting impression.
When choosing to work with Shahid, you can rest assured that remarkable growth and surpassing the competition are within reach. His proven track record and ability to deliver outstanding results make him the go-to expert for achieving exceptional success in the world of SEO and marketing.
His focus centers on ethical SEO practices, enabling businesses to thrive online through sustainable, long-term strategies. He is readily available to address any queries or concerns, dedicated to assisting your business in achieving online success.
In 2020, Shahid took the initiative to establish one of the leading link building Slack communities known as ML - Link Building Slack Community. This community has since thrived, becoming a hub for link building enthusiasts, professionals, and agencies to collaborate, share insights, and stay updated on industry trends. 
Its reputation and impact are evident, with renowned link building agencies such as LinkBuilder.io and Digital Olympus featuring and recognizing the ML - Link Building Slack Community as an authoritative platform in the link building realm. Shahid's dedication and vision have fostered a vibrant and influential community that continues to contribute significantly to the link building landscape.
To ensure his readers don't miss out on essential insights, he also shares many of these detailed findings on his blog, keeping them well-informed and updated.
7. Stephan Spencer
A prolific author, Stephan Spencer has written Google Power Search and co-authored Social eCommerce and Eric Enge's The Art of SEO. 
Additionally, he is the innovative mind behind RIO SEO Website Optimizer, specialized software that serves as an automated pay-for-performance natural search technology platform.
His expertise has led him to speak at numerous conferences, where he shares insights on SEO and various online marketing topics. 
Spencer also contributes to reputable blogs like Search Engine Land, The Huffington Post, and Multichannel Merchant, further solidifying his authority in the industry.
Beyond his professional achievements, Spencer actively engages in philanthropy and community involvement. 
He serves on the board of Impact Network and has generously donated his time and expertise to organizations such as The Carter Center, Singularity University, and Foresight Institute.
With an impressive following of over 27,000 on Twitter, Stephan Spencer continues to inspire and influence with his wealth of knowledge and contributions to the digital marketing landscape.
8. Vanessa Fox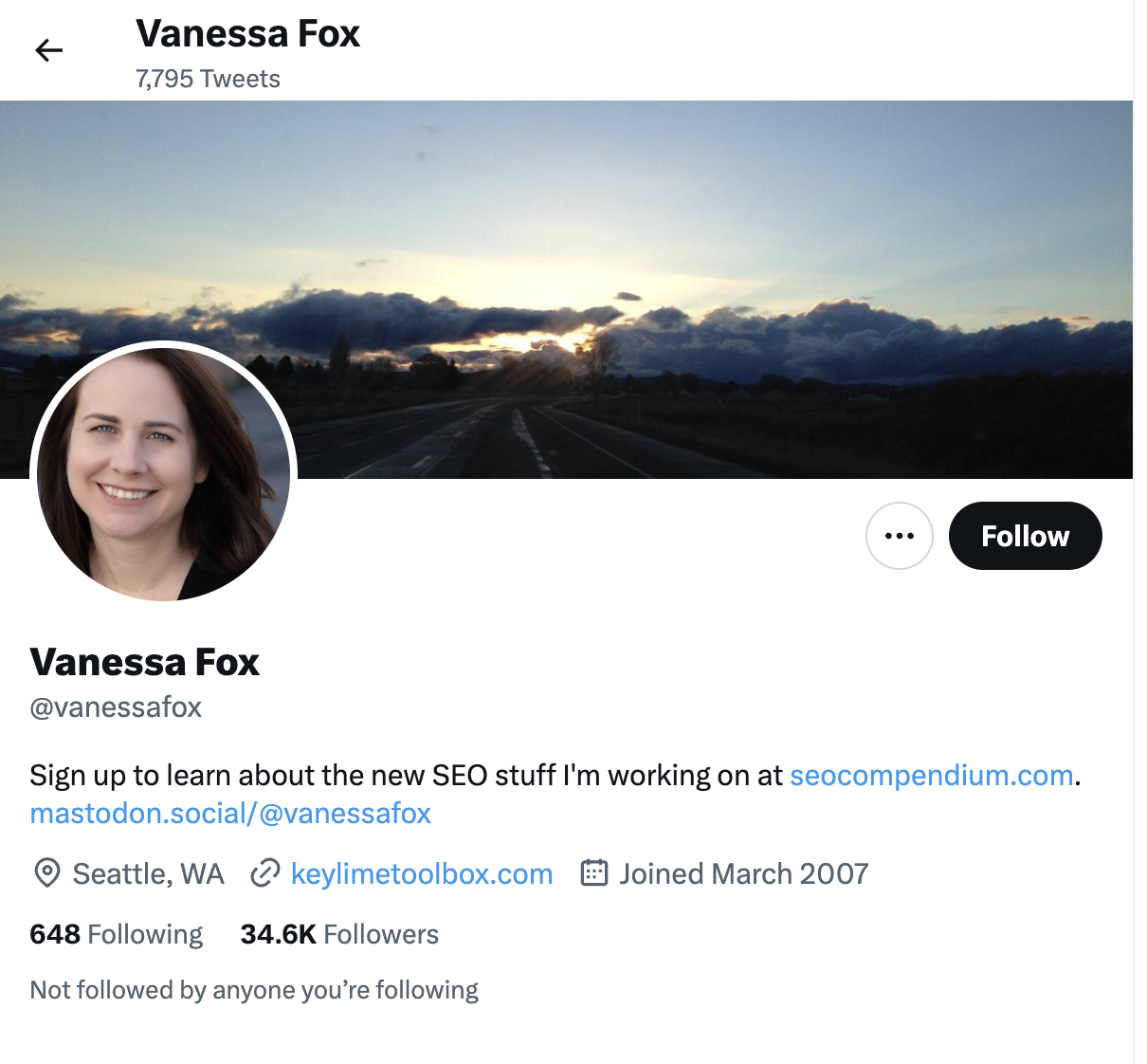 Vanessa Fox holds a prominent position in the realm of SEO, having made a significant impact as the creator and founder of Nine By Blue, a reputable company offering top-notch SEO services and education.
As an advisor to Google, Vanessa's expertise is highly valued in the industry. She has authored multiple books on SEO, with her best-selling work titled Marketing in the Age of Google. 
Vanessa's reputation as an authoritative voice in the field has led her to be a frequent speaker at conferences worldwide. Her insights and knowledge have also earned her recognition in well-known publications, such as The New York Times and Wired Magazine.
With her vast experience and expertise, Vanessa Fox is a sought-after consultant, assisting businesses and individuals in maximizing their online presence and achieving success in the digital landscape.
9. Areej AbuAli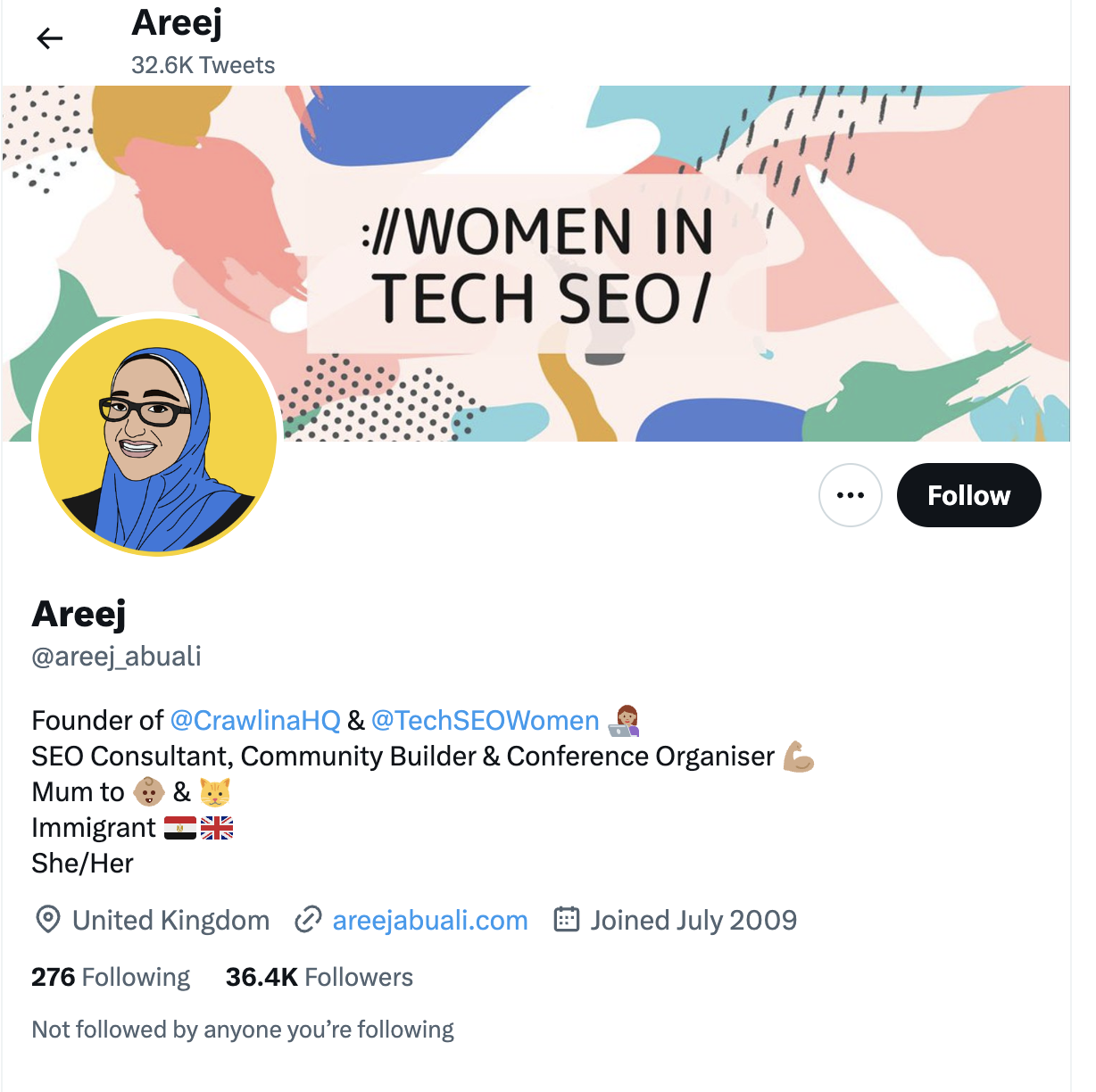 Areej Abu Ali is a highly skilled professional, holding both a BSc in Computer Engineering and an MBA in Information Technology. 
As an SEO expert, Areej excels in assisting businesses in crafting powerful and effective online marketing strategies. Her extensive experience in the field has enabled her to work with numerous clients, elevating their website traffic and visibility.
In 2019, Areej started a thriving network called Women in Tech SEO, which has now gained almost a thousand members in only nine months and culminated in an engaging conference. 
She is widely sought after as a speaker at prestigious events such as MozCon, BrightonSEO, and LondonSEOMeetup by Blue Array.
Areej's passion lies in tailoring content to her client's specific needs and goals. With her expert knowledge of SEO techniques, she ensures websites effectively reach their target audiences. 
Combining her proficiency in SEO best practices and a creative approach to content creation, Areej offers her clients top-tier SEO services of the highest quality.
10. Aaron Wall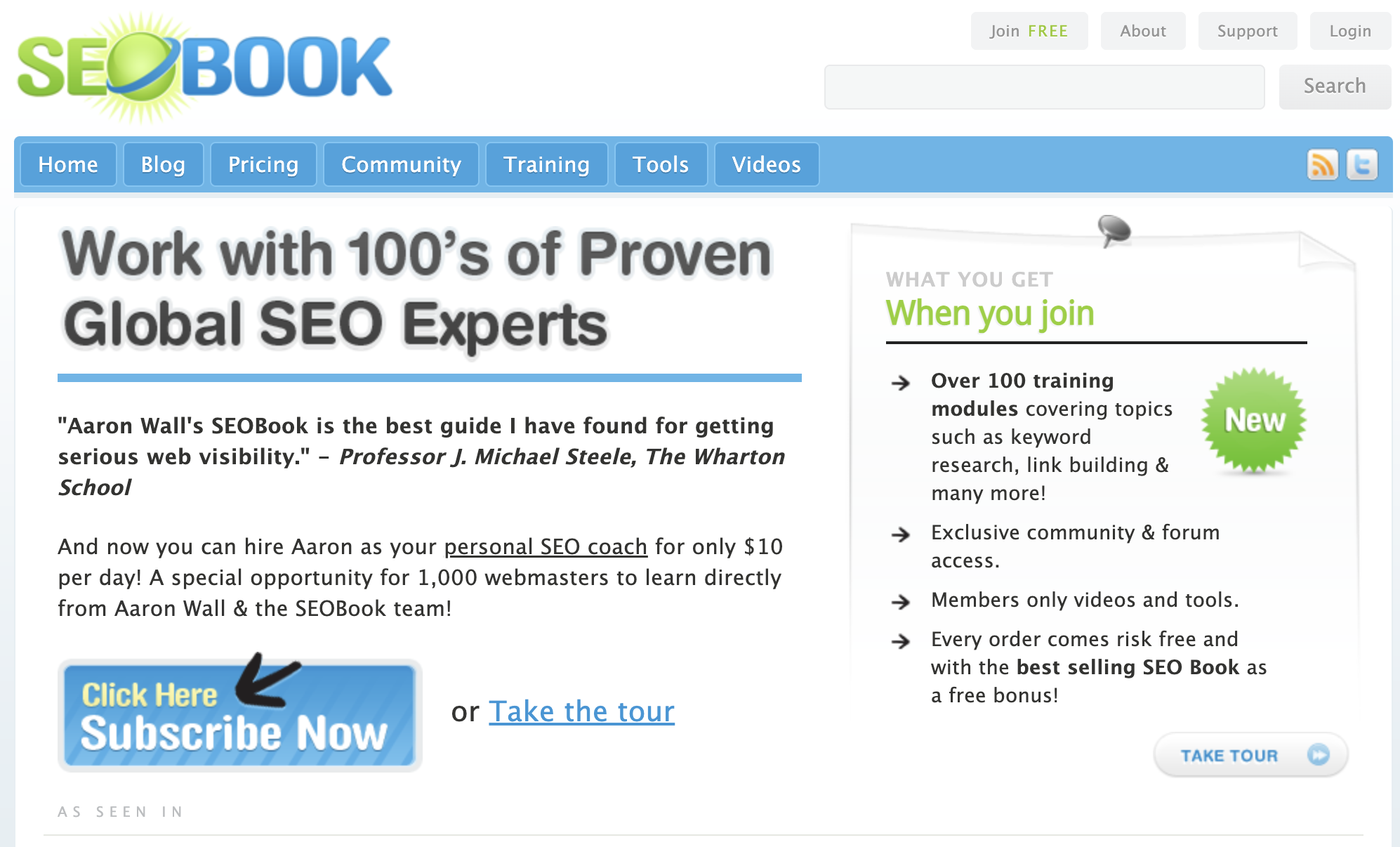 Aaron Wall is the exclusive founder of SEOBook, an esteemed SEO website providing a comprehensive SEO training program. 
This program encompasses over 100 specialized custom training modules, exclusive premium tools, and access to a private forum, among other valuable resources. 
Established in 2003, SEOBook is one of the oldest SEO websites that diligently keeps up with the latest SEO trends.
Through his cost-effective learning program, individuals can acquire in-depth knowledge of SEO and apply Aaron's techniques to enhance their website's search engine optimization. 
Additionally, he actively manages his blog, where he generously shares actionable insights into the world of SEO. Those seeking to connect with Aaron can also follow him on Twitter for further engagement.
Conclusion
Our exploration of the "10 Best SEO Consultants in the World" has provided invaluable insights into the realm of search engine optimization. 
These exceptional consultants have proven their expertise through successful collaborations with prestigious brands, extensive knowledge of SEO strategies, and the ability to drive organic growth and visibility for businesses of all sizes.
We hope this guide has been a valuable resource, empowering you to make informed decisions when seeking SEO consultancy services. 
Embrace the knowledge shared by these top experts and embark on a journey of continuous improvement to optimize your online visibility and thrive in the competitive world of SEO.