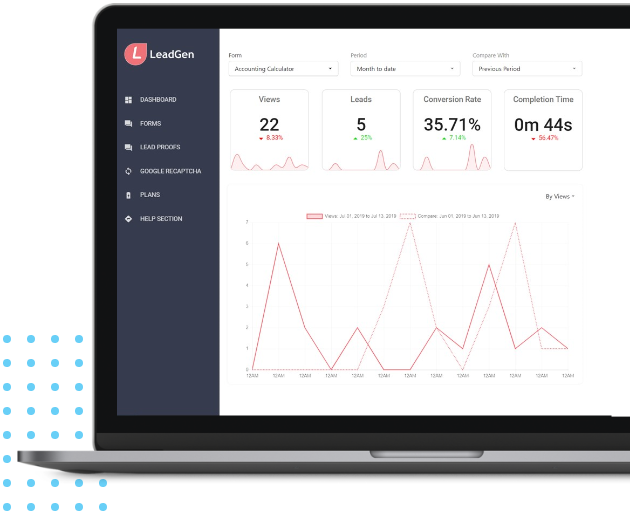 What can I do with LeadGen App?
With LeadGen App you can create online forms for different purposes, incl. lead capture & qualification forms, contact forms, multi-step forms, landing page forms, application forms, surveys, questionnaires, calculators, data collection & research forms, feedback forms and much more. LeadGen App also provides a LeadProof builder to create popups of your that show your leads as dynamic social proof on your pages. The form builder provides lots of form customization options via our design editor. Also we provide lead management & conversion optimization features, integrations and developer features to build complex forms and user journeys.
Why should I switch to LeadGen App?
You should move your forms to LeadGen App if you look for the most flexible and conversion-focused form builder to generate more leads. Our mission is helping businesses, marketing & sales teams get more customers and clients with engaging, flexible and user-friendly forms. We are committed to give our users the tools to grow your revenue by making web-pages convert up to 5X more.
What is the price?
The LeadGen Pro Plan is free for a 14 day period so that you can fully try out the tool. After 14 days, Pro Plan is $49/month for 20 forms, the Scale Plan is available for $99/month with space for up to 100 forms.
Do you provide a money-back guarantee?
Yes, if you are unsatisfied within the first 30 days of using your LeadGen plan, we provide a refund.
How can I customize the form design?
LeadGen App is the most flexible form-builder and provides near unlimited design customization options. The design editor allows you to customize form elements in terms of themes, colours, buttons, textboxes, shadows, fonts, colour codes and much more. You can either pick one of our pre-built themes to give your form a professional look, customize the designs yourself and also customize designs after form embed using custom CSS.
Can I send my form data to a Thank-you URL?
Yes, you can send your leads to a custom URL after form submissions. You can use your custom Thank-you pages to track leads via tracking scripts, e.g. Facebook pixel. Also, we provide a Thank-you message builder to easily create a text that shows in the form widget after users click on submit.
Do you support conditional logic?
Yes, LeadGen App provides the ability to create flexible conditional flows using logic jumps. You can create complex flows, for example jumps between form steps and jumps based on users choices (conditional logic). Here is a guide on creating conditional logic forms in LeadGen App.
What are LeadProof popups?
LeadProof is a feature to create popups of the leads that recently filled in a form. For example, you want to show your page visitors that your lead form offer is getting lots of responses from similar locations. You can use LeadProof as social proof, enticing more people to engage with your offers and fill in LeadGen forms. LeadProof popups can be customized based on the type of information shown, popups speed and intervals and more.
Do I need coding experience to create a form?
You don't need any coding experience to create a form. LeadGen App is a no-code form-builder and makes it easy to create forms with the intuitive builder, pre-built templates and themes.
Can I upgrade and downgrade my plan anytime?
Yes, you can upgrade and downgrade your plan at any time. If you downgraded, the monthly plan would remain active until your 30-day subscription cycle ends.
Can I move a LeadGen form into a different account?
If you have several accounts, we can help you transfer a form design into another account. This will however not pass on the lead and response through, only the form design itself. Get in touch with us if you have an account-related question.
In which languages do you provide support?
We provide support in English and German. Check out our landing page for German users here.
Where can I see my leads and response data?
You can see your responses in the leads section of your form overview page. Click on "Leads" to view your captured details and responses, incl. meta data like browser and device.
Is there a limit to how many leads I can generate?
No, you can capture unlimited leads with any of our plans!
Can I set up email notifications for leads?
You can receive instant email notifications any time a new lead submits a form. You can enable/ disable and customize lead notifications based on your form. At the moment we don't have support notifications to the lead directly.
Can we check leads that haven't submitted the form?
There is currently no option to view the data of visitors that started filling the form without submitting. We do however provide a partial lead metric, showing you how many leads abort the form variant, leaving before clicking the submit button.
Can I pre-populate fields?
Yes, using hidden fields you can pre-populate fields in forms. The hidden fields capture data from URL parameters and using this information to pre-populate form fields.
Can I integrate my forms to other tools?
Yes, we provide different integration methods to connect your forms with third-party software and tools. We have a Zapier App to connect your forms with more than 3,000 tools incl. CRM systems, email marketing tools and more. We also provide webhooks integrations (POST method, Append to URL) to send data into other tools.
Is the Zapier integration free?
Yes, Zapier is free up to a limit of usage (automations and tasks). See Zapier pricing details here.
Can I add custom CSS in the LeadGen form?
Yes, you can style your LeadGen form using custom CSS from your web-page editor.
Is my data safe and secure?
Ensuring security, privacy and reliability are our highest priorities at LeadGen App. We are using secure server communication between our server and user accounts using SSL. We securely store data on UK-based servers. We take regular data backups and our cloud service provider ensures the backup of the full server. We follow high compliance standards and are GDPR and PCI compliant. We have a near perfect software uptime of 99.9% and have a dedicated quality assurance and testing process. Find detailed information on our security & compliance page.
Is LeadGen App GDPR compliant?
Yes, with LeadGen App you can capture and manage leads in a GDPR-compliant way. We provide a Data Processing Agreement for your company to sign, to provide it to auditors. LeadGen forms contain a dedicated GDPR question type to contain user consent via checkboxes. Your leads are securely stored and provide you the ability to easily update/remove leads as needed.
How can I close LeadGen forms?
You can close LeadGen forms for submission from the settings page of your form. Go to Form Settings, Responses and turn off the switch for "Responses (Lead) Submission is Enabled" This will keep showing the form on your site but doesn't allow any user to submit.
Is LeadGen App HIPAA compliant?
Unfortunately, we can't guarantee HIPAA compliance. It's an area we are starting to look into and plan to implement in the future.
Interested to Read On?
Check our our help guides including video tutorials on LeadGen App
use cases and features on our Help Center