Types of Forms: Everything you Need to Know
Introduction
Forms are one of your site's most adaptable and effective features. There are different types of online forms that may be used to gather various types of data while also providing a dynamic component to aid in user engagement. WordPress, on the other hand, does not have built-in form capabilities by default. The good news is that the LeadGen App (an online form builder for lead generation) can be used to build most types of forms.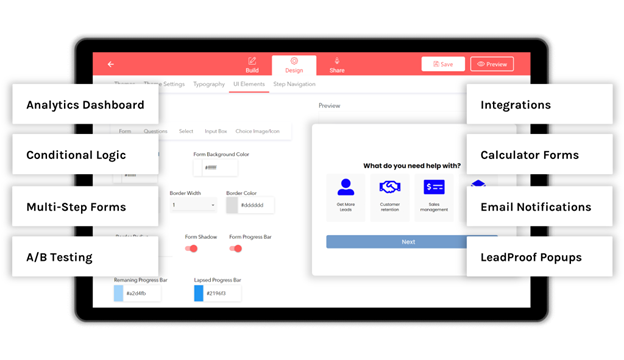 LeadGen App will provide a mechanism to nurture leads without reinforcing negative connotations, such as how intrusive a poorly designed solution might be. It employs an easy workspace and builder to assist you in creating professional forms for a variety of sectors. Thoughtful forms are on the menu, whether you work in marketing, sales, or an internal department.
What are forms?
Forms are documents or web pages that contain fields or sections that are used to collect information from individuals or organizations. They are commonly used to gather data, feedback, or requests from people in a structured and organized manner. Forms can be physical documents that are printed and filled out by hand or digital documents that are completed online using a computer or mobile device.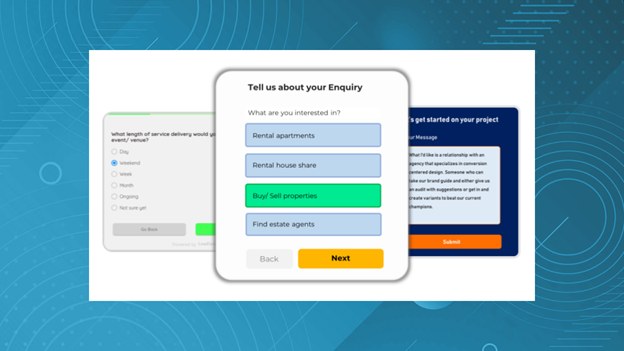 Forms can be used for a variety of purposes, including:
a. Collecting personal information from job applicants or event attendees
b. Gathering customer feedback or satisfaction surveys
c. Collecting payment information for goods or services
d. Gathering leads or contact information for marketing purposes
e. Conducting polls or surveys to gather opinions or data on a specific topic
Forms can be simple or complex, depending on the information being collected and the desired level of detail. They can be designed to capture data in a specific format or to validate the information being entered to ensure accuracy.
Why use online forms?
An online form is an internet document that performs all of the functions of traditional paper forms but without their constraints. An online form, like a paper form, comprises text fields for the reader to fill out. However, due to their online nature, online forms are easier to submit and process than any physical document.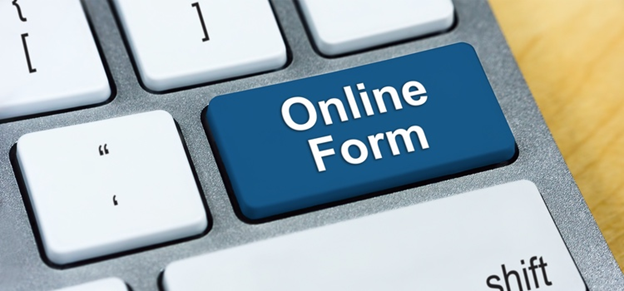 But what is it about online forms that makes them so effective? Online forms have three important advantages over paper forms.By making a move, your company can:
A) Prevent Mistakes
Human mistakes are impossible to prevent in physical form. Data entry requires time and might result in errors or misreadings due to sloppy handwriting. By using e-forms, you ensure that you capture exactly what was provided in the form, with less chance of error.
B) Saves Time

By definition, online forms are a quick way to gather information. Switching to e-forms allows you to reduce the time it takes to send and receive paper forms, as well as the time it takes to process data.
C) Encourage Responses
Making it simple for individuals to share their information with your organization is the best way to encourage them to do so. Electronic forms allow your audience to enter data without having to write it out by hand. You'll receive more replies and a better collection of data if new forms are simple to fill out and submit.
Types of Forms
Online forms are also adaptable. Here are different sorts of online forms you can use to make lead generation, data collection, and storage easier than ever for your company.
1. Application Form
Application forms typically ask for a range of information, such as personal details (name, address, and contact information), education and employment history, skills and qualifications, references, and any other relevant information required for the application process. The purpose of an application form is to collect all the necessary information from applicants in a consistent and organized manner, which helps the selection process and ensures that all applicants are evaluated fairly.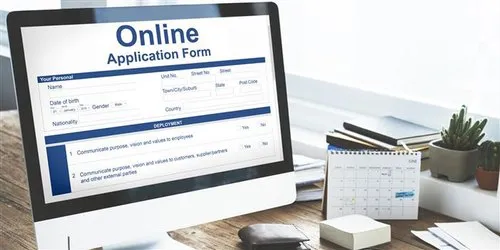 The most common application form templates are Job Application forms, Rental Application forms, Loan Application forms, Scholarship Application forms, Membership Application forms, and much more.
2. Briefing Forms
Briefing forms are documents used to gather information about a project or task that needs to be completed. They are typically filled out by a project manager, team leader, or supervisor and serve as a guide to ensure that everyone involved in the project has a clear understanding of its goals, requirements, and timelines.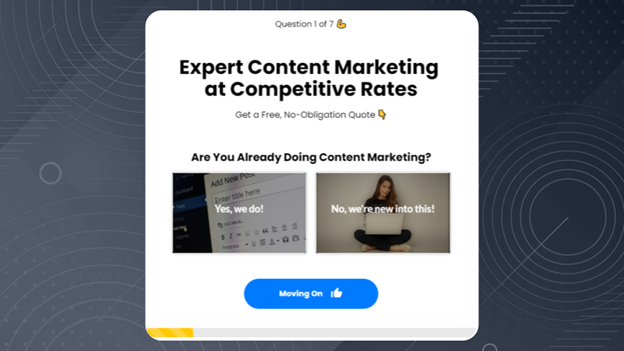 Briefing forms may include sections for describing the project or task, identifying stakeholders, outlining deliverables, setting deadlines, establishing a budget, and outlining any special considerations or constraints. They may be used in various industries, including marketing, advertising, design, and construction, among others.
The most common briefing form templates can vary depending on the industry and the specific project requirements, but some of the most commonly used ones include a Project brief, a Website brief, Content Marketing Agency Enquiry Form, and much more.
3. Calculator Forms
Calculator forms are web forms that allow users to input data and receive calculations or estimates based on that data. They are often used by businesses to provide customers with a quick and easy way to calculate the costs or savings associated with their products or services.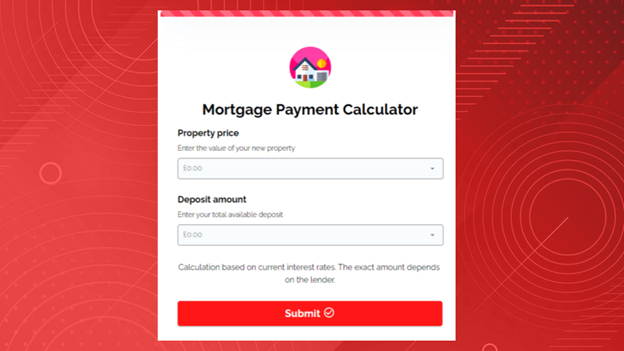 For example, a mortgage calculator form may ask users to input information such as their loan amount, interest rate, and loan term, and then provide an estimated monthly payment. A tax calculator form may ask users to input their income and deductions and then provide an estimated tax liability.
Calculator forms can be used in a variety of industries, including finance, real estate, e-commerce, and more. They are especially useful for businesses that sell products or services with variable pricing or that have complex pricing structures.
4. Conditional Logic Forms
Conditional logic forms are online forms that use conditional statements to display or hide form fields, sections, or entire pages based on the user's previous responses. This allows for a more personalized and relevant user experience, as well as more efficient data collection. Some of the most commonly used conditional logic form templates include: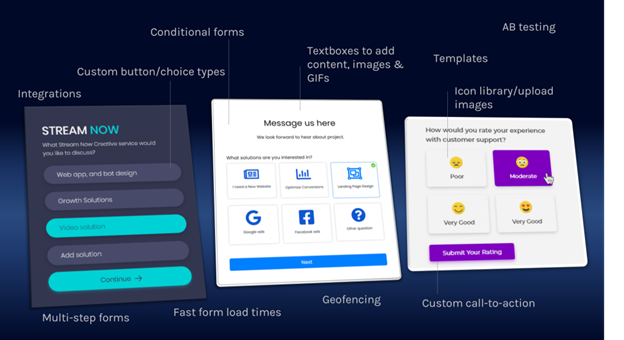 a) Job application forms: These forms use conditional logic to display different sections or questions based on the type of job being applied for, the candidate's qualifications, and other relevant factors.
b) Survey forms - These forms use conditional logic to skip irrelevant questions based on the user's previous responses, allowing for more efficient data collection and analysis.
c) Contact forms - These forms use conditional logic to display different fields or sections based on the user's reason for contacting the company or organization.
d) Order forms - These forms use conditional logic to display different product options, prices, and shipping information based on the user's location, order history, or other factors. You can easily connect these forms to your order tracking software to provide a source of data for them to derive from.
Overall, conditional logic forms can be used in a wide range of industries and applications, with particular relevance to develop a language learning app and are particularly useful for streamlining multi-step forms.
5. Consent Forms
Consent forms are legal documents that obtain the consent of an individual to participate in an activity or allow the collection, use, and disclosure of their personal information. The purpose of a consent form is to inform the individual of the risks, benefits, and consequences associated with the activity or the use of their information and to obtain their voluntary consent.

Consent forms are used in various industries and fields, such as healthcare, education, research, marketing, and legal settings. In healthcare, patients are often required to sign consent forms before undergoing medical procedures or treatments. Marketers may use consent forms to obtain permission to send promotional emails or messages to individuals. Legal professionals may use consent forms to obtain consent from clients for legal representation or to release information to third parties.
6. Contact Forms

Contact forms are online forms that allow website visitors to communicate with a business or individual directly from the website. They typically include fields for the visitor to enter their name, email address, and a message or inquiry. The purpose of a contact form is to make it easy for potential customers or clients to get in touch with a business or individual without having to navigate away from the website or use an email client.
Contact forms are a simple and effective way for businesses and individuals to make themselves accessible to potential customers and clients and to provide a way for people to communicate with them directly from their website.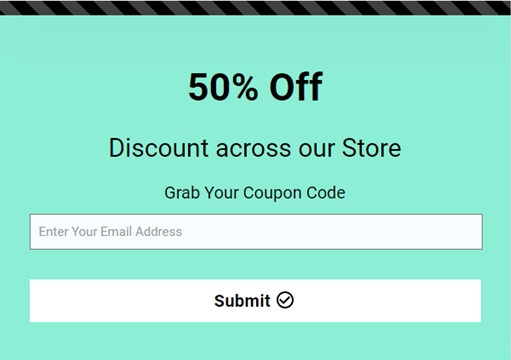 The most common contact form templates include a basic contact form, request a quote form, a customer feedback form, appointment request form, newsletter sign-up form, and much more.
7. Data Collection Forms
Documents used to collect and acquire data or information on a given topic or issue are known as data-collecting forms. By asking specified questions and giving predefined response alternatives, they are intended to aid the systematic and structured collection of data. Data collecting forms can range from paper-based surveys to online questionnaires and can be utilized in a number of contexts, including academic research, marketing research, public opinion polls, and medical investigations.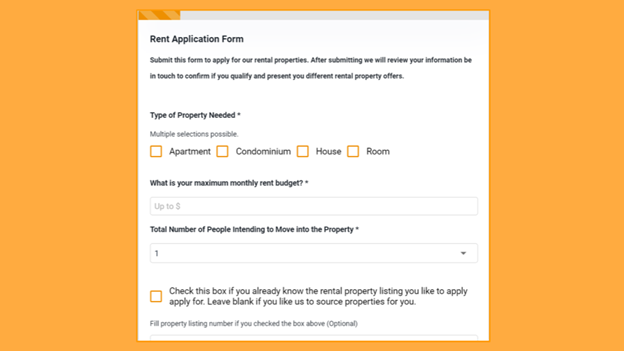 The forms often include a variety of question types, such as open-ended questions, multiple-choice questions, Likert scales, and rating scales, and they are frequently designed to be as impartial and unbiased as possible to ensure the accuracy and dependability of the data obtained.
8. Eligibility Forms
Eligibility forms are documents that determine whether a person or entity is eligible for a particular program, service, or benefit. These forms usually contain a series of questions that are used to determine eligibility based on specific criteria. Eligibility forms may be used in various industries, such as healthcare, social services, government agencies, and education. They may also be used by businesses to determine the eligibility of potential customers for certain products or services.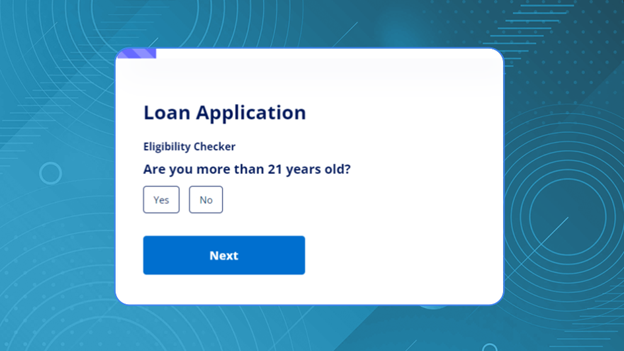 Eligibility forms are designed to collect information from individuals to determine if they meet certain criteria or requirements. Some common eligibility form templates include scholarship application forms, grant application forms, job application forms, membership application forms, loan application forms, and much more.
9. Feedback Forms
Feedback forms are online or paper-based surveys that allow individuals or organizations to collect feedback from customers, users, or participants about their experiences with a product, service, event, or organization. The feedback form templates typically include a set of questions and/or open-ended fields where respondents can provide their opinions, suggestions, and criticisms.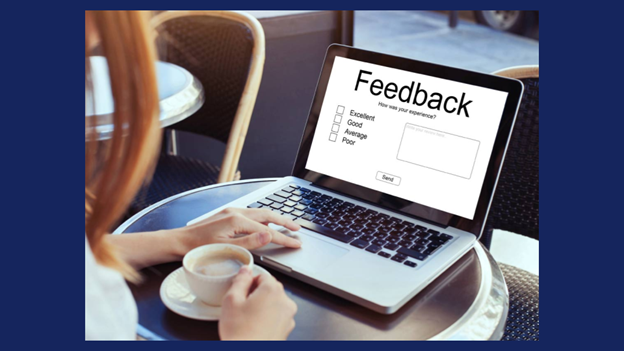 Feedback forms can be used to gather information about customer satisfaction, user experience, product improvement, event planning, or organizational development. The collected feedback can be analyzed to identify areas of improvement and make data-driven decisions to enhance customer experience and organizational performance.
10. Intake Forms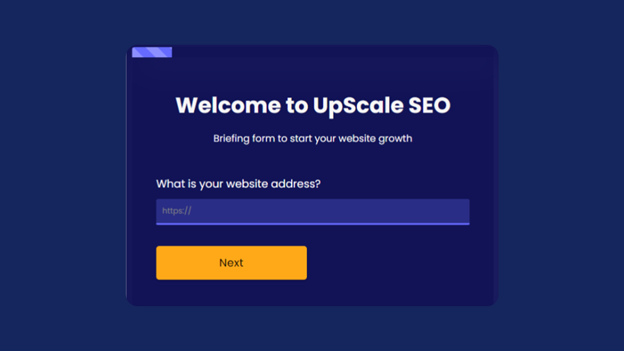 Intake forms are documents that collect information about a person or organization's background, needs, and goals for the purpose of initiating a relationship, service, or treatment. They are commonly used in healthcare, legal, social services, and other fields where detailed information is necessary for providing appropriate assistance or care. Examples of intake forms include patient registration forms, new client intake forms, therapy intake forms, intake forms for adoption or foster care, and much more.
11. Landing Page Forms
Landing page forms are web forms that are specifically designed to capture user information, usually in exchange for something of value such as a free trial, ebook, whitepaper, or discount. These forms are placed on landing pages, which are standalone web pages that are created to promote a specific offer or product. The goal of landing page forms is to convert website visitors into leads by collecting their contact information and other relevant details.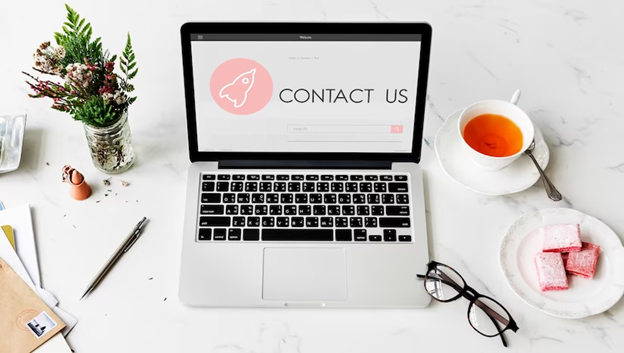 Landing page forms can be used in various industries including e-commerce, SaaS, education, healthcare, and more. They are especially popular in digital marketing and lead generation campaigns as they are an effective way to increase conversions and gather valuable data on potential customers.
12. Lead Capture Forms
Lead capture forms are a type of online form used to collect information about potential customers or leads. They typically include fields for capturing contact information such as name, email address, phone number, and company name. Lead capture forms are commonly used in digital marketing campaigns, on landing pages, and on websites to collect information from visitors who express interest in a product or service. Once a lead submits their information through the form, they can be added to a database or customer relationship management system (CRM) for further follow-up and nurturing.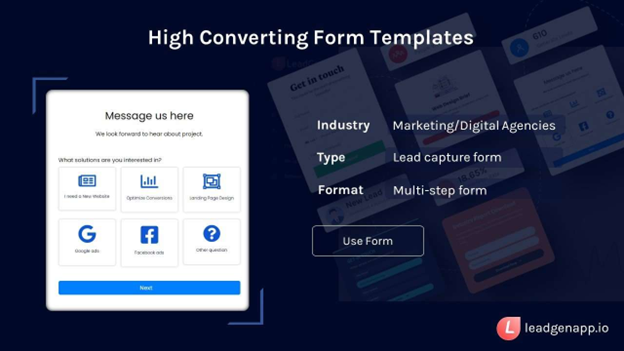 13. Lead Qualification Forms
Lead qualification forms are forms used to assess the potential of a lead (a person or company who has shown interest in a product or service) to become a customer. These forms typically contain questions that help businesses determine whether a lead meets their ideal customer profile, including their budget, their decision-making authority, and their level of interest in the product or service.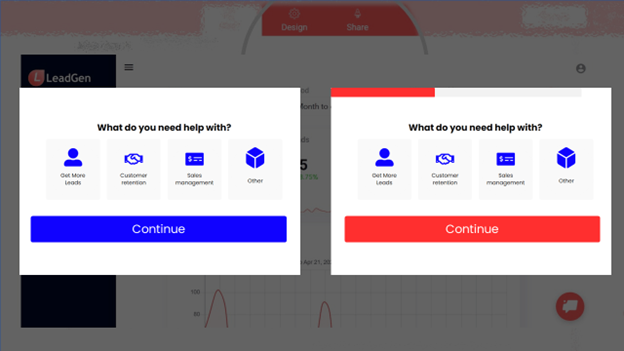 Commonly used lead qualification form templates include budget and timeline forms, contact information forms, product or service interest form, and much more.
14. Registration Forms
Registration forms are electronic or paper-based documents that allow individuals or organizations to register for a particular event, program, or service. These forms typically require individuals to provide basic information about themselves, such as their name, contact information, and any other relevant details related to the event, program, or service.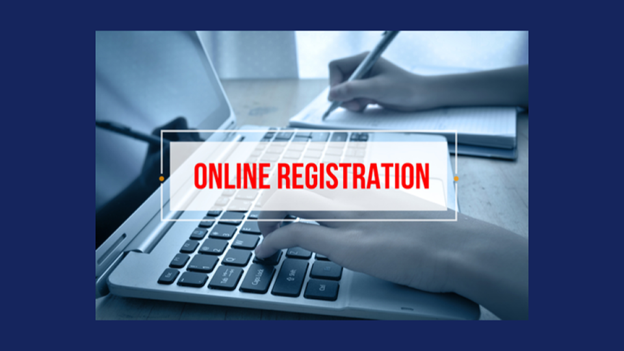 Registration forms can be used for a wide range of purposes, including registering for a conference, workshop, class, membership, or service. Some of the most used registration form templates are course registration form, user registration form, webinar registration form, and much more.
15. Referral Forms
Referral forms are a type of form that allows individuals or organizations to refer someone to a business, service, or program. The form typically asks for the referral's name, contact information, and other details that would help the business or service follow up with the referral.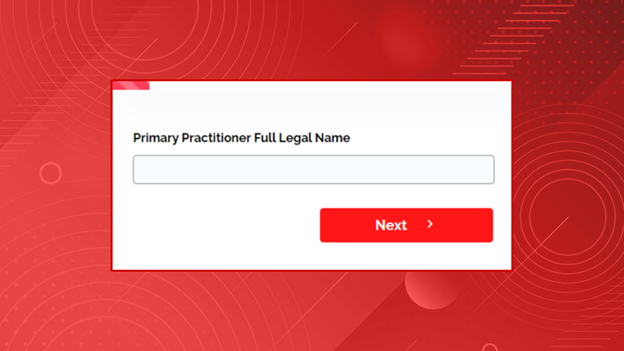 Referral forms can be used in various industries, such as healthcare, real estate, and customer service. They can be used as a way to generate leads, reward loyal customers, or incentivize employees to refer new customers. The most common types of referral forms include customer referral forms, employee referral forms, and partner referral forms.
16. Request Forms
Request forms are online forms that are designed to allow individuals to make a request or ask for something. They typically ask for information such as the requester's name, contact details, and a description of the request.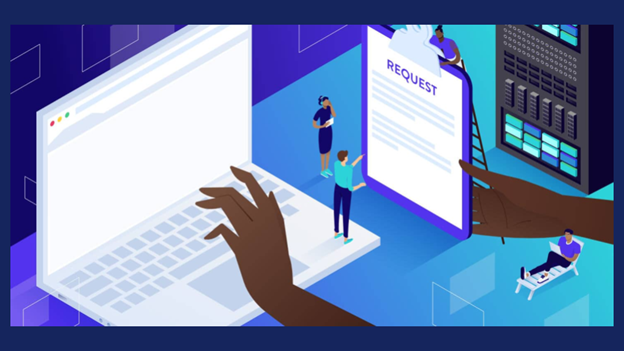 Request forms are commonly used in various industries, including healthcare, education, customer service, and government services. They may be used for various purposes, such as requesting information, making appointments, requesting services or products, or submitting complaints or feedback. The form templates for request forms may vary depending on the industry and the specific type of request being made.
17. Membership Forms
Individuals are enrolled as members of an organization, club, or association using membership forms. Personal details such as the individual's name, contact information, date of birth, and employment, as well as information regarding their membership status and payment information, are often requested on the forms.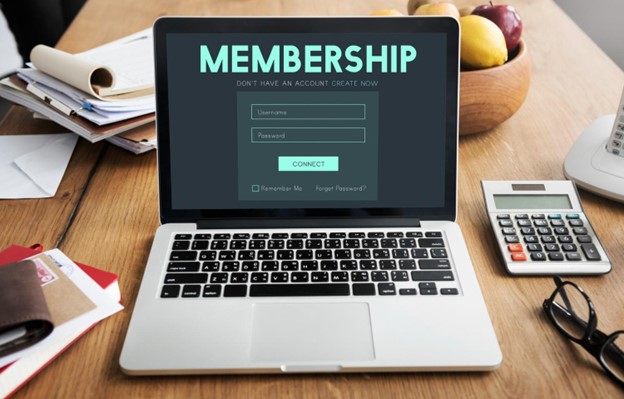 The membership form's goal is to collect information about the individual and to keep a record of their participation in the organization. The organization can then utilize this information to interact with its members, handle membership dues, track member attendance and involvement, and do other administrative tasks.
18. Subscription Forms
Subscription forms are web forms used to collect information from users who want to subscribe to a particular service or content. These forms are often used by businesses, media companies, and websites to gather information from users who want to receive regular updates or access to exclusive content. SendPulse allow users to create customized subscription forms and pop-ups that will match the visual style of the brand.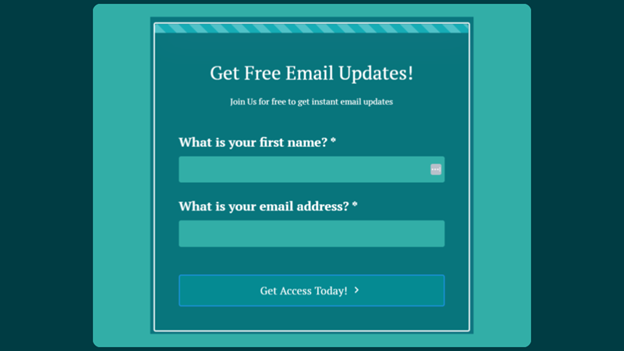 Subscription forms typically ask for basic information such as name and email address but can also include additional fields for more targeted marketing efforts, such as interests or location. The main benefit of subscription forms is that they provide a way to build a loyal audience and keep users engaged with a particular brand or website. Some of the most commonly used subscription form templates are newsletter subscription forms, membership subscription forms, subscription pause request forms, etc.
19. Survey Forms

Survey forms are online or paper-based questionnaires designed to collect feedback from people regarding their opinions, experiences, and attitudes on a particular subject. They can be used for market research, customer satisfaction surveys, employee satisfaction surveys, political polls, and many other purposes.
Survey forms usually consist of a set of questions that can be either open-ended or close-ended, and may also include multiple-choice questions, rating scales, and demographic questions. The data collected from survey forms can be analyzed to identify trends, patterns, and insights that can be used to inform decision-making.
Concluding Thoughts
Whatever sort of form data you need to gather, the correct digital platform may significantly streamline your operation. Your business can handle anything from lead capture and landing pages to registration without having to print or maintain any physical papers, thanks to instant submission and centralized data collection. Choosing the correct e-form builder may make or break your project. That is why so many businesses select LeadGen App, one of the industry leaders in form creation.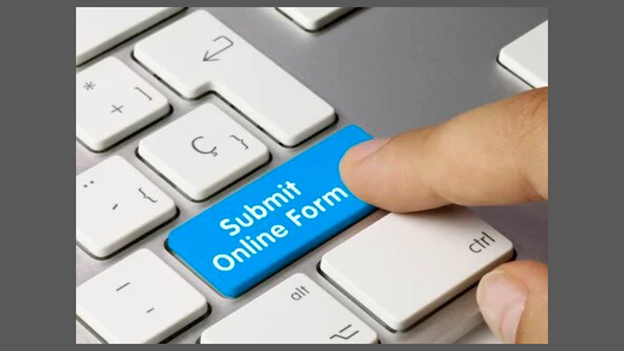 Sign up for a 14-day free trial of the LeadGen App to learn how LeadGen App can help your organization become paperless today.