LeadGen App Co-Founder Christopher Lier Interviewed by GoodFirms.co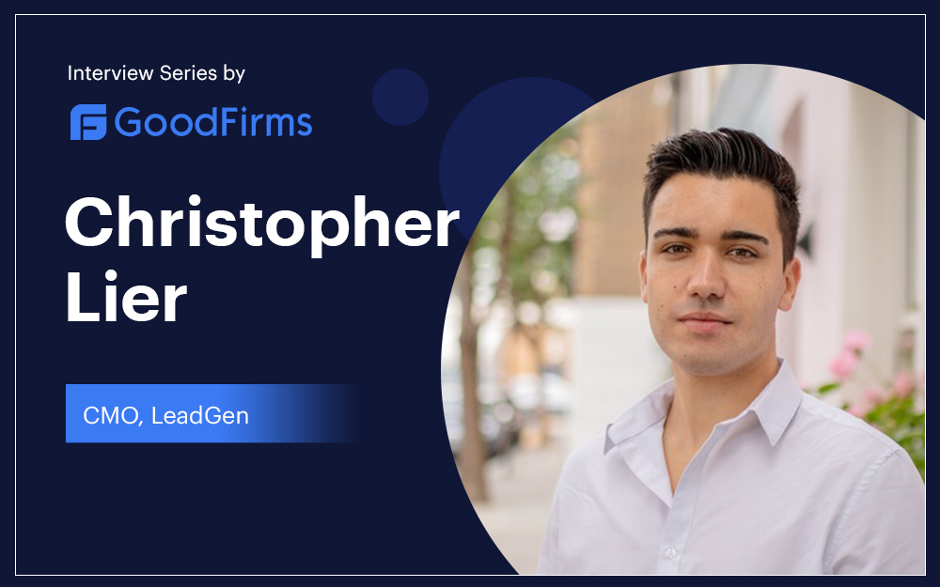 "Our goal is to position LeadGen as a premier globally recognized lead generation software and emerge as the customers' choice among market's top players with our all-inclusive feature set, intuitive user interface, amazing functionality, and boundless form design customization," Christopher quotes.
Christopher Lier, CMO of LeadGen, shares in his interview with GoodFirms how they created this best-in-class lead generation software to fulfill the comprehensive lead management needs of small to large businesses with its extensive features, versatile utility, high customizability, and flexible yet reasonable pricing.
Based in London, UK, LeadGen is a cloud-hosted, feature-rich complete lead generation software solution designed to meet the extensive lead generation and management needs of small, medium, and large businesses. The software offers comprehensive lead generation and management features, including contact database, lead capture, lead nurturing, lead scoring, lead segmentation, pipeline management, contact management, operations management, and reporting & analytics.
LeadGen lead generation system caters to various industries and businesses. They have a significant user base in marketing and web design, servicing clients like digital agencies, consultants, freelancers, etc. Furthermore, many financial companies successfully leverage LeadGen forms, including debt, mortgage, insurance, pension, loans, retirement services, and more. B2B brands like real estate agents, healthcare providers, and car detailing also find LeadGen very useful.
The company offers a flexible, subscription-based pricing model for LeadGen software with multiple reasonably priced packages designed to match the varied needs of businesses. Customers can choose from these plans based on their specific feature requirements, business size, and budget.
GoodFirms grabbed the opportunity to interview and discuss the offerings of LeadGen software directly with Christopher Lier, the Chief Marketing Officer (CMO) for LeadGen, to learn more about the software. As the CMO, Christopher is responsible for customer success, marketing, and sales at LeadGen App.
Best-In-Class Lead Generation Software
Initiating his interview with GoodFirms, Christopher describes LeadGen as a software that will help businesses generate more leads and customers via creative form designs that the audience would love to fill. The form-builder feature in LeadGen enables users to create forms without coding knowledge. LeadGen App offers multi-step forms that convert significantly better than conventional form designs and turn the conversational nature of chatbots into forms. LeadGen App helps brands create personalized, beautiful, and conversion-friendly online forms.
When questioned about what motivated the company to create LeadGen software, Christopher explains that their founder Waseem discovered the concept of multi-step forms in Apple's iPhone online support back in 2016. It became the inspiration for his own web agency contact form. Moreover, as there was no other suitable solution available in the market at that time to fulfill their needs in entirety, they created the form via custom code. Christopher adds that gradually with continued development, the product kept growing and improving, got more and more users onboard, and developed into a comprehensive performance-driven lead capture app & a multi-step form tool for marketers.
Christopher further informs that the ultimate objective behind developing LeadGen software is to support businesses of all sizes in making the most of their website and enabling them to capture more business.
Distinctive Features and Value Addition
Christopher informs that LeadGen lead generation software offers some unique features compared to similar products available in the market. The software's key features include multi-step form builder, conditional logic, address autocomplete, zipcode validation, calculator form creation, A/B testing, Google Analytics integration, source URL detection, lead metadata, and integrations to 4,000 apps.
Christopher further elaborates that LeadGen offers significant value addition and stands out from other products with its three additional offerings. Firstly, it enables the highest quality form designs through conversion-optimized form templates that meet high form design standards, user experience, and personalization. The forms are carefully crafted and created to serve more than 15 industries, duly considering and accommodating their specific form requirements and lead capture needs in the design. Besides, form builder allows unlimited form design customization apart from the templates.
Another remarkable advantage that LeadGen software offers, according to Christopher, is maximum conversion focus. It allows businesses to capture more leads with multi-step forms, providing them a higher edge over their competitors. Christopher adds that these forms help convert up to 5 times more leads. Furthermore, to help businesses enhance conversion rates and capture more leads, LeadGen provides detailed form visitor drop-off analytics, A/B testing, and a lead dashboard.
Besides, Christopher reveals that the company constantly updates the software with new features and continuously adds up native integrations, innovative tools, and features to ensure an enhanced form experience for the users.
Customer Satisfaction and Retention
Talking about customer satisfaction, Christopher claims that they have a high, 4.9+ user rating on all popular software listing and ranking platforms. Moreover, the company offers chat support where the users can contact them for help, and it has a very high user satisfaction.
Moreover, Christopher discloses that they have monthly and yearly recurring customers with a good customer retention rate. He highlights that the company also offers one-off services like form design and a form audit.
Dedicated Customer Support
LeadGen provides reliable customer support through various channels, including a chat with support agents, email support, YouTube videos, Help Center, the Facebook community, and discovery call booking.
Christopher further notifies that the company provides reliable resources in the form of a help center as the base for all product content, a support chatbot to answer queries/questions to specific customer problems, live support via chat, and email support. Besides, on signing up for LeadGen App, the company provides its users a course with short videos to guide them through the product, instantly helping them get acquainted with the app.
LeadGen - The Best Lead Generation Software
LeadGen has emerged as a popular choice and a market leader for businesses looking for reliable lead generation software. With the advantages of versatile lead generation and lead management features, generous customizability, diligent customer support, and reasonable pricing, GoodFirms' researchers have identified LeadGen as one of the best lead generation software.
To know more about the offerings of the LeadGen software, one can also go through the detailed interview published at GoodFirms.
About GoodFirms
GoodFirms is a Washington DC-based research and review platform for software and services. GoodFirms empowers companies to choose the best software from its curated list of industry-leading software in various categories to enhance profits and grow beyond imagination. It performs extensive research and analysis to evaluate and rank the listed software on critical parameters like features, uniqueness, ratings, and verified user reviews. This diligently curated ranking highlights the top performers for every software category and boosts the buying credibility of the software.
About the Author
Lisa Brian is presently working as a Content Writer with GoodFirms, a Washington-based B2B research company well-known for its research methodology and listings of 60k+ software and services. Lisa's current role revolves around gathering information and crafting it in a meaningful form that businesses can leverage. She helps companies communicate their vision and mission through digital platforms. Lisa believes in developing a symbiotic business relationship where companies mutually support each other and grow together.