List of New and Non-Popular Digital Marketing Tools
There are many tools that keep entering the digital marketing space on a daily basis. Here is a list of our favourite tools, including new and non-popular tools that might not have heard about. This is a compilation of tools for different purposes, incl. lead generation, dashboards, data, productivity and more.
1. Funnelytics
Funnelytics is an innovative tool for mapping sales funnel online. It has a visual drag and drop editor to design your custom funnel. Furthermore, you can track funnel conversion rates on every step via custom tracking links with defined URL paramaters.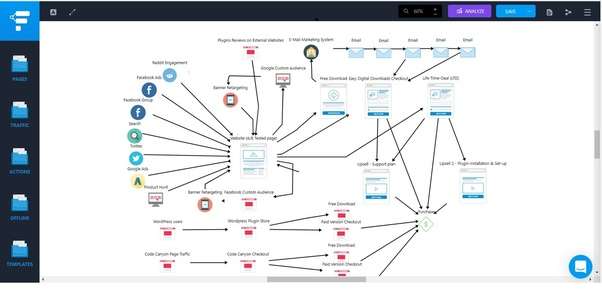 We use Funnelytics in our web & landing page design agency and create bespoke digital marketing strategies and sales funnels. It's a great tool that helps us in planning & strategy for funnels of our own brands and clients.
Marketing & web agencies will love Funnelytics for creating complex funnel strategies in far less time. It's also a great tool for winning more clients, simply by presenting the marketing in a clearly structured sales funnel during your sales process. Whether you're an agency or not, this tools is a great fit to scale up your digital marketing campaigns via modeling and tracking of multi-channel funnels.
2. Moosend:
Moosend is one of the easiest all-in-one email marketing and marketing automation solutions. Moosend's easy-to-use platform has a short learning curve and sports some of the most sought-after features of various Mailchimp alternatives. The most popular are:
- Lead generation tools, like landing pages and subscription forms
- Hyper-personalization and dynamic content
- An easy-to-use Drag-and-Drop email editor that requires no use of code
Moosend allows you to create and send laser-targeted email marketing campaigns. Moreover, it allows users to understand their campaigns' analytics through focused reports.
Moosend has a free 30-day trial that can help you ensure this is the right platform for you. Prices start at $7/month, billed annually.
3. Thrivecart:
Thrivecart is an online payment solution to create high-converting cart pages, one click sales funnels, affiliate campaigns and tracking for your entire business. It connects with Stripe to offer various payment methods like PayPal and Direct Debit to your customers.
It provides you with the tools to build a custom process that looks as if it is part of your own website. Thrivecart is a great tool and we use it for one-off payment links as well as product checkout systems.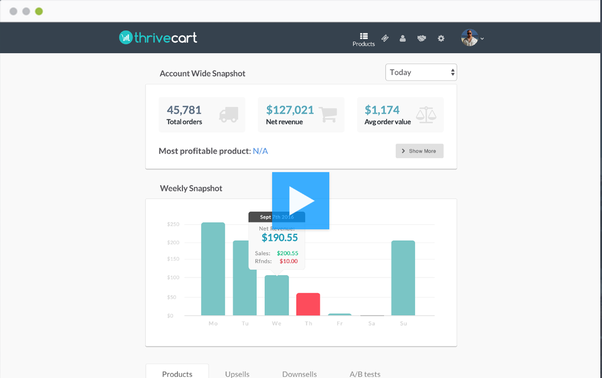 Features of Thrivecart: 1-click Bump Offer, 1-click Upsells, Embeddable Cart, Funnel Builder, a/b Testing, Webhhooks, Auto-followup, Autoresponder Integrations, Coupons, Detailed Stats, Discount Url, Dunning/auto-retry, 2-factor Authentication, 2-step Cart
We got to list our tool as well :). LeadGen App is a conversion optimisation tool for digital marketers, helping you create any lead capture form you need.

It helps you to build better online forms with full customisation and testing features. The tool is build for marketers who need a performance-based form-builder tool to achieve better conversion rates for lead capture forms. Additionally, LeadGen App is built for people with no coding skills and lets you create beautiful forms for your landing pages (single step and multi step forms) in just a few minutes.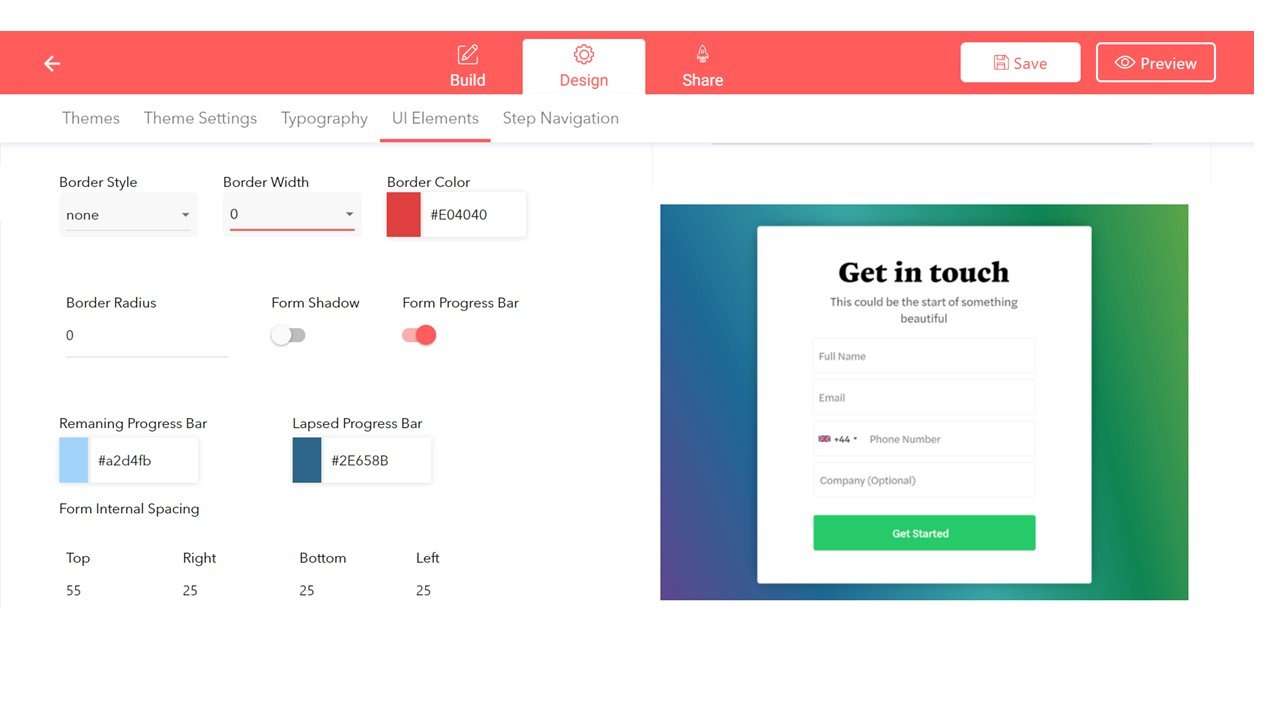 LeadGen dashboard, design section to customise your form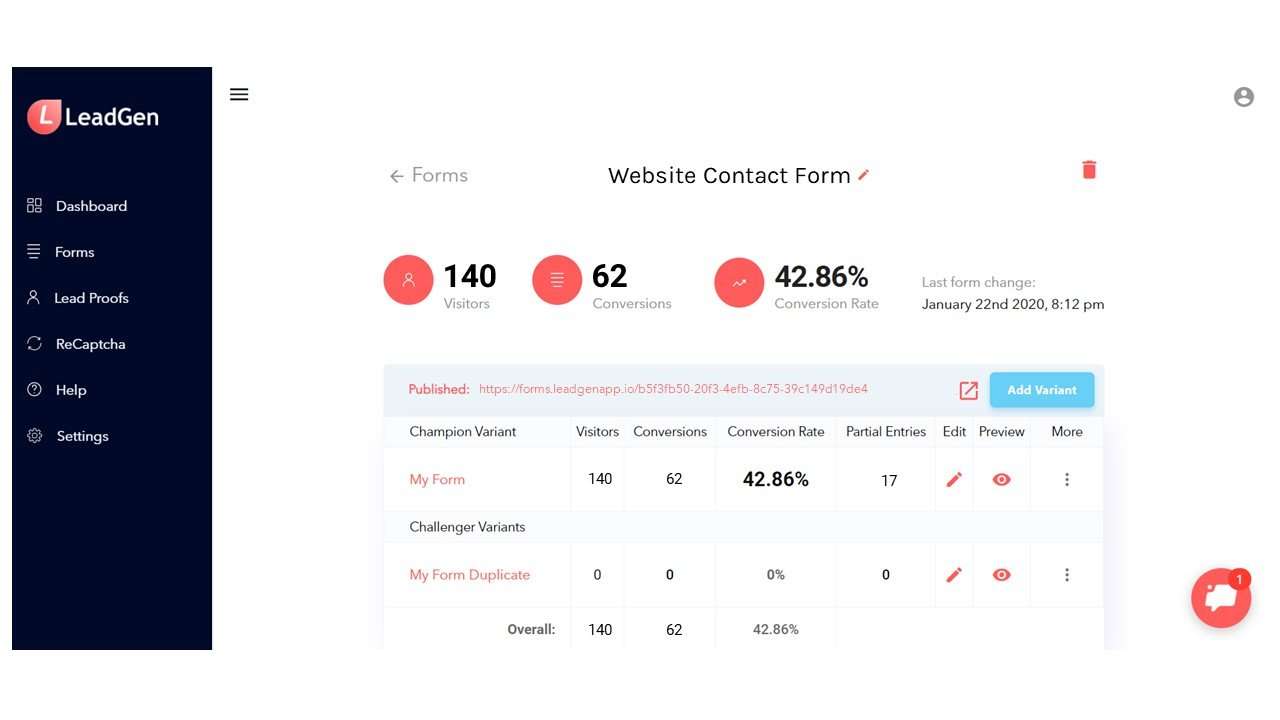 LeadGen App form overview page with analytics
Custom Thank-You Page, E-Mail notifications, A/B Testing, Conditional Logic Jumps, LeadProof pop-ups, Webhooks, GDPR fields, ReCAPTCHA, Quote Generator feature, Seamless implementation of form into CMS and website builders like WordPress, Wix, Unbounce, Instapages. Also, we got a range of landing page & web form templates that help you get the right form for your industry and lead generation goal.
We also launched Facebook group, called LeadGenerators, run by my colleague and myself in which we regularly share actionable content on Conversion Rate optimisation and digital marketing growth hacks.
5. SentiSum
SentiSum is a customer analytics software used by marketers and customer experience leaders alike. By understanding customer feedback in the detail that SentiSum provides, eCommerce marketers can tackle the points of friction in the customer journey that are in the way of purchases or conversions.
The use of AI tools is on the rise for marketing analytics because of the speed of which they can make sense of large volumes of data. Using NLP technology, SentiSum can turn 100,000 customer reviews into clear insights in minutes. Providing data like the volume of certain keywords or even the customer sentiment towards a particular product feature.
For marketers, it can also be a valuable tool for competitor analysis. You can identify weaknesses in the competition's customer support, product or operations quickly.
For any questions, just let me know. There are many tools that might be useful depending on what you are looking for.