Strategies to Leverage For a Holiday Marketing Campaign
The holiday season is crucial for businesses, making up 19% of annual sales on average. 
As a result, it's important to have a solid holiday marketing strategy to take advantage of the holiday shopping frenzy. 
This guide will explore four ways to start your holiday marketing campaign and make the most of the festive season. 
From social media promotions to email marketing, these tips will help you reach your target audience and boost sales tenfold. Plus, we'll share some examples from other brands who are nailing it. 
Are you ready to learn more?
Let's dive right in. 
4 Strategies to Leverage For a Holiday Marketing Campaign
A well-designed holiday marketing campaign can spread like wildfire and boost sales significantly. And to accomplish this, you need to be creative and take inspiration from other brands.
Let's understand the four strategies that you can use to maximize your holiday marketing campaign:
Strategy #1 — Delight your customers with a personalized gifting experience
Collaborate with influencers and creators, and offer a personalized shopping experience. For example, you could invite a micro-influencer to your physical store, where they decorate the area of your store using the gifting props you sell. They can also shoot videos of their creation and upload them on their social channel. 
Take a look at how John Lewis personalized their customer experience for the Christmas shopping event, where customers could get the brand's products personalized by the calligrapher the brand hired for the day.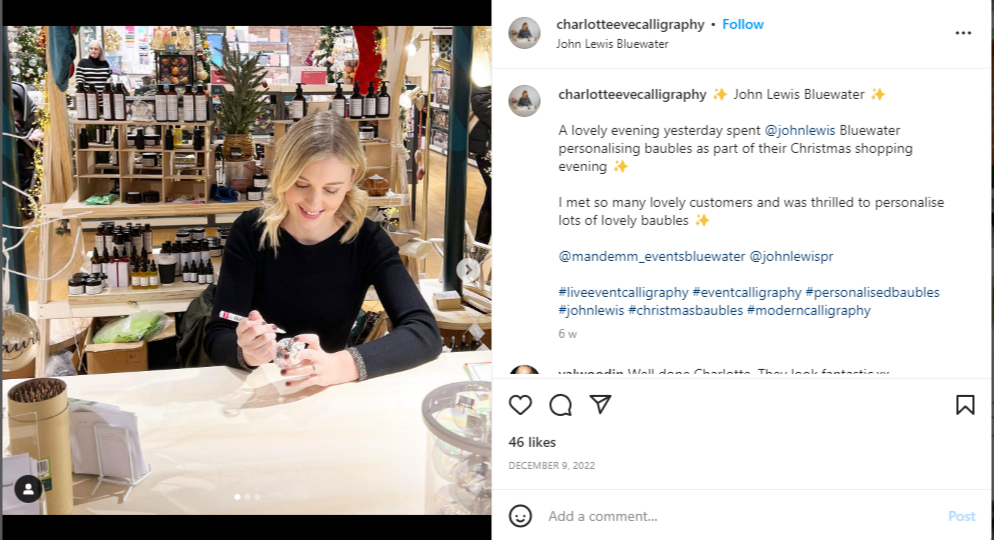 Why it works: People love personalized products. Having a calligrapher in the store lets customers watch their process, keeps them engaged, and makes their shopping experience more interactive. 
All in all, it adds a personal touch to the customer's shopping experience and makes it memorable for them. With a personalized shopping experience, you can increase the average order value (AOV). 
Why? Since the customer is shopping for a personalized product for themselves or a loved one and paying extra for the added touch.
How to implement: Hire calligraphers for onsite calligraphy events. Before hiring, check their portfolio, and give them a brief about:
- How the event is set up
- What products will they need to personalize 
- What type of calligraphy aligns with your branding                                                                                                                                                                                                                                     
On the day of the event, make arrangements for the calligrapher. Give them a specific area where they can sit, keep their tools and do calligraphy. Make sure it's the central area of your store where visitors can easily visit and watch the artist. 
On billboards of the store, mention how customers can have their purchased products personalized. Also, keep the price of personalized products fixed but not too high. Interested customers can shop from your store and get personalized gifts.
Strategy #2 — Send holiday greeting emails and text messages
What is the best way to engage people during the holiday season? Send them holiday SMS and emails.
Emails
Sending emails to your shoppers is an incredible way to engage with them during the holiday season. People are more friendly to brand emails than ever. 
Plus, studies show that email marketing has the highest returns on investment (ROI). You can make $36 for every $1 spent on email marketing. An email assistant can simplify and accelerate email management for you.
This is your chance to send a holiday-friendly email to your customers, thanking them for shopping with you and supporting your business or sharing holiday gift guides. 
Here's an example of how Streak has successfully engaged with their customers by thanking them with this holiday greeting email: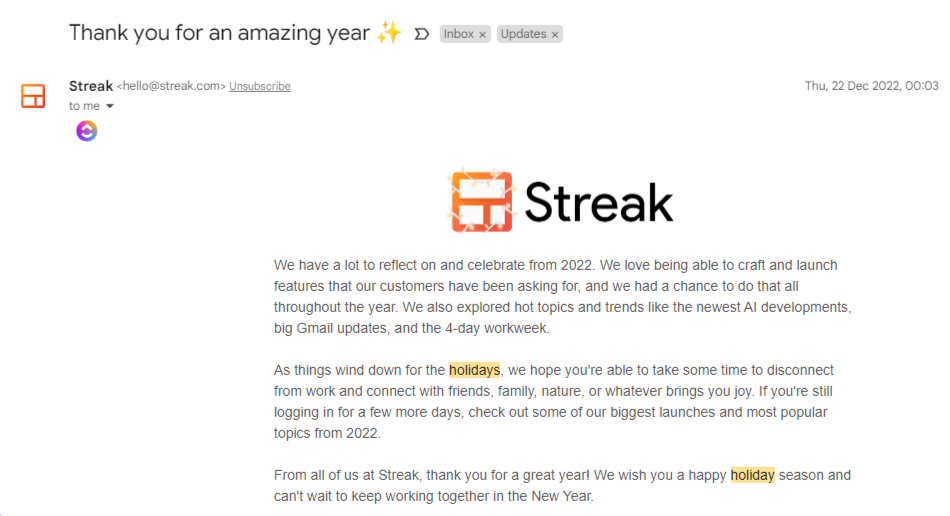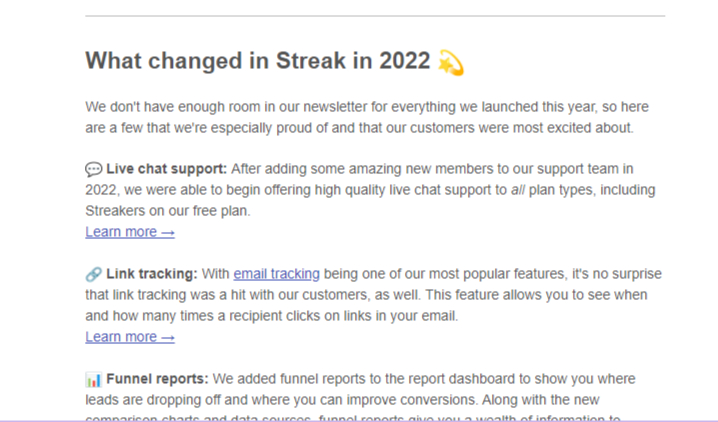 Why it works: The email's tone is friendly and filled with gratitude. In the screenshot, you'll see the email is long. However, it's easy to scan and read with nicely formatted dividers, white spaces, bold text, emojis, and images. 
A divider separates the email for the next section, where they highlight all the good work the brand has done in the last year. This is a great way to showcase your best products, product features, and everything you're proud of that year.
How to implement: Decide whether you want to write a short or longer email. For shorter emails, decide whether to offer CTA (best selling product or a discount code) at the end.
For longer emails like the above image, list your best-selling products, the new products you created, or the brand-new features your team has worked on. Attach a link to each of them. 
Next, write the email copy and list down all your best-selling products and the product features — basically, a recap of the last year.
Sidenote: When writing the email, make sure the tone is friendly and filled with gratitude. 
SMS
SMS is a conversational channel that helps you keep shoppers engaged and speed up their purchasing decisions. 
If emails are the direct channel for you to communicate with shoppers, the chances of them missing out on emails are higher — as inboxes are crowded and flooded with hundreds of spam emails. 
But people use text messages often. 
That's why 58.4% of consumers agree getting texts about limited-time releases and product launches helps them to act on deals faster.
Take a look at this SMS by Hush engaging their customers and offering a discount to their text-exclusive customers.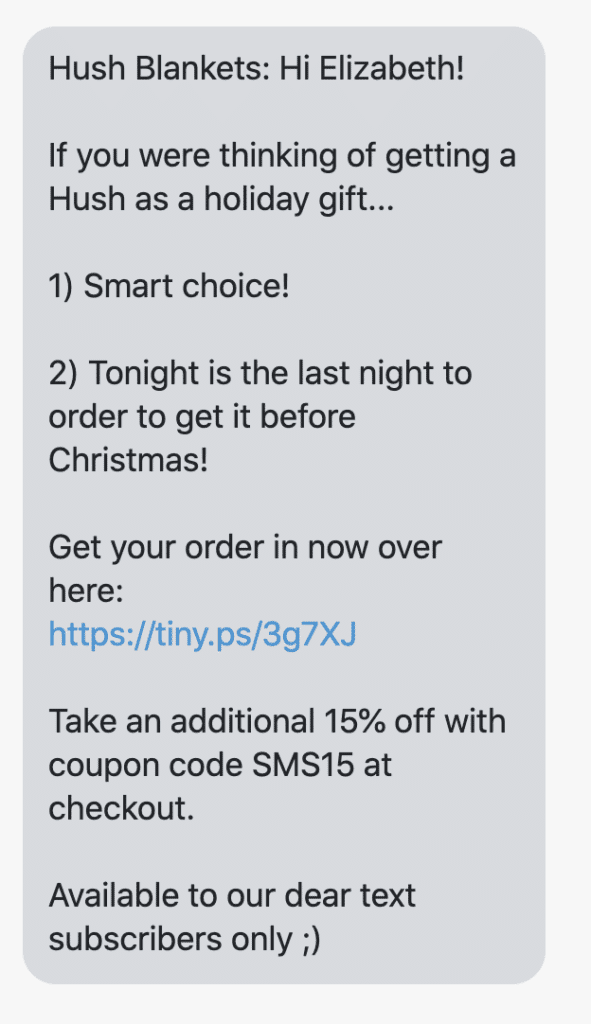 Why it works: Hush has sent a concise and direct message to the shopper. First, they have personalized the message with two elements:
`1. Shopper's first name
2. Products the shoppers are interested in
It keeps the shopper interested and reminds them of the purchase they had planned earlier. The message is easy to scan with the numbered list. The brand has added a link to the product and not its website to ensure no friction in making a purchase. 
To double the purchase chances, they have also offered a discount code and highlighted that the offer is only valid for text message customers. 
Fear of missing out (FOMO) piques the shopper's interest even more. They know this offer is only available to them since they have opted for SMS from brands, and they're likely to complete the purchase. 
How to implement: Opt for an SMS platform to help you send personalized text messages and the phone numbers of shoppers who are interested in receiving text messages from your brand. 
Next, draft a short and crisp text message copy for the campaign. Before writing the copy, make sure you have clarity on your offer — whether you're offering a discount code, a freebie, free delivery, etc. 
Once done, craft your text message copy and send it to your text message shoppers list. To write strong text message copy, you need to follow some best practices:
- Keep your message to the point
- Let the subscriber know who the SMS is from
- Don't overuse slang
A few things you must know about SMS marketing before getting started:
Stay compliant
Track SMS opt-ins so that you don't get into spam trouble. Understand the text messaging rules and regulations in your country. 
Ask for consent from shoppers before adding them to your SMS opt-in list. A few ways to ask shoppers to opt-in for text messages from your brand include:
- Getting consent before sending the first text message
- Include the company name in the first text
- Offering a discount code
- Mentioning message frequency
- Giving the option to ask for help and opt out of future texts
Use simple opt-in strategies
Here are multiple ways to invite your customers to opt in via text message:
Website pop-up — Enable opt-in for mobile and website, and include compliance language.
Collect at checkout — Add an opt-in checkbox when customers fill out the information at checkout.
Email assist — Add a signup button to the emails to non-SMS subscribers.
QR codes — Place your QR code on products, social media posts, and flyers so customers can scan your SMS opt-in screen directly.
Social media — Create interactive social media posts and plug-in text message QR codes or landing page links.
Integrate with your existing tech stack
Make sure to keep all your CRMs in sync with each other. 
For example, if you're already leveraging email marketing campaigns, integrate it with an SMS marketing platform so customers who want to opt-in for text messages can seamlessly do it. Or if you´re using a keyword research tool, make sure that your CRM is integrated so you can easily identify which keywords potential customers are searching for.
The integrations will allow a streamlined flow of subscribers to enter your CRM without requiring your team to keep track of three different CRMs. Everything will be on one platform.
Build targeted campaigns
Before initiating your text message campaigns, segment them based on their shopping behavior, the date they made their first purchase from your store, and so on. Now send them these targeted SMS messages. 
For example, if a customer purchases from you for the first time during the last holiday season, send them a text message reminding them about it. Then, give them a discount code to shop from your store this holiday season.
Strategy #3 — Run holiday giveaways on social media
Holiday giveaways are a great way to drive traffic to your social media channels and reach a wider audience. A holiday-themed giveaway can drive customers' interest in your seasonal and newly launched products.
Take a look at the Christmas giveaway hosted by Journalsayshop, where they give away $100 worth of their products to the giveaway winner.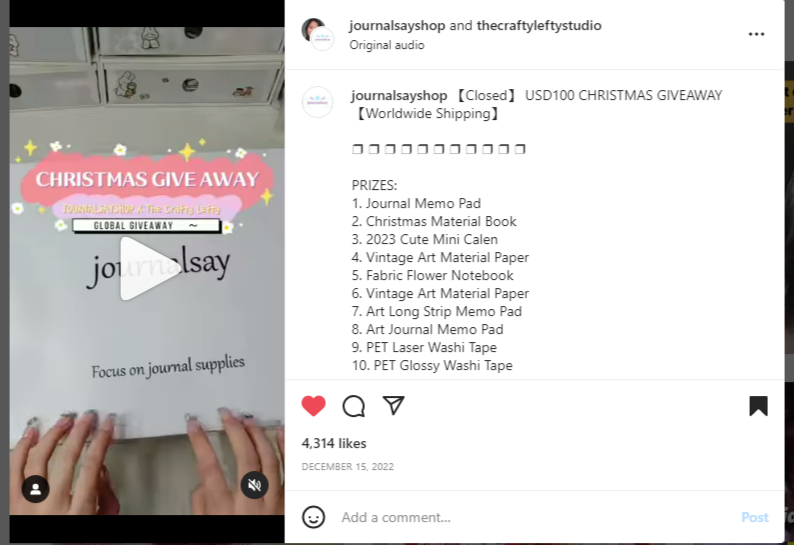 Why it works: They showcase a video of all the products the giveaway winner will get and list them in the caption, sparking interest and the desire to win. In the video cover image, people can see "Christmas Giveaway" highlighted — letting them know about an opportunity to win free stuff. Who doesn't love free stuff? 
The brand clearly lists the instructions for the participants — like the post, follow the brand and the creator the brand collaborated with, tag three friends, and reshare the post on Instagram stories.
By instructing the participants to share the post on stories and tagging their friends, the brand is encouraging the participants to help them increase the brand's visibility.
How to implement: Before organizing the giveaway, be clear about whether you want to run the giveaway individually or in collaboration with another creator. 
Next, decide how many products you'll give away. Create an interactive post or video showcasing the products. Then, write a caption highlighting the seasonal giveaway with clear instructions.
Decide whether you want to keep the instructions basic — liking the post, tagging friends, and being transparent about selecting the winner.
To run holiday giveaways:
Make sure you create a holiday/ seasonal theme — Curate the gifts or products based on the theme.
Mention the giveaway guidelines — Lay down the instructions about who can participate, how to participate, and the last date to enter the giveaway.
Have influencers sponsor your giveaways — Collaborate with creators to run your giveaway and reach a wider audience.
Announce the winners — Tag them on the day of the results, announce them on your social channels to get them recognized, and close the giveaway.
Strategy #4 — Launch advent calendars
Advent calendars aren't just for chocolates, Christmas gadgets, and other thoughtful gifts people send to friends and family. 
You can also make your customers feel more special and engaged by upselling them with advent calendars. 
Here's how A Little Extra, a handmade jewelry brand launched its earring advent calendar.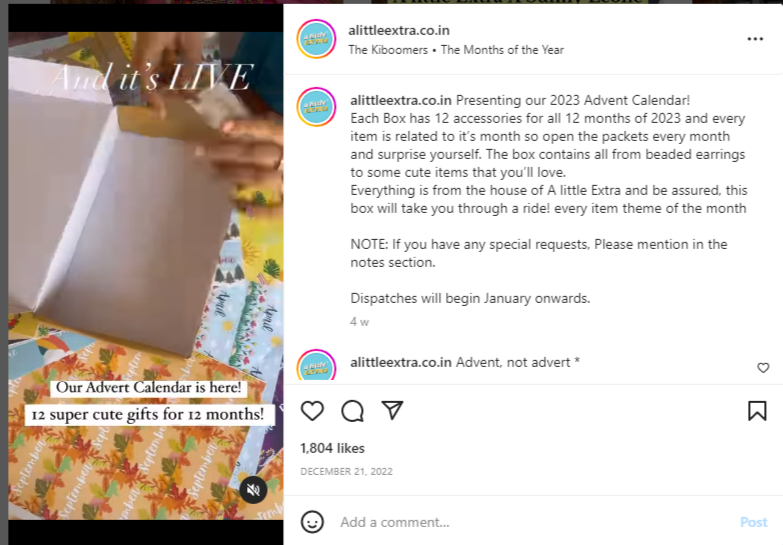 Why it works: They created a 12-month Advent calendar — a single earring set for each month. Selling this in a pack of 12 increases the AOV, and offering discounts to customers who buy early allows the brand to maximize sales. 
How to implement: First, select the products you'll use for your advent calendar. Pack them and label them for each month. 
To sell them, launch two offers — one at the original price and the other at the discounted price. Customers who order before a specific date get a discount.
You can also keep selling the advent calendar after the holiday season is over at the discounted price. Who doesn't love a bargain? And an advent calendar works every year. 
Maximize your holiday marketing campaign
No doubt, there are zillions of strategies you can use to give a boost to your holiday marketing campaign. But first, start with the basics:
- Offer personalized gifting experiences to customers who shop in physical stores.
- Engage your shoppers via email and SMS marketing. Send them discount codes and offers, information about product launches, and limited-time offers.
- Run holiday-themed giveaways to increase brand awareness and sell your newly launched products
- Collaborate with influencers and creators who can sponsor giveaways. Influencers help you increase the audience reach to promote the giveaway and also acquire their audience and convert them into your customers
- Launch advent calendars based on your products, create a high-value offer, and increase the AOV, eventually increasing your sales and profits.
Don't underestimate the holiday season for locking in strong sales figures. With some creativity and planning, you can turn a stressful, hectic couple of months into the most profitable time of the year.
Get started today. You won't regret it.