You've read a plethora of checklists and eBooks, attended a few conferences and listened to a plethora of short podcasts on B2B content marketing mistakes.
Even so, you're likely making the same blunders as everyone else who's trying their hand at content marketing.
Without any disregard, poor content marketing strategy is not anyone's fault. However, with a successful B2B content marketing plan in hand, one can easily make the most out of it.
So, here's 5 common B2B content marketing pain points blunders that are stopping you from achieving your goals.
1. Not Having A Robust Content Strategy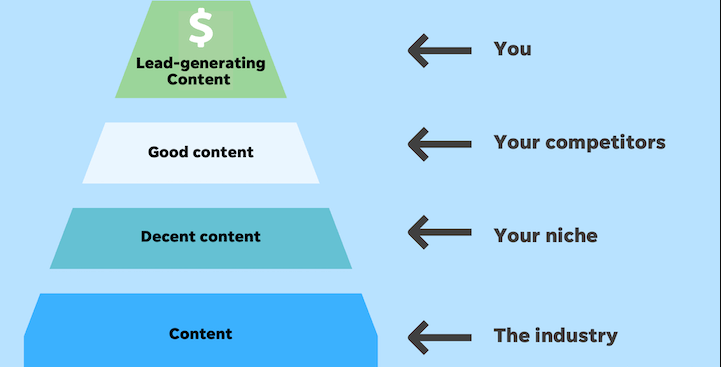 Content marketing strategy tailored to your industry and business to generate lead-generating content, Source
Most successful businesses believe that having a robust content strategy often makes the biggest difference. 
It single-handedly decides whether the content that reaches your audience will make an impact or not. 
Since B2B prospects are highly sophisticated and experienced people, aligning your content with their expectations is important.
But, only 37% of B2B businesses have a documented content strategy in place. Because creating one is easier said than done. 
It takes a ridiculous amount of preparation, along with deep research on various things. 
Here's how you can create a killer content strategy for your B2B business:
Research your top competitors

Select appropriate content formats and channels

Come up with unique and valuable topics

Prepare a content calendar 

Streamline your content creation process

Publish valuable content regularly
With that, you can attract the right B2B prospects and generate more leads. You will also need a good CMS such as WordPress to help you get even more organized. There are many options available for WordPress hosting for agencies so that you can pick the one that works best for you. You can also opt for managed WordPress hosting to make the process of migration and maintenance easier for your website.
But, if you are hoping to get visitors from organic search, don't miss out on SEO.
2. Not Focussing On SEO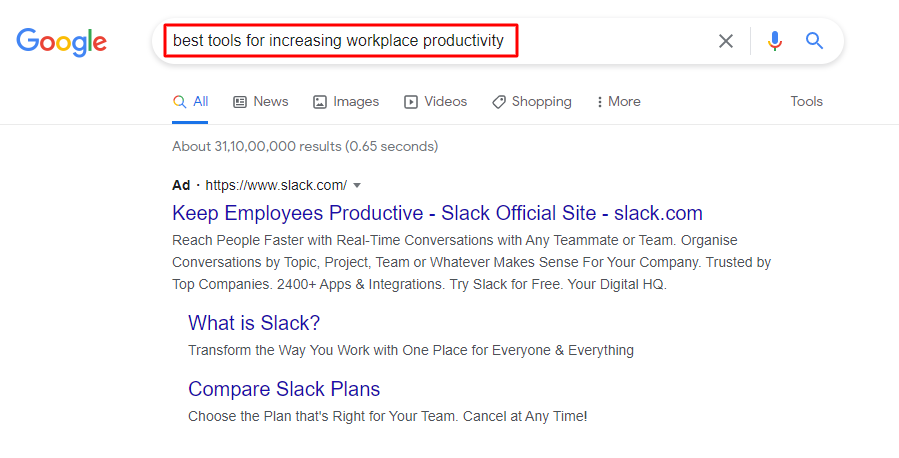 Ranking in SEO search results for lead generation
SEO (Search Engine Optimization) plays a major role in deciding whether your content will organically reach your audience or not. 
It consists of on-page optimization and off-page optimization (Link Building), which helps search engines understand your content better and rank it for relevant search queries.
Most of the time, B2B prospects search for tools, products, software, and services they need online.
If your content is not showing up before them, it will not get the desired conversions.
So, overlooking SEO is one of the biggest content marketing mistakes, enroll with the help of an SEO expert or take an SEO course yourself.
While it's true that SEO is tough and time-consuming, here are some tips to help you get started:
Use HTTPS security on your website

Improve your page loading speed

Create and add a sitemap

Optimize all the on-page SEO elements

Find and use relevant keywords

Structure your content with header tags

Create SEO-friendly URLs for your content

Build backlinks and increase their count

Add internal links to your web pages
You can check your SEO performance using RankWatch's free website analyzer tool.

Rankwatch SEO tool
It will point out errors in your website's SEO and help you know how to fix them. Using the indications, you can improve your SEO easily.
With that, an excellent SEO strategy is ineffective if you do not understand your audience.
3. Not Understanding the Target Audience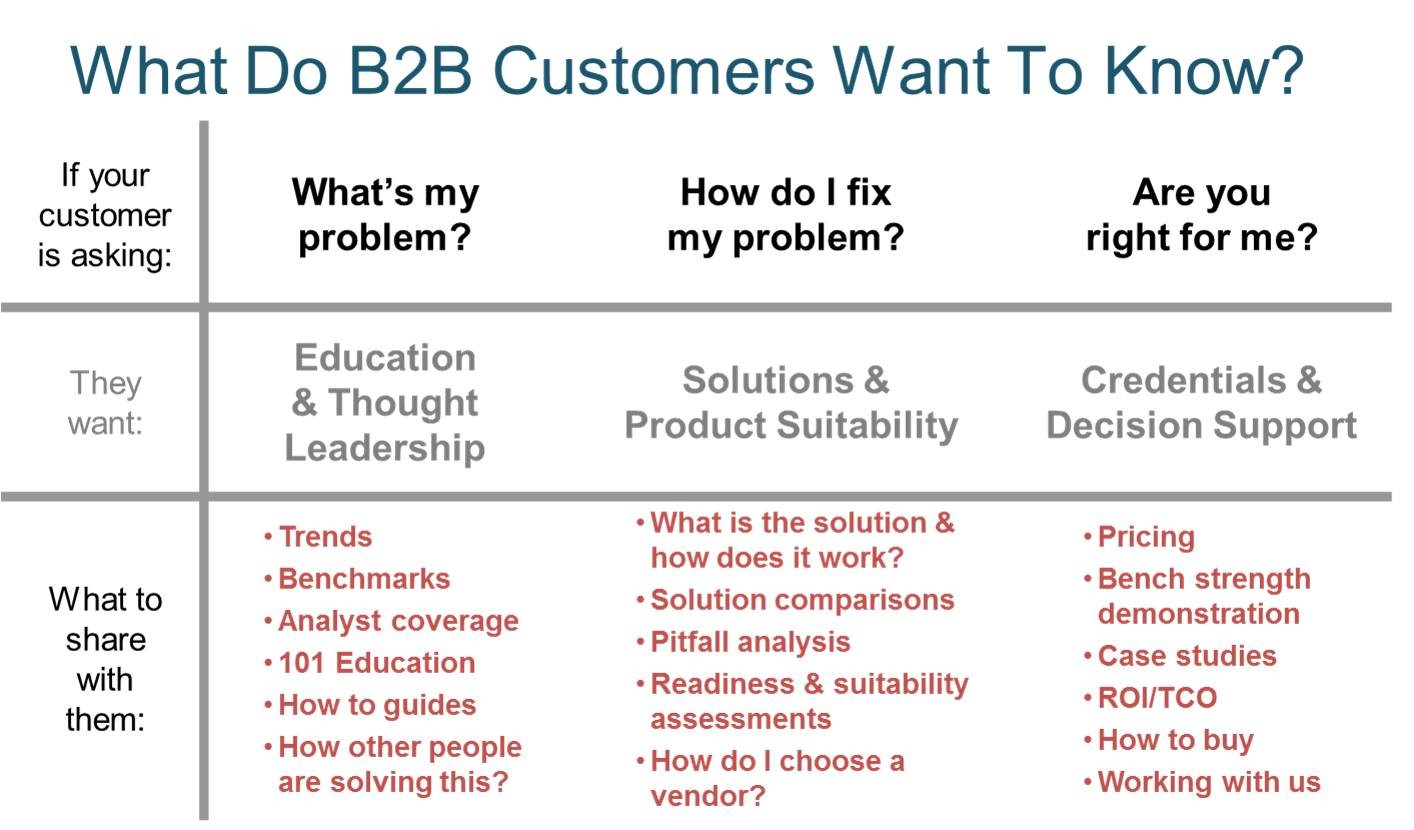 What B2B customers really want to know in content marketing
You can keep creating great content regularly, but are they really great if your audience is not reading them? 
Creating content you think is valuable and creating content that your audience cares about are two different things. 
B2B prospects are short on time, occupied with work, and knowledgeable people. 
You need to keep this basic outline in mind while doing anything and everything related to B2B marketing.
In short, if you are not creating content tailored to what your B2B prospects want, you'll be losing a lot of traffic and conversions. 
You have to get them interested in the content you create so that they ALWAYS come back for more. 
With that B2B content marketing will get easier for you. 
But, creating content and leaving it to bring you conversions on its own is not right. That leads us to the next mistake.
4. Not Doing The Right Promotions
Facebook ad promotion for Zendesk
In B2B content marketing, doing the right promotion at the right time is essential. 
Remember, your target audience is business representatives, who are mostly occupied with work. So, you need to show up before them when they have time.
Plus, on the right platforms like LinkedIn, where business owners and CXOs spend time. You should also be careful of the format you use for promotion.
Then only they will be interested in learning more about your business and exploring it. 
However, just like everything, it is easier said than done. If you don't research and prepare well, you'll miss out on it.
And trust me, for B2B content marketing, promotion is the hardest part. 
I'd recommend talking to an expert about your requirements and having an in-house team to take care of them.
You can even ask them to build and maintain your social presence for better conversions. But what if you are not using social media at all?
5. Not Leveraging Social Media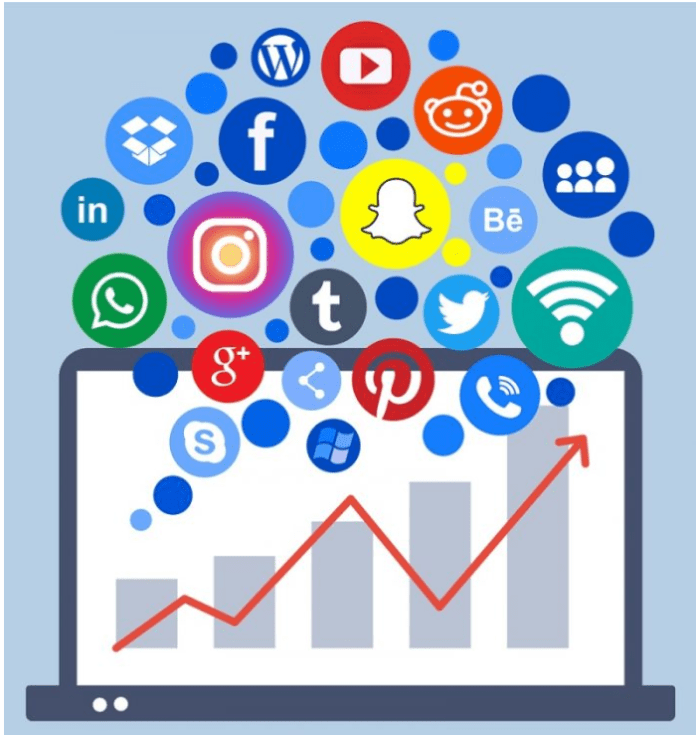 Social media marketing apps for content marketing promotion
With nearly 7.28 billion people using social media worldwide in 2021, it has emerged as a powerful marketing tool. 
What started as a platform for connecting with your friends and family is now being utilized to target potential customers and clients.
But, most B2B businesses don't realize its potential. 
They can easily take advantage of the wide reach of Twitter, Linkedin, etc., to educate people about their product or service and drive more conversions. 
If you have not been using social media for marketing your B2B content, you must start doing it now.

Here are a few tips to help you get started:
Select the right platform to market your B2B business

Run different campaigns for different client personas

Build long-term relationships with your prospects

Measure your efforts with the help of

UTM parameters
With that, you can make the most out of your B2B content marketing efforts.
Tough, But Not Impossible
It can be extremely difficult to create the right B2B content marketing plan, and you might have to go through a lot before having a perfect one.
But, I'm sure you'll now be able to avoid the most common mistakes and create a strategy better than your previous one.
If you still have any questions or doubts, you can leave your comments below. I'll be happy to answer them all!