12 Best Marketing Automation Tools
It's a process that involves leveraging software and technology to streamline and automate various marketing tasks and processes.
For instance, marketing automation lets businesses not only set up an automated system that captures email addresses or delivers pre-recorded product demos but also automates repetitive tasks for maximum efficiency to target the right customer at the right time.
This is true as 96% of marketers use a marketing automation platform for their business. So, if you are up for the drill, let's explore the benefits you can leverage.
Benefits Of Marketing Automation Tools
Enhanced Efficiency: Marketing automation tools are your perfect go-to to streamline repetitive tasks, reduce manual workload, and allow teams to focus on more strategic activities. With this software, you can bulk schedule, monitor, auto-respond, and track various social media channels for maximum efficiency.
Personalization At Scale: These tools can track customer web activities and purchase behavior, record and respond to them via communication channels, and enable businesses to deliver personalized content and timely marketing messages based on their preferences and behavior
Improved Lead Management: Automation helps in lead nurturing, scoring, and segmentation, ensuring sales teams receive highly qualified leads. You can do many things, including clipping prospects and lead information and sending personalized emails and follow-ups using email automation.
Data-Driven Insights: Marketing automation helps you gain insights about customers' purchase behavior. Businesses can have a high-level overview to gauge the complications and friction points and make informed decisions to refine their strategies in a timely manner. Besides this, businesses can also leverage social media analytics tools to get more actionable insights and identify patterns of brand performance.
Consistent Communication: Automation ensures consistency in the process. Customers receive consistent messages and follow-ups on all your social media channels without any delays. This helps businesses improve their brand-customer relations and enhance their perception as well.
Increased ROI: By optimizing marketing efforts, automation tools often lead to a higher return on investment through improved targeting, reduced team workload, higher productivity, and conversion rates. In fact, 76% of companies see a return on investment within the first year of implementing their marketing automation software.
Best Marketing Automation Software
1. Leadgen App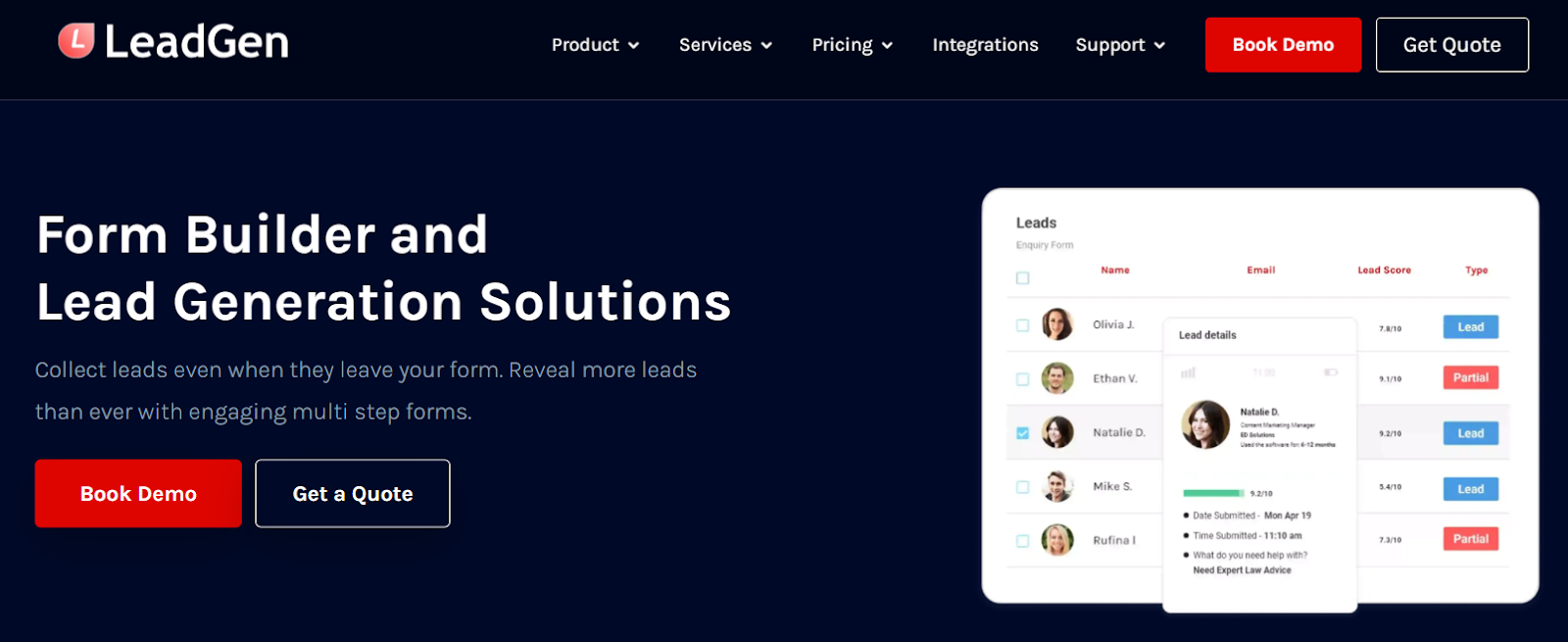 Leadgen App is a versatile marketing automation tool designed to simplify lead generation for your website and landing pages with high-converting lead generation forms. It streamlines the process of capturing and nurturing leads, making it an ideal solution for businesses of all sizes. With the Leadgen App, businesses can capture up to 5X more leads from their web pages and create customized lead capture forms, automate follow-up emails, and segment their audience for targeted marketing campaigns. Its user-friendly interface and templates enable quick and efficient campaign setup. 
Key Features:
Online Form Design Service

Online Form Audit

Digital Marketing Consulting

Form Builder

Lead Verification

Leadproof
Pricing:
G2 rating: 4.8 out of 5
2. Statusbrew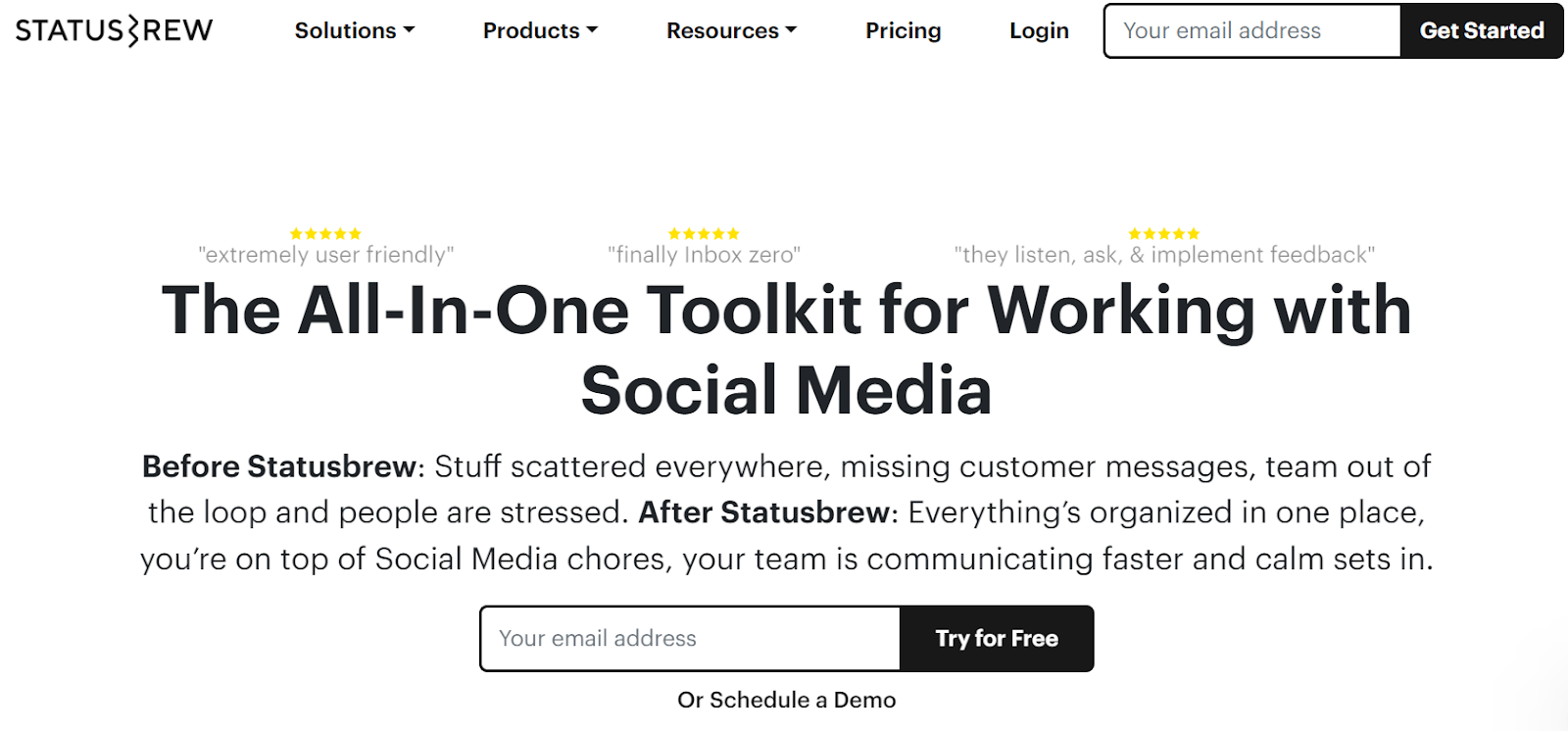 Statusbrew stands out as a versatile social media marketing automation tool offering unique AI-driven features like sentiment detection, automated responses, and approvals. This Hootsuite alternative supports a wide range of social networks, including Facebook, Instagram, TikTok, LinkedIn, Twitter, YouTube, GMB, WhatsApp, Pinterest, App Store, and Play Store, along with bulk-scheduling content across multiple profiles and networks for up to a year. Besides this, with Statusbrew, you can also automate social engagements and leverage sentiment analysis to gauge the audience's perception of your business.
Key Features:
AI sentiment detection

Automate responses

Auto workflow approvals

Supported Networks

Automate social media posting

Bulk-schedule content

Engagement automation

Unified social inbox

Built-in Social CRM

Competitor reporting

Social listening

200+ advanced reporting metrics
Pricing:
Standard:

$129.00 per month

Premium:

$229.00 per month

Enterprise:

Custom pricing
G2 rating: 4.7 out of 5
3. Salesforce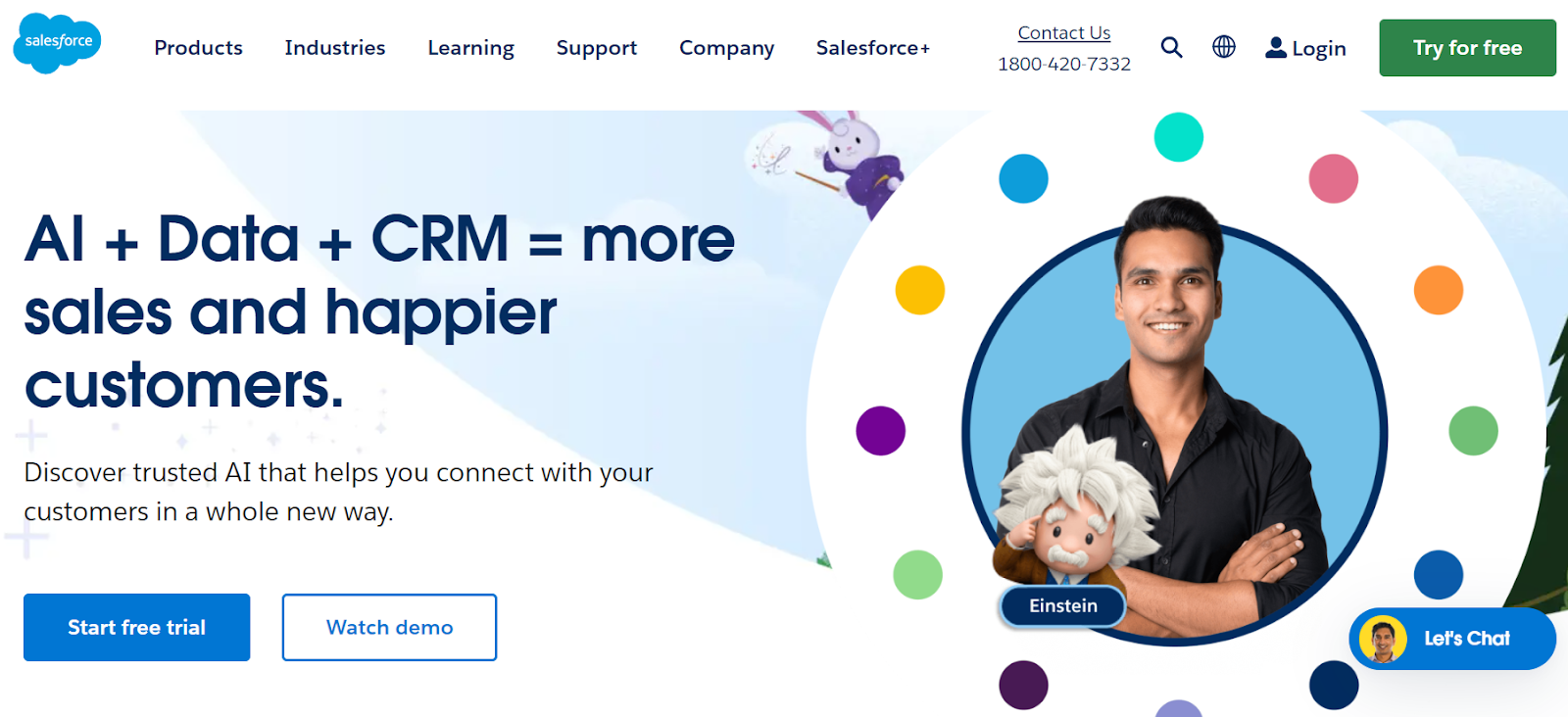 Salesforce, formerly known as Pardot, is a robust marketing automation solution primarily catering to enterprise clients. It offers a wealth of features for automating communication with existing contacts, including CRM integration, email marketing, lead nurturing, and detailed ROI reporting. This platform allows you to track website interactions and develop predictive lead scoring criteria, optimizing marketing efficiency and reducing sales team workload. Additionally, Salesforce's Sales Cloud, an integral part of its offerings, empowers businesses to enhance customer relationships, increase sales productivity, and automate tasks like activity tracking and email alerts.
Key Features:
Integrated CRM 

Personalized engagement 

Integrations 

Analytics and Reporting 

Data protection

Lead Management

Create automated workflows 

Automate sending a follow-up email

Email Marketing

Social Media Engagement

Content Management and Delivery

Event Management
Pricing:
Starter:

$25 per user per month

Professional:

$75 per user per month

Enterprise:

$150 per user per month

Unlimited:

$300 per user per month
G2 rating: 4.3 out of 5
4. Freshworks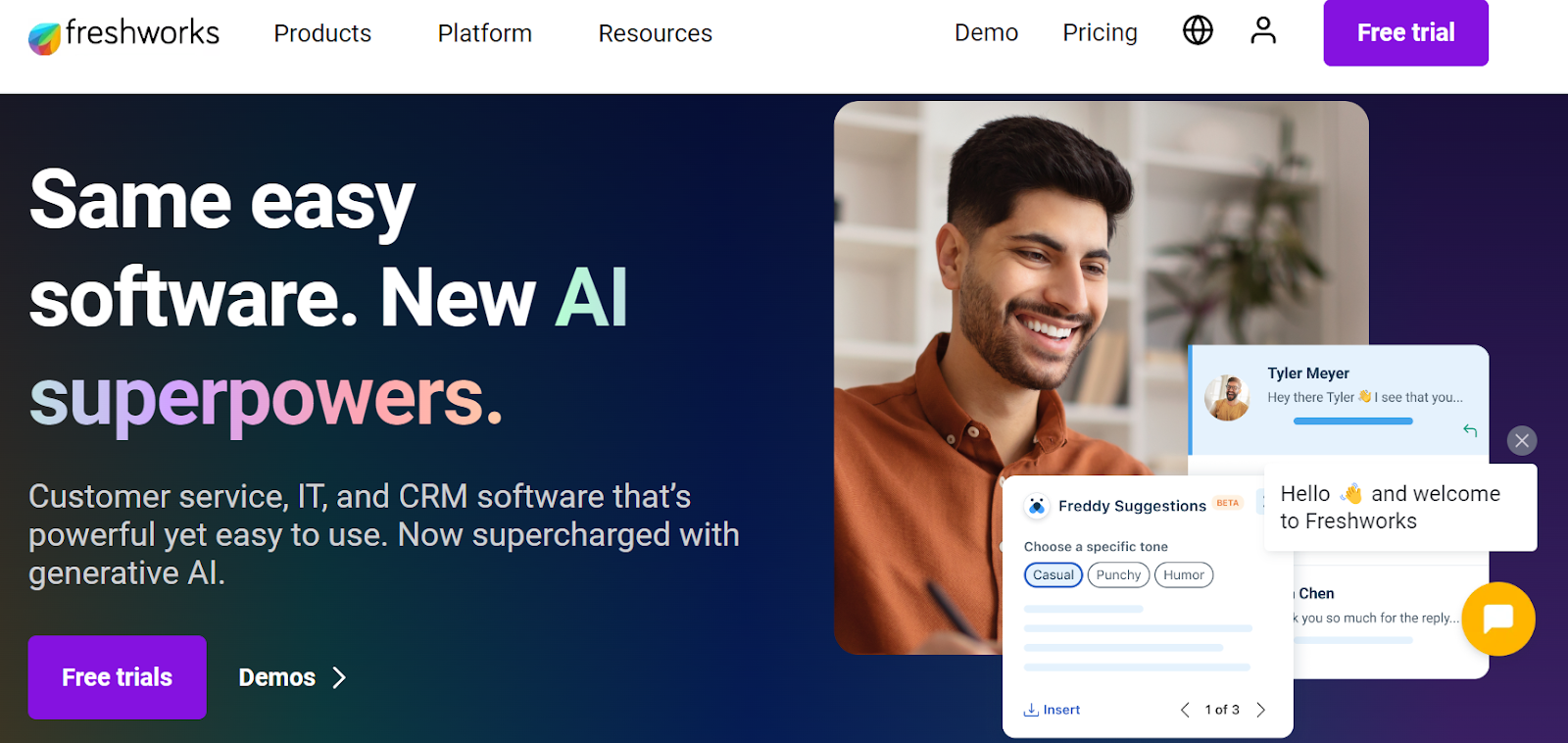 Freshworks is an effective choice for businesses that aim for better customer relationships and engagement. With Freshworks, businesses can automate various marketing tasks, from lead generation to email campaigns and analytics. Its intuitive platform empowers users to create personalized marketing workflows, schedule emails, and segment their audience effectively. Some of its best features are its customer service, IT service, and CRM, which help businesses boost sales and productivity to elevate their marketing efforts and deliver exceptional customer experiences.
Key Features:
Customer Service & Support

IT Service Management

Conversational Engagement

Marketing Automation

Enterprise Service Management

Sales Automation

Customer Relationship Management

Email campaigns and contact management

A/B and split testing

Real-time funnel analytics

Integration with E-commerce platforms
Pricing: 
Free:

$0 /user/month, billed annually

Growth:

$18/user/month, billed annually

Pro:

$47/user/month, billed annually

Enterprise:

$83/user/month, billed annually
G2 rating: 4.5 out of 5
5. Breadcrumbs.io

Breadcrumbs is a revenue acceleration tool that helps businesses simplify the process of lead scoring and prioritize them based on their conversion status. With Breadcrumbs.io, businesses can track visitor behavior in real time and deliver highly customized content and messages to individual users. This tool offers advanced features like dynamic website content, email retargeting, up-sell/cross-sell, retention, adoption, and lead scoring, enabling businesses to engage with their audience more effectively. It's a valuable solution for businesses looking to maximize the impact of their online presence through personalized interactions.
Key Features:
Pricing:
Free Plan:

$0/month

Pro Plan:

$400/month (Billed annually)

Business Plan:

$1,600/month (Billed annually)

Enterprise Plan:

$2,800/month (Billed annually)
G2 rating: 4.3 out of 5
6. Zapier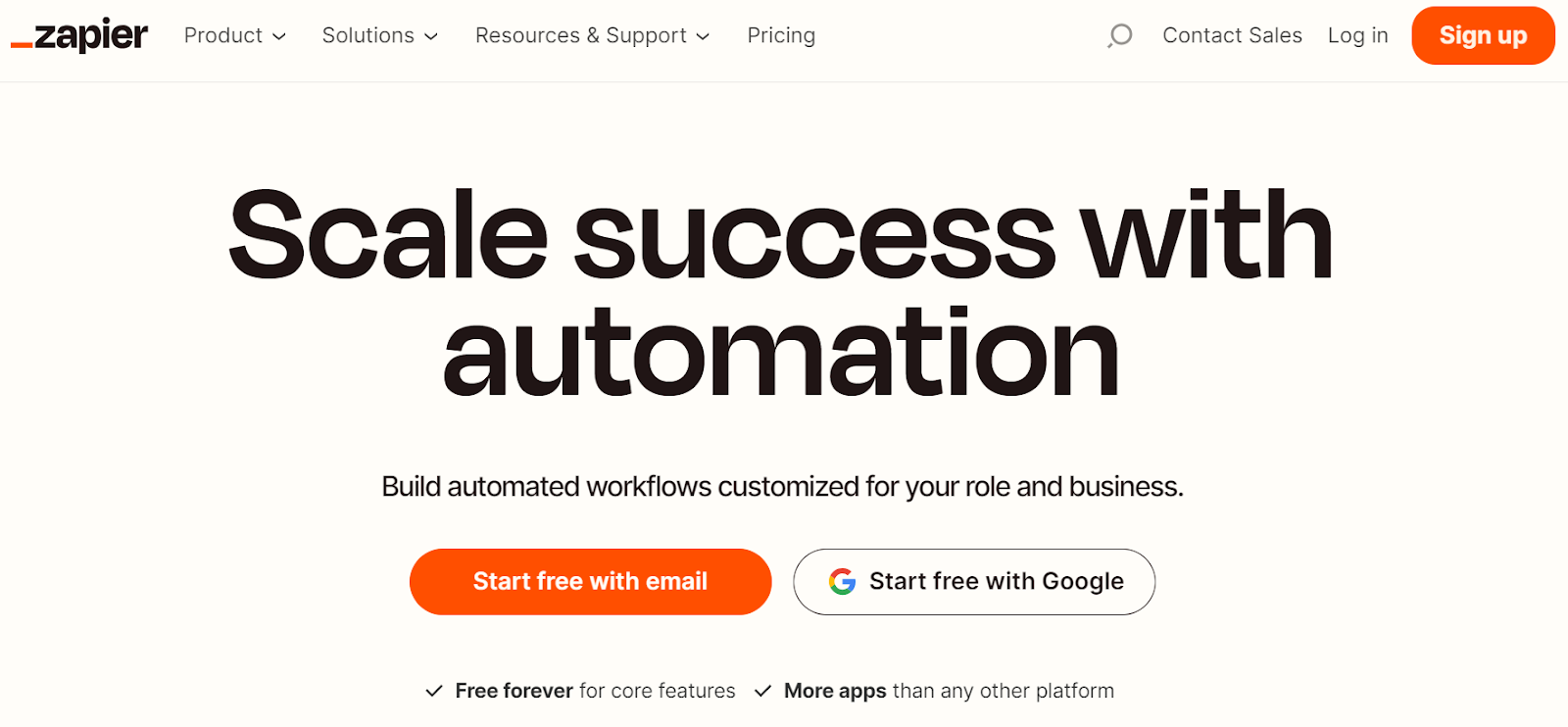 Zapier is an invaluable task automation tool that seamlessly connects your various applications and services. With Zapier, you can effortlessly set up "Zaps," automations that link different apps, all without the need for coding skills. With an extensive database of over 4,000 apps, Zapier simplifies and accelerates your work by handling routine tasks automatically. This tool empowers users to build robust multi-step workflows, incorporating over 500 integrations spanning email marketing, social media, and project management, making it an accessible, potent, and cost-effective automation solution.
Key Features:
Multi-step Zaps

Custom logic-paths

Top-notch security

More than 3000 apps

Schedule your Zaps

Formatter to transform dates, currency, text, and more 

Webhooks to receive data from any service
Pricing:
Free:

$0

Starter:

$19.99, billed annually

Professional:

$49/month, billed annually

Team:

$69/month, billed annually

Company:

Custom pricing
G2 rating: 4.5 out of 5
7. GetResponse

With over 25 years of expertise, GetResponse is a comprehensive email marketing platform that has been the consistent go-to for many small businesses and marketers for its affordability, and robust 24/7 customer support. Besides this, the powerful features like drip campaigns, contact scoring, event-based automation, E-commerce tracking, and friendly UI make it a must-try for businesses looking for advanced marketing features and reliable support.
Key Features:
Email marketing

Autoresponders

AI email generator

Website Builder

Landing pages

Marketing automation

SMS marketing

Web push notifications

Conversion funnel

Live chats

E-commerce integrations

Popups and forms

AI recommendations

Paid ads

Webinars

Affiliate Program

100+ integrations
Pricing:
Free: $0.00/mo

Email Marketing: $15.58/mo, billed every year

Marketing Automation: $48.38/mo, billed every year

Email Marketing Plus: $97.58/mo, billed every year
G2 rating: 4.2 out of 5
8. Sender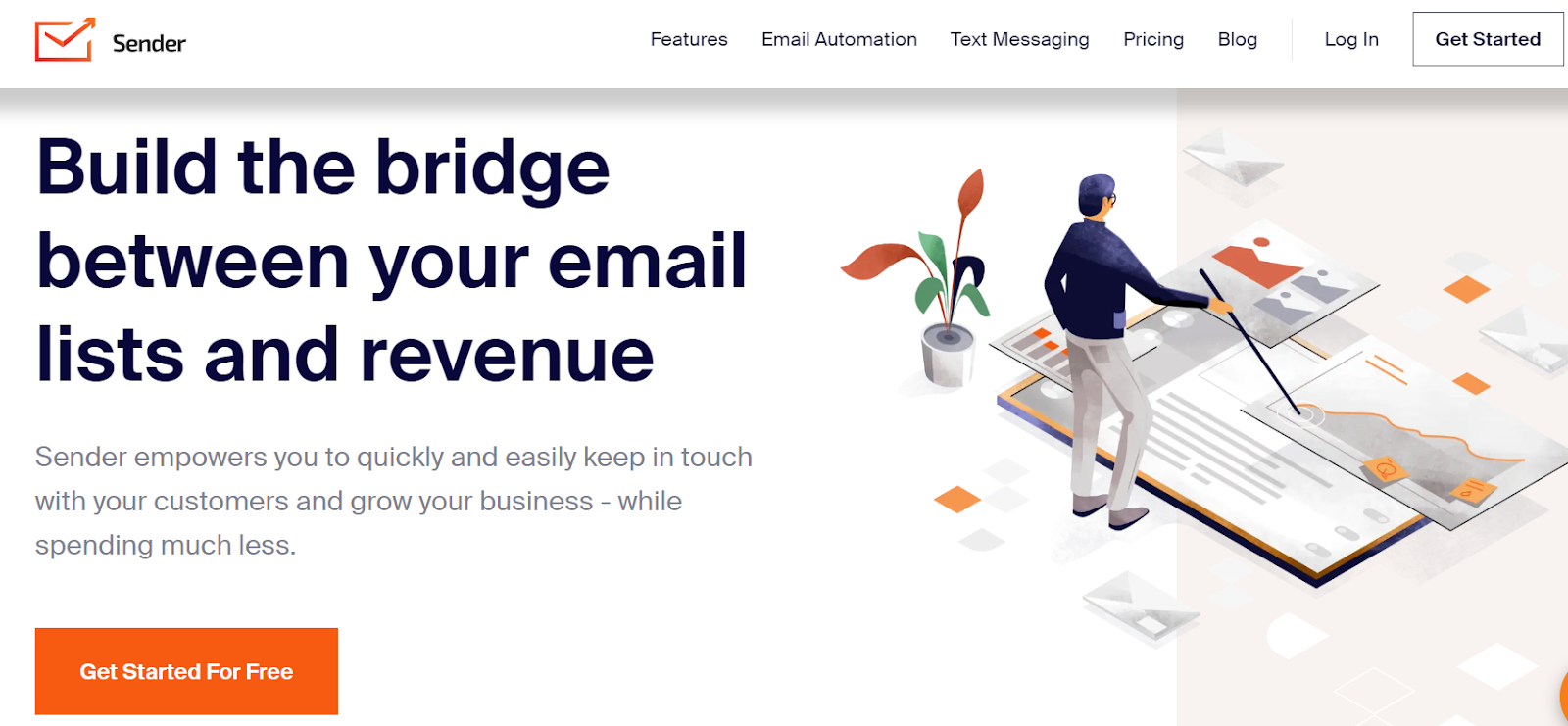 Being a robust yet affordable email & SMS marketing automation tool, Sender is designed to help marketers and small business owners send and automate email & SMS marketing campaigns without breaking the bank. This tool lets you grow your email list with high-converting popups, templates, and design builders. You can create automated workflows without any hassle and target the right customers using its smart segmentation.
Key Features:
Pricing:
Free Forever:

$0

Standard:

$8.33, billed yearly as $100

Professional:

$29.17, billed yearly as $350

Enterprise:

Custom Price
G2 rating: 4.4 out of 5 
9. Keap

Although primarily known as a customer relationship management software, Keap has some noteworthy marketing automation features that can work well for businesses looking for a reasonably priced tool. This tool is designed to streamline the communication with your potential leads, creating a personalized connection and eliminating much of the manual work. Small businesses can leverage this tool to build emails, streamline workflows, follow-ups, billing, contact management, and use pre-built templates.
Key Features:
Appointments

Automation

CRM

E-commerce & payments

Email marketing

Integrated sales and marketing automation

Landing pages & forms

Lead management

Reporting and analytics

Sales pipeline

Phone line and Text Marketing

Smart subscription form builder
Pricing:
Pro:

$159 /mo (Billed at $1908/year)

Max:

$229 /mo (Billed at $2748/year)

Max Classic:

Custom Pricing
G2 rating: 4.2 out of 5
10. Avada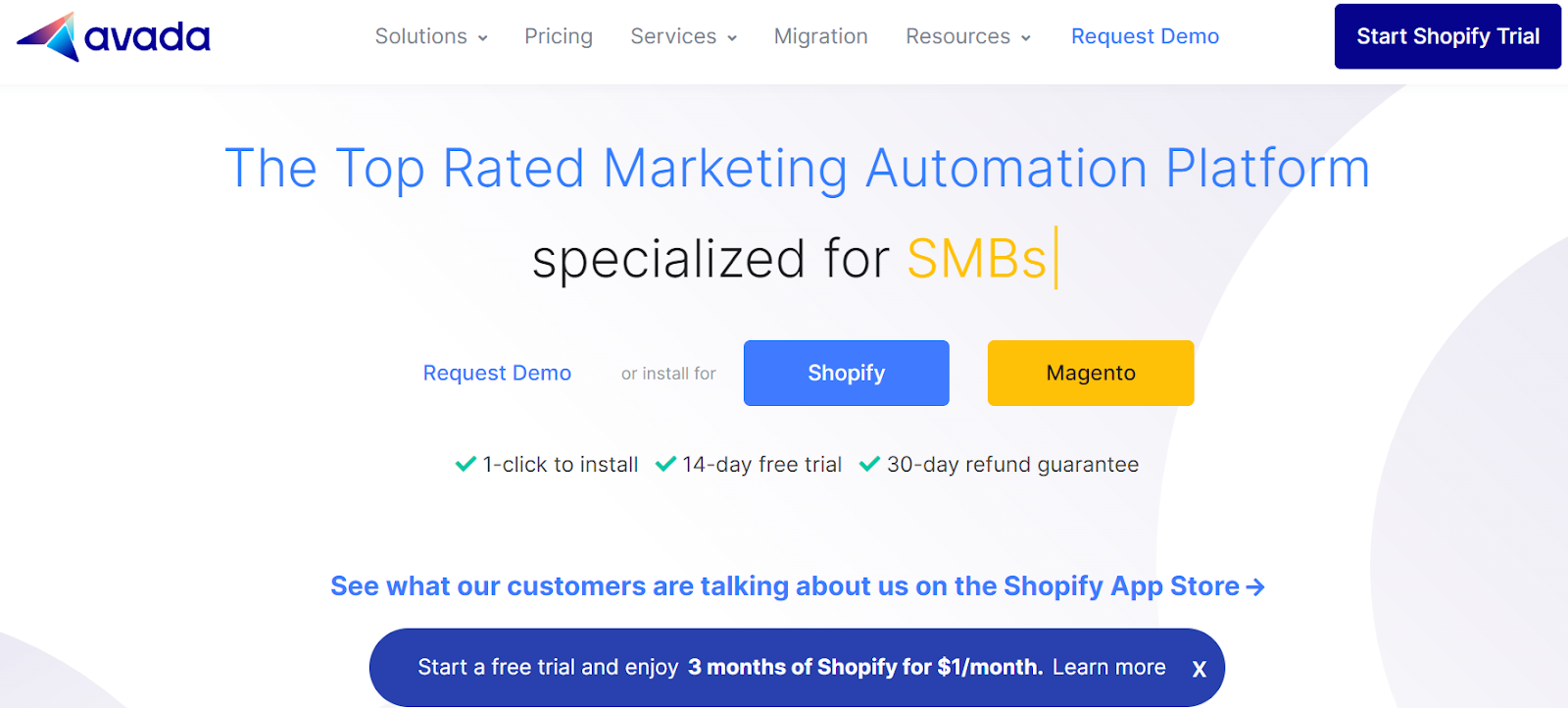 Designed for small to medium business that requires an easy-to-use but convenient solution for their marketing activities, the Avada marketing automation tool can be the best bet as it helps marketers automate the email workflow for streamlined results and ROI. It also integrates with popular platforms like Shopify and Magento to lift up your campaign's targeting and performance.
Key Features:
Pricing:
Free:

$ 0 / mon

Pro:

From $ 16 / mon

Advanced:

From $ 47 / mon

Enterprise:

Custom Pricing
G2 rating: 4.9 out of 5
11. Agency Analytics

Renowned as one of the best all-in-one integrated reporting tools, AgencyAnalytics is suitable for agencies and businesses aiming to automate their report-generation process. With its smooth, customizable marketing dashboards, businesses can monitor their clients' marketing channels, track rankings daily, monitor backlinks, and perform technical SEO audits for the best results.
Key Features:
Pricing:
Freelancer:

$12USD/month

Agency:

$18USD/month

Enterprise:

Custom
G2 rating: 4.7 out of 5 
12. Customer.io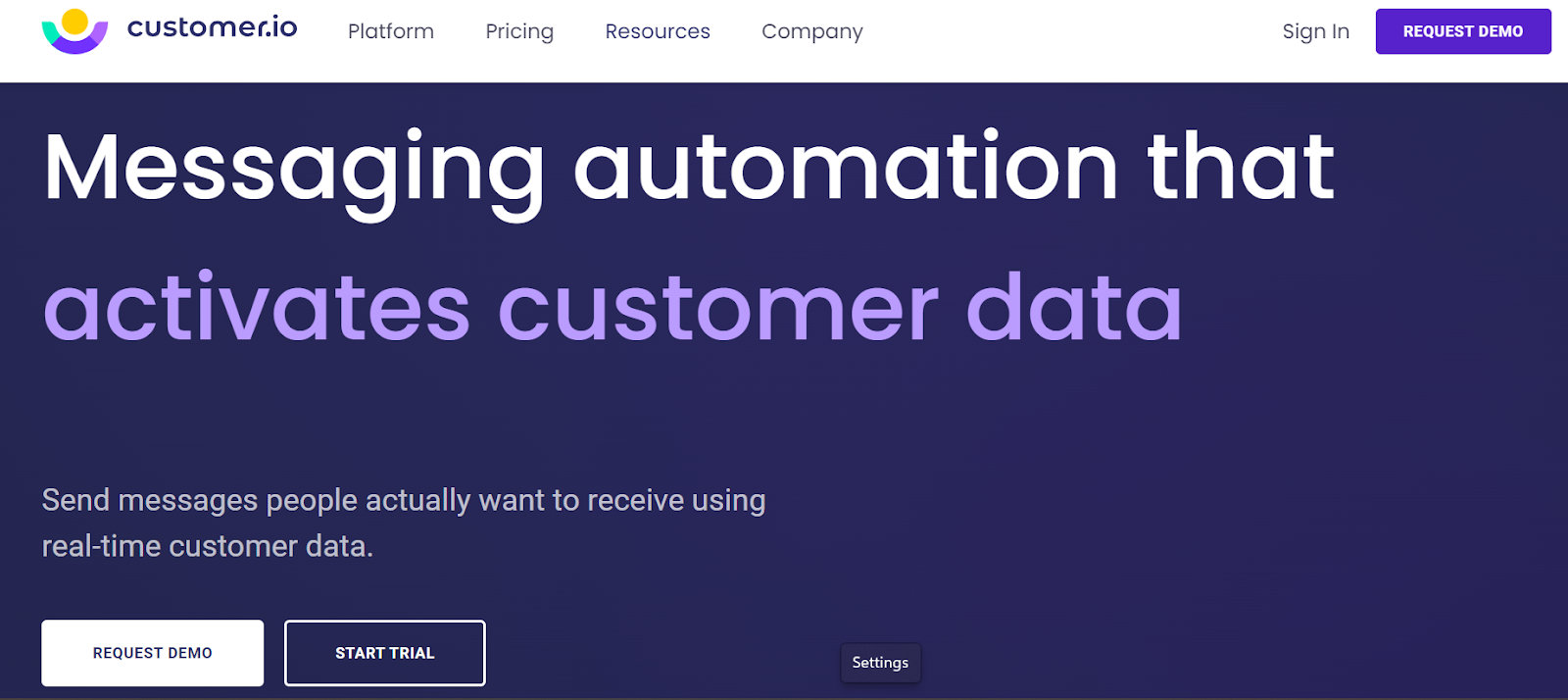 Having one of the most user-friendly UI, Customer.io is known for its flexibility, customization, and many integrations that help funnel data from various technology stacks into automated segments and email campaigns. Businesses that want to automate their messaging campaigns should go for this tool as it gives access to real-time behavioral data, besides creating personalized messages to retain customers.
Key Features:
Direct integration and Third-Party integration

Customer segmentation to see individual profile data

Retargeting segments into Ad audiences

Transactional API

User-friendly interface

Personalized messages with collections

Connect with customers through newsletters

Real-time data to rely on

Best-in-class technical support

Onboard new customers

Renew existing customers

Nurture leads

A/B testing and conversion tracking
Pricing:
Essentials:

Starts at $100/ month, billed monthly

Premium:

Starts at $1,000/ month, billed annually

Enterprise:

Custom
G2 rating: 4.4 out of 5
Closing Words
While marketing automation is a relatively young and growing concept, businesses aspiring to streamline their workflow and maximize efficiency can be picky about choosing the tool best suited for their needs. While there is no one-size-fits-all solution, you can surely go for the one that resonates with your budget, objectives, and requirements. Once set, these marketing automation tools can take your business strategy to new heights, allowing you to spend less time on manual work and more on growing the business.
FAQs
Q1: What are marketing automation tools used for?
The function of marketing automation tools is to save time, automate repetitive tasks, reduce human error, and increase efficiency to boost your team's productivity. Instead of doing things manually, they can focus on more strategic tasks, such as campaign planning, design, and strategizing.
These versatile tools also streamline and enhance various marketing campaigns and customer engagement aspects. They serve multiple crucial purposes:
Automation tools facilitate the creation and delivery of personalized email campaigns, including drip campaigns, newsletters, and transactional emails. 
Automation tools monitor customer behavior on websites, email interactions, and social media, providing insights.
Q2: What are the different types of marketing automation?
Marketing automation encompasses various types of automation, each tailored to specific aspects of the marketing process:
Email Marketing Automation focuses on automating email campaigns, including drip campaigns, personalized email sequences, and automated responses to customer actions.
Social Media Automation schedule and publish social media posts, track engagement, and provide insights for optimizing social media strategies.
Workflow Automation automates internal processes, such as approvals, task assignments, and collaboration among marketing teams.
E-commerce Automation automates tasks like abandoned cart emails, product recommendations, and order follow-ups.
Ad Campaign Automation optimizes digital advertising campaigns by automating ad placement, targeting, and budget allocation.
By leveraging these different types of marketing automation, businesses can efficiently manage various aspects of their marketing efforts, improve customer engagement, and drive better results.
Q3: Are there any free marketing automation tools?
Yes, several free marketing automation tools are available, although they often have limitations compared to their paid counterparts. Here are a few notable options:
MailChimp

HubSpot CRM

Sender

Avada

GetResponse

Breadcrumbs.io

Zapier 

Freshworks
While these free tools can be a good starting point for smaller businesses and startups, they often come with limitations on the number of contacts, emails, or features. As your business grows and your automation needs become more sophisticated, you may consider upgrading to paid plans or more robust marketing automation platforms to access advanced features and scalability.
Q4: How do you choose the best marketing automation tool?
Choosing the best marketing automation tool is a critical decision that hinges on several key factors:
Budget and Business Needs:

Determine how much you're willing to invest in a marketing automation tool. Keep in mind that while there are free or low-cost options, more advanced features often come with higher price tags. Ensure the chosen tool can grow alongside your evolving needs.
Analytics and Reporting:

Ensure the tool provides robust analytics and reporting capabilities. It should track metrics relevant to your goals and offer advanced reporting features, especially for complex B2B and enterprise environments.
Integration Compatibility:

Investigate how well the automation software integrates with your existing software stack, such as CRM, e-commerce, and analytics tools. Compatibility is crucial for seamless data flow.
Potential Limitations:

Be aware of any limitations, such as monthly action caps or database size restrictions. Understand your contact volume, email frequency, and the software's intended objectives to avoid underestimating costs.