How Digital Transformation is Reshaping e-Commerce Customer Experiences
Customers today are different from those in the past - and that's an understatement, even. Thanks to technology and online shopping, they are spoilt with choices. Everything is at their fingertips and the options are many. As a result, today's customers expect originality, relevant content, quality offers, and impeccable customer service. This is what businesses focus on - how to boost the e-commerce customer experiences.
Digital transformation hasn't only made shopping easier for the customer. It also opened up new ways for businesses to reach and attract their audience. The customer journey today is what dictates their strategies, and this is helped by the latest technologies. Thirty-five percent of business executives today believe that digital transformation helps them meet their customer's expectations, as well as improve operational efficiency. Many are already investing a lot in this, or at least planning to invest more in the future.
A few years back in 2018, the global net spending on digital transformation was set at $1 trillion. This number is projected to reach $2.8 trillion by 2025. This should come as no surprise considering how much e-commerce has changed in the last decade alone, not to mention since its beginning.
In this article, we'll discuss the ways digital transformation reshapes the customer experience through the use of new technologies and trends.
What is digital transformation?
Digital transformation is the creation and integration of technologies that change how a business operates and increases the value delivered to the customer. Simply put, this includes all the technologies that change how businesses interact with customers. In e-commerce, digital transformation is witnessed in just about everything these days.
Companies implement digital transformation strategies and invest a fortune in this to boost the customer satisfaction and experience. As a result, they get more engaged customers. The strong performers on the market are enjoying results like the following:
a) Customers are 6 times more likely to buy their new products or services.
b) They are 2 times more likely to buy from a preferred brand even if there's a better price on the market.
c) They are 4 times more likely to refer a business to their connections
Engaged customers buy more often, spend more with each purchase, and are the most valuable customers for a business.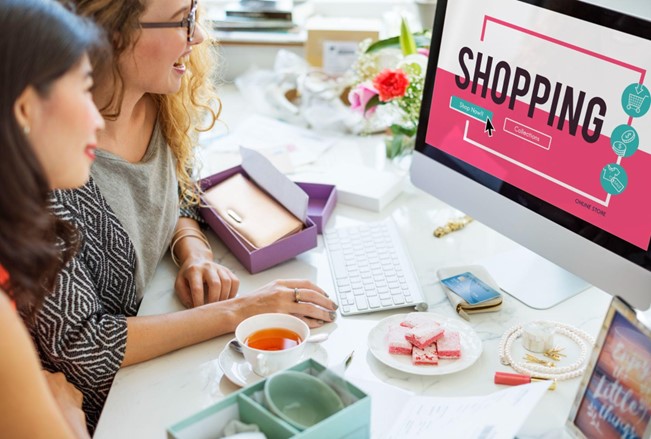 How digital transformation reshapes the customer experience?
Digital innovations such as blockchain, IoT, machine learning, and more provide a more seamless, personalized, and better experience for customers. These technologies have caused a big shift in the expectations of customers. The modern buyer enjoys a technology-driven, optimized experience these days.
If we are to see how digital transformation reshaped the experience of customers, we should look at the technologies that made this happen.
1. The rise of blockchain technology
Technology has been transforming to a point where it created a new framework, one that significantly increases the capabilities of e-commerce businesses. Not so long ago, e-commerce started collaborating with digital payments and Fintech. The idea was to enable customers to do transactions at any time, and at any place. The market has advanced a lot since.
One significant advance in payment processing is the creation of blockchain technology. Moonpay, a leading Web3 development company, has a full guide on what is a blockchain and how it's used to process and track transactions. Some of the world's iconic brands rely on this source to power their web3 strategies.
The ability of blockchain to solve e-commerce problems is grand. For starters, it simplifies the operations, decreases their complexity, and fully removes the middleman. Simply put, blockchain is used in e-commerce to make the supply chain safer and more transparent. People with authorization can observe and review transactions, which makes customers feel safer.
Here are some of the benefits of this digital transformation in e-commerce:
a) Blockchain improves the management of data and converts insights into assets.
b) When centralized authority is absent, blockchain establishes trust and transparency.
c) The decentralized system is one of the most incorruptible and secure systems that exist.
d) Customers can communicate directly with e-commerce businesses without intermediaries.
Nowadays, customers can make purchases in e-commerce stores that accept payment methods like Bitcoin and Ethereum. For those interested in diversifying their cryptocurrency portfolio, you can learn where to buy Bitcoin Cash to explore more options in the digital currency world.
2.  The rise of artificial intelligence
Artificial intelligence might just be one of the greatest innovations in technology of all time. Most of the tasks in e-commerce today are automated and optimized using AI. There are plenty of tools to use for everything from content creation to answering customer questions. Let's take a look at the biggest uses of AI in e-commerce.
a)  Chatbots and voice assistants
Retailers are truly harnessing the power of AI to communicate with their audience. Tools like chatbots have reshaped communication with stores as we know it. These can answer customer questions in seconds and reduce the workload of agents.
Chatbots can offer 24/7 service, something that's highly demanded in the market right now. Customers need to know that they can reach a brand whenever they need it. This also shortens the waiting time and with it, optimizes the customer experience.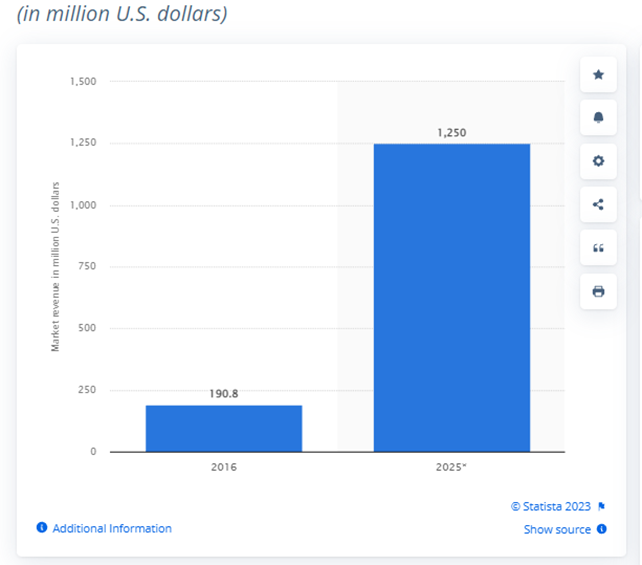 Judged by how popular chatbots are, we can only expect to see more of them in e-commerce stores in the years that follow. Today, big retailers like H&M, Shopify, Aerie, Sephora, and more have chatbots allowing customers to ask questions, get product suggestions, and even make in-store appointments.
To take matters even further and simplify the experience, stores are also implementing voice assistance. Customers use this to search for products they need without having to type.
b)  Cashier-less stores
Another result of digital transformation is the cashier-less store system. Retailers use AI to make it easier for consumers to buy in the stores. Companies like Amazon already have cashier-less stores that track and register products automatically when the consumer picks them up. Then, AI charges customers for the items after they leave the store, eliminating the need to wait in a checkout line.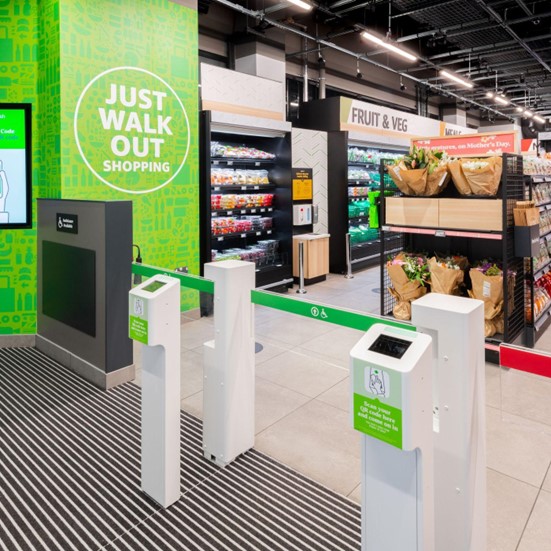 c) Content creation
One of the biggest trends in the AI realm these days is content creation. While this cannot replace humans, artificial intelligence is a great tool to streamline and optimize the creation process. It can be used for everything from crafting advertising campaigns to creating logos and video content.
3. The rise of augmented and virtual reality
Have you seen Ikea's AR technology? Maybe you've seen Legos' or Adidas' AR shopping system? This allows customers to get a 3D visual representation of a product before they buy it. This technology is making customers more confident about buying products and decreases the chances of unsatisfied buyers.
For businesses, AR and VR help them reach a wider audience. Customers who are hesitant about completing their journey i.e. making a purchase will be more willing to do so if they can see the product.
When the customer sees the product using AR and VR, they know what to expect. This reduces the number of returns, unsatisfied customers, and poor testimonials.
4.  The adoption of IoT devices
Retailers are often adopting IoT devices to help their work. This is yet another way in which digital transformation reshapes e-commerce. Overall, the impact of IoT in retail will get to $1.2 trillion by 2025. How does IoT reshape e-commerce?
The devices created with this technology help create more personalized services. Retailers are installing sensors around products or spaces to send personalized discounts through the store's app. They also send discounts to visitors of a store based on what they viewed on the online platform.
That's not all. Small Bluetooth devices i.e. beacons, are now used to send notifications to users' phones based on how close they are to the physical store. These help stores optimize their space and inventory, too. Sensors that read RFID tags offer real-time inventory management i.e. note whenever an item is taken off a shelf.
5. Social commerce
A few years back, buying items on social media became a reality - and a big trend, too. Today, social networks are a place to make sales in the e-commerce sector. These aren't just tools for communication. Businesses use this transformation to market their brand, increase awareness, encourage customers to shop, and even sell directly through platforms like Facebook and Instagram. This year, over 100 million people buy from social platforms.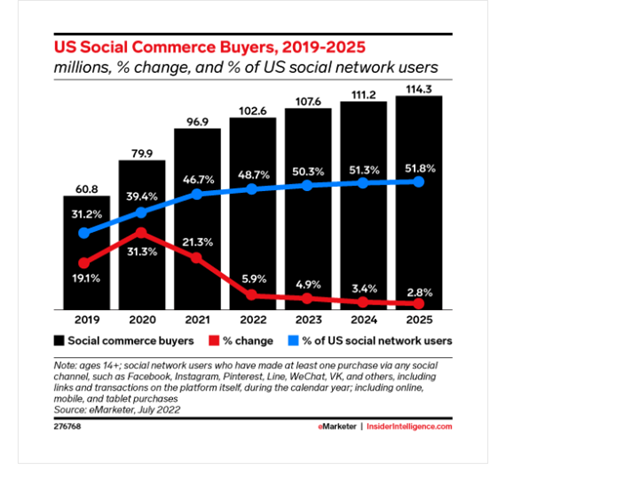 6. Omnichannel experience for customers
Customers are now enjoying an omnichannel experience. This means that retailers connect their offline and online channels and various touchpoints to maximize customer satisfaction. This has become critical to the digital transformation of the industry. Take, for instance, Starbucks; the company's mobile app allows customers to make in-store orders from their phones and earn points whenever they do so.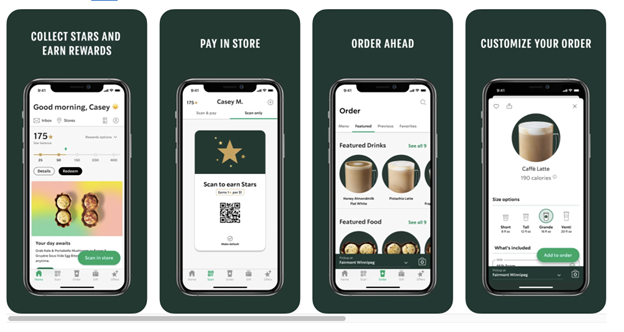 What great changes await us in the future?
Seeing how fast technology advances and how many perks the retail industry is enjoying because of it, it makes you wonder - what will happen in the years that follow? The customer experience with e-commerce brands is entirely different from that in the past. Thanks to digital transformation and new technologies, customers are now happier than ever.