3 PR Tactics For Effective B2B Lead Generation
Consistent lead generation is one of the most important goals for any business-to-business (B2B) enterprise. But generating high-quality leads that turn into loyal customers isn't a walk in the park. It requires a strategic approach that combines various marketing tactics and channels. 
One of the most effective ways to ensure B2B lead generation is to leverage public relations (PR) tactics. PR can help businesses increase their brand awareness and establish authority. It can also help them reach their target audience through credible sources. 
In this article, I'll explore three B2B PR lead generation tactics for your business.
1. Post Press Releases On Your Website
Press releases can help you gain brand exposure. When you publish exciting brand-related developments on your website, you can get people interested in the content to your website. In short, you can generate B2B leads.
But how can you create a press release that will knock it out of the park in the first place?
The first step is identifying timely happenings that intrigue your target audience. This could include things like:
- product launches
- company milestones
- accolades earned
Once you've got that, take the time to compose attention-grabbing headlines. These should clearly communicate the main message of your press release. 
Here's an example from Recurly.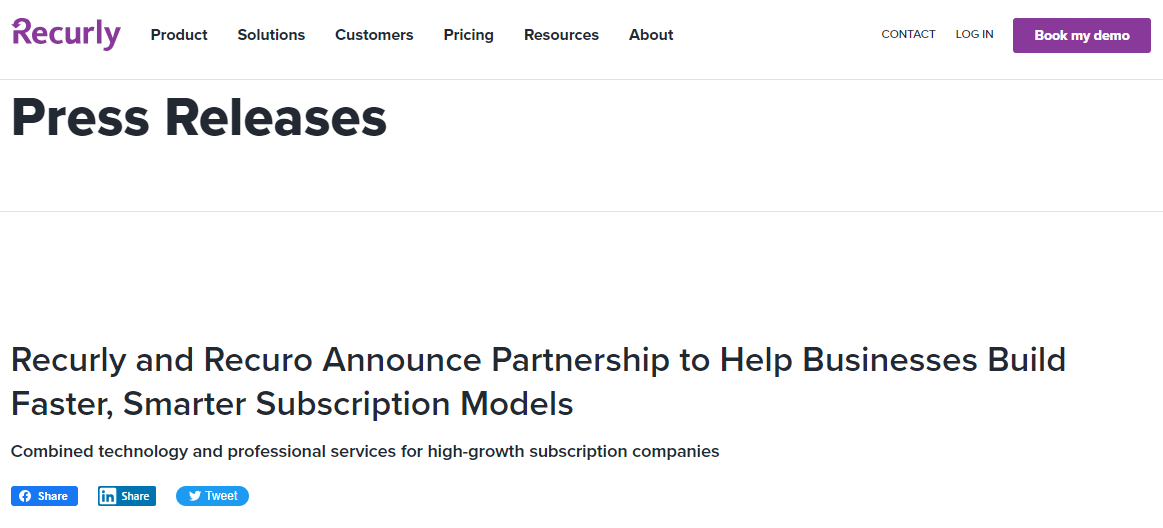 Source
But that's just the opening act. The body should provide enriching details about the news. Incorporate statistics, quotes, and other compelling insights. These should show why the news is a big deal for your brand, its audience, and the industry at large. 
In addition to providing valuable information, include a strong call-to-action (CTA) in your press release. This part is where you encourage your readers to take the next step. That step can be learning more about your solutions, signing up for a webinar, or even just getting in touch with you for a consultation. 
For example, this is the section with the CTA from the above Recurly press release.

Source
For added convenience, consider including your business numbers so interested readers can directly reach out to you.
The truth is, writing press releases is hard and time-consuming. That's why many businesses opt for professional PR services that can handle this task. You can also leverage their networks for your editorial outreach, which we'll discuss later on.
2. Publish Thought Leadership Content on Your Marketing Platforms
Thought leadership content is content that aims to provide valuable insights and actionable solutions. It helps in PR since it positions an individual or brand as an authority in their industry. 
Thought leadership is pivotal for drawing and engaging decision-makers in the B2B space. So, with this high-value content, you don't just build trustworthiness. You also generate B2B leads.

Source
You can post this type of content on your marketing platforms. This is the approach IBM follows. IBM Thought Leadership is all about emerging trends, insights from peers, and industry challenges. The IBM Institute for Business Value (IBV) acts as their internal think tank, furnishing reports, insights, and studies on a wide range of topics.
Apart from white papers and reports like the one above, other forms of thought leadership content include:
- Blog posts
- Newsletters
- Videos 
You can leverage a mixture of these content marketing pieces for engaging and building rapport with potential leads in your lead generation funnel.
This is a strategy HubSpot follows - a platform I have used for years. The brand uses everything from social media posts and blog content to videos and infographics to attract and educate its audience. The result? They've also built an insane reputation for themselves. Today, it's almost impossible to come across a marketer not familiar with HubSpot's insightful inbound marketing content.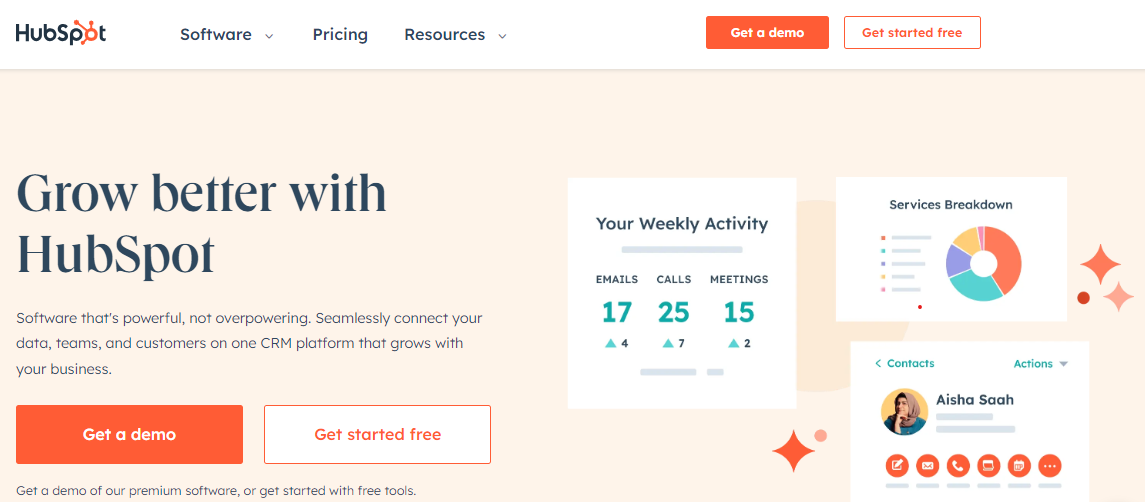 Source
Ultimately, thought leadership can help you establish a strong brand presence and cement your industry expertise to ensure lead generation.
3. Perform Editorial Outreach
But you shouldn't just have your press release published on your website or your thought leadership content posted on your marketing platforms. If you want the best results, have the press release published and your thought leadership content mentioned in other authoritative sites as well. Do you have upcoming industry events like a product launch? Don't just write about them. Invite other media to cover them or try out the new product, too.
With these strategies that ensure maximum brand exposure, you can also ensure effective B2B lead generation. Imagine your brand or content being featured in a respected industry publication or your event being hailed as a success by a columnist. These endorsements can help you attract potential clients who value recommendations from trusted sources.
But how can you get other authority sites to give you coverage in the first place?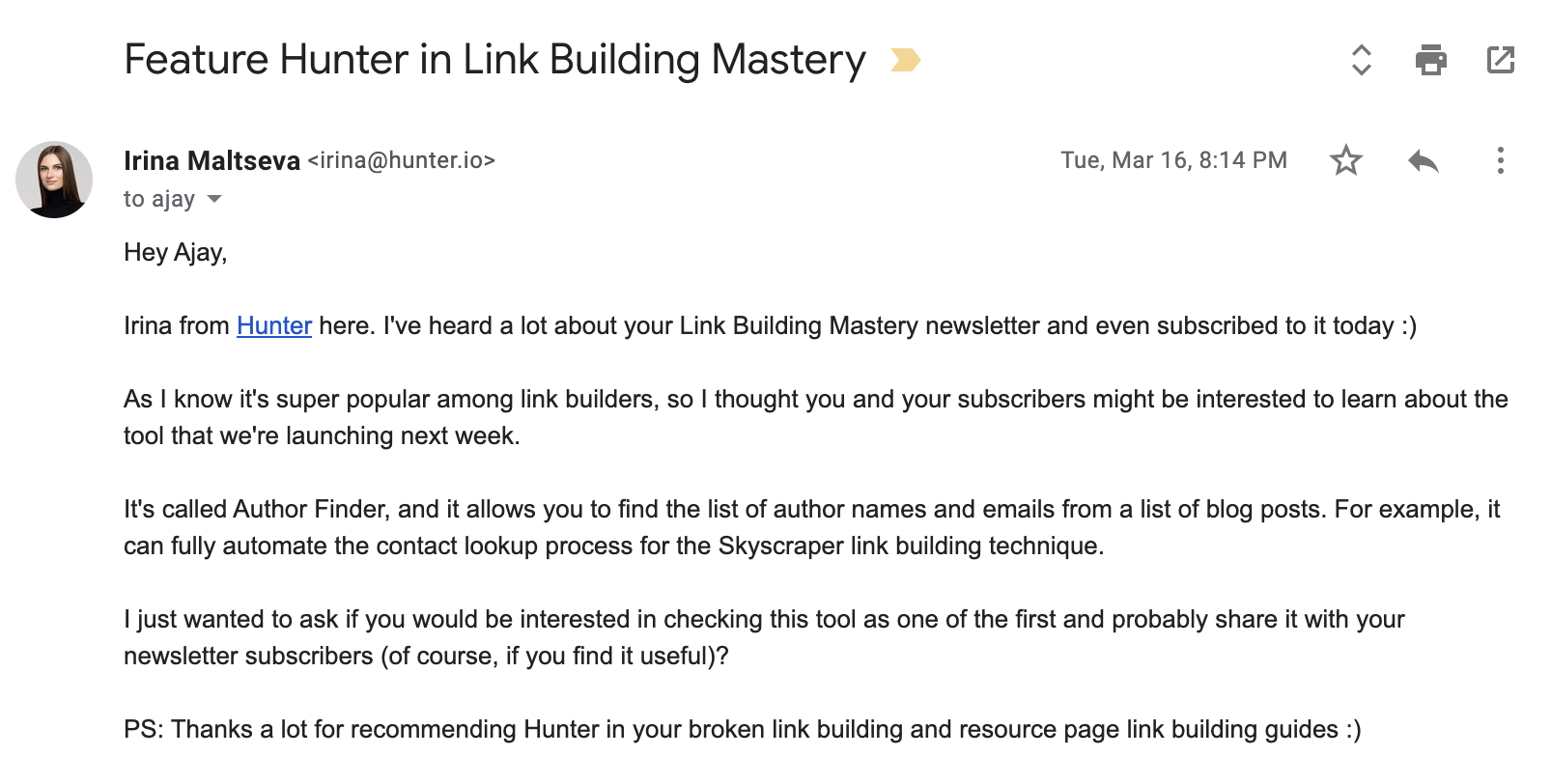 Source
This is where editorial outreach comes in. Editorial outreach plays a vital role in PR lead generation. It involves businesses strategically connecting with editors, journalists, and other influential figures. The goal is to get them to give exposure to your product offerings and content, and other newsworthy brand events. See an example of an editorial outreach email above.
Although there are various ways to connect with these professionals, email finder software can be beneficial here. Use the tool to build a list of editorial contacts within your industry. Once you have that list, provide valuable content contributions that will engage their audiences. Apart from press releases or thought leadership content, you can send them media advisories as well. 
We've seen what press releases and thought leadership content is. Besides generating awareness and reaching your target audience, these types of content, when published (or mentioned, in the case of thought leadership content) on other sites through effective editorial outreach, can support your SEO efforts. They're a great B2B link-building technique since those other industry publications can include links going back to your site. This will boost your brand's search engine rankings.
Media advisories, meanwhile, are basically formal invites to your events. They detail the who, what, where, when and how of an event. Effective media advisories can ensure full coverage of your event, helping you reach a wider audience.
As a final tip, remember that editorial outreach isn't just about reaching out to key figures when you need brand coverage. It's about ensuring long-term relationships. So, even when you're not running an outreach campaign, connect with these key influencers. Leave insightful comments on their social media platforms. Simply greeting them a happy birthday if it's that time of the year or sending them a quick hello can go a long way to nurturing strong relationships.
In Closing
Driving strong PR lead generation is a core aspect of any winning B2B marketing game plan. The good news is that by playing the right cards, B2B companies can amp up their lead flow.
When it comes to generating leads, there are three effective PR tactics businesses can utilize:posting press releases on their sites, publishing thought leadership content on their marketing platforms, and editorial outreach.
When executed the right way, these public relations strategies build crucial customer trust and pull high-quality, relevant leads into the sales funnel. They are premier plays for B2B brands looking for marketing success.