Recruitment Marketing Strategies For Startup That You Must Know
As a startup, it's no doubt that people are vital to the success of your company. The goals and vision you have determined for your brand are largely reliant on the people you'll be working with. This is why you must pay special attention to finding and keeping the top talents that align with your company's objectives.
However, the job market is quite competitive. Quality candidates are also seeking out promising career opportunities. This means that you'll have to position your startup as a worthy employer, too. How do you show job seekers that you have built an environment they'd want to work in?
Enter, recruitment marketing strategies.
Today, we explore three foolproof recruitment marketing strategies that can help you attract promising employees and successfully bring your startup business idea to life.
1. Develop An Informative Career Website
Creating an informative career website is vital to your recruitment marketing plan. It acts as a central hub for your target candidates to explore the company's culture, core values, and available positions.
Your career website can feature interesting content like blog posts about your company and introduce your team to potential recruits. You can also include engaging videos and pictures of your workspace or other notable achievements that may interest a job seeker.
Good Leap, for example, features some employee testimonials and highlights some previous awards on its career site: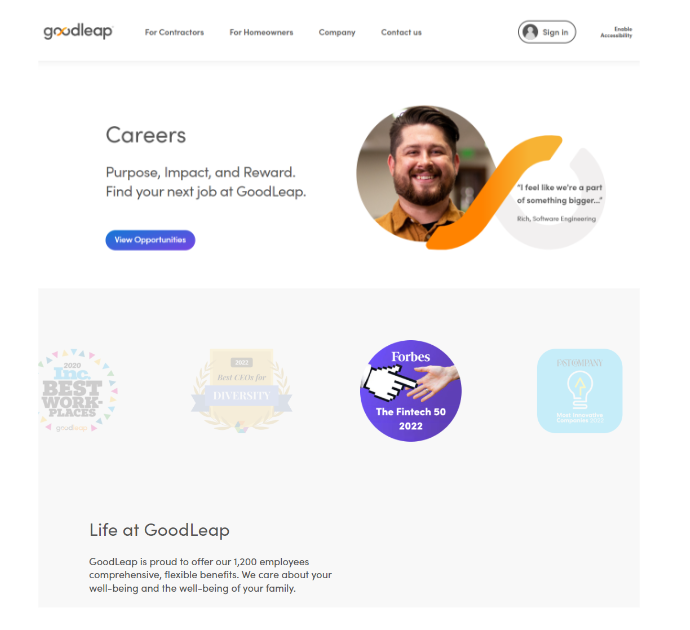 Source
A well-designed career site should not only highlight your startup's unique offerings but also provide clear guidance on the application process. This can help you to attract and retain top talent. To create a more outstanding career page, consider including some frequently asked questions that may be useful for prospective employees who visit. These FAQs could be based on what other job applicants have asked in the past or curated from thorough research.
Other key things to include on your career website include:

- Employee benefits e.g. retirement plans, health and wellness packages, employee support, etc.
- Locations that candidates can apply from.
- A clear call to action telling interested applicants what to do next.
You can also make it easier to capture leads from your career website by integrating it with recruitment CRM tools like Workable, Zoho, or any other preferred platform.
Finally, ensure that your careers website is optimized for search engines so that job applicants can easily find it. Include relevant keywords, image descriptions, and captions in the content you share. You can find these keywords using tools like Ahrefs or Google Keyword Planner.
Overall, a career website establishes a professional online presence and employer branding for your startup. This helps to build trust and credibility with potential applicants. Also, the transparency and accessibility your career website provides can greatly enhance your recruitment process. In turn, it'll ensure that you can effectively compete for and secure the best talent in a competitive job market.
2. Implement a Structured Referral Program
A structured referral program is a critical component of your recruitment marketing strategy, especially because you're a startup. It taps into the existing network of employees, encouraging them to recommend qualified candidates for open positions. This not only brings in potential hires who align with your corporate culture but also fosters a sense of engagement and loyalty among current team members.
Additionally, a well-implemented referral program streamlines the hiring process by providing a direct channel for vetted referrals, saving time and resources. This targeted method proves highly effective in sourcing qualified talent and aiding startups in building strong, cohesive teams in their early stages.
According to Zippia, 88% of employers consider referral programs to be the best source of applicants. These hires are also more likely to accept job offers and have a higher retention rate.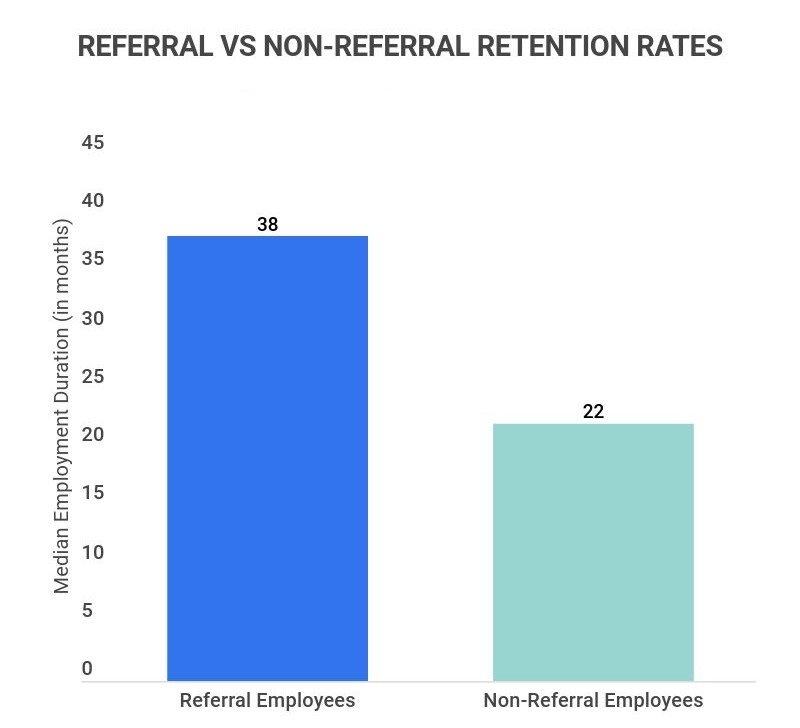 Source
Make your referral program more appealing by offering employees some incentives for participating. Paid vacations, bonuses, or gift vouchers are good rewards. Whatever you choose, ensure that they're meaningful to your employees.
The employee referral process should also be easy. Start by creating clear and concise guidelines. Clearly explain the referral process, eligibility criteria, and rewards. Ensure that your employees are well-informed about the requirements for the position you want to fill.
Implement a user-friendly online referral system that requires minimal effort from current employees to submit referrals. Tools like Jobvite, HireUp, and Erin can help you create a streamlined referral process that allows you to share updates and create unique referral portals or links. This is a more effective approach than letting employees go through a ton of processes or attend meetings which, according to some statistics on time management, can be a distraction.
Finally, you should regularly review the performance of your referral programs and look out for areas that may need improvement.
3. Utilize Social Media Platforms
On social media, you can showcase your distinctive company culture, values, and mission, attracting individuals who find your vision appealing. Social networks also allow for direct interaction. This can help startups like yours build relationships with potential hires and establish a positive brand image. 
However, for this social media approach to yield the results you're looking for getting more Instagram followers, Facebook friends, or LinkedIn connections is still key. You want to reach as many potential employers as possible in the first place.
You want to choose the right social media platform, too. That doesn't have to be just one platform. Take a cue from companies like Miro that use multiple social channels to announce job opportunities.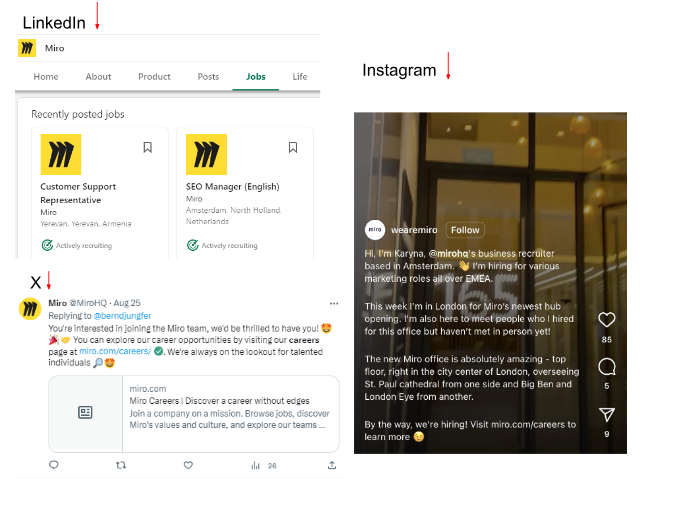 Social platforms provide cost-effective and wide-reaching channels to promote job openings and connect with potential candidates. You may choose to run ads, or consistently show up to engage and interact with your audience through compelling content like employee testimonials and behind-the-scenes posts.
Overall, using social media channels is crucial for recruitment marketing, particularly for startups. Social media not only broadens the talent pool but also enables startups, even with limited resources, to compete for top talent in a competitive job market. Statistics reveal that 4.48 billion people currently use social media around the world. That number is bound to include both the active and passive candidates you want to reach.
However, with many businesses competing for the same talent, it's also important that you invest in creating a unique brand identity so that you can stand out. So your logos, messaging, visuals, and other branding elements should be consistent and relevant to what your brand represents. They should also appeal to your target audience. 
In Closing
For startups, recruiting top talent is important, particularly because good employees can help you achieve your business goals. So, you must employ the best recruitment marketing strategies to set yourself apart from other businesses looking for the same talent to fill vacant positions.
Having an informative website, implementing a structured referral program, and using social media platforms are some strategic ways to improve your recruitment marketing efforts. Now that you know this, put these strategies to work. See how you'll attract those qualified employees that will help your startup succeed.