The Role of Analytics in SEO
Staying ahead of the competition and achieving long-term success in today's digital market requires a data-driven SEO strategy. By using analytics tools, businesses can get a better idea of their website's search engine visibility and see how often users interact with it. 

Analytics in SEO: What Is It?
SEO analytics is the process of gathering and studying raw data to help your SEO efforts. It is helpful for prioritizing tasks, getting approval for SEO campaigns, and making better choices about how to improve SEO. SEO analytics is collected with the help of various SEO tools that differ in specialization, functions, and budget. However, these SEO services will be an invaluable help for both experienced and novice specialists.
You can gather valuable data with the help of top SEO software, including Google Analytics, Google Search Console, and others. You may also use these instruments to examine the keywords used by your rivals in order to spot any openings or weaknesses in the market.

Benefits of Using Analytics for SEO
Business performance can be greatly improved with the help of data analytics. By incorporating data analytics into their business model, organizations can find more effective methods to promote their business. We've organized the importance of analytics in SEO into key points that should form the backbone of your business's strategy.
a. Boosting Your Keywords Potential. This analysis provides data for choosing the best-performing keywords. You can find out how much keywords weigh and if poorly chosen keys are to blame for bad page performance. To put it another way, you can easily identify the ones that are used the most and effectively use them.
b. Customer Service Optimization. You might assume that this has nothing to do with search engine optimization, but that's not the case. You can learn about a client's tastes based on their propensity to click on certain types of content and links. You may use this information to tailor your business to what clients want.
c. Receiving Data About Competitors. Your behaviors can be compared to those of competing businesses. This helps you make good decisions and put effective strategies into practice. You can analyze the top-performing content of your direct competitors as well as your competitors on SERP to see how their content is optimized, what keywords it ranks for, and how they build their link-building strategies. When all these steps are taken and the links are successfully built, you can start the next important stage, that is backlink monitoring and tracking.
d. Enhancing Your Site Performance. Your website's success measures should be tailored to your specific objectives; nonetheless, there are several universal indicators worth considering:
1. Error Rate: The proportion of errors per request that your site experiences is measured by the Error Rate metric. A sudden increase in these numbers indicates impending trouble.
2. Bounce Rate: It is one of the most important numbers to look at when trying to improve your website. If most of your users leave after only looking at one page, you know there's something wrong.
3. Traffic Source: Rather than relying solely on raw numbers, you can see exactly where all your traffic is coming from by implementing a tracking system. This enables you to identify the specific search engines, social networks, and referral sources that are contributing to your site's traffic.
4. Keyword Ranking: It's normal for keyword ranks to rise and fall over time, but a precipitous decline warrants attention. Keyword ranking should be your primary focus when monitoring SEO data.
What Data Does Analytics Collect?
Analytics tools can help users spot patterns in how their website visitors behave. We'll now go to our list of the most important metrics that should be monitored:
a. Organic Traffic
b. Keyword Rankings
c. Bounce Rate
d. Page Views
e. Average Time On a Page
f. Impressions
How to Use Analytics to Improve SEO Performance
Learn more about your target audience's interests, pain points, and desired solutions by analyzing their search engine optimization statistics and analytics. This post will walk you through the six stages of SEO analytics and data for locating and capitalizing on fresh business prospects.
Analytics-Driven SEO Strategy to Grow Your Busines
a. Set Targets and Measure Progress
It's important to have a firm grasp of your end goal(s) and metrics for success before diving into SEO data and analytics. Want to boost your website's organic traffic and positions? The SEO metrics you choose to monitor and analyze will be heavily influenced by your objectives. Search engine results page (SERP) data, Google Search Console (GSC), and Google Analytics (GA) for on-site user behavior and backlinks analysis will be very helpful and informative, and they're a great place to start with SEO data.
b. Conduct Keyword Research
Find out what people are looking for when they search for your products or services online by conducting keyword research. Conducting keyword research can shed light on your target audience's motivations and needs. You can do keyword research and uncover relevant, high-volume, and low-competition keywords for your website using SEO software, including the Google Keyword Planner. You may also use these instruments to examine the keywords used by your rivals in order to spot any openings or weaknesses in the market.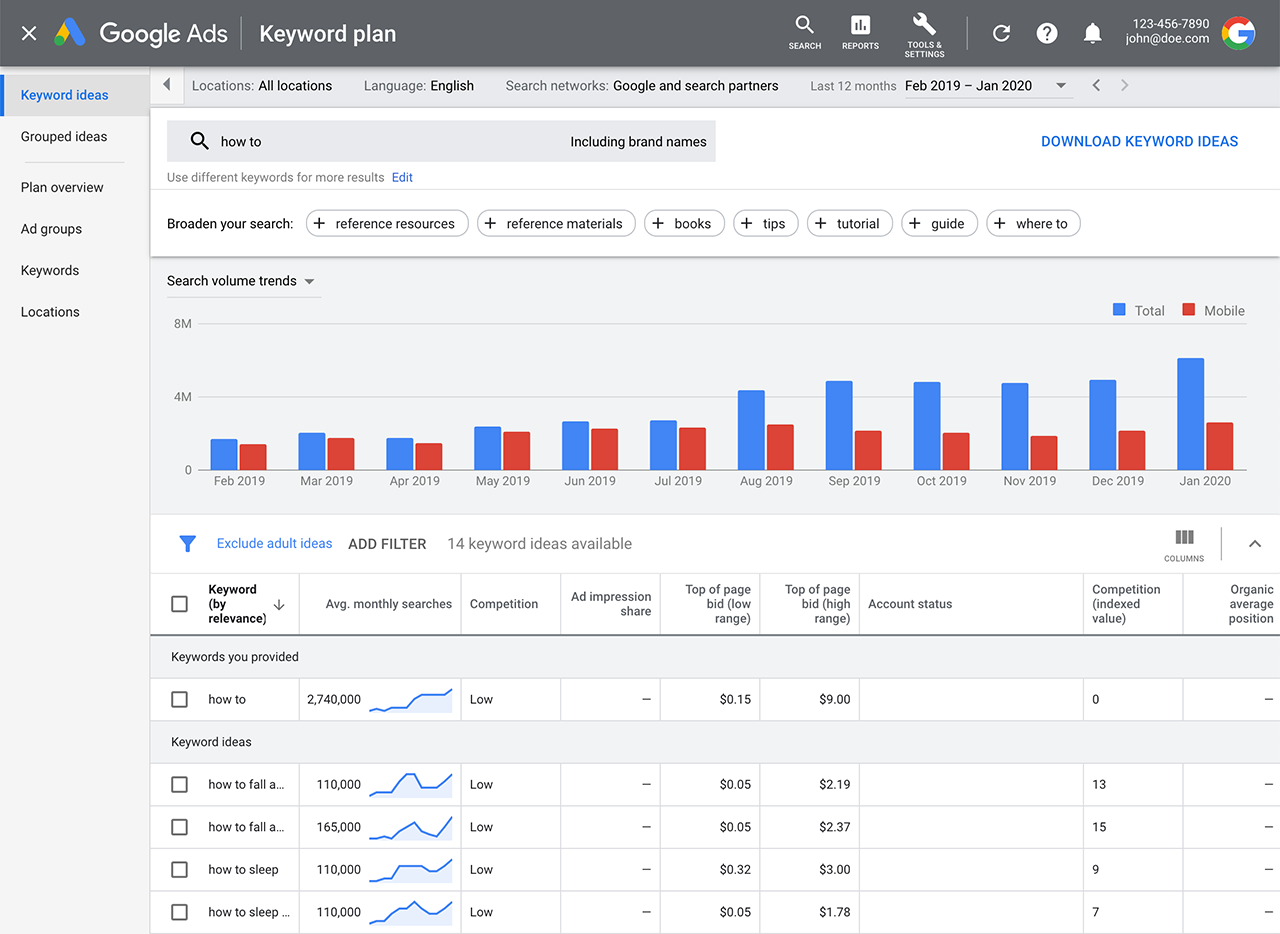 Source: Google Keyword Planner
c. Monitor and Analyze Your Website Performance
Your website performance refers to the speed at which your website's pages load and show up in a web browser. Web performance improvement is the process of making a website run better in different ways. Websites that run faster are said to perform better. Tracking and measuring your website's performance with tools like Google Analytics or Google Search Console can help you figure out what works and what doesn't.
d. Identify and Pursue New Business Opportunities
Search engine optimization analytics can also be used to check the veracity of your hypotheses and examine your work before you put any money into it. You can gauge the interest in your new offerings and propositions by, say, creating landing pages, conducting trials, or administering surveys.
Analytics for SEO: Pros and Cons
| | |
| --- | --- |
| Advantages | Disadvantages |
| Tracking traffic and basic goal attribution | Don't show the user's real-time behavior |
| Measure seasonal popularity and peaks | Some tools have limited data on smaller websites |
| Excellent for use in monitoring website performance | To take advantage of data and create successful SEO roadmaps, you need additional analytics tools |
| Compare your performance to previous years |   |
Conclusion 
In today's SEO climate, analytics can no longer be ignored and have become a crucial part of the SEO process. By employing analytics to fill in content gaps, fine-tune what's already there, monitor the success of SEO strategies, and spot underlying technological difficulties, companies can acquire a decisive edge over their rivals.
Businesses can boost their website's search engine visibility, bringing in more visitors and increasing sales. In today's digital world, the usage of analytics in SEO is no longer a fad but the norm.