Tracking Form Abandonment And How To Improve It
Introduction 
So you've spent a significant amount of time building your web form. You've had internal discussions regarding what information you require from your users. You've organized the field flow into sensible sections, breaking it down into stages as needed. You've put in a lot of effort on the UX, and you're confident that your form experience is satisfactory.
You suspect users are quitting your form at faster rates than you expected.
However, a "niggling feeling" that people are abandoning your site does not show that form abandonment is a problem on your site and is not useful in identifying and addressing the problem. To figure out what's wrong, you'll need to install form abandonment tracking software like LeadGen App.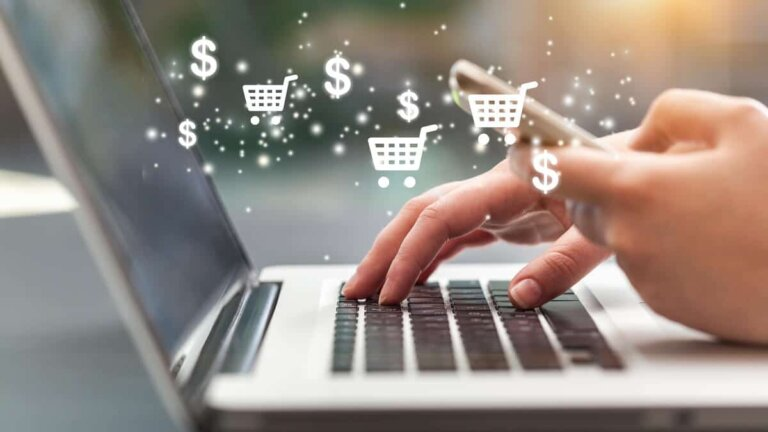 For digital marketers and e-commerce business operators, form abandonment is a common problem. 
Analyzing why users do not finish these forms might give key insights towards improving conversions and providing a consistent user experience.
This page serves as a resource for anyone concerned individuals who are abandoning their forms in the middle of the process. It goes through what form abandonment is, what causes it, what to look for in form abandonment monitoring solutions, and how to decrease this drop-out.
What is Form Abandonment?
Form abandonment occurs when a person completes an online form or checkout but abandons it before finishing it successfully.
This might happen for a variety of reasons, including a bad user interface, an unclear flow, or a form that is excessively long. In any case, form abandonment hurts conversion rates since firms lose important data and purchases.

Monitoring these drop-offs can help marketers detect and fix problems with the user experience or the entire form.
It should be noted that the metric is typically applied only after a user has shown intent by interacting with the form. If they only look at the form but do nothing, they are not considered form abandoners.
All forms are vulnerable to early abandonment, while some form types and industry sectors have more problems than others.
What is Form Abandonment Tracking?
Form abandonment tracking is monitoring and analyzing user behavior when they fill out an online form but leave the page before completing and submitting it. This tracking helps website owners and marketers understand why users abandon forms, identify pain points in the form submission process, and optimize the form to increase completion rates.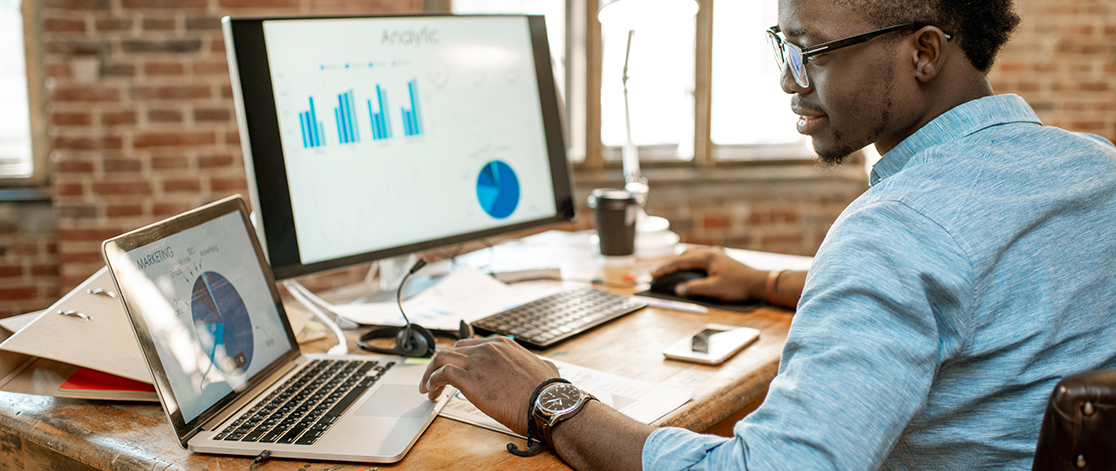 Form abandonment tracking is the most efficient technique to minimize form abandonment rates. 
By measuring how many individuals begin a form but do not complete it, you may determine the root cause of these abandonments and discover any impediments that may keep them from finishing it.
Form abandonment tracking is especially valuable for lead generation, contact forms, sign-up forms, checkout processes, and any critical form that contributes to the success of your website or online business. By understanding user behavior and optimizing form completion, businesses can create a smoother and more engaging experience for their audience, resulting in higher form completion rates and improved overall conversions.
Importance of Form Abandonment Tracking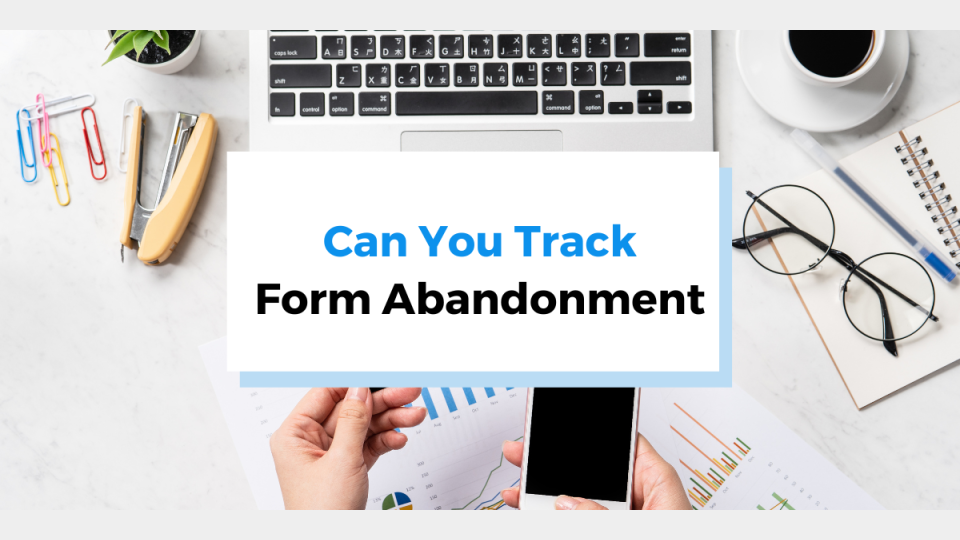 Form abandonment campaigns increase more than simply form conversion rates.

They also bring several advantages to your whole organization, including:
Higher conversion rates: Improving your form abandonment monitoring insights will boost the number of form completions, resulting in higher conversion rates and more income for your organization.
Improved user experience: By knowing why people leave forms, you can adjust the design and content to better cater to your visitors and make it easier for them to complete the needed tasks.
Improved site performance: Optimizing your website based on this will not only lower drop-off rates but will also increase user engagement signals such as bounce rates, which will benefit your SEO metrics.
Issues can be easily identified: You gain extensive information about where users drop off, allowing you to zero in on particular issues and promptly fix them as they emerge.
Now that we've established the value and significance of form abandonment tracking, let's delve deeper into the subject and investigate several approaches for monitoring and evaluating user activity.
Considerations for Form Abandonment Tracking
To track form abandonment and use data to enhance your form, you'll need a software application that logs user behavior and can identify individuals who start and then quit the form. At the most basic level, you can put something together using Google Analytics, but this may not provide you with the knowledge to adequately understand the causes of desertion. 
In an ideal world, you would use a specialized tool (such as LeadGen App), but you may get by with some of the basic form analytics tools that some UX software companies offer as an add-on to their core product.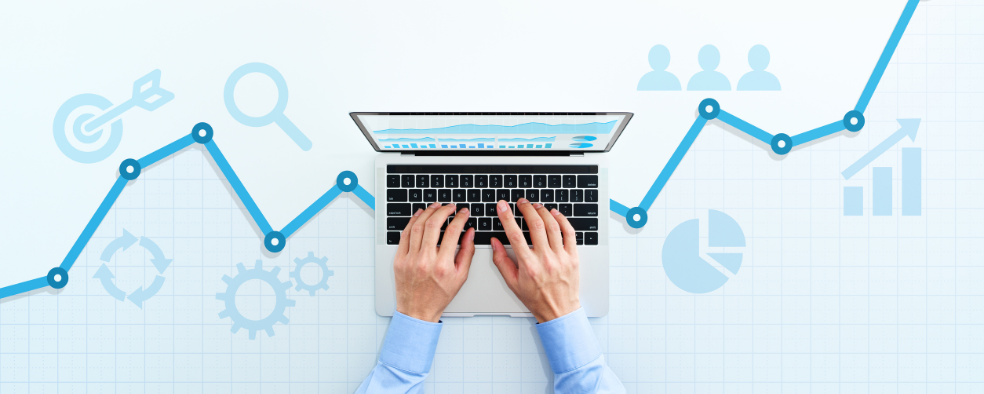 Some of the major metrics that your form abandonment monitoring software should provide are:
1. Form abandonment - how many people abandon the form without finishing it?
2. Field returns - which fields do users need to return to and correct regularly?
3. Time spent in fields - Are there some fields in which users spend more time than others? Is this a sign that they are becoming frustrated?
4. Audience segmentation is a comparison of the variations in behavior between those who finish the form successfully and those who quit it. This might point to the source of your difficulties.
5. How users move from one field to the next - if users do not flow through your form as expected, there may be UX concerns.
If your tool gives this information, you should be able to use it to identify and resolve issues with your form fields.
Top Reasons for Form Abandonment, How to Track Form Abandonment & How to Fix Them?
When designing your website, you should first evaluate the reasons users would leave a form. Some beginner blunders may be completely avoided, which may surprise you.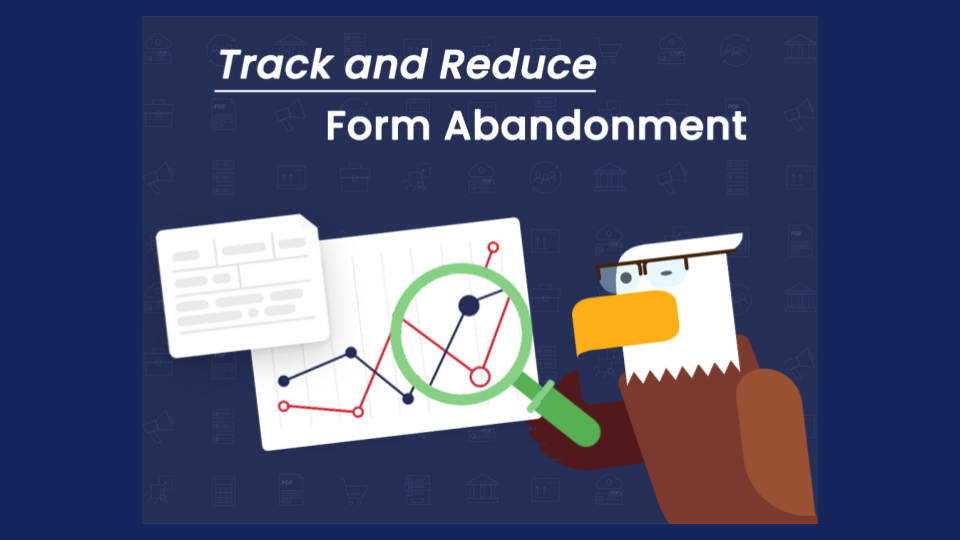 There are intellectual reasons for this, but because we are emotional beings, some psychological elements also play a role in convincing us not to fill out a form.
1. The consumer is hesitant to offer the requested information

In this situation, the form visitor understands your request but is hesitant to provide you with the information, so he or she departs. This can be because of several factors, the most prevalent of which are:
a.  You are requesting sensitive or excessively personal information that the client is not comfortable providing in this situation.
b. The user is concerned about the safety of their data and whether it will be shared with others.
c. You're asking for information that the user isn't anticipating (for example, if it's a simple contact form, the user wouldn't expect to supply anything more than basic information).
d. You are requesting information that the user does not believe is relevant to the form's purpose. The classic example is asking for a phone number field in an eCommerce checkout - the consumer may assume that their physical and email addresses are adequate and that the phone number request would just be used to bombard them with sales offers.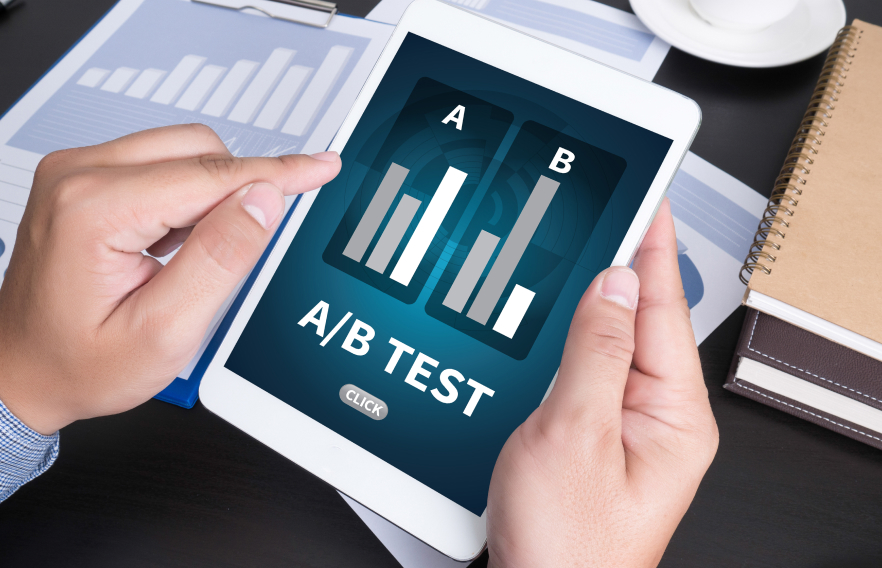 How to identify it: Your form analytics monitoring tool will identify the fields with the highest abandonment rates, so begin there. Examine the fields with the highest drop-off rates on your form. Could they fall into the category listed above? If so, distribute the form to users and get feedback on the specific fields. Alternatively, perform a form A/B test using the solutions recommended later in this article to see whether the abandonment rate for that field decreases.
2. The user is not sufficiently serious or motivated to finish the form
This category comprises users who will never finish your form today. They may have been misled by an advertising effort, or they may simply be window shopping to see how tough your registration procedure is in case they decide to join up in the future. Alternatively, they may have judged that the perceived benefit of completing your form does not justify the time spent. The common denominator is that they will not complete the form, no matter how much you push them.
How to identify it: You may have this problem if your form analytics monitoring service shows an unusually low view-to-starter rate for your form (i.e., visitors landing on the page but doing nothing). Many people in this group may "kick the tires" by clicking on a single field (typically the first one, such as "Title") before closing the browser window or hitting the Back button.
You should separate the analysis by audience group, particularly by traffic source, to further improve this diagnostic. You may discover that some sources (such as sponsored traffic) display this behavior more than those that come in organically.
3. The field is requesting information that they currently cannot deliver
This type of desertion occurs when users reach a question that they just cannot answer right now. Typically, this is a request for a particularly complex piece of information that they can't recall, either personal information (SSN, passport number), product details (insurance expiry date), or financial information that they don't recall (net assets, gross income).
In these circumstances, the user was most likely unaware that they would be required to submit this information and hence did not have it on hand. When they see the question, they either leave immediately in irritation or go off to dig for the information but can't locate it, so they don't bother returning (or, worse, they gain the information but return to find they have been timed out of the form).
How to identify it: Examine your abandonment monitoring statistics. If any of the fields with high desertion rates need collected responses (rather than "slot-in"), you should investigate if the user experience is being controlled properly.
4. If a field is too daunting or difficult, the user will quit it rather than confront it
If a customer expects simple questions and you ask them to write a 1,000-word dissertation, you can bet they'll leave before you can explain why you need the information (educational application forms are renowned for this). 
This may also be applied to your whole form. If a visitor loads the form and is greeted by anything like this beauty, they are unlikely to return:
How to identify it: An intriguing aspect of this problem is that a normal interpretation of form analytics data may be deceptive. If a form field appears to be excessively tough, the user may not even begin it and will exit instantly. The form analytics software will then attribute the abandonment to the previous field (based on the last user interaction). You may have this problem if you have a field with an unusually high abandon rate that is followed by a question that demands a lot of user consideration/input.

5. The user wishes to respond but cannot do so because your form is faulty or has UX concerns
At its most basic, this is a straightforward problem. If there is a major technical issue, a user may not advance through the form at all, forcing them to quit it.
However, the same issue might occur at a lower level and be more difficult to detect. There may be a UX issue with a certain field, but either the field/error is not accessible to all visitors (for example, it may just affect mobile users) or some visitors have the patience to overcome it (while another segment abandons due to it).
How to identify it: Set up your form and fill it out on a range of devices and browsers. Any major technological concerns should be evident right away. For more particular challenges, examine your form analytics data to determine if a field's high abandonment rate is limited to a specific segment (device, browser, or form pathway). You may also use a session replay tool to check whether the problem is revealed.
6. A field directs people to external sites, and they never return: The discount coupon code field on eCommerce checkouts is a famous illustration of this. Customers are enticed by bargains and will hunt for them online. If they can't locate one, they won't bother returning (unless they are enticed by your competitor's offer).
How to identify it: Your form analytics tool's "time spent" measure is important for this, especially when paired with audience segmentation. A recent review of eCommerce checkouts on LeadGen's database revealed that users who abandoned spent an average of 20 seconds in the promo code field, compared to only 3.5 seconds for users who completed the checkout, supporting the hypothesis that providing users with an incentive to spend time searching elsewhere leads to abandonment.
Step-by-Step Instructions for Recovering Abandoned Form Data
Now that we've double-checked for common form abandonment errors, let's attack this issue like a pro.
LeadGen App is a powerful and user-friendly form builder that may help you streamline your workflow, boost your brand, and increase conversions. LeadGen App's Form Abandonment Recovery technology allows you to retain track of how users engage with your form, even if they leave for whatever reason.
Given that over 80% of users abandon a form after starting to fill it out, Form Abandonment Recovery will not leave you in the dark.
This form abandonment analytics tool takes and stores any input in real-time, allowing you to view the data retrieved and where users left off for proper analysis and future action.
Never miss another sales opportunity by recovering abandoned forms with LeadGen Apps' Abandoned Form Recovery.
It is fairly simple to watch your visitors' progress while they fill out your form so you can reduce form abandonment; here's how you do it:
Step 1: LeadGen App Login: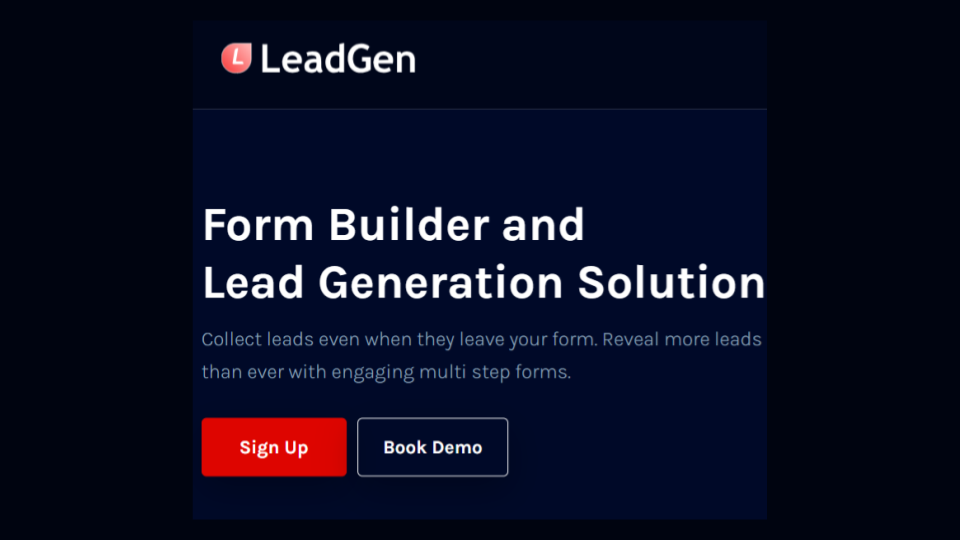 Sign in to the LeadGen App now. You can sign in with an existing Google or establish a LeadGen App account. 
Step 2: Create a New Form: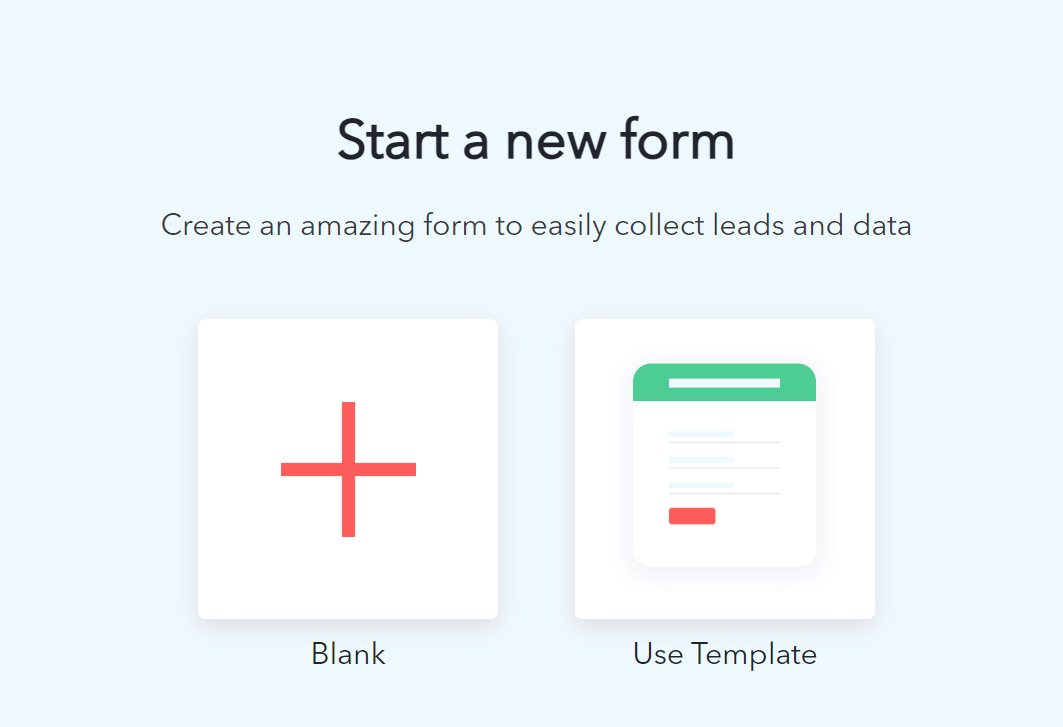 On the upper right-hand corner, click the Create a New Form option. LeadGen App allows you to begin your form in one of two ways: from scratch or using a template. Our simple drag-and-drop editor allows you to construct and personalize your form as needed.
Step 3: Enabling Partial Leads: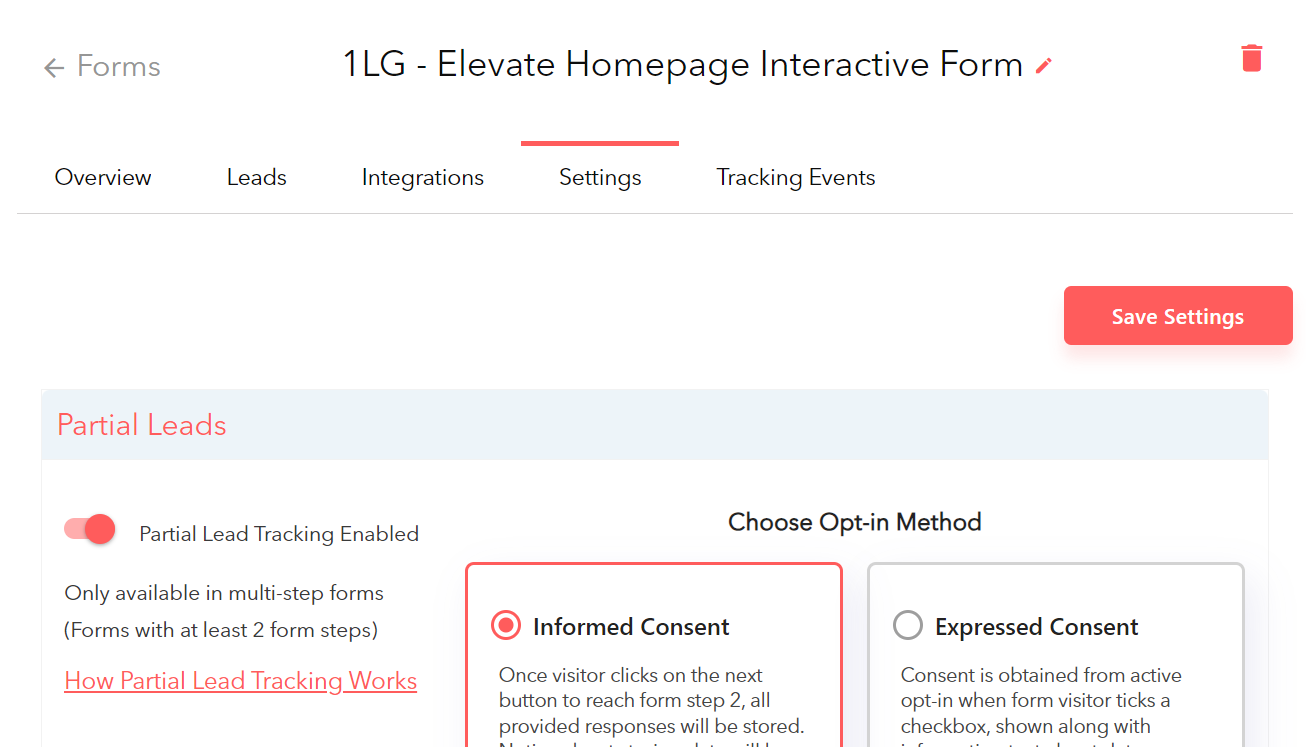 After you've completed customizing your form, navigate to the Settings page. Make the Partial Leads settings enable. Click on Save Settings.
Step 4: Preview, Save, Publish: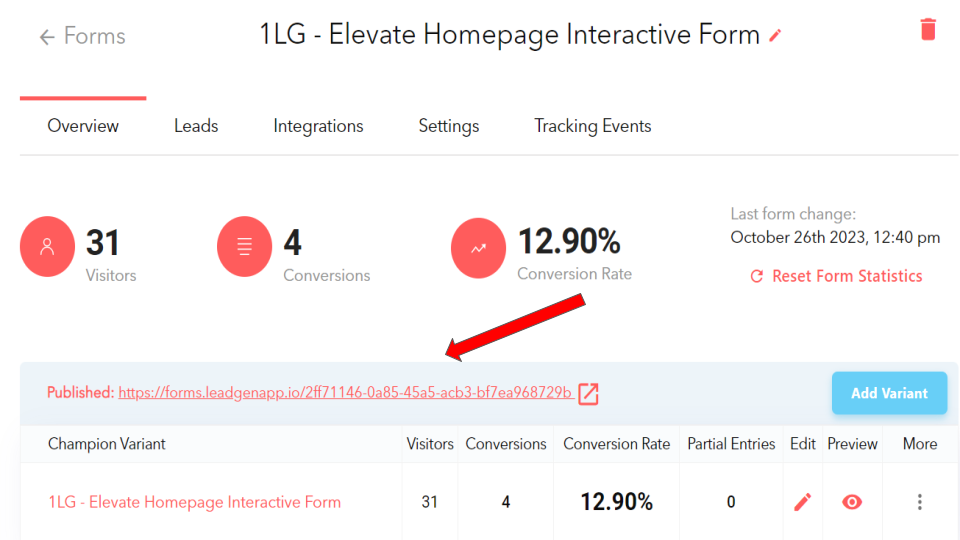 Click on the publish URL link, and you may see and test all of your form's functionality from various devices. When you're finished with your form design and options, put a title for it in the Project Name line in the upper left-hand corner so you can find it later in your list. Then, in the top right-hand corner of your screen, press the Save & Publish button.
Step 5: Track your Submissions: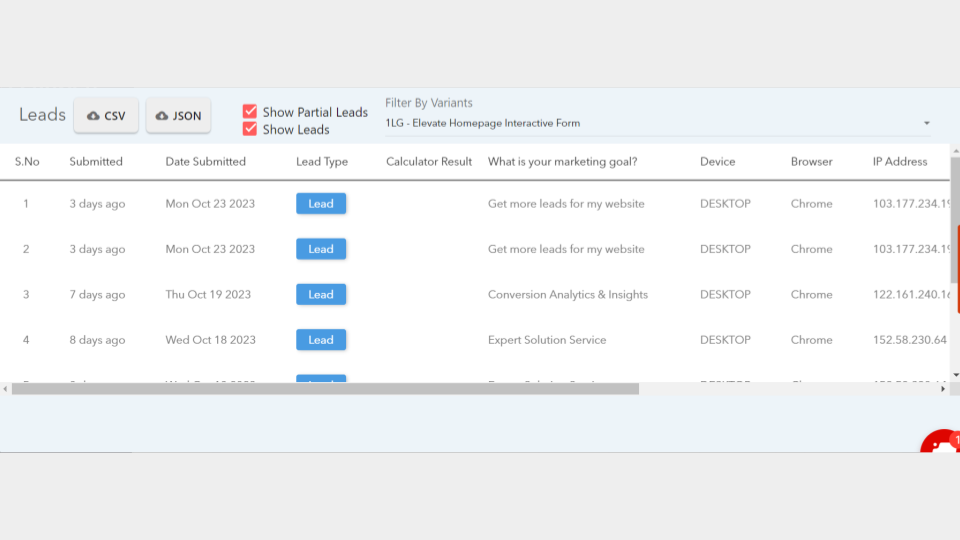 Once your form is up and receiving entries, you can monitor its performance using the  LeadGen App dashboard. Under the Leads column, you can see who is filling out your form in real-time, or who has Submitted or Abandoned it. You'll see that under the Step column, you can see when the form was abandoned.
When you export your findings as a CSV file, you may sift through all of the abandoned replies contained inside that document.
The Partial Leads method is a great way to track form abandonment. Partial leads are purely qualitative data, where the customer checks each submission or partial lead, one by one.
There is also another way to track form abandonment with LeadGen App which is the Google Analytics Integration.
Let us check out step-by-step how to do it:
Step 1: Create a Google Analytics account. For existing GA4 account users, the measurement ID can be found as shown in the images below. 
Step 2: Go to the Admin panel and click on Data Streams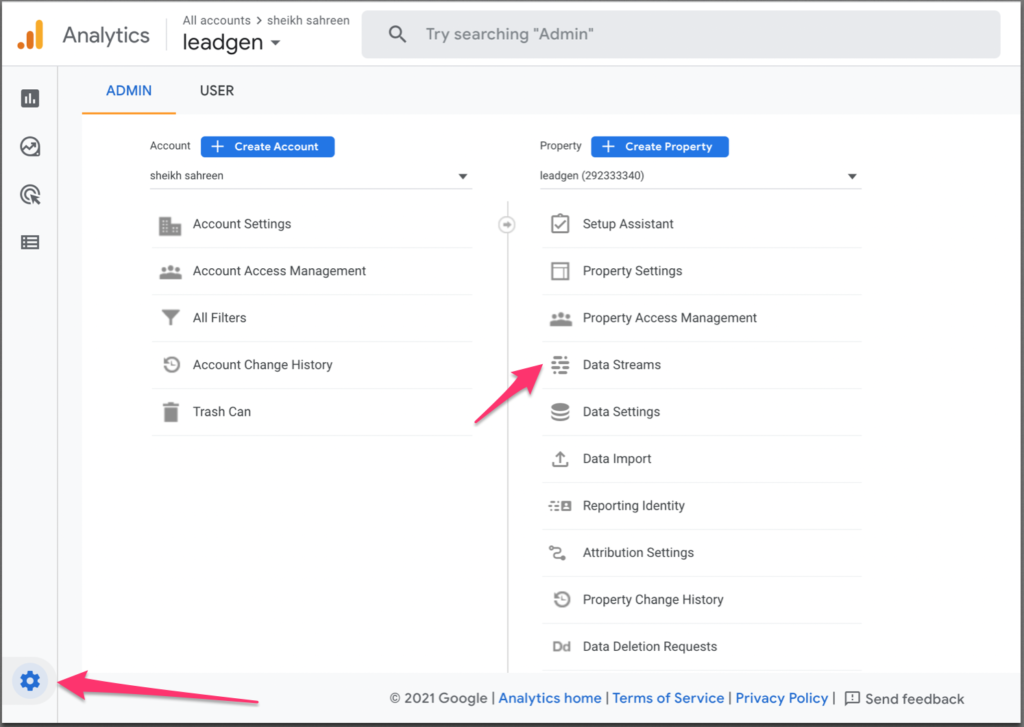 If you already have a Data Stream, you may retrieve the measurement ID by clicking on it.
Step 3: Click on the Add stream button to add a Data stream and then get a measurement ID.

Step 4: Click Form Settings on the LeadGen form you wish to link with Google Analytics.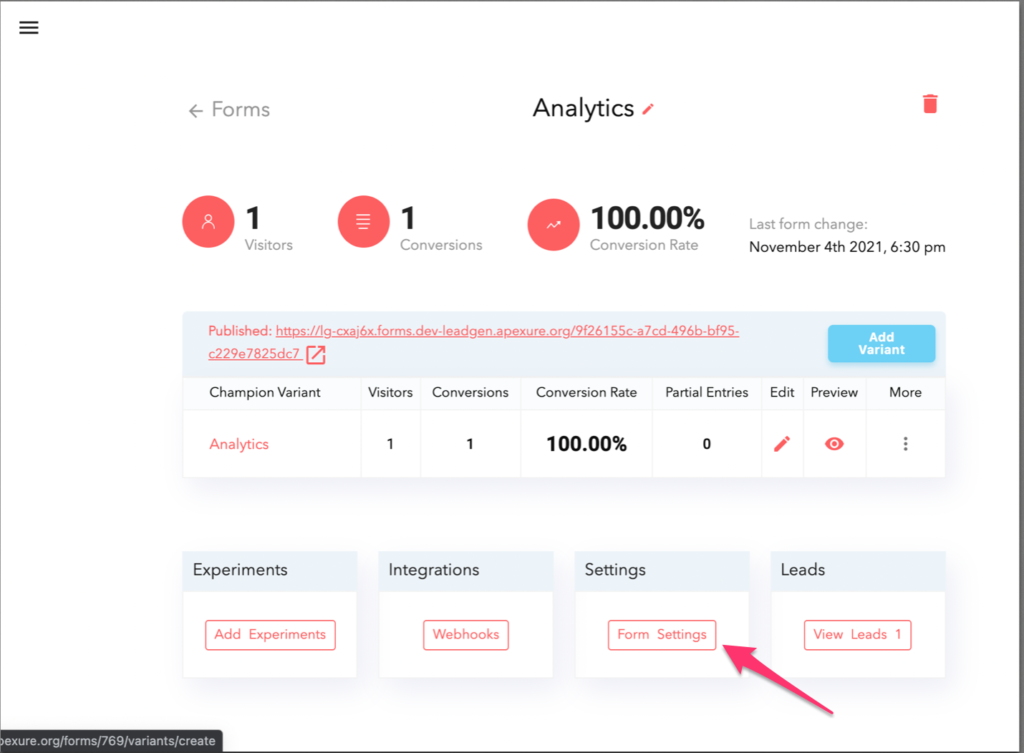 Step 5: Enter the Measurement ID under tracking and save the setting.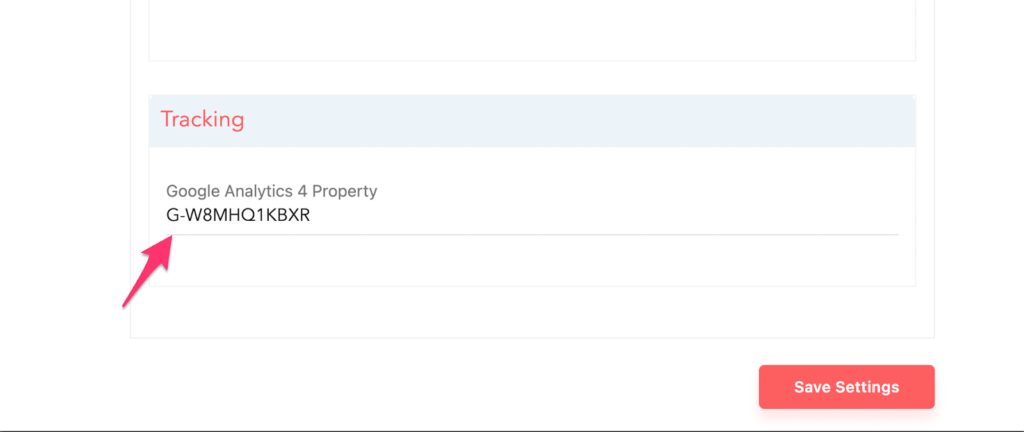 You may monitor the following events using Google Analytics integration:
Form submission
Form interaction
Step passed
The GA integration offers the advantage of quantitative analysis, which allows for the study of how many individuals depart where in the form.
FAQ
1. What is Form Abandonment?

Form abandonment refers to the situation where a website user starts to fill out an online form but does not complete the entire process, leaving the form incomplete and unsubmitted. This can occur on various types of online forms, such as contact forms, registration forms, checkout forms in e-commerce, subscription forms, and more.
When a user abandons a form, they typically leave before clicking the "submit" or "send" button, meaning the data they entered is not transmitted to the website or the intended recipient.
Form abandonment can have a significant impact on a website's conversion rates and business goals. It indicates that users were interested enough to initiate the process but encountered obstacles or changed their minds before completion.
Understanding the reasons behind form abandonment and implementing strategies to reduce it is crucial for optimizing the user experience and improving conversion rates on a website. Common reasons for form abandonment include issues with form design, length, complexity, lack of trust, distractions, and user errors.
2. Why is Form Abandonment a concern?

Form abandonment is a concern for several reasons, as it has a direct impact on the effectiveness of your website, user experience, and ultimately, your business goals. Here's why form abandonment is a significant concern:

Decreased Conversions: When users abandon a form, it means they do not complete the desired action, whether it's making a purchase, signing up, or submitting their contact information. This results in a drop in conversion rates, which can affect your business's bottom line.
Lost Leads and Revenue: Each abandoned form represents a missed opportunity to capture leads or generate revenue. The more users abandon forms, the more potential leads and sales slip through your fingers.
User Frustration: Form abandonment can lead to user frustration. If users find forms difficult to complete or if they encounter errors, they may become frustrated and leave your website, potentially never returning.
Wasted Marketing Efforts: If you've invested time and resources in marketing campaigns to drive users to your website, form abandonment means that your marketing efforts may not yield the desired results. You've paid to bring users to your site, but they're not converting.
Data Incompleteness: For businesses that rely on user data collection through forms, incomplete submissions mean you're missing critical information. This can hinder your ability to provide personalized services, analyze user behavior, or target marketing campaigns effectively.
Negative Impact on SEO: High bounce rates and low engagement due to form abandonment can negatively affect your website's search engine rankings. Search engines may interpret these signals as a lack of user satisfaction, potentially impacting your site's visibility in search results.
Competitive Disadvantage: If your competitors have lower form abandonment rates, they may be capturing leads and conversions that could have been yours. This can put you at a disadvantage in your industry.
Undermining Trust: Form abandonment can undermine trust. If users perceive your website as difficult to navigate or untrustworthy, it can erode their confidence in your brand.
Missed Opportunities for Follow-Up: In cases where users abandon forms on the brink of conversion (e.g., during checkout), you miss opportunities for follow-up communication, such as abandoned cart recovery emails.
Data Privacy and Security Concerns: In cases where users abandon forms with sensitive data, there may be concerns about data privacy and security. Users may worry about what happens to their information when they leave the form incomplete.

To address these concerns, businesses often implement strategies to minimize form abandonment, such as improving form design, reducing complexity, providing clear instructions, ensuring mobile-friendliness, and employing remarketing tactics to re-engage users who abandoned forms. Reducing form abandonment is a key focus for enhancing the user experience and achieving better conversion rates.
3. How does form abandonment impact conversions?

Form abandonment has a direct and negative impact on website conversions. Conversions refer to the successful completion of specific actions or goals that benefit your website or business, such as making a purchase, signing up for a newsletter, submitting a contact form, or any other desired action. Here's how form abandonment affects conversions:
Reduces Conversion Rates: The most obvious impact of form abandonment is a reduction in conversion rates. When users initiate a conversion process but do not complete it, the overall conversion rate drops. For example, if 100 users begin filling out a contact form but only 60 complete it, the conversion rate is 60%, and 40% represent form abandonments.
Missed Opportunities: Form abandonments represent missed opportunities to capture leads or generate sales. Every user who abandons a form could have been a potential customer or lead, and their abandonment means the loss of a potential conversion.
Loss of Revenue: In e-commerce, form abandonment during the checkout process directly translates to lost sales. When users add items to their cart but do not complete the purchase, your revenue potential diminishes. Reducing cart abandonment is a top priority for online retailers.
Wasted Marketing Spend: If you've invested in marketing campaigns to drive traffic to your website, form abandonment can result in wasted marketing spend. You pay to bring users to your site, but if they abandon forms, your return on investment is diminished.
Incomplete Data: For businesses that rely on data collection through forms, form abandonment leads to incomplete data. This can hinder your ability to deliver personalized services, segment your audience, or target your marketing effectively.
Diminished User Experience: Form abandonment can lead to a poor user experience. If users find forms difficult to complete or encounter issues that prompt abandonment, they may become frustrated and may not return to your site. A negative user experience can lead to decreased loyalty and repeat business.
Undermines Trust: High form abandonment rates can undermine trust in your brand. Users may perceive your website as untrustworthy or challenging to use, which can erode their confidence in your business.
Competitive Disadvantage: If your competitors have lower form abandonment rates, they may capture conversions that could have been yours. This can put you at a competitive disadvantage in your industry.

To address these issues, businesses often employ strategies to minimize form abandonment, such as improving form design, reducing complexity, providing clear instructions, ensuring mobile-friendliness, and employing remarketing tactics to re-engage users who abandoned forms. Reducing form abandonment is crucial for optimizing the user experience and maximizing conversion rates.
4. What Role Does User Experience (UX) Play in Form Abandonment?

User Experience (UX) plays a pivotal role in form abandonment. A positive UX can significantly reduce form abandonment rates, while a poor UX can lead to increased abandonment. Here's how UX impacts form abandonment:
Ease of Use: A well-designed form with an intuitive layout and easy-to-understand fields enhances the user experience. Users are more likely to complete a form that is straightforward and doesn't require excessive effort to understand or complete.
Mobile-Friendliness: With the growing use of mobile devices, ensuring that forms are mobile-responsive is crucial. A mobile-friendly design improves the UX for users accessing your site from smartphones or tablets.
Clarity and Transparency: Users are more likely to complete forms when they understand the purpose of the form and how their data will be used. Clear explanations and transparent practices contribute to a positive UX.
Error Handling: Effective error handling is essential. If users make mistakes when completing a form, clear and helpful error messages guide them to correct the errors, reducing frustration and abandonment.
Progress Indicators: Progress indicators show users how many steps are left to complete a form. This transparency can motivate users to continue and complete the form.
Security and Trust: Users are more likely to complete forms on websites that they trust. Demonstrating security measures, privacy policies, and trust signals can improve the UX and reduce security-related concerns that might lead to abandonment.
Page Load Speed: Slow-loading pages frustrate users and can lead to abandonment. A fast-loading form enhances the UX by providing a smooth and efficient experience.
Consistency: Maintaining a consistent design and layout throughout your website ensures that users have a familiar experience. Inconsistent design elements or navigation can disrupt the UX and lead to abandonment.
Accessibility: Ensuring that forms are accessible to all users, including those with disabilities, is critical for a positive UX. Accessible forms can be used by a broader audience.
Personalization: Personalizing forms by pre-filling fields or showing user-specific content can enhance the UX. Users appreciate it when a website acknowledges their previous interactions.
User Feedback: Providing feedback during and after form submission, such as a confirmation message, reassures users and enhances their experience.
User Testing: Conducting user testing and usability studies can uncover pain points in your forms and lead to UX improvements.
A/B Testing: A/B testing different versions of your forms allows you to identify design and content variations that result in lower abandonment rates.
Responsive Customer Support: Offering responsive customer support, such as chat or a contact option, can assist users who encounter issues while completing a form. It shows that you value their experience.
Reducing Cognitive Load: Simplifying the language and choices in a form reduces cognitive load, making it easier for users to complete the form.

In summary, a positive user experience is closely linked to lower form abandonment rates. Websites that prioritize usability, clarity, and efficiency in their form design are more likely to see users successfully complete forms and achieve their intended conversions.
5. How Does Mobile Optimization Affect Form Abandonment?

Mobile optimization has a significant impact on form abandonment rates. As more users access websites via mobile devices, ensuring that forms are mobile-optimized is crucial for reducing abandonment. Here's how mobile optimization affects form abandonment:

Improved User Experience (UX): Mobile-optimized forms are designed with smaller screens in mind, providing a more user-friendly experience for mobile users. This leads to a positive UX, reducing frustration and abandonment.
Ease of Use: Mobile-optimized forms are typically designed for touch interactions, making it easier for users to navigate and complete fields on touchscreens. This ease of use encourages users to complete the form.
Reduced Scrolling: Mobile optimization often involves breaking longer forms into shorter sections, reducing the amount of scrolling required. Shorter, more digestible forms are less daunting and more likely to be completed.
Responsive Design: Mobile-optimized forms use responsive design techniques to adapt to various screen sizes and orientations. This ensures that forms display correctly and are easy to interact with on different mobile devices.
Fast Load Times: Mobile-optimized forms are designed for faster loading on mobile connections. Slow-loading forms can lead to frustration and abandonment, but optimized forms load quickly, keeping users engaged.
Minimized Data Entry: Mobile-optimized forms often minimize the amount of data users need to enter. This reduction in data entry fields encourages users to complete the form more quickly.
Clear Calls to Action (CTAs): Mobile-optimized forms include clear and easily tappable CTAs, guiding users to the next step in the form-filling process. This prevents confusion and abandonment.
Auto-Fill and Autofill Suggestions: Mobile optimization often includes features that auto-fill or provide suggestions for form fields, reducing the effort required from users and minimizing the chances of abandonment due to data entry fatigue.
Testing and Validation: Mobile-optimized forms are rigorously tested to ensure that they function correctly on mobile devices. This includes validating that error messages and validation checks work seamlessly.
Device Compatibility: Mobile optimization ensures that forms work on a wide range of mobile devices and operating systems. This compatibility ensures that all mobile users can access and complete forms.

In summary, mobile optimization is essential for reducing form abandonment on mobile devices. By creating a positive and user-friendly mobile experience, you can encourage mobile users to complete forms and achieve the intended conversions. Ignoring mobile optimization can lead to high abandonment rates and missed opportunities to engage with mobile visitors.
How to Leverage Abandoned Form Data
Lead generation begins with form optimization, and LeadGen Apps' seamless Abandoned Form Recovery technology supports your form abandonment lead recovery efforts. No form will ever go ignored again, whether filed or abandoned.
You can keep track of the input submitted by your visitors as it happens from the dashboard of your form. All of this information may be exported as a CSV file with a single click. You may then connect your form to Google Sheets or Outlook, for example, to evaluate and exploit form abandonment data recorded in business knowledge.
When it comes to re-engaging abandoned leads, no time should be lost because it is less expensive than recruiting a new potential consumer. With the form abandonment data in hand, you should implement a follow-up strategy to capitalize on it.
Customer Relationship Management is used by the most successful firms, and following up on abandoned forms is the most cost-effective way to retain clients.
For lead-generation forms, the LeadGen App form builder offers a simple design, smooth interfaces, and dependable data recovery. To develop your business, use Abandoned Form Recovery Technology to reduce form abandonment and enhance conversions.