Lead Generation Trends to Watch: Insights and Innovations For Enhanced Customer Acquisition
A marketer's life revolves around actively using and experimenting ‌with new and upcoming lead generation trends. 
Why? Leads convert into customers. And growing your customer base drives business growth.
That's why it's important to understand what lead generation trends your competitors are leveraging, which trends have seen success in the last year, and how you can replicate them for your brand. 
Thankfully, we've done the hard work for you. Here are five lead generation trends to watch (and implement) in 2023.
5 Lead Generation Trends to Watch
Are you ready to generate more qualified leads, increase visitor traffic, and acquire more customers? Let's dive in. 
Trend #1: Personalization
According to Statistica, digital advertising spending amounted to $522.5 billion in 2021 and is forecasted to reach $835.82 billion by 2026.
Clearly, online ads aren't going to lose their charm as a marketing strategy anytime soon.
And with this increase in digital ads, brands need to be more intentional about personalizing their content‌ — emails, ads, in-app messaging, or creating a personalized onboarding experience. 
Audiences want personalized, tailored content to get them excited about what your brand offers. Incorporating these consumer preferences into your SaaS lead generation strategy is a great way to enhance customer acquisition.
Here are a few ways to uplift the personalization game for your brand:
- Use personalized subject lines in your LinkedIn direct messages and email subject lines.
- Segment your audience based on their behavior on your website and send personalized messages accordingly.
- Conduct surveys to understand your target audience's challenges and create personalized content based on this analysis.
Trend #2: Automation Platforms
Automation platforms help you work smarter, not harder. In fact, using these marketing automation platforms has only helped marketers reduce their workload so they can prioritize other (more important) tasks.
Here are some of the best automation platforms to add to your tech stack:
- Social media automation. Schedule social media posts, automate commenting, and message prospects. This automation can save up to six hours per week. 
- Email marketing. Create personalized emails, schedule them, create personalized email workflows and sequences, and track the performance of email marketing campaigns.
- Chatbots. Interact with website visitors in real-time by responding to customer queries and improving their customer experience.
With the growth of artificial intelligence, these automation platforms have only improved. 
Almost every automation platform now has at least one AI feature that can enhance the workings of their platform.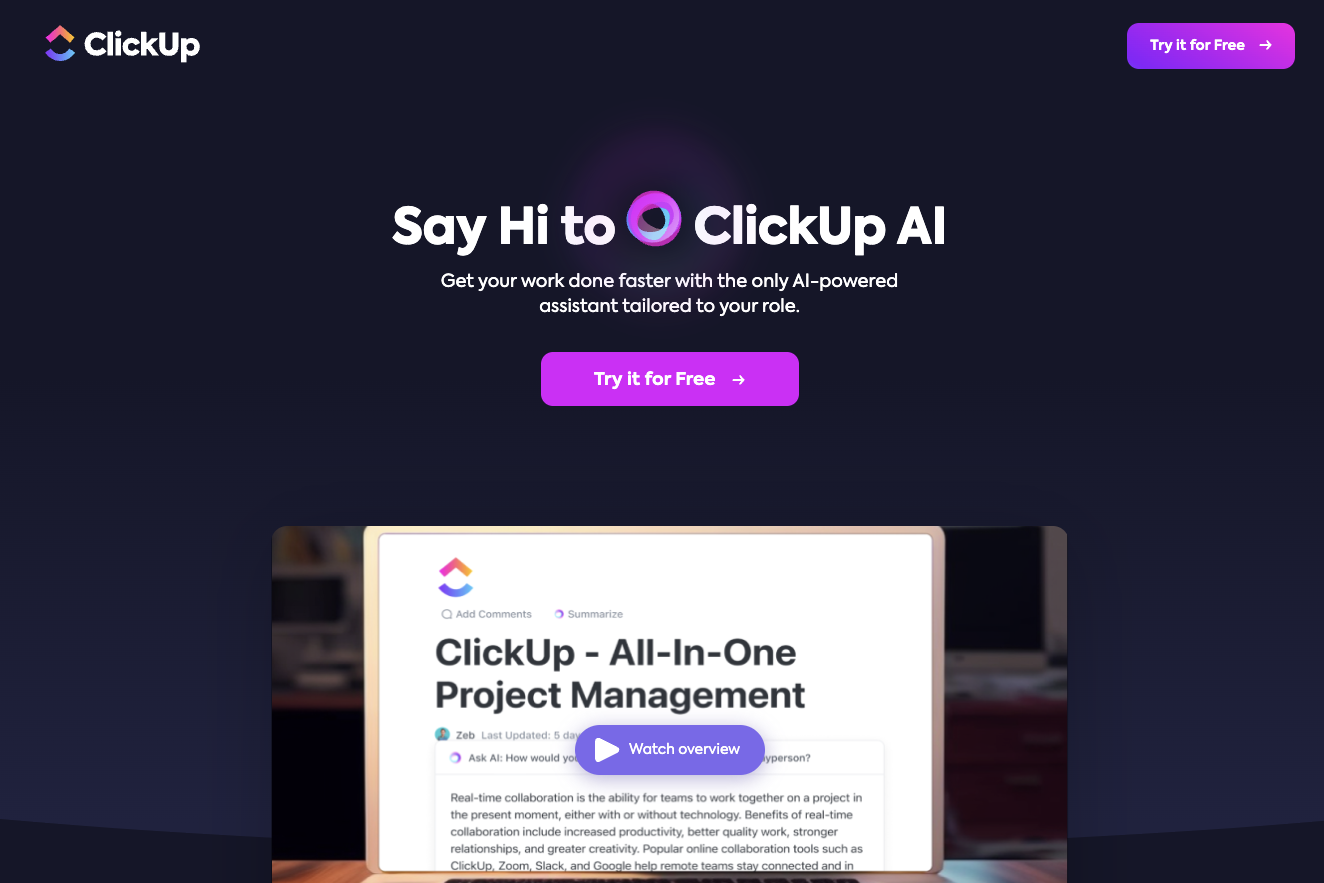 For example:
Project management platforms like Notion and Click Up have introduced Notion AI and ClickUp AI, which help users write, edit, and summarize notes inside the tool.

AI writing tools like Copy.ai have introduced Chat AI (after ChatGPT entered the scene) to help sales and marketing teams scrape websites for public data, generate personalized copy for outreach, and summarize YouTube videos.

Email marketing tools like Lemlist have a product called Lemlist AI that helps marketers generate icebreakers with the AI and get fully customized intro lines in a fraction of a second.
Trend #3: Influencer Marketing
Getting an endorsement for your brand from an influencer is a great way to increase your reach and build credibility. 
When an influencer gives their endorsement to your brand, their followers become aware of it. Due to the trust that's been established between them, your brand receives recognition and acceptance more quickly.
In fact, 68% of brands plan to increase their influencer marketing budgets in 2023, indicating the effectiveness of this lead generation trend. 
And that's one of the many reasons we've seen a massive surge in macro and micro-influencers in the past few years.
The influencer marketing trend initially performed well on one social media platform, Instagram. 
But with the growth of this social platform (and the success of influencers), it's spread across different social media channels‌. Now, you can find influencers on TikTok, YouTube, LinkedIn, and Twitter. 
The result? Brands can collaborate with different influencers based on the platforms where their target audience hangs out. And B2B companies (and B2B marketers) don't feel left out. 
For example, when ClickUp launched a feature called ClickUp doc, they wanted to increase feature adoption for their product. So, they leveraged LinkedIn and Twitter influencers to use the feature and share it with their audience on specific platforms.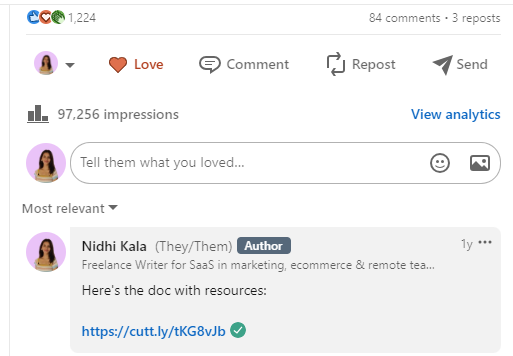 Trend #4: Interactive Content
Whether you're a SaaS or e-commerce brand, interactive content is the name of the game.
When customers come across interactive content, it boosts their engagement with your brand. It also allows consumers to choose what information they want to view and when.
- On e-commerce websites, you may use quizzes, games, and voice search technology to find your perfect product. 
- On SaaS websites, you may have seen surveys and guided product tours to understand if they solve your business needs before scheduling a call with a sales team. 
- On social media, you may have seen video content, polls, and Q/As to gather feedback about a brand or influencer. 
All these are great examples of how brands are already using interactive content to increase their engagement with the audience. 
Here's an example:
Toplyne, a behavioral AI software, uses a guided product demo to attract leads by embedding it on its website. When visitors visit the website, they interact with the demo, which helps them decide whether they want to opt for their free trial, make a purchase, or move on to the next alternative.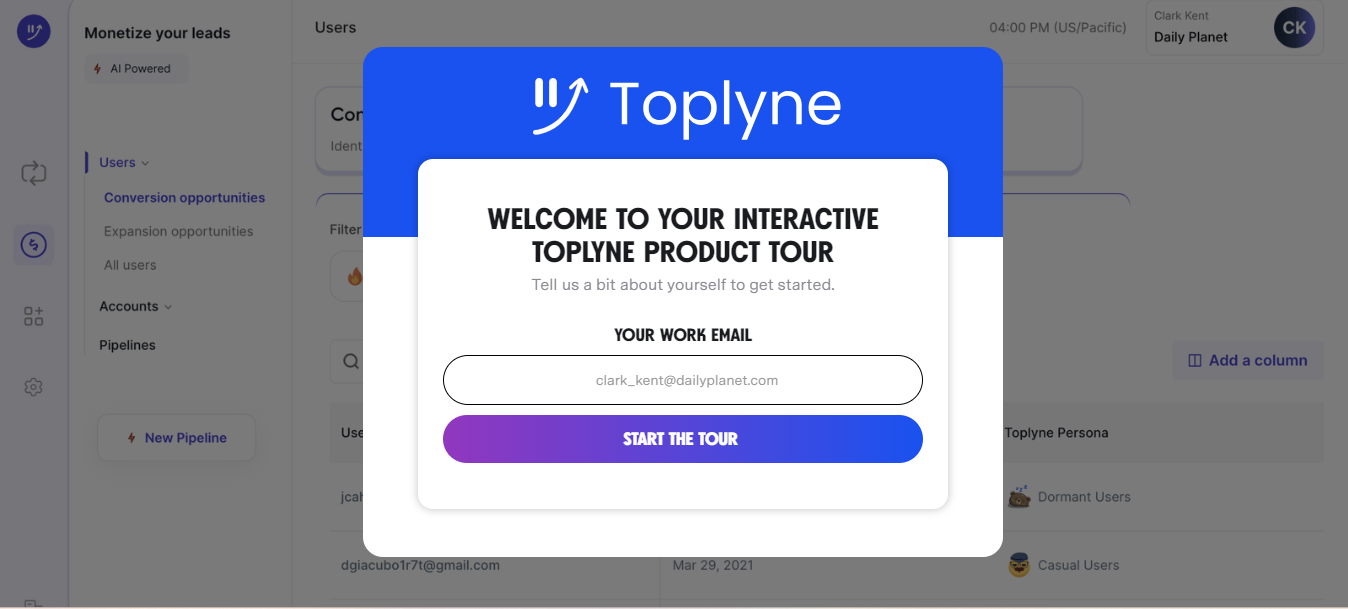 When you can engage visitors and keep them on your website for longer, you have a better chance of converting them. The result? Higher engagement rates. And conversion rates you've always dreamt of. 
Trend #5 Same-Day Delivery
Same-day delivery is a lead generation trend popular in the e-commerce industry. It gained popularity after Amazon introduced the same-day delivery option.  
With this trend, people were delighted to have their orders delivered within a few hours, which earlier took two days. 
A survey shows that 41% of online shoppers would abandon a gift or a flower delivery order if there wasn't a same-day delivery option. That's how crucial this trend is to the e-commerce world.  
People love the idea of having fresh flowers delivered straight to their loved one's door on a special occasion. And that's why they look for a flower delivery company that offers same-day delivery options. 
So, by adding same-day delivery verbiage into your email subject lines or Google Ads, you have a higher chance of attracting more leads to your website and converting them into happy customers. 
Pro tip: Don't forget to add your delivery details to your policies or FAQ page. That way, if your potential customers have any concerns about it, they'll put all of that doubt to rest after visiting this page.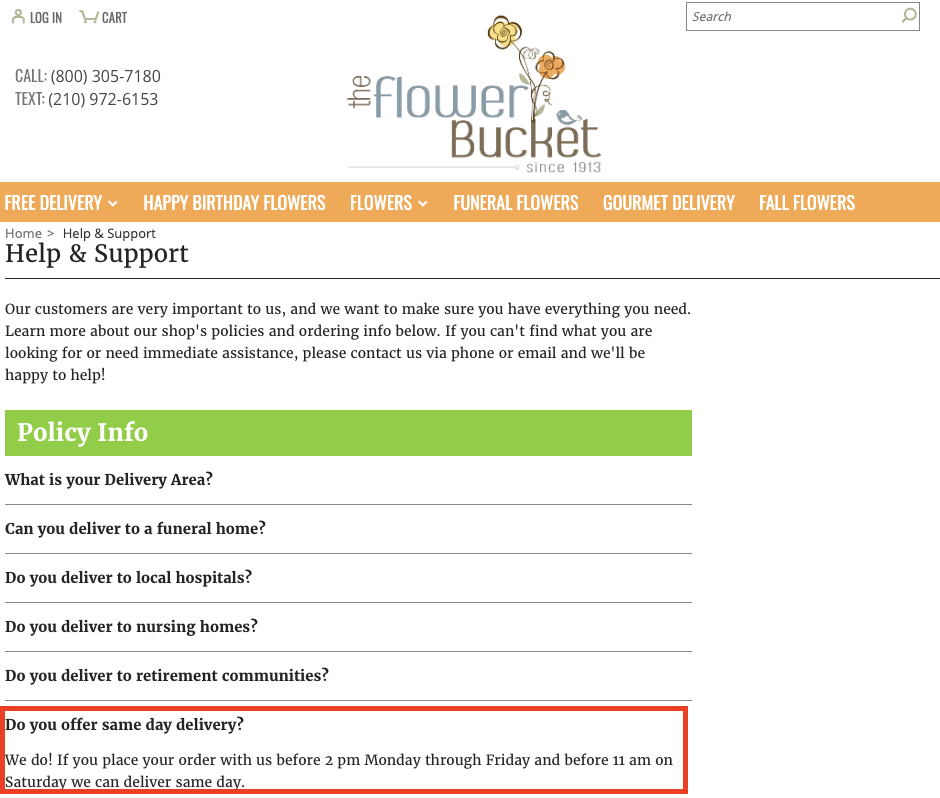 Level Up Your Lead Generation Efforts to Grow Your Business
You don't have to start using these lead generation trends all at once.
Choose one trend. Study how your competitors use the specific trend for their business. What are the results? Are they crushing it? Can you learn anything from their sales process? Or is it time to take your lead generation efforts back to the drawing board? If you own an accounting firm, for instance, you might be interested in checking out this accountant lead generation strategy.
Rinse and repeat until you've found a lead-generation process that fills your sales funnel with high-quality leads. Then double down on your efforts to reap the rewards.