Build Lead Gen Forms With LeadGen App Features
Lead gen forms such as sign-up forms, registration forms, or contact forms play an important role in every business. Your lead generation forms are vital for generating new customers and clients. You can't afford to have a form that doesn't attract visitors and that doesn't convert into leads. That's why we have created the LeadGen form-builder. It is a tool that maximizes results to bring you more quality leads that turn into clients.
We often get asked "How LeadGen App is different than other form-builders?"
Firstly, LeadGen App is much more than just a form-builder: A lead capture and lead management tool for businesses, particularly business-to-business organizations (B2B).
We approach forms from the marketing and sales perspective. We aim to help businesses generate more leads and improve lead quality, opening new revenue streams, bringing new customers and more sales.

Here are 3 ways LeadGen App is different:
Customisability ✨: LeadGen App helps in creating lead gen forms as unique as your business, matching your individual brand identity. You can customize nearly every form element in your lead gen forms like buttons, shapes, sizing, borders, colours, single-step vs. multi-step forms and more. Check out form templates here.
Performance-Focus⭐: We focus on fast form load-times, providing more analytics and metrics, AB-testing and other supporting features like LeadProof popups that help in generating better results for lead generation.


Compatibility🆗: You can embed forms into any page-builder like WordPress, Squarespace, Wix and Leadpages. Also, you can create lead gen forms via a direct link which means you don't even need a website. Furthermore, you can integrate forms via Zapier to almost any CRM or email marketing tool, giving you all the options to build great marketing automation.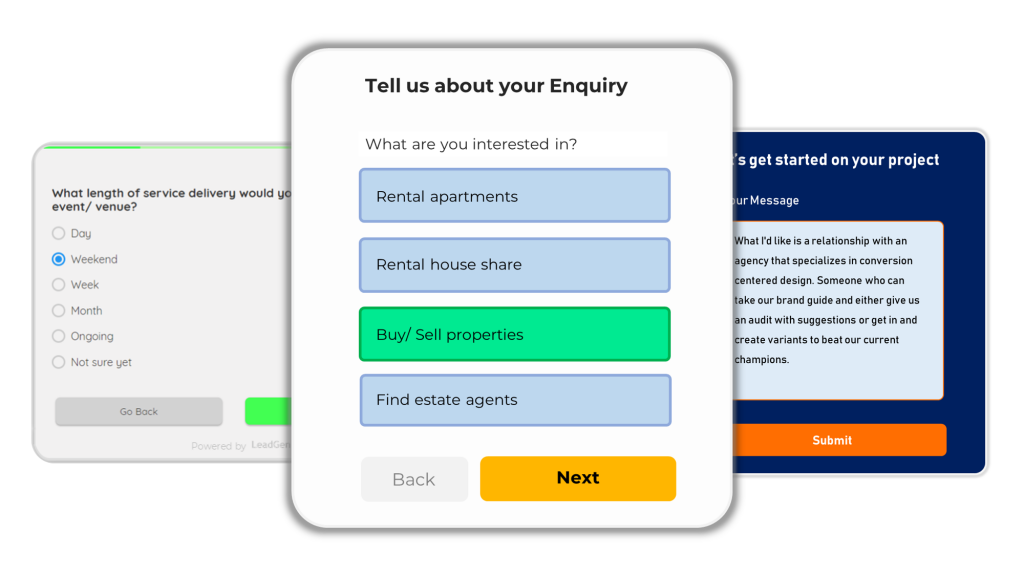 Examples of custom form designs from LeadGen builder
We've got something to offer which is new & different to classical lead gen tools & form-builders.
LeadGen helps you to build better online forms with full customization and testing features. We built it for digital marketers who need a performance-oriented form-builder tool to achieve better conversion rates on lead gen forms.
The LeadGen builder is for people with no coding skills and let's you create beautiful lead gen forms in just a few minutes. Our goal is that anyone in a marketing department can easily sign-up to LeadGen and build the first form in less than 5 minutes.
Here is a comparison of features to other online form-builders showing you why businesses switch their forms to LeadGen App.
The highlight features are marked with a star.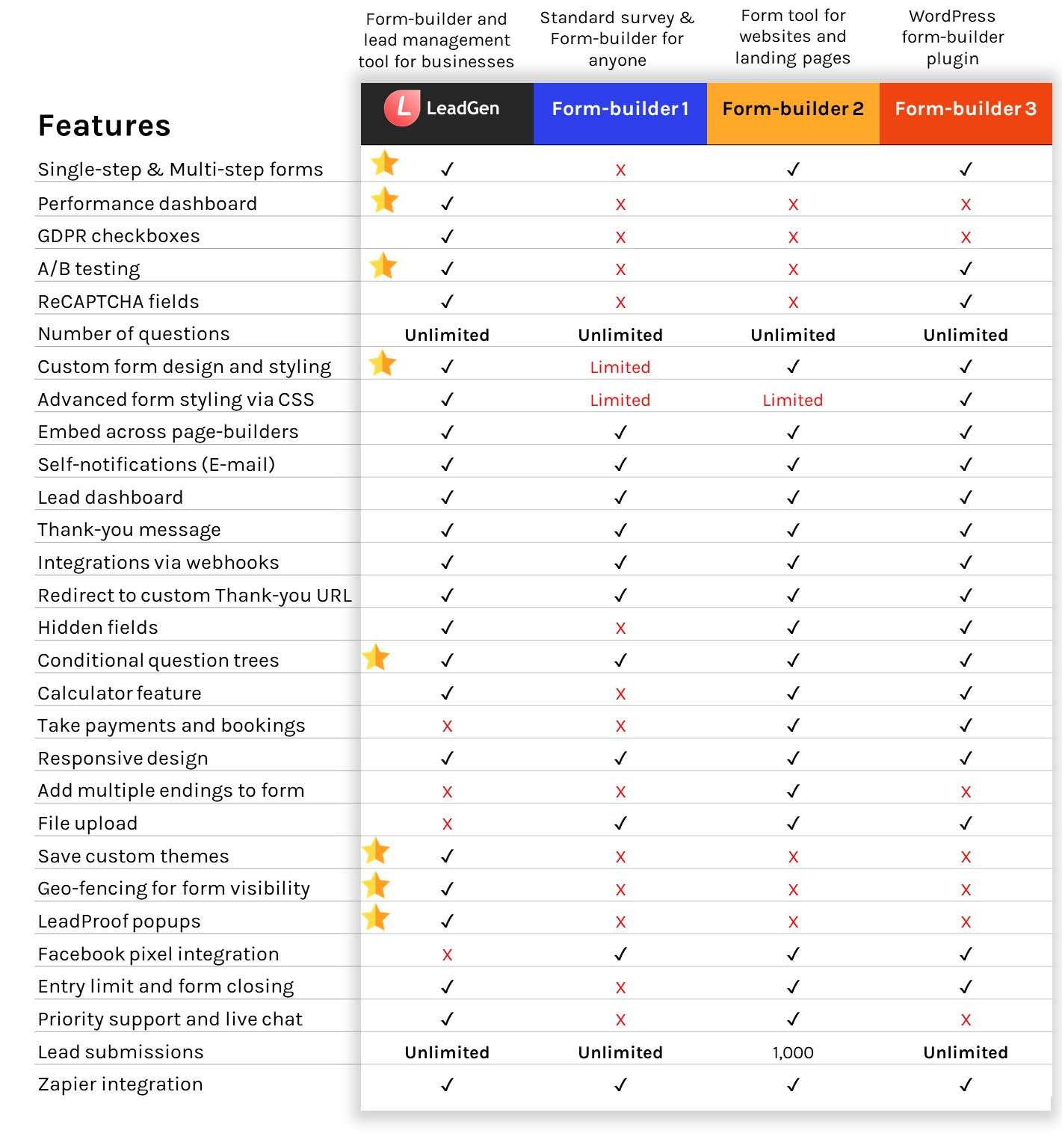 Benefits 
To summarise the key benefits of the LeadGen builder:
Build for ultimate performance (fast-loading forms, conversion-optimisation features, 

A/B testing

 and more
Create multi-step forms easily
No coding skills required
Build forms in less than 5 minutes
Create interactive forms incl. conditional question type forms or quote generators

Features To Include in Lead Gen Forms
A list of interesting LeadGen App features:
Wow-features marked with 😮
Custom Thank-You Page: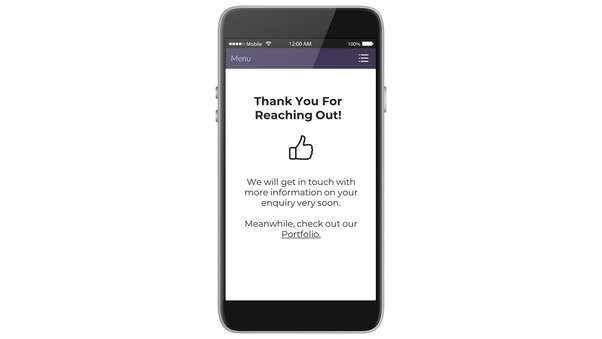 Send your leads to a custom Thank-You page or a set-up a Thank-You message directly in LeadGen.
Unlimited Designs😮



The form-builder has 3 stages: Build, Design and Share. After you have build the form and set-up all the questions, the design builder provides tons of options to make your lead gen form look unique.
There is basically no form you can't build. You can set custom hex colour codes based on brand styleguide for all kinds of form elements and change form sizing and shapes.
Email Notifications
Send instant email notifications to email recipients, e.g. your sales team. Each form can send leads to different places, e.g. a campaign with a customer feedback form informs the customer success team, whereas a lead gen form will straight away land into the inbox of the sales team.
A/B Testing 😮


Create split-testing for form variants and A/B-test them to reach higher conversion rates. You just need two form variants in LeadGen App. Simply build one form, duplicate it in one click, edit a few things and click on "Start experiment" inside the LeadGen App dashboard. That's all you need. LeadGen will automatically split traffic to two different forms on a single web-page.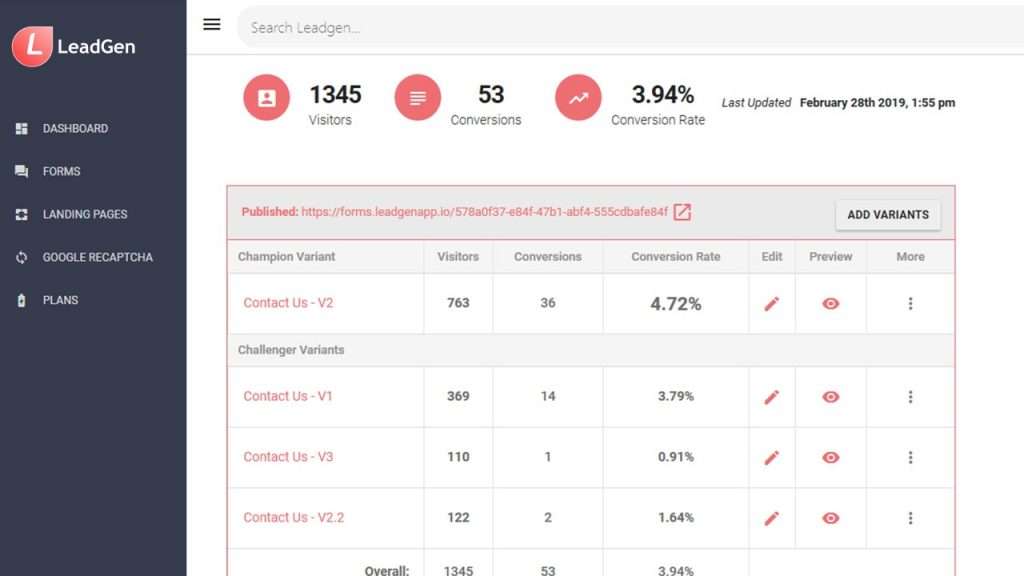 Embed Codes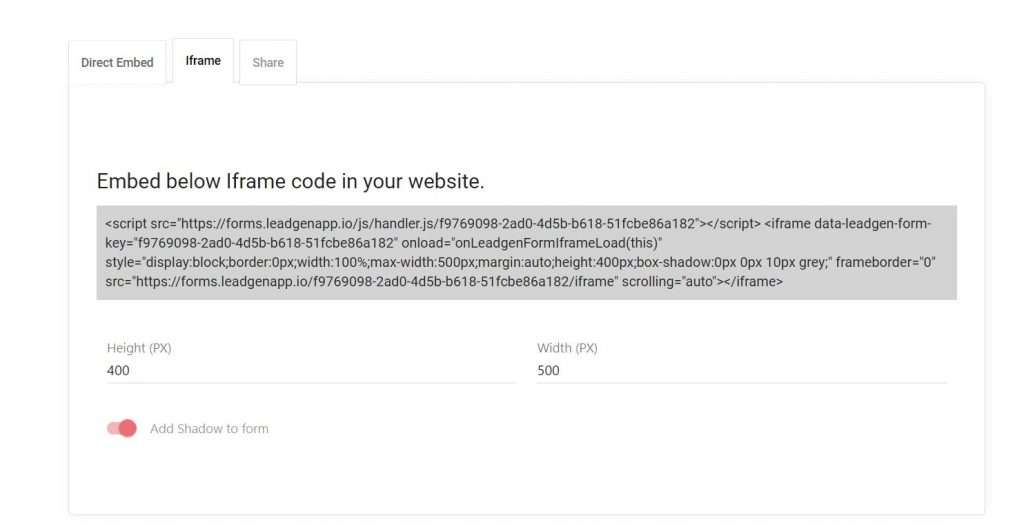 Lead gen forms created in LeadGen App can be used on all website and page-builders with HTML editor. We provide two different type of embed codes: 1) Iframe and 2) Direct Embed
<iframe> Embed code with easy customization/ form sizing.
<embed> Standardized HTML to integrate interactive content 

Analytics Dashboard😮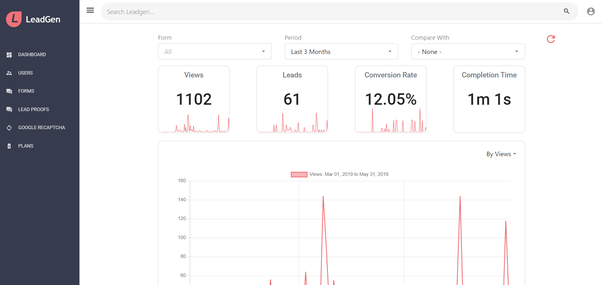 Analyse your lead generation data with interesting metrics like the avg. time spend for users to complete your forms, comparison of conversions in different time frames and more.
Conditional Logic Jumps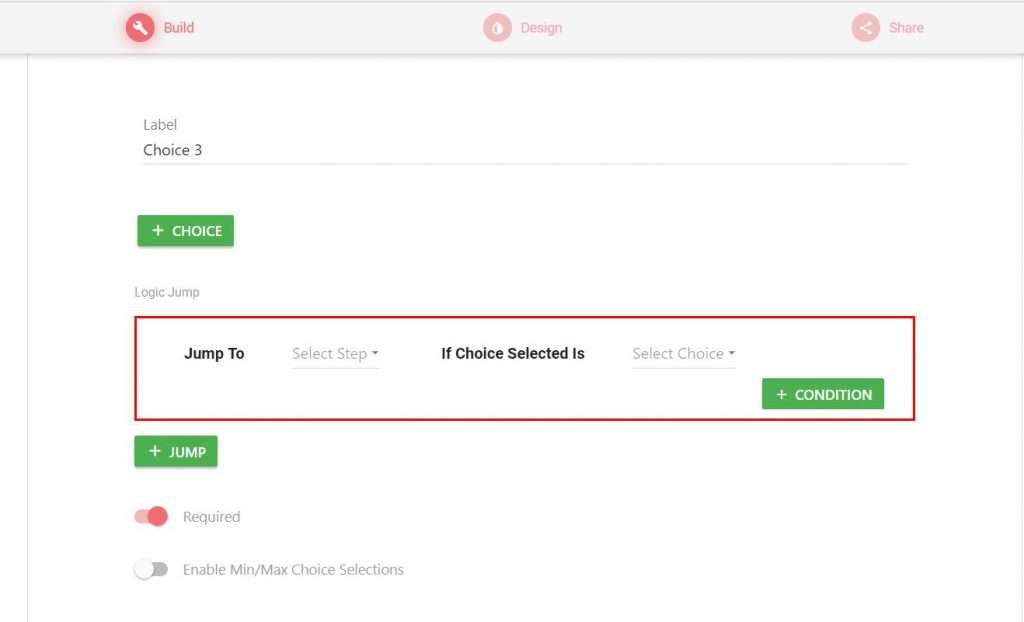 Send users onto different question paths based on their answers. This feature allows you to build conditional question trees. For example, you could have a qualifying question, like "What is your budget?" Having a user clicking on a button of a low budget, could send him to a screen that ends the form because it doesn't qualify to become a lead.

Custom Themes😮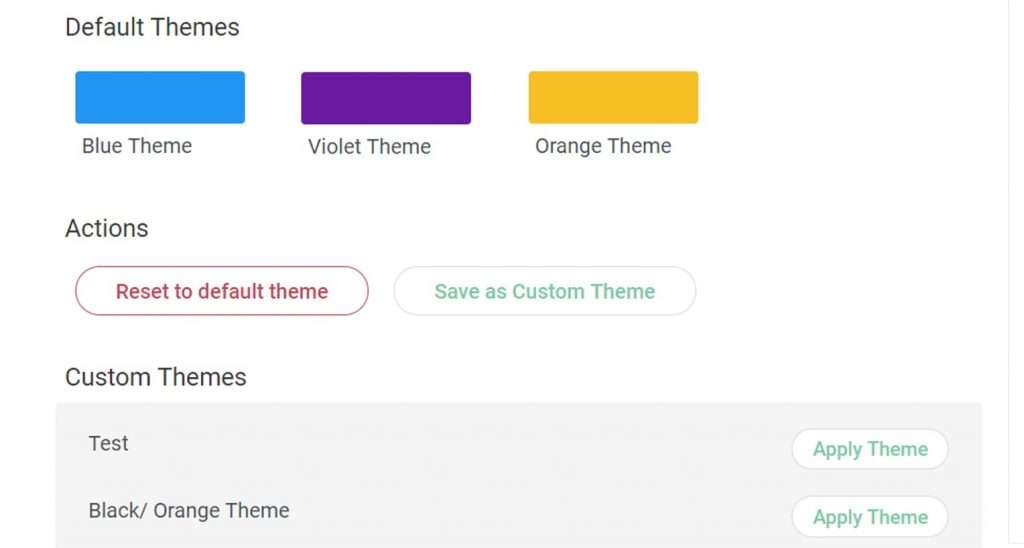 This is one of our best features for saving time. Once you built a form with in your branding, you save the design settings in one click. LeadGen will save your design as a custom theme that you can upload in just one-click for new forms. This means you will no longer have to do any design customization if your new forms have the same branding and style.