Easily Build Forms That Engage Your Visitors and Convert More Responses
Lead gen forms such as sign-up forms, registration forms, or contact forms play an important role in every business. Your lead generation forms are vital for generating new customers and clients. Yet, most websites still use basic contact forms and no lead forms across their web- and blog pages.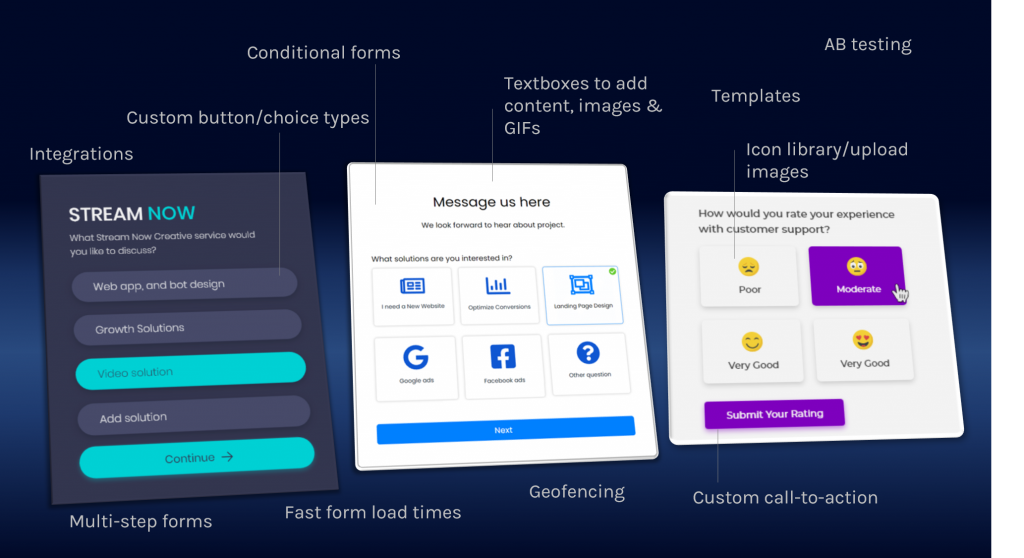 Forms are often taken for granted, yet they are the No. 1 channel for getting new leads, especially in Business-to-Business (B2B) brands. Forms are more than just a plugin or widget in a website. They can be used to educate, inform, engage users by creating unique user experiences.
We created LeadGen App from our own frustration. We couldn't find a tool that allowed us to build custom multi-step forms that easily fit into our web- and landing page. That's why we have created LeadGen App, a form-builder and lead capture tool to generate more quality leads from your online presence that turn into clients and grow your business.
We often get asked, "How is LeadGen App different than other form-builders?" Firstly, LeadGen App is much more than just a form-builder: A lead capture and lead management tool for businesses.
LeadGen forms help businesses generate more leads and improve lead quality, opening new revenue streams, bringing new customers and more sales.
3 Key Benefits of LeadGen App:
Customizability ✨: Whether you need a lead generation form, want to qualify leads with conditional forms, create a quick feedback form or get more leads from blog offers, you can build it with LeadGen App.  Our form-builder help you create a range of different forms, whatever your goal is.
LeadGen forms can be fully customized inside the web app, allowing to change to change every little design element, such as button styles, adding images & GIFs, changing fonts and colours as well as adding your logo. Lead gen forms as unique as your business, matching your individual brand identity. The best part is that you don't need any coding. We also provide beautiful and conversion-optimized form templates.
Performance-Focus⭐: Marketers and businesses like you care about results. LeadGen forms not just look pretty, they also help you convert more responses. LeadGen forms have fast load times, work in every HTML page-builder and can be optimized for better conversions using our performance features.
Using AB-testing inside LeadGen, our tool automatically presents your visitors different variants to learn which version converts the most leads. Using supporting features like LeadProof popups you can entice more users on your landing page to go through your forms, bringing you more return from your website and campaigns.
 Compatibility????: You can embed forms into any page-builder like WordPress, Squarespace, Wix and Leadpages. Also, you can create lead gen forms via a direct link which means you don't even need a website. Furthermore, you can integrate forms via Zapier to almost any CRM or email marketing tool, giving you all the options to build great email marketing automation.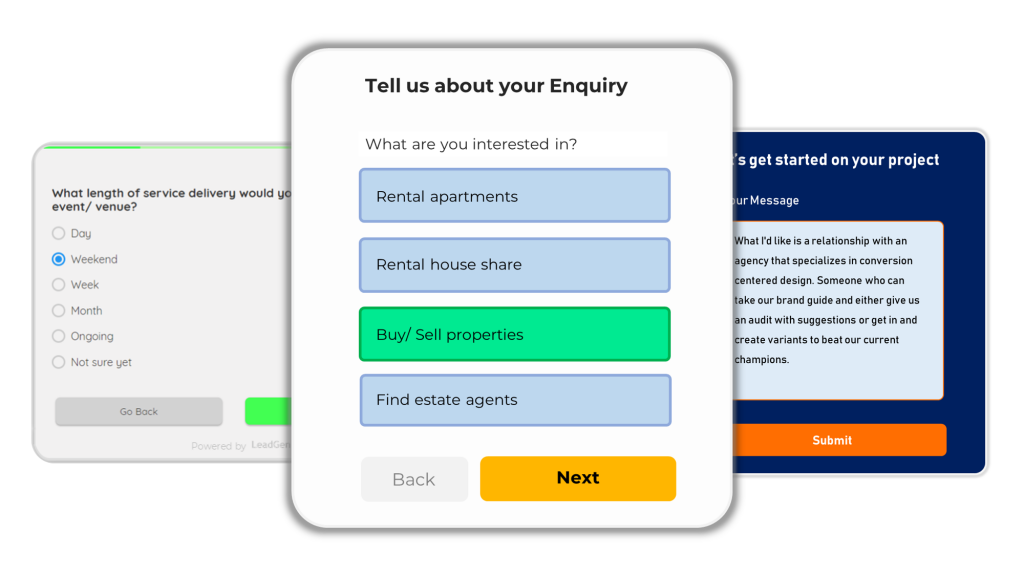 Examples of custom form designs from the LeadGen App form-builder 
LeadGen App takes a new approach to lead generation form-builders, challenging how online forms are build and designed.
The platform helps you to build better online forms with full customization and testing features. We built LeadGen App for digital marketers that are looking for a performance-oriented form-builder tool to achieve better conversion rates in their lead generation forms.
The LeadGen App form builder is designed for marketing & sales teams, digital agencies and small & medium sized business, without the need for coding skills. The intuitive builders lets you create beautiful lead gen forms in just a few minutes. We want to empower anyone in a marketing or sales department to easily use LeadGen App and build the first form in less than 5 minutes.
Here is a comparison of LeadGen App to other lead generation form-builders showing you why businesses switch their forms to LeadGen App. The highlight features are marked with a star.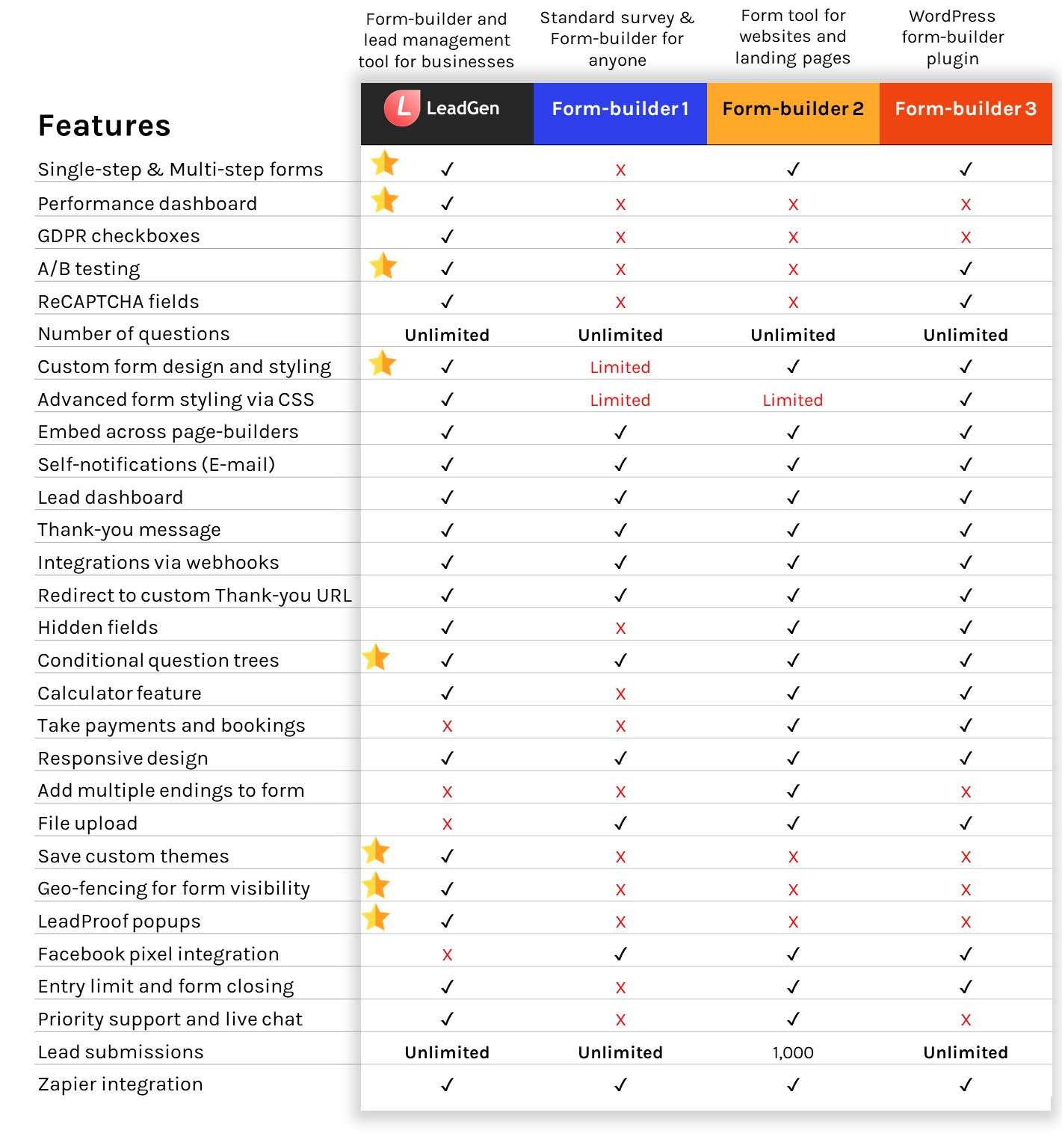 Direct comparison: Here is how LeadGen App compares to Leadformly.