Comparison of 13 Innovative Slack Alternatives 2022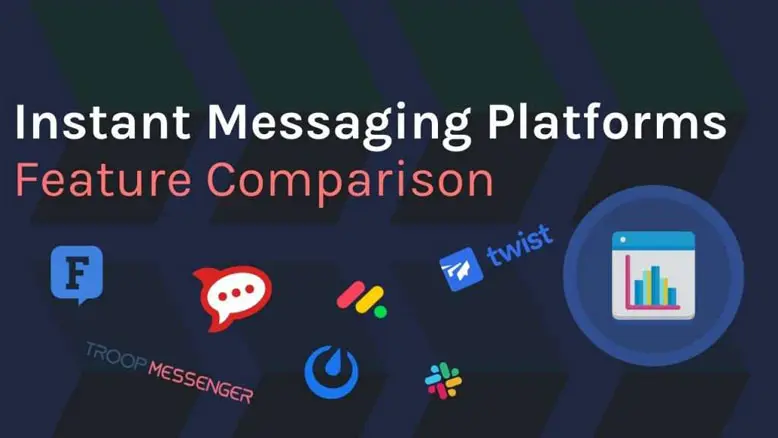 Comparing the best alternative Slack app alternatives in 2022 for group & instant messaging.
There are many reasons which led businesses to look for Slack Alternatives. In November 2019, Microsoft revealed the number of people who have been using its Slack competitor 'Microsoft Teams'. It reported 20 million daily active users.
This figure was much more than the total count of Slack's daily user, which was revealed to be '12 million,' around the same time with 100 minutes of average daily use.
Ever since MS is keen to share with the world that they are one of the best slack competitors. MS Team's win over Slack has also opened doors for other slack alternatives who are vying for the attention Slack has received over the last few years.
And now there is a sea of Alternatives to Slack out there. Some of the slack alternatives are free, some offer more features than Slack's free plan. There are also a few slack competitors who allow you to host the app on your server and rebrand it as your app. There are also some who don't restrict the message search limit.
Another reason for businesses looking for Slack alternatives is the cost. The majority of slack alternatives are offering similar features at a lesser price value. All of this adds up as a benefit, mainly for startups and small teams working remotely with limited resources.
In this article, we've put together a list of 13 most-promising competitors as Slack Alternatives of 2022:

Microsoft Teams

:

One of the Best Slack Alternatives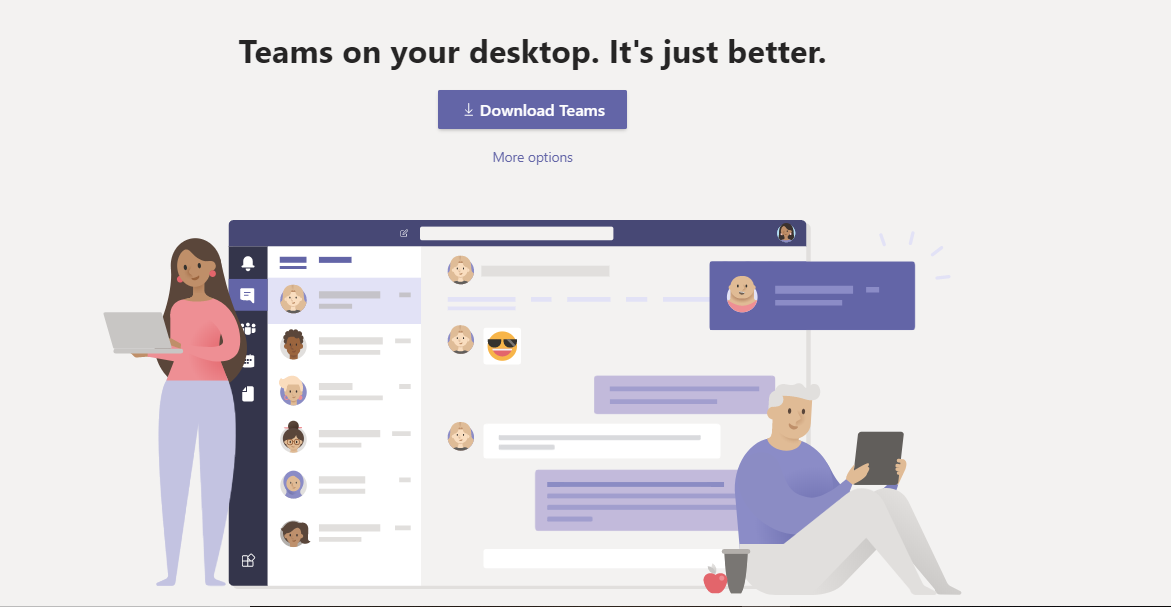 Getting Started:

MS is a chat-based collaboration tool
It provides global, dispersed and remote teams with a common space to work together
Features:

Threaded conversations.
Video and voice conferencing
Multi-Channel Guests
Instant messaging/Chat
Team chat and private discussion
Virtual assistant bots
Open API for integrations
Contact search by email address or name
Conversation search and contact search.
Customization feature for each team

Pricing:

Microsoft Teams: Free
Office 365 Business Premium: INR 660 per user/month
Office 365 E3: INR 1320 per user/month

Integration:
Storage:

Free Plan: 2 GB per user & 10 GB of storage
Premium and Essential Plan: 1 TB storage per organisations

Users:

Free Plan: Maximum number of users is 300
Office 365 Business Essential: Maximum number of users is 300
Office 365 Business Premium: Unlimited Number of Users
Troop Messenger: Feature-Packed Alternative To Slack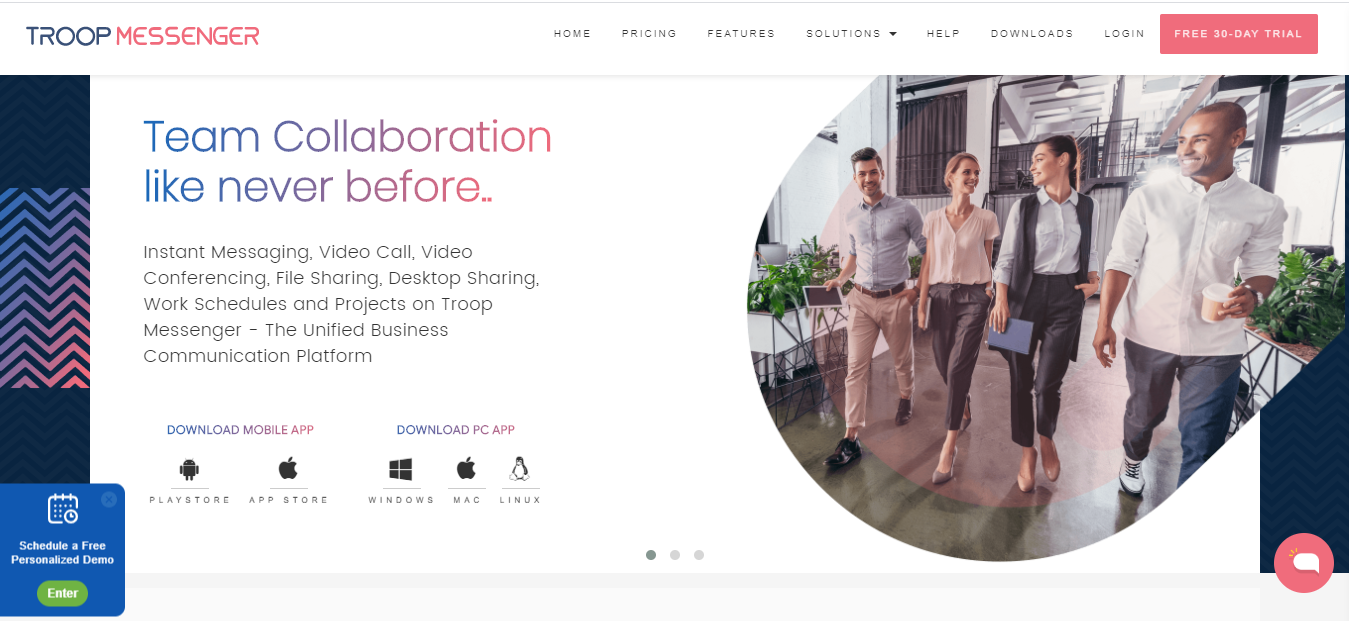 Features

Global Search
Fingerprint Security
One-on-One Messaging, Unlimited Groups
Audio & Video calling with screen sharing
One-to-One Search
FIlters (links, Attachments, and more)
Data Record
Advanced Notification
Message Scheduler & Autoresponder
@Mentions
Live Tracking & Analytics
Orange Member
Burnout, Forkout, Shoutout, FizzleOut
Customer Support

Pricing:

Premium Plan: INR 71 per user per month
Enterprise Plan: INR 355 per user per month
Self-Hosting: INR 355+ per user per month

Integration:

Dropbox
Google Drive
AP/LDAP

Storage:

Premium Plan: 150 GB Storage
Enterprise Plan: 1 TB Storage
Self-Hosting: Custom, I TB+ Storage

Users:

Premium Plan: Teams up to 200 Users
Enterprise Plan: Suitable for teams of 200-500 Users
Self-Hosting: Suitable for teams of 500+ Users
AirSend: Get work done in one workspace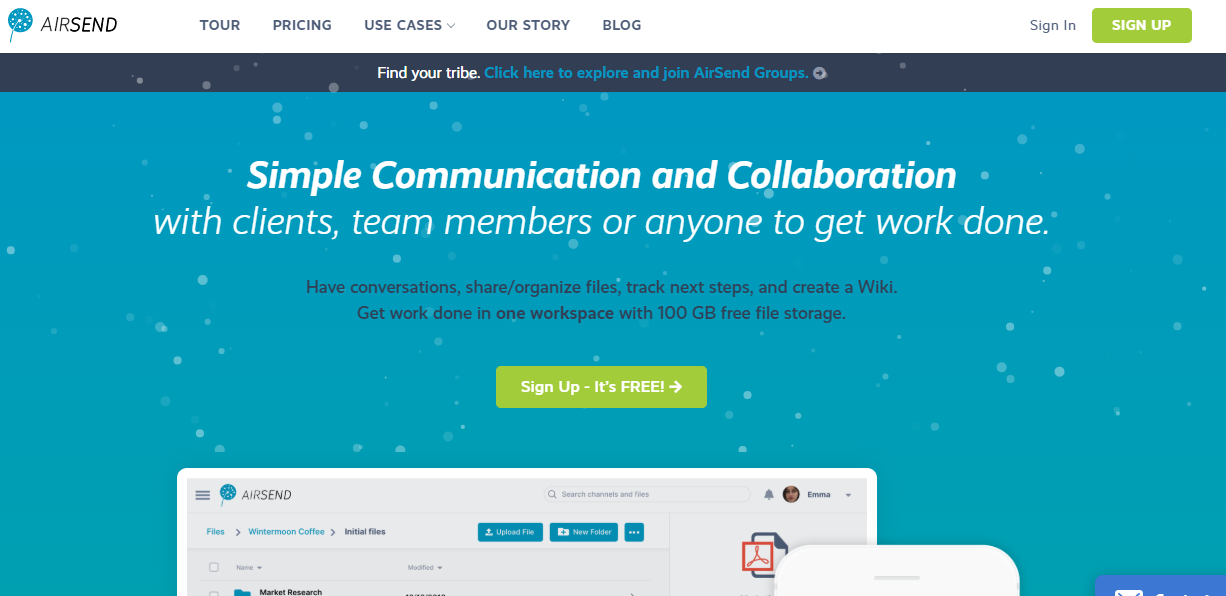 Getting Started:

AirSend is a simple and easy-to-use collaboration tool that minimizes context switching
It provides built-in essentials that help in getting work done better and faster
Features:

Built-in task management
 Built-in file storage and organization
Built-in audio/video calling
 Built-in notebook/wiki
Streamlined conversation spaces through channels
Community features, such as a public channel and establishing roles

Pricing:

AirSend Free version: unlimited channels, 15 GB file storage, three documents for
e-signatures per month
 AirSend Pro: Free for a year if you sign up before August 15th. Usually $4 per user per
month. Includes 100GB file storage, unlimited e-signatures, custom branded channels
 AirSend Business: Coming soon $7 per user per month. Includes everything in the pro
version plus active directory authentication, data residency, and data governance.

Integrations:
Storage:

 Free plan 15 GB
Pro and Business 100GN

Users:
Fleep

:

Easiest Instant Messaging Slack Alternative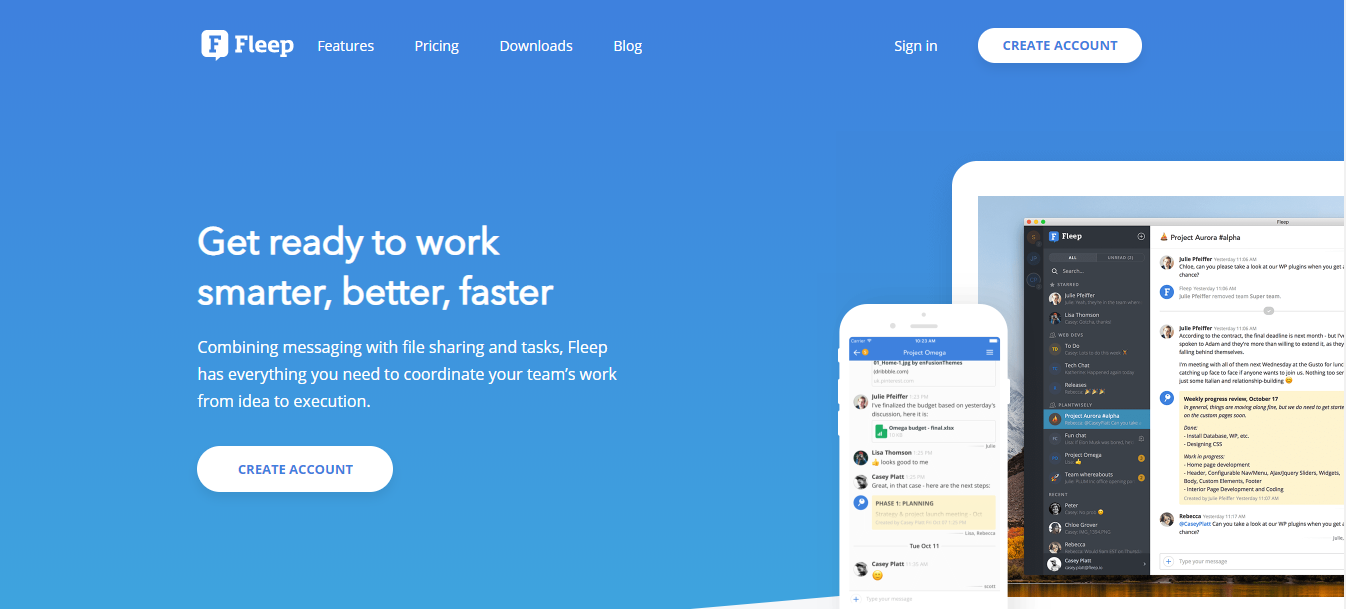 Getting Started

An innovative team communication application
Fleep combines a built-in collaboration medium with a robust business messenger
Features:

Full message history and facility to retrieve any message shared irrespective of time
Unlimited private conversations between team members
Unlimited group conversations in the business and custom plans, which is limited to 3 groups in a basic plan
Native apps
User account management
Premium conversations
White labelling of applications with which organizations can customize fleep with their brand name and logo
Organization settings
Retention policy for files
Status message

Pricing

Basic: Free plan
Business: €5 per user, per month, when billed annually
Enterprise: Custom pricing plans

Integration:
Storage:

Basic: 10 GB file storage
Business: 100 GB File Storage
Enterprise: 100 GB File Storage

Users:
Twist: Slack Alternative that Prioritizes Clarity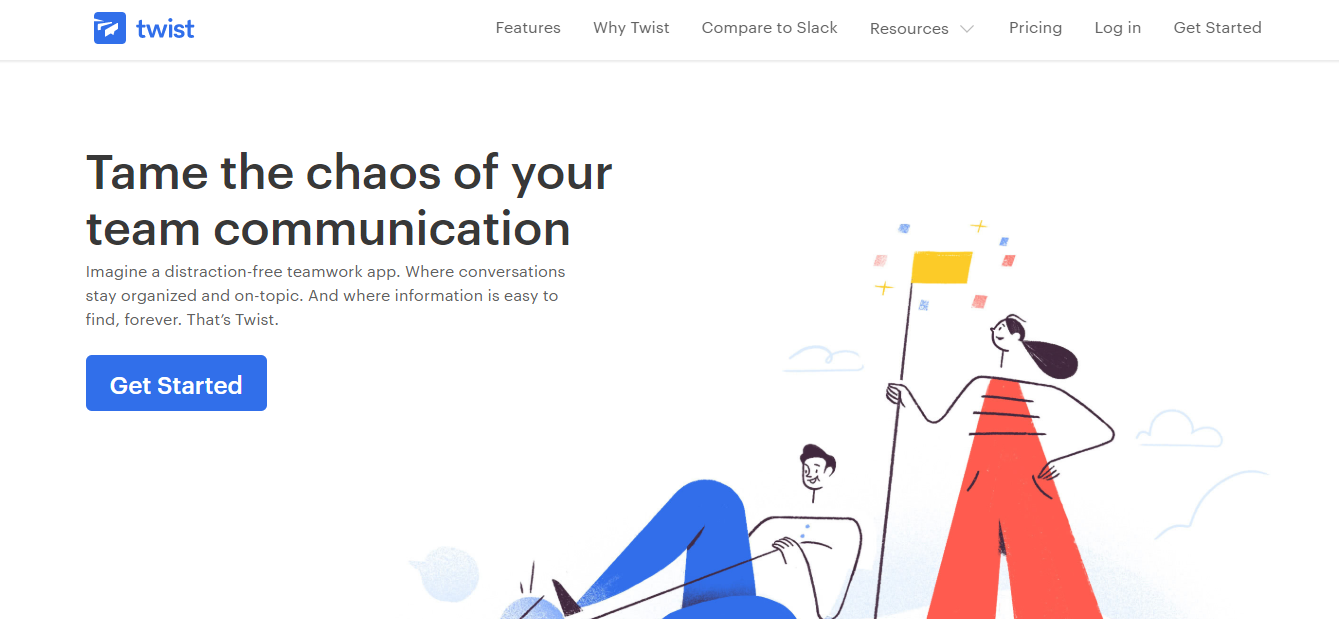 Getting Started
Features

Access full history of comments
Access full history of messages
Organised discussions into threads
Prioritise focused and productive threads
Information is easily accessible
Document Management
Project Management
Real-Time Editing
Discussion Boards

Pricing:

Free Plan: C$ 0 per user per month
Unlimited Plan: C$ 6.50 per user per month

Integration:

Free Plan: Up to 5 integrations supported in the free plan
Unlimited Plan: Unlimited Integrations

Storage:

Free Plan: 5 GB file storage
Unlimited Plan: Unlimited file storage
Mattermost: Open-source, and Self-hosted Slack Alternative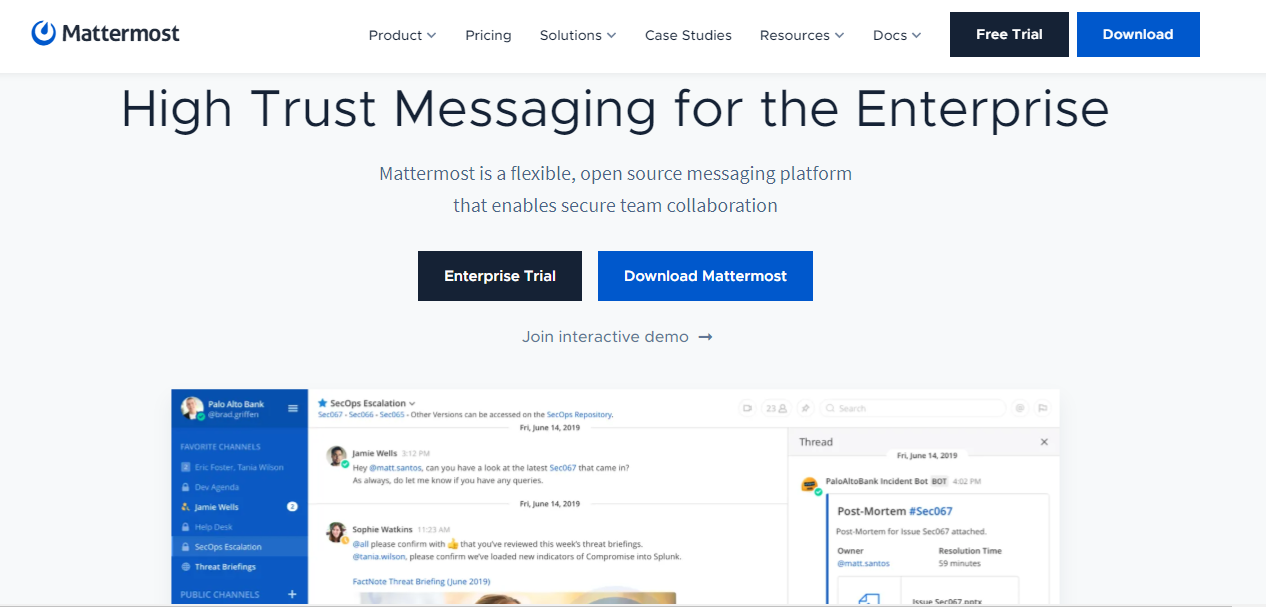 Getting Started
Features:

Private and group messaging
Fully searchable message history
Screen sharing, voice and video call
Integrated file sharing
Supports Windows, Mac, and Linux
Supports mobile iOS and Android
Multi-factor authentication
Highly available configuration
LDAP authentication
Multi-language translations
Enterprise-grade security and scalability
Priority support
White labelling: Custom branding & custom emojis
Unlimited integrations
Guest Accounts

Pricing:

Enterprise E10: $3.25 per user month, billed annually
Enterprise E20: $8.50 per user month, billed annually

Integration:

E-discovery tools, DLP, EMM
100s of pre-built tools ready to integrate
Connect with internal company tools and third-party app

Users

Enterprise E10: Scaling up to 500 users
Enterprise E20: Scaling for 1000+ users
Rocket chat: Unlimited & Open Source Alternative To Slack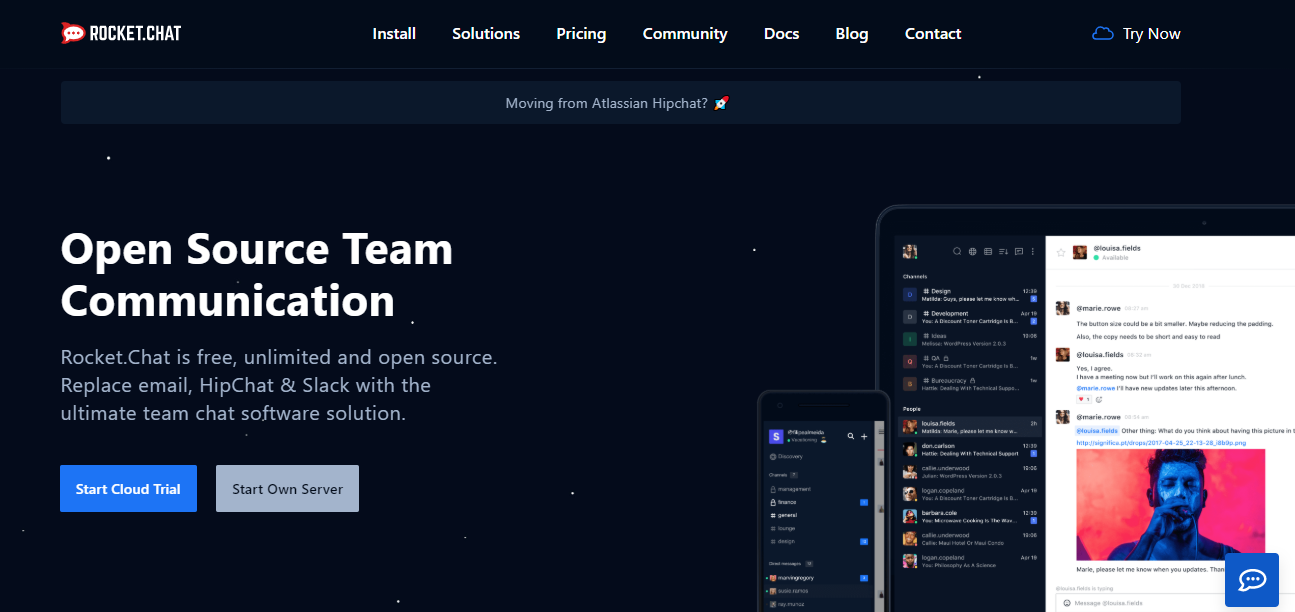 Getting Started

A web-chat server which has been developed in JavaScript
An ideal solution for companies willing to host their own chat servers, privately

Features

Unlimited message history
Unlimited private and public channels
Dedicated conferencing server
Multi Language Interface
White label branding and custom domain
Advanced agent routing rules
OmniChannel Integrations
LDAP/Active Directory
Multi Factor authentication
Hourly Analytics Reporting
On-Call Upgrade Assistance

Pricing:

Community: Free
Pro: $3 per user, when billed monthly, and $30 per user, when billed annually
Enterprise: Tiered pricing

Integration:

Community: Unlimited
Pro: Unlimited Integrations
Enterprise: Unlimited Integrations
(GitHub, Trello, JIRA, Guggy, Google Calendar, Moodle, Sentry, and more)

Users:

Community: Up to 1000 users recommended
Pro: Unlimited users
Enterprise: Unlimited users
Milanote: Get Organized, Stay Creative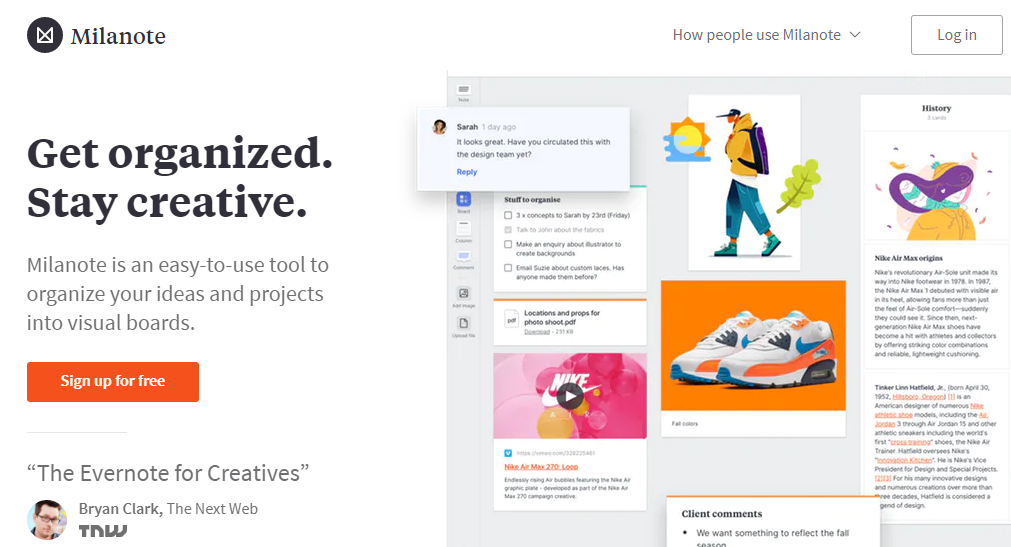 Getting Started:

It is a tool for organizing creative projects into beautiful visual boards
By design, it feels a lot like working on the wall in a creative studio - visual, tactile and sometimes a bit messy - Milanote is a great fit for designers who work in teams remotely

Features

Write notes & to-do lists, upload images & files and save things you find on the web
Organize visually using the flexible drag and drop interface
Boards by default are a private place to think, but with a single click you can create a shared workspace for collaboration with your team
Milanote is filled with hundreds of built-in templates to help you get started with a variety of different projects, from creating a mood board to writing that perfect creative brief

Pricing

Free version available with no time limit
PRO version $9.99 per month (monthly and annual plans)
Toasty: The interactive alternative to Slack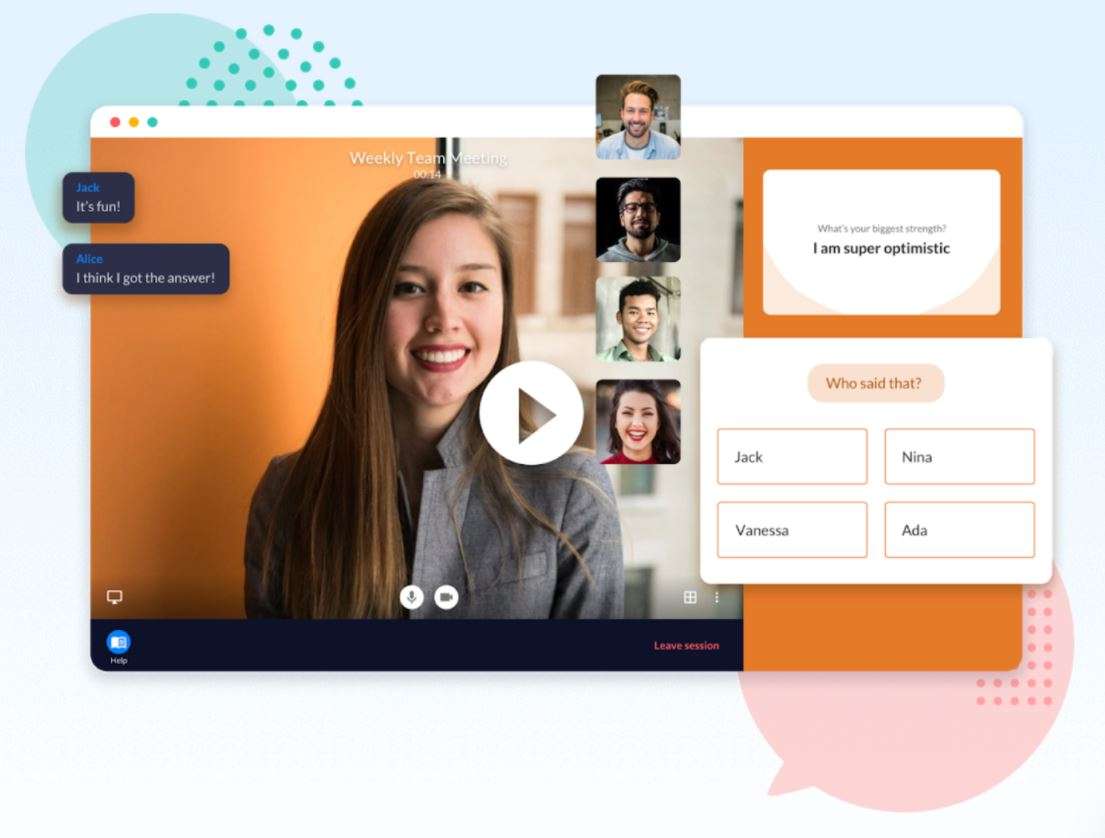 Getting Started:

High-resolution video conferencing platform
Secure with E2E encryption
Live Q&A and interactive tools for virtual collaboration.
Ready-made meeting templates for Team Reflection, Opposite Thinking etc

Features

Breakout rooms
E2E encryption
Live chat
Q&A
Conversation Cards
Group Discussion and Response
Poll
100+ meeting templates
Customer Support

Pricing:

Standard: 9USD/month/host
Professional: 39/month/host

Users:

Up to 50 team members at a time
Monday.com: Slack Alternative where Workflow is Made Simple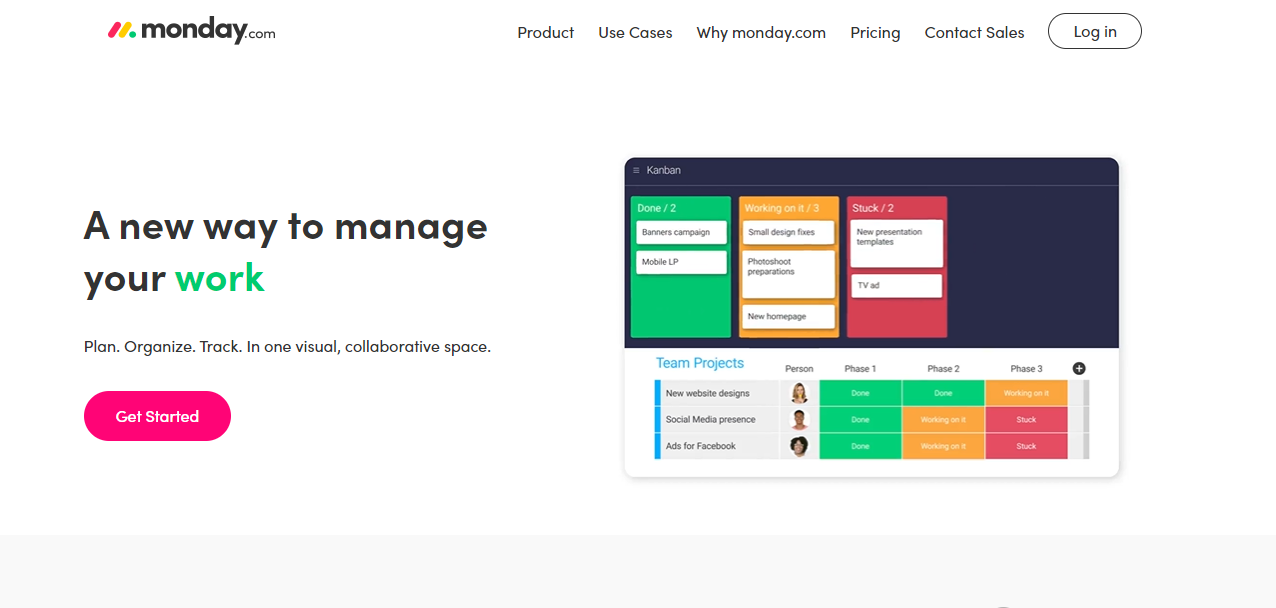 Getting Started:

Leading communication and collaboration app for businesses working remotely
Monday.com sync empowers all the team members and stakeholders to make real-time decisions, together

Features

Unlimited Boards and Free Viewers
Embedded forms
Kanban View, Timeline View,
Calendar and Chart View
Dashboards and Automations
Audit Log
Single Sign-On (Okta, One login, Azure AD, Custom SAML)
Self-Serve knowledge base
99.9% uptime
HIPAA Compliance
Session Management

Pricing:

Basic Plan: $39/month for a team of 5 users
Standard: $4/month for a team of 5 users
Pro: $79/month for a team of 5 users
Enterprise Plan: Custom Pricing

Integration:

Basic Plan: 0 actions/month
Standard: Up to 250 actions/month
Pro: Up to 25,000 actions/month
Enterprise Plan: Up to 2,50,000 actions/month

Storage:

Basic Plan: Up to 5GB Storage available
Standard: Up to 50GB Storage available
Pro: Unlimited Storage
Enterprise Plan: Unlimited Storage
Zenchat: Team messenger with built-in task management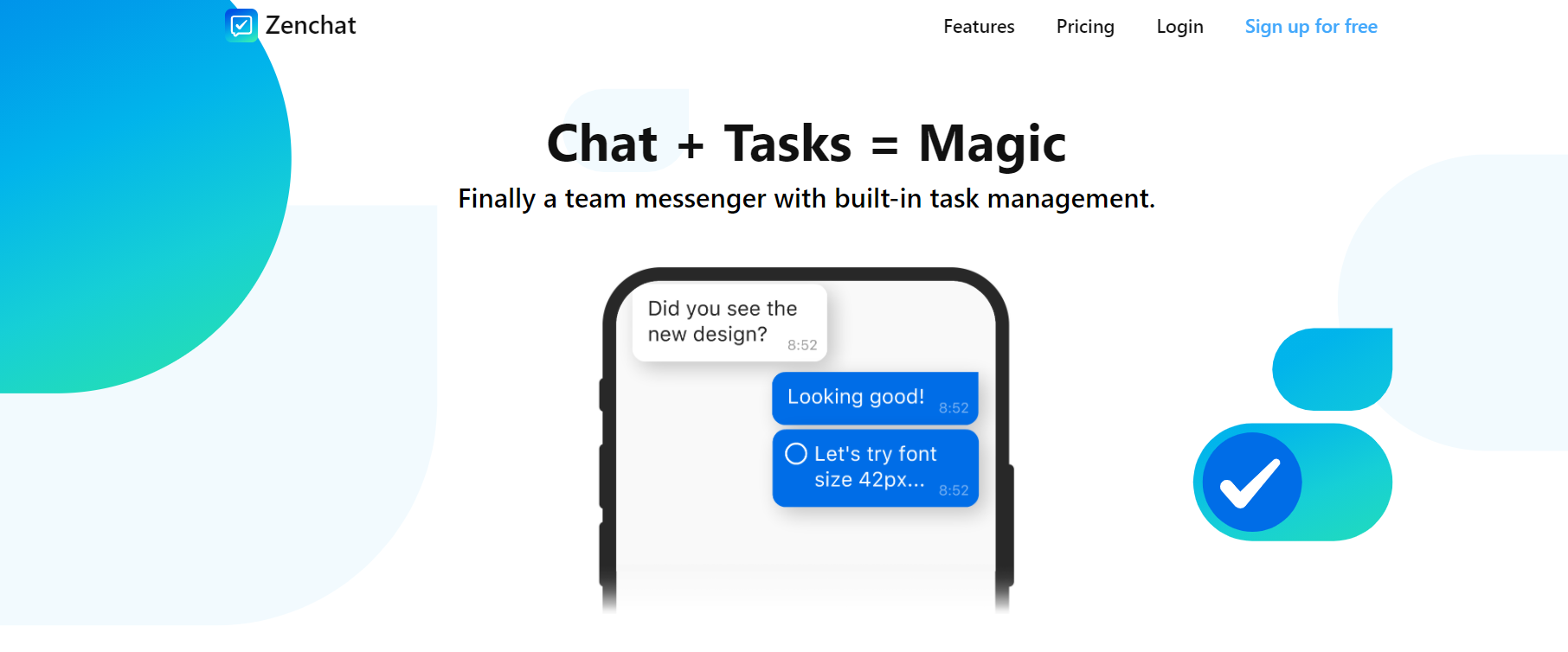 Getting Started:

Zenchat is a team messenger with built-in task management
The combination of chat and tasks creates a complete communication experience
Features:

Group chats and personal chats
Audio and Video messaging
Search function for messages and tasks
Built-in Task Management
Attachments
Task Chats
Reminders
Dark Mode
Offline Support
Enterprise Ready
2 Factor Authentication

Pricing:

Zenchat Personal: Free
Zenchat Plus: 5$ per user/month
Zenchat Business: 19$ per user/month
Zenchat Enterprise: Contact us: https://zenkit.com/en/contact/

Integration:

1000+ integrations in all plans via Zapier or via API to build your own direct integrations

Storage:

Zenchat Personal: 600MB
Zenchat Plus: 6GB
Zenchat Business: 600GB
Zenchat Enterprise: unlimited

Users (in this case Chats with other users):

 
Zenchat Personal: up to 5
Zenchat Plus: up to 50
Zenchat Business: unlimited
Zenchat Enterprise: unlimited
Teamwork:

Slack Alternative with better collaboration features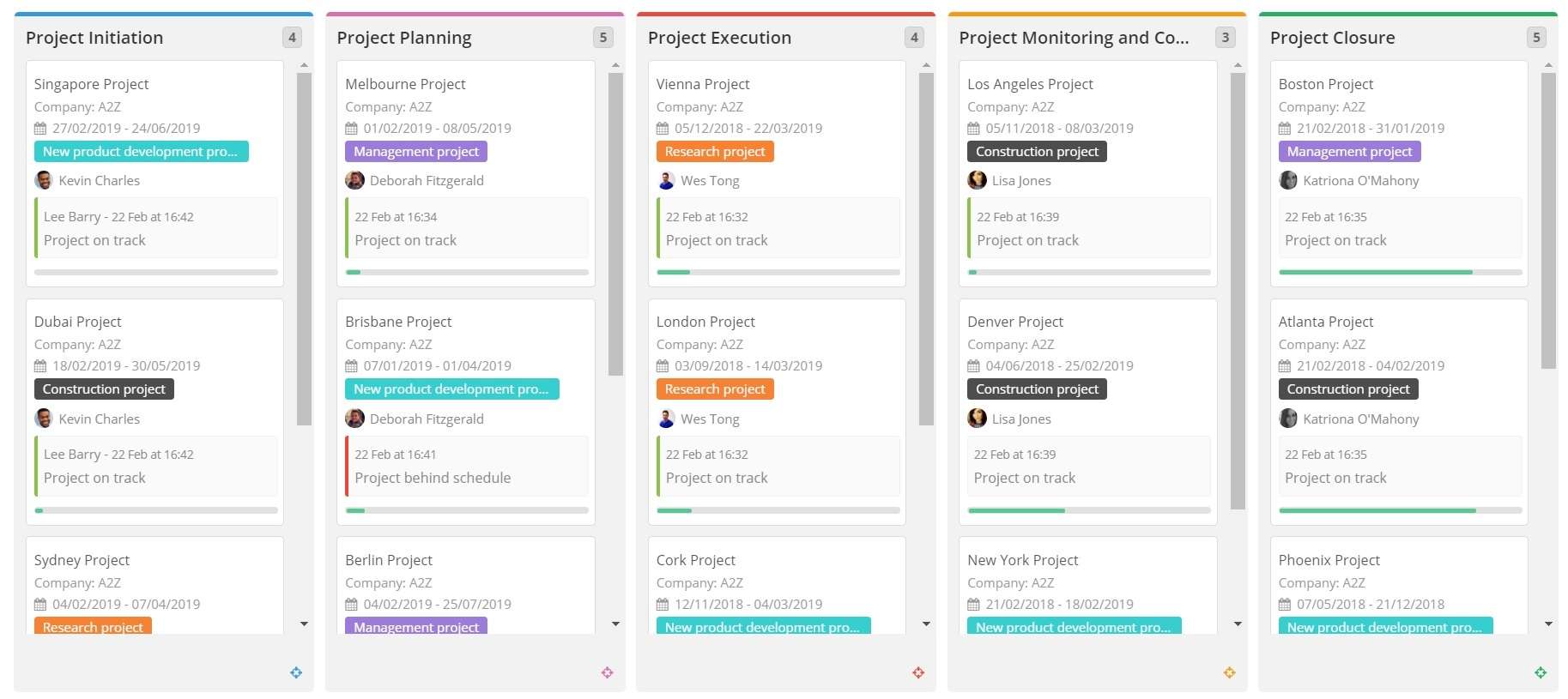 Getting Started:

A leading team management and collaboration tool

Teamwork is your teams single source of truth

Features

Pricing:

Integration:
Aritic Swarm:

Real-time Communication App for Team Collaboration, Communication and Engagement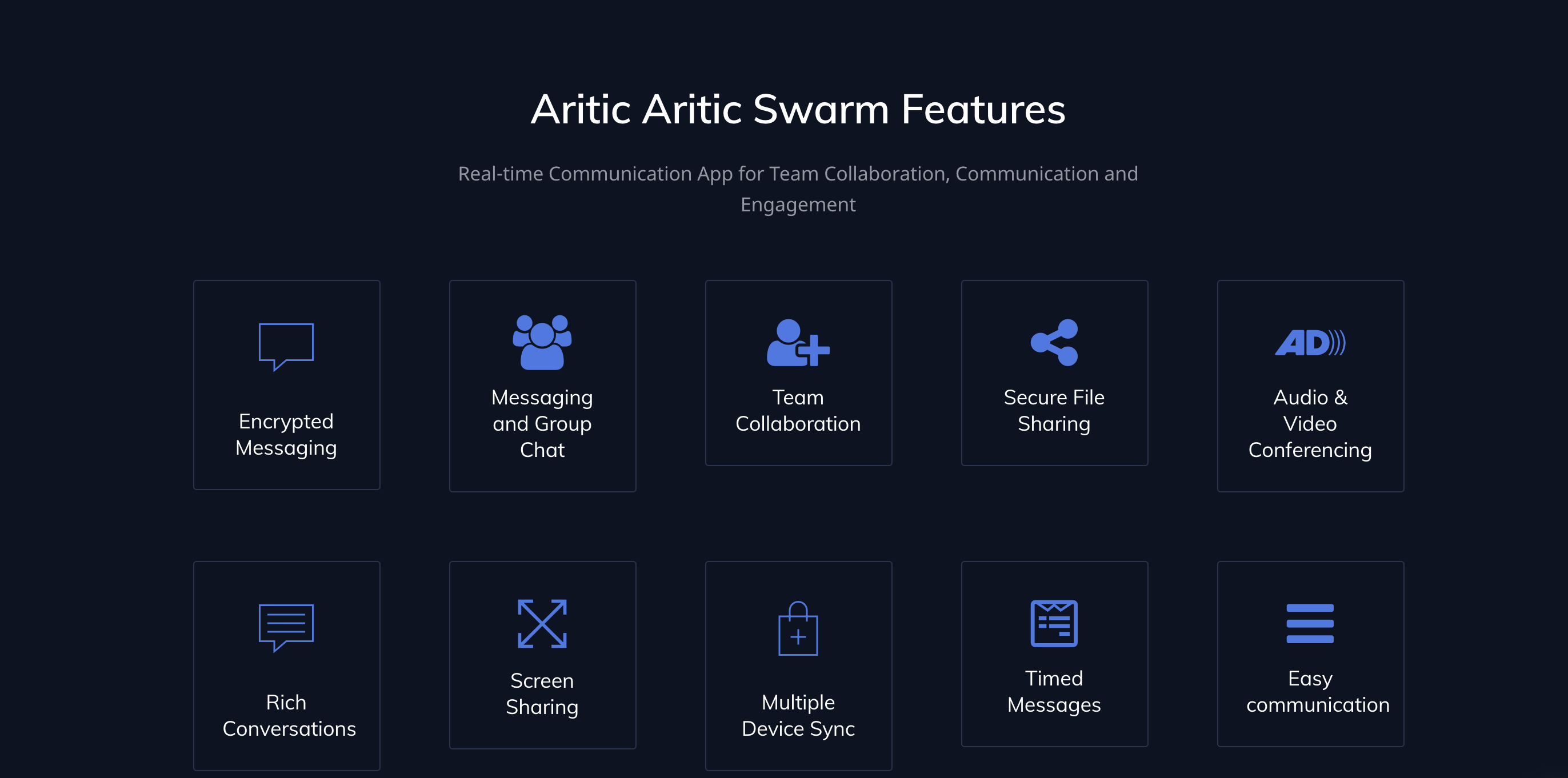 Getting Started:




An Instant Messaging Tool for internal company collaborations. 

Aritic Swarm takes team collaboration to the next level with an encrypted secure messaging option

It brings all your teams together on Aritic Swarm to coordinate and drive business growth. 

The rich UI, along with group messaging features, among others, make Aritic Swarm a go-to-platform for teams that rely on the 'work together' motto.
Features:




Create message rooms or groups as well as engage in one-on-one messaging. 

Upload videos, images, documents, and any other type of files

Use emojis in messages

Write HTML coded messages

Format messages with bold, italics, or strikethrough to emphasise on important aspects of your message.

Encrypted messaging, messaging and group chat, team collaboration, secure file sharing, audio and video conferencing, rich conversations, screen sharing, multiple device sync, timed messages and easy communication.

Aritic Swarm works with these users and organization types: Mid Size Business, Small Business, Enterprise, Freelance, Nonprofit, and Government.
Pricing

:


Aritic Swarm offers a free trial.

Contact Aritic Swarm to obtain current pricing.

Integration

:
Best Slack Alternatives 2022 - Conclusion:
Apart from these 13 tools, there are over a dozen paid and open source business collaboration tools. All these tools are available in the market as an alternative to Slack. Another thing you may want to try is sending video emails or video messages instead of plain text messages. It can help you save a lot of back and forth!
For more than 10 million users, these slack competitor applications have become the first tool they open to kick the workday on.
What's more, these 13 slack alternatives have shaped themselves into a pioneer of team collaboration. They've everything that makes them a promising slack alternative.
People also read:
Check out our article on the 15 Best Form Builders