How B2B Firms Can Remodel Their Businesses to Generate More Sales 
Hit a snag in your B2B business that's getting in the way of your sales goals? Need help rethinking your business approach to boost sales?
We've got just the life raft you've been looking for! 🚣🌊
In today's article, we're walking you through how to restructure your B2B business to generate more sales in just five simple steps. 
Ready to learn more?
Let's take a look!
1. Identify your problem areas and opportunities for growth 
Before you can figure out where you need to go, you need to examine your current problem areas.
Get crystal clear here. 
What's not working for your business? 
For instance, is stale inventory crowding up your warehouse? Are prospective customers dropping like flies after their free SaaS trial subscriptions end? What exactly is keeping you from hitting your sales targets?
Identify your speedbumps, one by one, by auditing your operations, sales, and outreach processes. Be sure to also audit your marketing campaigns, sales funnels, and customer support (CS) tickets. 
When analyzing your systems, keep an eye out for growth opportunities. Be sure to document these so you can review them with your sales team. 
2. Re-evaluate your target audience's core needs and pain points 
Carve out time to re-analyze your target buyers' needs and problems. 
Have they shifted? Are they still struggling with the same issues? Have they accrued new problems? Is there another market segment that needs what you sell? 
Understanding the answers to these questions is vital to discovering if you need to update your offerings or market to another audience segment.
For instance, FrameStore, a small B2C business specializing in picture frames, successfully remodeled its business after noticing a need in the B2B wholesale market. 
Recognizing the potential for growth and increased revenue, the company introduced wholesale picture framing and made it a prominent part of its business strategy. 
By creating a separate category on its homepage menu for "Wholesale" and adding three additional pages dedicated to this offering, FrameStore effectively began targeting and catering to B2B customers: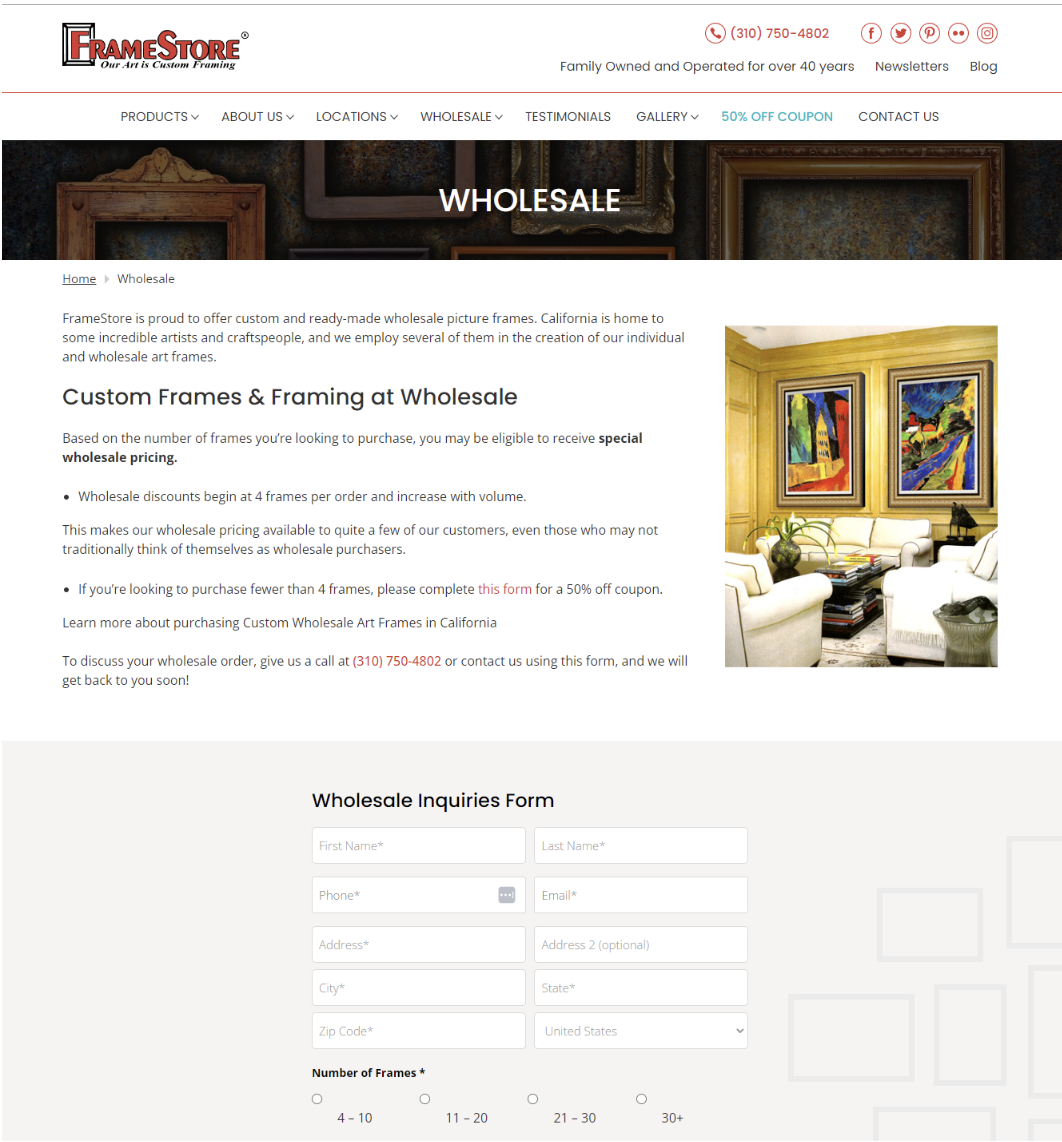 FrameStore also went the extra mile by dedicating one of these pages to its prestigious wholesale clients, ranging from hotels like The Marriott to banks and even major film studios, like 20th Century Fox.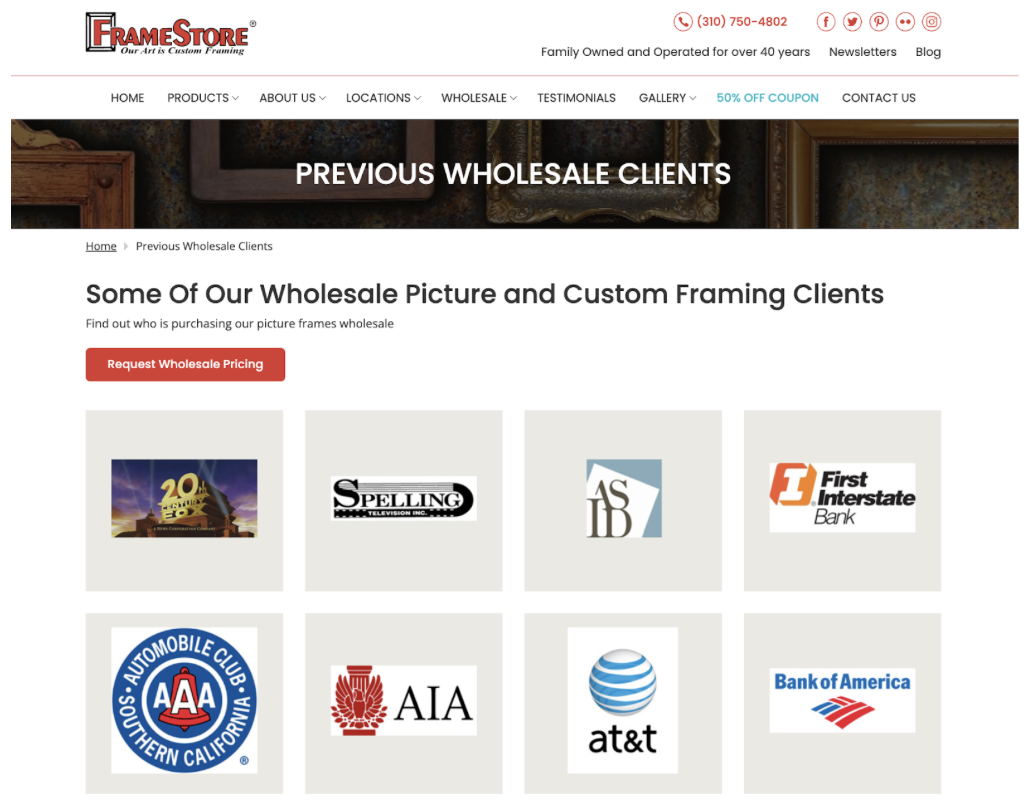 This strategic approach has allowed Frame Store to tap into new customer segments, establish valuable partnerships, and significantly enhance its business prospects.
Next, analyze the offers you've designed for your ideal customer — are they still relevant? Outdated? Need improvements? Look through CS tickets for common praises, complaints, questions, and concerns. Consider using a social media listening tool to pull more insights. 
For instance, a notable case study is CalAmp, a leading provider of telematics solutions. 
CalAmp recognized the emerging market demand for Electronic Logging Devices (ELD) after it became a mandatory requirement for commercial vehicles in the US back in 2017. 
Understanding the significance of this regulation, CalAmp strategically shifted its focus to develop and offer innovative ELD solutions to the trucking industry. 
By adapting its product portfolio to meet new regulations, CalAmp successfully penetrated the market and gained a competitive edge. 
Its ELD trucking devices not only ensured compliance with government regulations but also provided additional features and functionalities, such as fleet management and real-time tracking, which improved operational efficiency for trucking companies.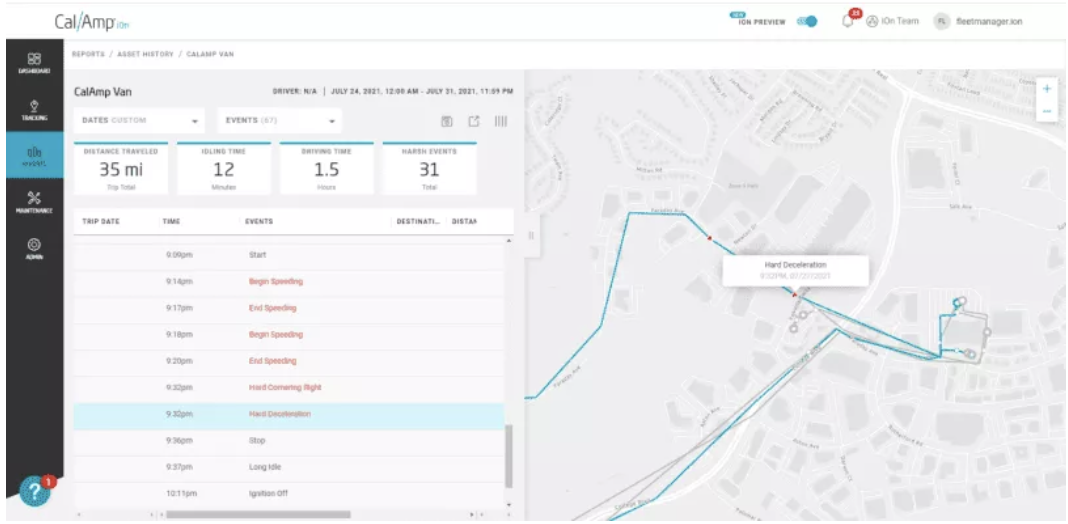 This proactive business remodeling allowed CalAmp to not only meet the demands of the evolving industry but also generate substantial sales by catering to the specific requirements of B2B customers in the trucking sector.
3. Analyze and interview your sales team and current customer base 
Survey and interview your current customers and sales team for valuable business feedback.
Loyal customers will be able to shed light on the customer experiences you've created for them and what they'd like to see more or less of going forward.
Successful sales reps will have valuable feedback to share about what's working and what needs to be evaluated or dropped. Experienced reps can also help you identify your best source of sales leads so you can put more eggs in that basket. 
*Pro-Tip: You may need to offer specialized training to reps with poor sales results or offer them different roles that better align with their specific skill sets.
4. Rethink your sales funnel and sales process 
After ensuring your audience and offerings are aligned, carve out time to dig into and improve your sales funnel and sales process. 
Here are a few quick checklists to help you streamline your approach: 
Improve your sales funnel by: Split testing ads and publishing the ones that got the best results, Redesigning and optimizing your landing pages, A/B testing and optimizing your calls-to-action (CTAs)
Re-strategize your sales process by:
- Reviewing past sales experiences with your sales team and pinpointing the exact strategies that worked best on qualified prospects. Name these your "Top Sales Strategies".
- Turning your Top Sales Strategies into a playbook. Consider adding "customer type" sections to help sales reps tailor their responses to their prospects' ideal communication styles (i.e., Controller style, Socializer style, Supporter style, and Analyzer style)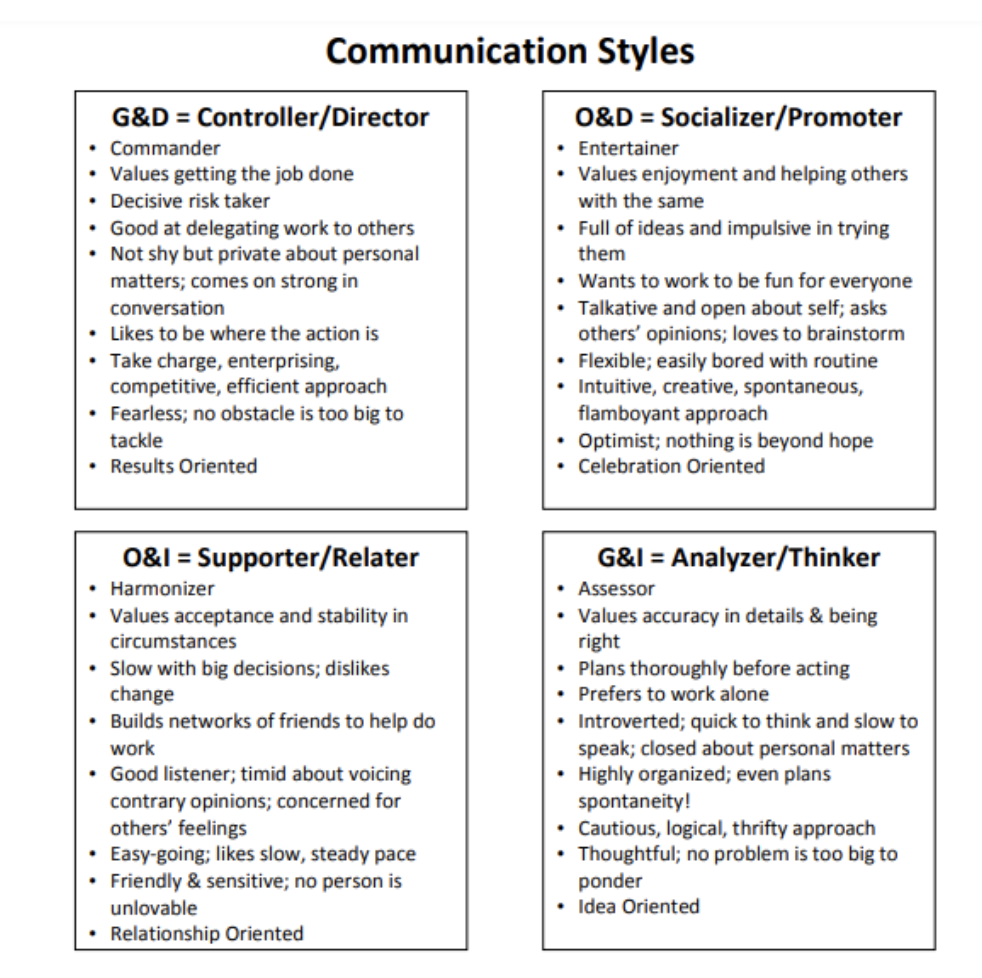 Perfect your outreach process by:
- Using lead scoring to uncover qualified leads
- Re-organizing your sales pipeline by lead score
- Creating personalized and segmented email campaigns to support ongoing lead nurturing
- Only having the best sales representatives or sales managers conduct the official sales pitch, every time
5. Use inbound marketing strategies on a regular basis to attract B2B sales leads 
Creating systems that bring qualified leads to you in your sleep is pivotal to generating more sales as efficiently as possible. This not only helps remove unnecessary burdens off your sales team's shoulders, but it can also help you build passive income streams when well-strategized.
Enter: Inbound marketing strategies.
B2B firms can use inbound marketing strategies to bring customers and leads to their businesses via high-quality content. 
According to a guide written by Amazon Ads: "Inbound marketing is a digital marketing method that helps you attract customers to your business by creating useful content and experiences that resonate with audiences. It prioritizes content creation and information sharing as a way to reach customers, rather than relying solely on ads."
We couldn't have said it better ourselves! 
When creating your content strategy, you'll need to keep SEO in mind and choose niched-down topics your audience cares about. For instance, take a look at Clumio's blog page: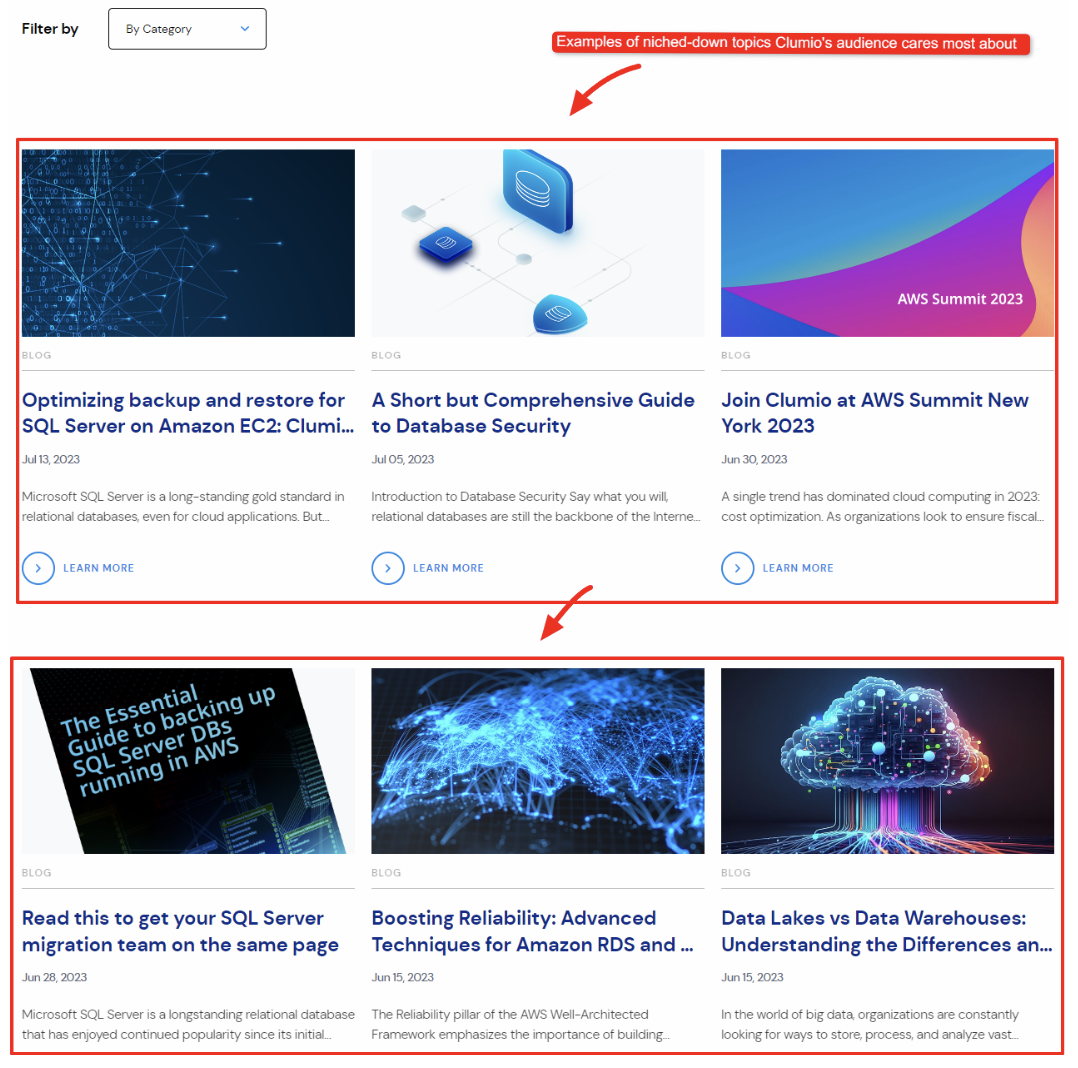 As a cloud-native data protection platform that offers B2B businesses autonomous cloud data backup, Clumio specializes in writing content that covers:
- Database security
- Data migrations
- Data lake protection
- Data resilience
- And other niche topics about data protection, such as preventing cyberattacks and operational disruptions
Clumio also offers a directory its readers can filter through. 
Not only does this help its audience explore more relevant content, but it also gives Clumio SEO brownie points as Google values brands that make the customer experience as seamless as possible.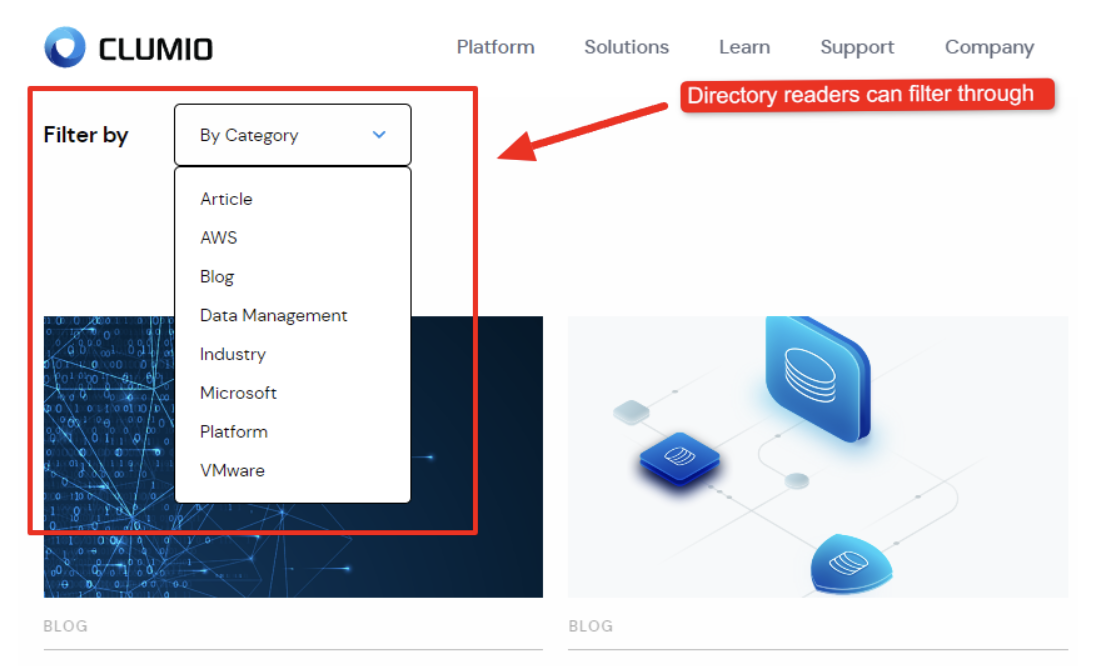 Beyond high-value blog posts, here are some additional content assets you can use to drive more leads to your business:

- Turn website visitors into qualified leads by using irresistible lead magnets (think free ebooks and guides or webinar invitations), CTA buttons, and personalized offers
- Create an optimized Help Center and Knowledge Base on your website
- Offer in-depth guides, ebooks, and printables as lead magnets in social media posts to collect email addresses for your email list
- Add white papers, case studies, and infographics to your website and distribute them across your marketing channels and landing pages where relevant
- Hire B2B influencers and affiliate marketers to initiate user-generated content (UGC) campaigns — collect positive mentions and visual product to use as social proof in your sales materials, marketing campaigns, and paid ads
- If you're on a budget, work with nano or micro-influencers to save money; you'll only have to pay affiliates if they send you paying customers 
Wrap up 
And there you have it! Today we covered how you can remodel your business to generate more sales in five simple steps.
But we do have one last crucial tip for you.
Don't forget to optimize your B2B website and marketing materials to reflect your changes. For instance, update your social media bios to reflect your new target audience or offer, add a new header on your website showcasing your new offer, and rebrand your email marketing campaigns.
That's it, for now, B2Bers.
Here's to your success!
PS: Need to create powerful lead forms that can help you win more customers and grow your business? Gain a competitive advantage with our high-converting lead forms. Start your free LeadGen App trial today — no credit card required.