PPC for Lead Generation, Platforms, Strategies and Interview with Ad Specialist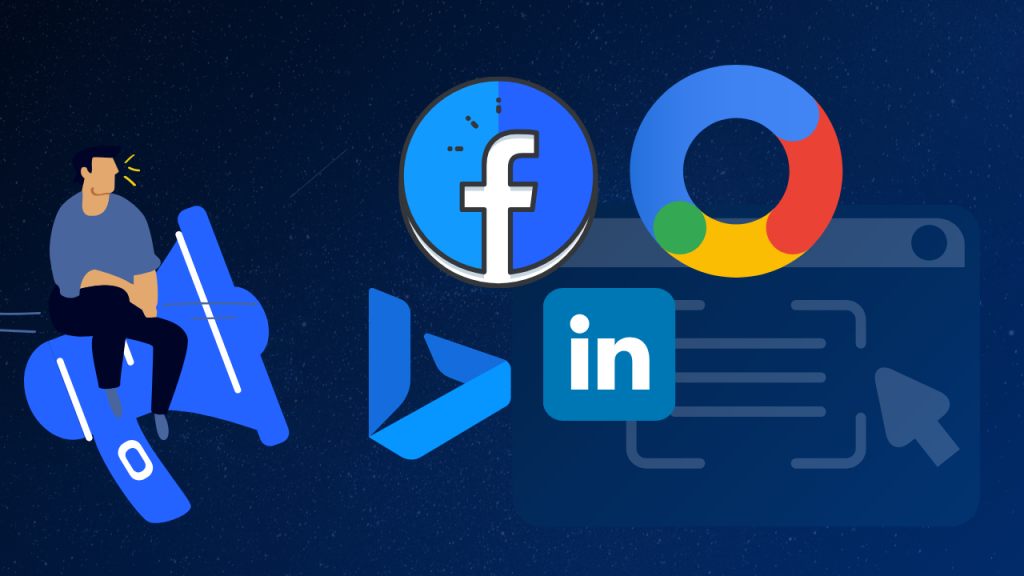 No matter how much you invest in optimizing your products and services, your ultimate goal is to generate quality leads and then convert them into paying customers.
There are many ways to do that, but PPC (pay-per-click) advertising is one of the best channels, even when you're on a tight budget.
Why?
Because, when it's done right, pay per click lead generation, PPC, can constantly get you new first leads to feed the top of the funnel, so that you can later nurture those leads and turn them into loyal customers.
PPC for lead generation is known as a sales generation tactic for e-commerce brands, e-commerce analytics can help you to understand the keywords you should target, but for most companies, especially in B2B, the bigger use case is lead generation.
Blogging, email campaigns, and organic search can all help you generate more leads and they should remain an important part in your marketing campaign.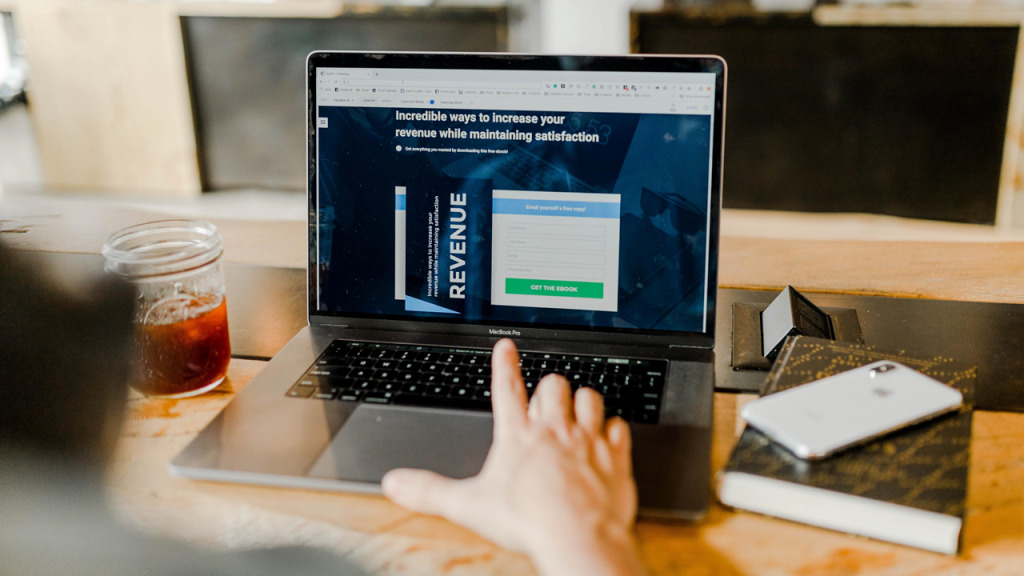 PPC landing page for lead capture: PPC is instant traffic and awareness that can turn into leads
However, unlike the PPC lead generation, they take much longer and require extensive effort from multiple departments. Meanwhile, PPC puts you in the spotlight, where you can have an impactful presence, generate high-quality leads, impressions, and boost engagement rates.
PPC Lead Generation Ad Platforms and Ad Types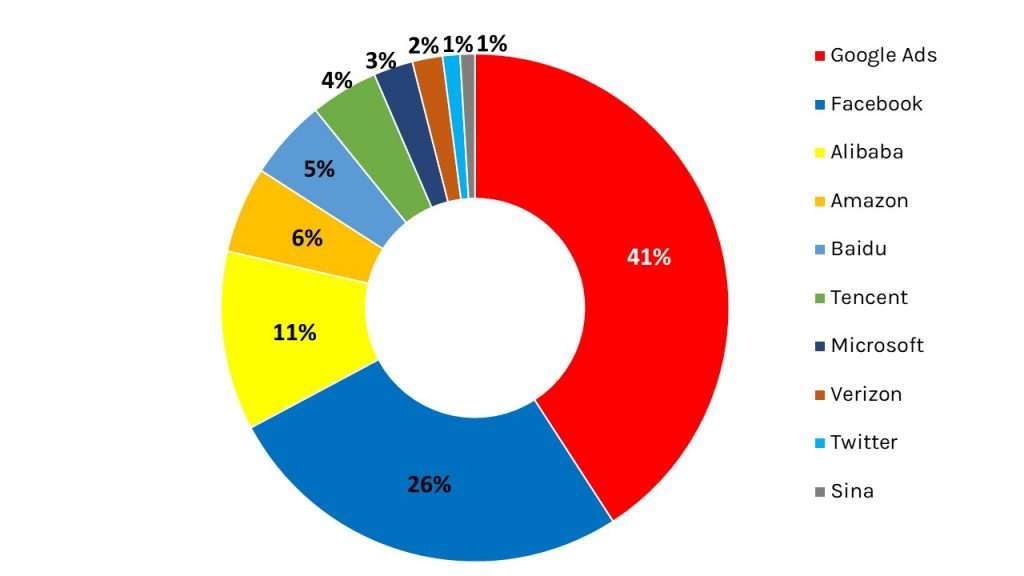 PPC lead generation: Biggest global ad market players sorted by absolute market share, based on https://www.emarketer.com/content/global-digital-ad-spending-2019 
The good news for marketers is that there is an ad platform for every business niche under the sun.
Whether you have a small coffee shop or a global accounting firm, you can explore various PPC B2B lead generation ad platforms and ad types to boost the efficiency of your PPC campaign.
However, the challenge comes from leveraging the power of the right platform and crafting your ads in such a way as to target the right customer persona. Otherwise, you'll generate the so-called "junk leads" that couldn't benefit from your services.
The most popular PPC B2B lead generation platforms include:
Google Ads
Bing Ads
Facebook Ads
Instagram Ads
Mobile in-app ads
According to eMarketer, Google and Facebook control U.S. digital ad spending, way ahead of its closest competitors.
Looking at Google's ad revenue growth, you can see the market trend of more and more spending in digital ads.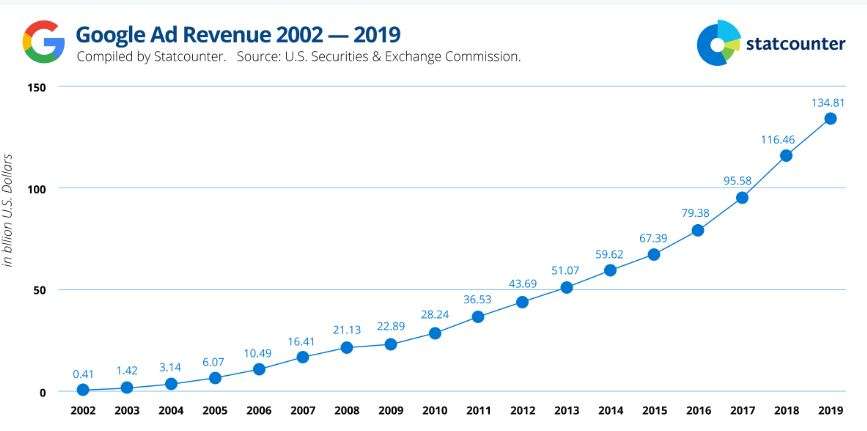 Google ad revenue development from 2002-2019 based on Statcounter
Now, let's have a look at some ad types that can help you boost your lead generation KPIs:
PPC: you pay a fee for each time someone clicks on your ads. Unlike SEO, you don't earn those visits organically, but you can quickly drive traffic to your website.
Display: drawing attention to your products and services by displaying a banner, image, or text ad on Google Display Network or Facebook Ads.
Impression bidding: this strategy allows you to focus on more people seeing your ads rather than clicking on them, via
(cost-per-thousand viewable impressions).
Retargeting: Unlike the classic ads, retargeted ads appear to people who have visited one of your pages in the past, but chose to leave them. Each time a person sees one of your retargeted ads, your brand gains more recognition and is more likely to become a customer.

Quality PPC Lead Generation Tactics That Work
Now that you're familiar with the most popular ad types and platforms, here are some ways you can put them in practice and get started with your PPC lead generation campaign.
Facebook Lead forms
Considering that about 80% of all Internet users have Facebook and that Facebook advertising is the most targeted form of advertising to date, you would be missing out if you were to ignore it.
When setting up your Facebook ad campaign, you can filter the audience by age, location, gender, and interests, so that your ads get precisely where they need to.
What's more, Facebook ads are cheap: on average, businesses spend a little more than $3.42 per conversion but generate over $1,500 in sales.
By using Facebook Lead forms, you can make your ads even more effective and learn more about your users in the process.
You can customize your forms to focus on more volume or higher intent.
Depending on your goals, you can ask your audience details such as full name, email address, location, or job title.
Give users an incentive to fill in the form, such as access to a webinar, white paper, e-book, or exclusive offer.
Single and Multi-Step Forms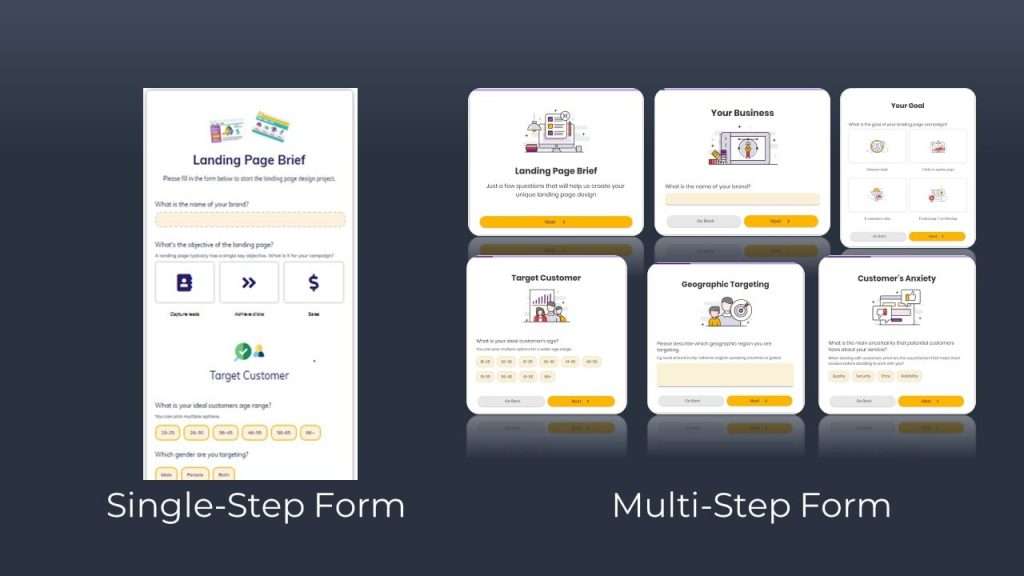 The different looks of online forms: Single-step and Multi-step forms used in pay per click lead generation
As part of your PPC lead generation ad campaign, you can attach a single or multi-step form to generate quality leads. Forms help you collect leads straight from the ad, and those who click on it can engage with your company by filling out the form.
Just like in the case of Facebook forms, Google Ads lead forms should offer an incentive so that users fill them in. For example, an in-depth guide on the industry, a market study, access to news and insights, special promotions, case studies, or e-books.
The choice between single and multi-step forms should be made depending on how much information you require from the user. For example, if you only need their email address, then a single-step form will do.
However, if you need a full name, email, phone number, location, and job title, then you should use a multi-step form instead. This type of form is split into multiple sections. This makes it more user-friendly and reduces the odds of people dropping out after filling in just one field.
No matter what form you decide to use, remember that it still needs to include an enticing call to action. In an age when users are bombarded with marketing messages, you need to think beyond the traditional Buy Now! CTA in PPC ads. And consider less aggressive alternatives that add value.
Is it a Good Strategy to use PPC Lead Generation in B2B Marketing?
Yes, it does. In fact, it's one of the most common misconceptions that you would only be using PPC ads if you work on a B2C business model.
PPC can actually help you get more leads and build quality relationships with your partners.
In the B2B world, the value of one lead is much higher and you can generate a huge return on investment.
However, to enjoy these results, you have to identify your audience, target the right keywords, and optimize your landing pages.
What Are the Most Popular PPC Platforms?
Google Ads remain the most popular PPC B2B lead generation platform and you can't really beat its traffic and keywords.
However, it's also very competitive, which is why more and more businesses that have had a bad experience with it turned into Bing Ads.
In terms of social media, Facebook reigns supreme, but, depending on your audience, you should also try Instagram (suitable for young, creative audiences and visual-driven content) or LinkedIn (recommended for professional audiences). According to Jack Shepherd, Facebook has become the most powerful ad platform, with its machine-learning that helps find your ideal customers, as well as the volume of daily active users giving you the ability to scale your ad spend.