Lead Capture Forms in Websites - Best Practices & Tactics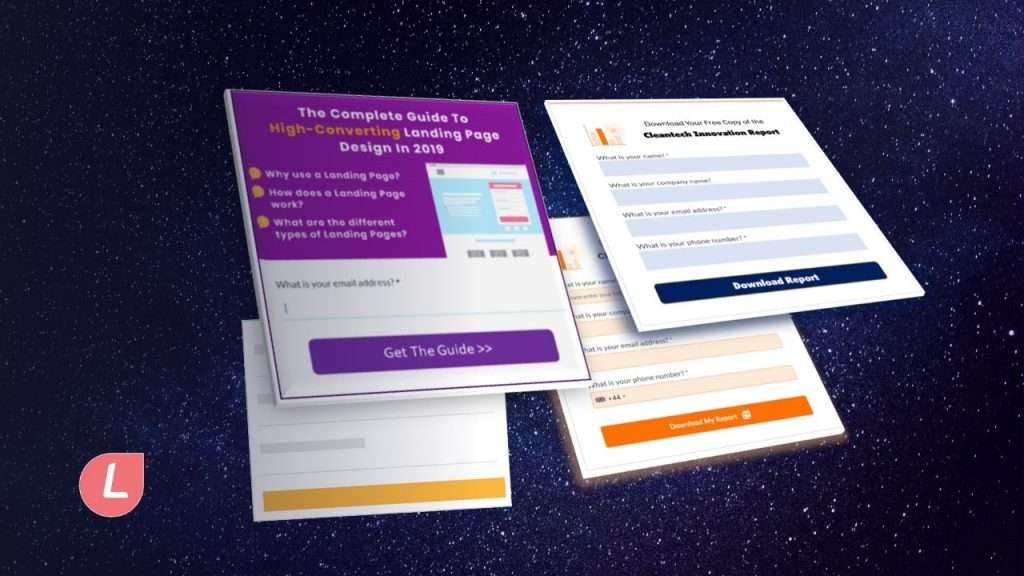 As a business, your website will likely have a number of web-pages.
Even you are a small enterprise, your website can easily have 50 or 100 pages, including blog posts.
A question often asked by the businesses we work with is whether it is a good idea to use lead capture forms on every page of your website.
Is it better to rely on a single contact form, channelling all lead inquiries or would it make sense to roll-out a broader lead capture strategy?
Learnings from Retail and In-Person Sales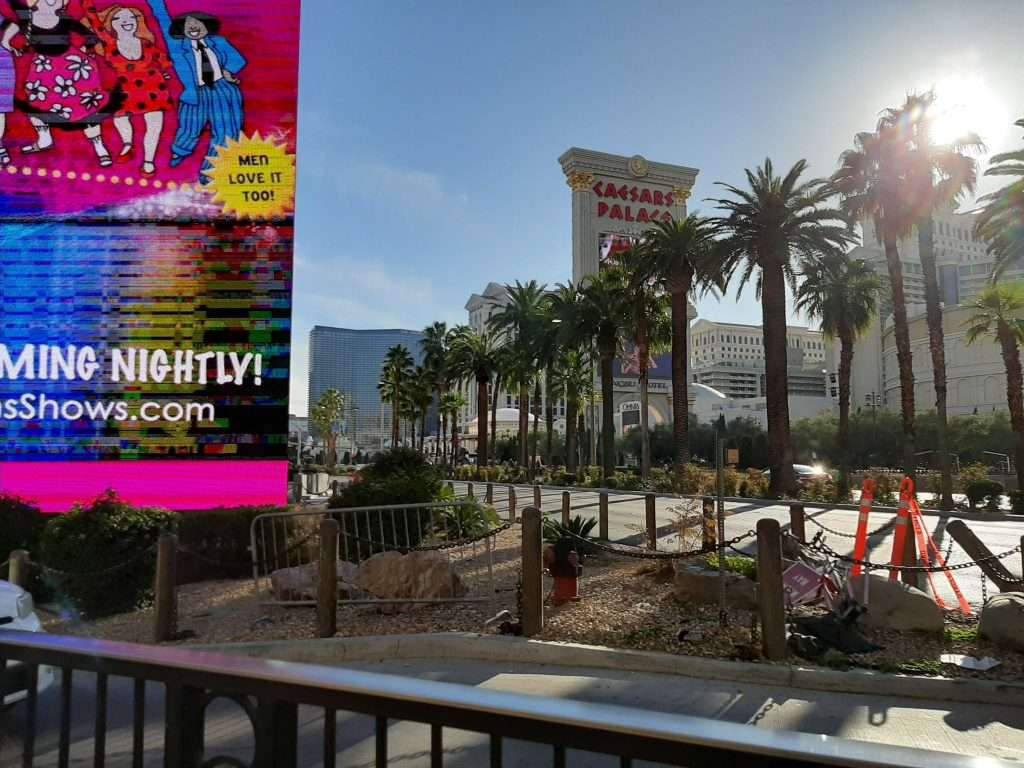 As I am writing this article, I am sitting in a hotel lounge in Las Vegas.
One of the things that got my attention was the mass advertising and selling that people do here.
The economy in Las Vegas is based on traditional push-advertising and proactive sales activity.
Whether you check-in to hotels, go to the streets in Downtown or have dinner in a restaurant. Everyone is selling, and in my view, rightly so!
The point I am making is that this economy is thriving because people and brands actively make offers.
The more you expose your solution to a potential target audience, the higher the chances to generate customers.
This simple principle can be applied to digital marketing as well. If you have a website, but only one contact form, then who is interested to get in touch?
There is so much value you could provide: Providing more value, through either free content, gated content (to capture leads), interactive forms, tools to try, chatbots and more.
I can guarantee you: The more offers you place, the more results you will get.
Transferring this learning to our question asked earlier on, it becomes clear:
It is not bad to have a lead capture form on every page of your website.
Okay, it doesn't have to be every page, but the point is everyone can do more. In fact, most websites still rely on that one contact form only. And this is something we want to change to empower marketers get more results from their websites.
Understanding Website Lead Capture Goals
How can you put this strategy into practice?
Firstly, you need to do a little bit of planning work and identify your goals.
Your website can have different goals like lead generation, generating sales, building an audience or educating users.

Different types of website goals
For B2B, the goal is mostly lead generation, contact form enquiries or opt-in via quote generators. If you have a decent volume of website visitors, then you should offer them an easy way to get in touch to you.
For B2C websites with forms, the goal often is lead generation as well, but also direct purchases from the website, e.g. if you have an e-commerce store or a booking portal.
In any case, you want visitors to take an action and not sit on a goldmine of qualified buyers or people that show an interest in your content, product or service.
The Importance Of Lead Capture Forms in Websites
By adding lead capture forms to different pages of your website, you provide an opportunity for the visitor to get in touch to you.
However, ensure that you are specific with your offers and always think about the user experience. It would not be a smart idea to offer the same generic contact form on every page. Having a contact form within your blog post content is not the best idea.
Instead, you can use different lead capture form templates, ideally a unique one for every web-page. We used this tactic for a company that is offering advice for students to study in different countries abroad. The website contains several dozen pages, multiple ones for each country based on different study courses.
We created a unique form for every page and added a custom welcome message on top of the form, e.g. "Interested to study Law in Canada? Fill in the form to get in touch to our consultants to find the best program for you."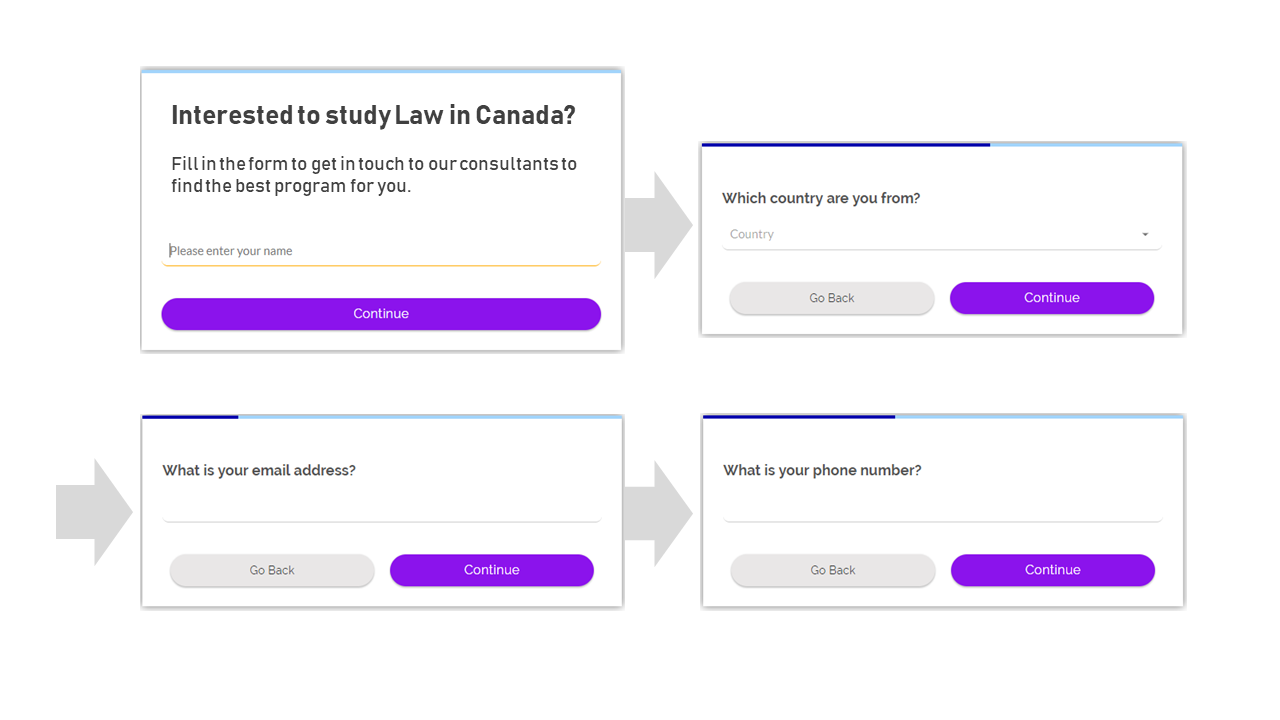 User-journey through a custom LeadGen App multi-step form.
Similarly, we created other lean and simple lead capture forms for the other web pages, about 70 different lead forms in total.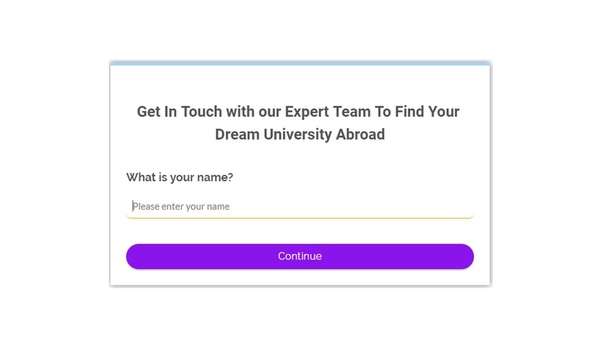 Front step of a LeadGen form -  Forms on websites used for generating user enquiries
This tactic worked extremely well and within the first month, we already saw an increase lead generation from 218 leads to 293 leads (a +39% increase in lead generation, +85 leads).
The reality was that website users had a strong interest to apply but the website didn't provide the right tools to get in touch. A long application form doesn't entice users to fill in their details. Instead, make specific offers on every page where you can gather user data.

Places Where Contact Forms Are Not Mandatory
Now, coming to the areas where a contact form would not be necessary. Whenever your website goal is audience building or educating users, you can use online retargeting campaigns. This allows you to capture your audience via tracking pixels.

Web page data capture: Different types of goals of websites and the importance of lead capture forms
You don't need to have users filling in your lead capture forms. Instead, the tracking pixel of Google or Facebook ads can save your website users in a custom audience list that you can later target again via advertising. In this case, you will educate the user first and the second step you can send them to another web-page with an offer and a lead capture form integration.
To deploy this strategy yourself, just like we did it for the company in education, then start creating high-converting lead capture forms with LeadGen App.
Also, check out our demo video to help you create lead capture forms for websites in just a few minutes.