What's Wrong with Form Designs on Websites?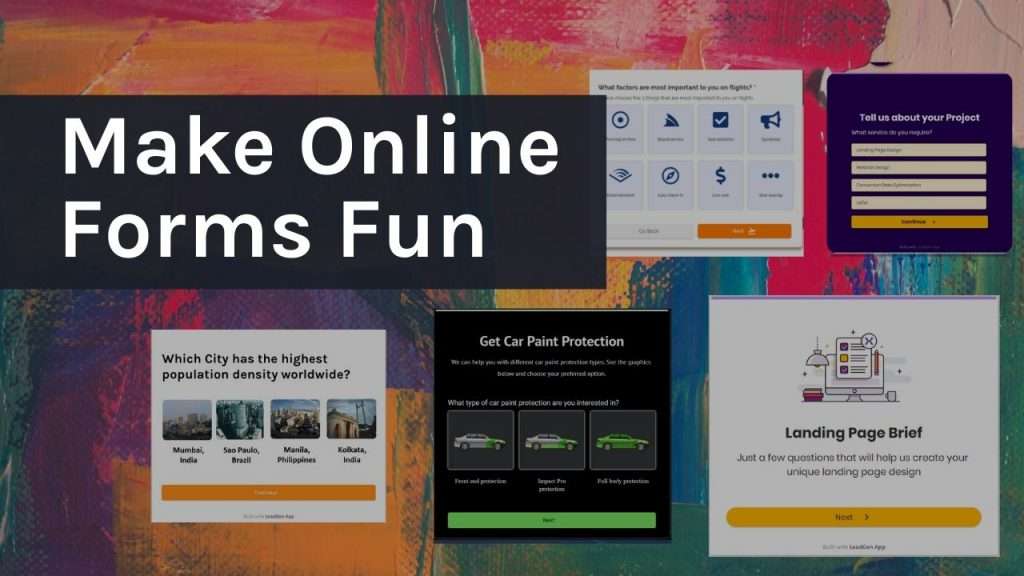 Brands and business owners put a lot of effort into
great web design
. There is just a little problemy with that. Design alone, however, won't monetize your website. More importantly, it's about building channels that
generate leads and sales
. And that's where online forms come in.

Many brands neglect the importance of form designs, yet it's the
key inquiry channel
that determines the success of your website. Most form design examples on the internet look boring, unwelcoming and consequently generate fewer conversions. Online forms are the gateway for
capturing new business potential.
Using user-friendly and enticing online forms is crucial if you want to take your lead generation seriously. To help you connect better with your audience, here are our 10 best practices to make forms fun again:
1. Eliminate Confusion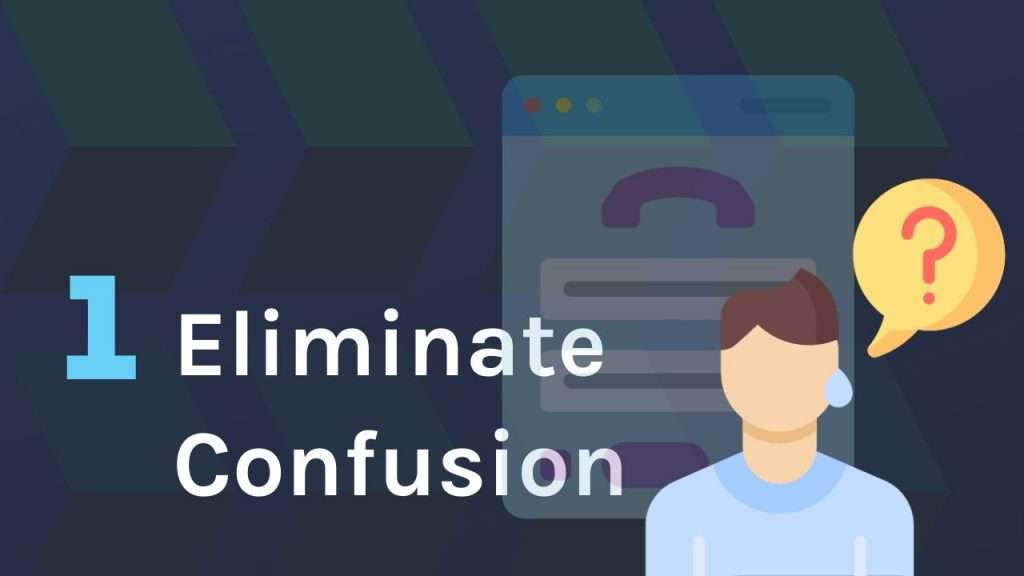 Firstly, the form needs to be easy to understand for your audience. And that's often easier said than done. Before you think of making your form design fun and exciting you need to ensure that it is functional and user-friendly in the first place.
The internet is full of form designs that have redundant questions, that ask questions in a confusing language and those that simply look boring. All of these characteristics make forms less encouraging for web visitors to complete.

Important factors to remove in a Form Design:
❌ Long forms (less is more)
❌ Redundant questions
❌ Unnecessary questions that don't provide good value
❌ Wrong question type for a question, e.g. use of open text field instead of button choices
❌ Jargon & technical language
❌ Standard Call-to-action text on buttons, e.g. Sign-up, Subscribe, Complete Form
❌ Colors and contrasts that are difficult to read
All of these points might sound obvious, but the reality is that even the simplest online forms violate some of these points.
The internet is full of thousands of form designs with lacking user experience. A single negative experience can affect the user much more than a great experience with your form. Review these practices and you will have much better chances to
generate conversions
and create engagement.
2. Switch The Format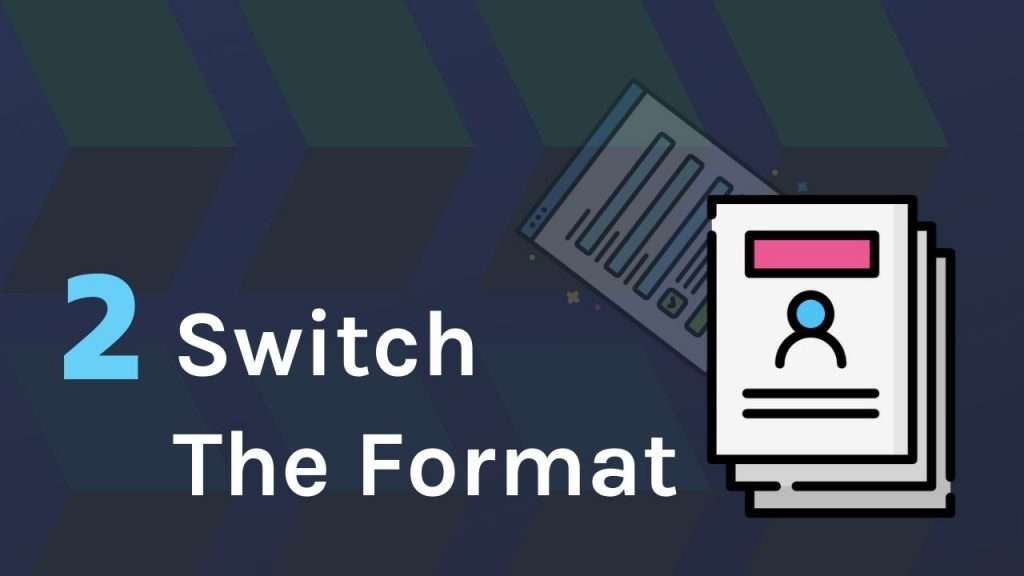 When we think of online forms, we typically have simple long forms in mind. Long forms or single-step forms present all questions on a single step, typically one-by-one below each other.
There are tons of good use cases for single-step forms, e.g. for forms that just ask for first name and email address. However, you should definitely consider switching the form format when thinking of making forms more fun.
The alternative to single-step forms is
multi-step forms
.
Multi-steps forms, sometimes also called wizard forms, are much more intuitive and provide better experience along the user journey.

Because the user only sees one question step at a time, the information is less overwhelming.
It is much more encouraging to just see one question at a time vs. 10 or 20 different ones. It's no different from real life: In a personal conversation with another person, you would also just ask one question before you ask the next question.
Within multi-step forms, you can use progress bars that provide an indication of how much of the form is already completed.
Related:
7 Best Practices For Creating Long Forms To Boost Conversion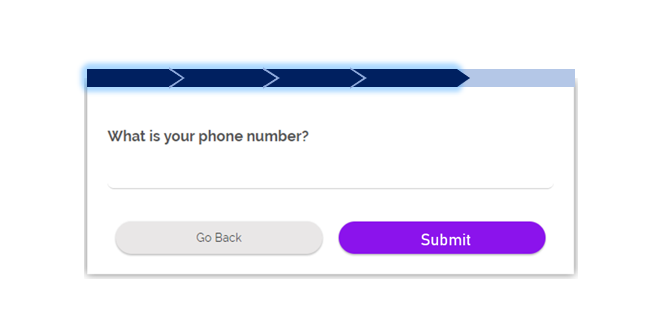 Progress bar in a multi-step form
We find multi-step forms more user-friendly in lots of cases, e.g. lead capture, user qualification, feedback forms, application forms and more. LeadGen App lets you build multi-step forms with custom text and graphic elements very easily.
3. Entertain Your Form Design with Content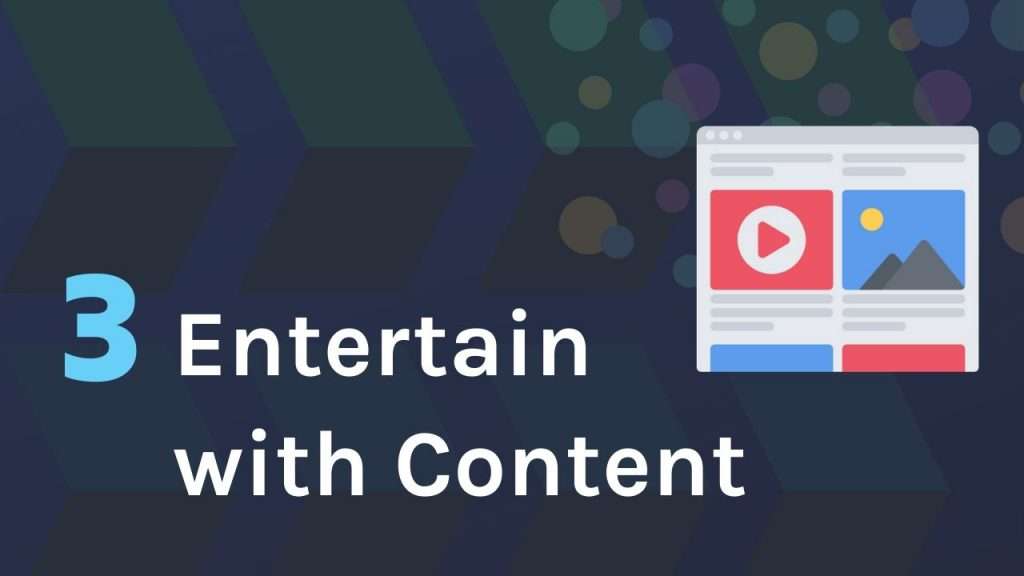 In LeadGen multi-step forms, you can show textbox elements along with your questions and form steps, e.g. above a question.
These textbox elements can be added via the WSIWYG editor where you can add links, graphics and GIF images. Headlines can be set to different sizes, e.g. H1, H2, H3 format.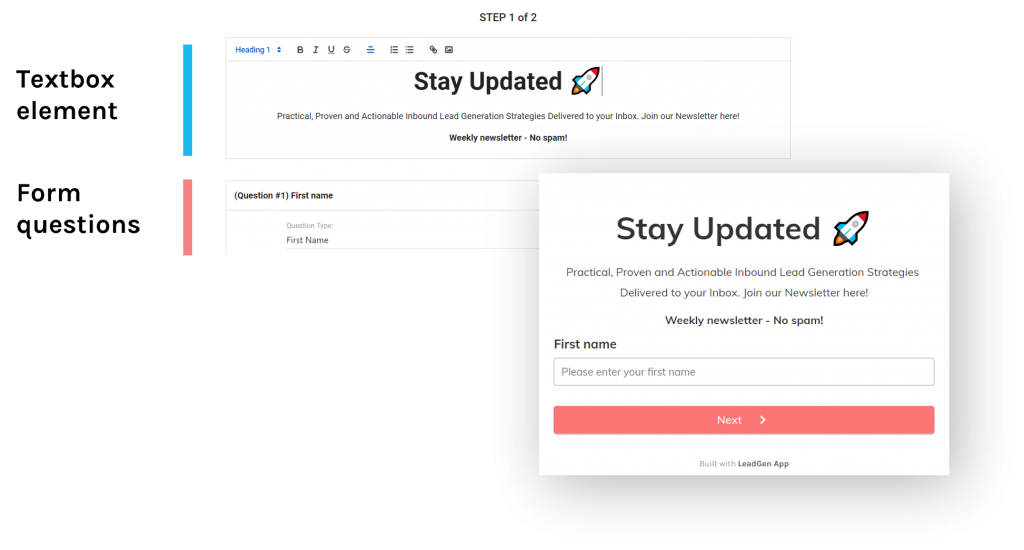 Enhancing LeadGen forms with textbox elements - Form-builder and Live form
By adding some lines of text for example, for introducing questions, you can make the form more individualized and easier to understand. This can make your form look more conversational and less static like a typical online form (See image below)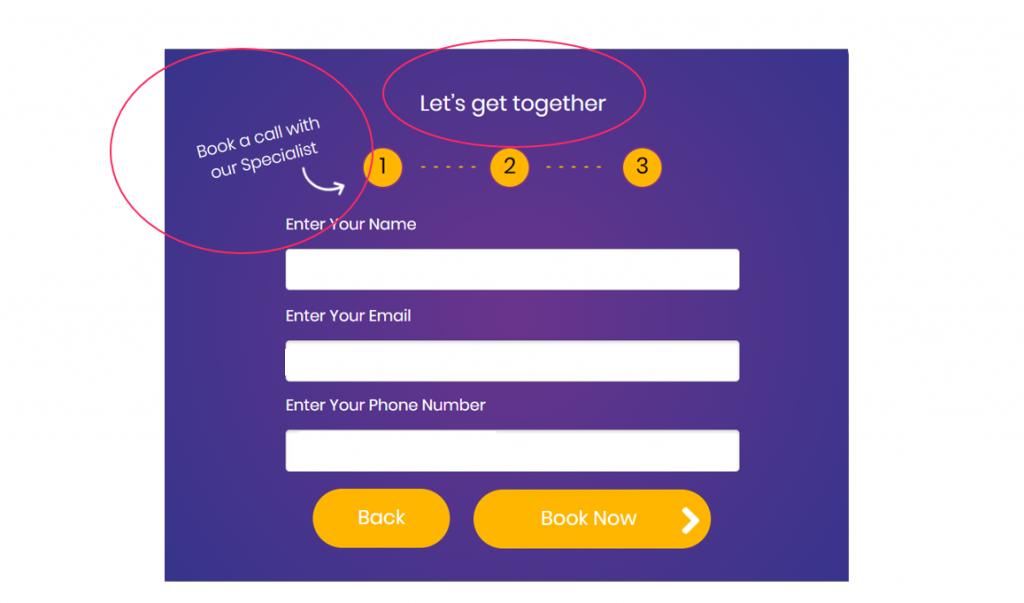 LeadGen form customised header section 
You can also use GIF images in the textboxes to let your creative juices flow. See the form design example below to enter a competition: