Step 3: Maximize Lead Generation Channels 
The more offers you present to your potential customers, the more likely you'll receive leads for your services.
Website contact forms are one of these channels and a must-have to win leads for web design projects.
Besides contact forms, you can also display an email address for another channel of enquiries.
Furthermore, ensure that you have a business phone number and display it via the header on every page and blog post of your website.
Now, you might think: Why don't we display such a phone number at LeadGen App?
Well, simply because we are not a service business and there is less of a need to talk to users. They can directly get started using the tool or subscribe to our newsletter.
Not everyone is going to call into your office, but the more you grow, the more inquiries you'll get. That's why you should always ensure to have your phone number prominently displayed on your site.
Contact forms, emails and phone numbers are great for web design leads that are in the mindset of being ready to work with you. Now, there are tons of more lead opportunities of those users that are not ready yet, but interested in what you can provide. This is the vast majority of website users.
Say, for example, your website has 2000 users per month, then at least 80% won't be ready to buy or inquire straight away.
That doesn't mean they can't become an opportunity for you, a little later.
That's 1600 people each month: Tremendous potential for lead capture and sales.
How can you turn your users into leads?
The trick here is to lower the barrier. To make it easy for people to get to the next step.
Here's what I mean by this:
A contact form request, phone call or consulting booking is hard. In any of these cases, the lead will need to speak with you, whether it's online, on a call or consultation.
And that is exactly what stops people to take action and inquire.
So, what you need to do is to provide valuable and easy offers such as downloadable resources, case study access, tool access and so on.
Here is one particular cool tactic: Calculators
A great thing you can create is a web design cost calculators that allows prospects to see how much a project with you/ your company would cost.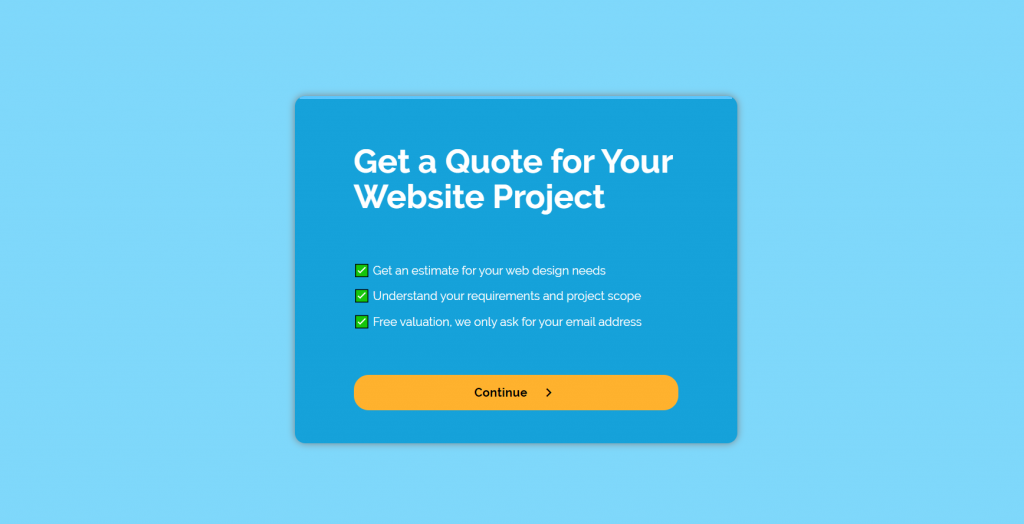 LeadGen Demo Form - Website Design Cost Calculator
To build a lead capture form like this, use LeadGen App which makes it extremely easy to build a calculator/ quote generator for the best lead generation sites.

Most companies simply set-up a website with some content, maybe even start a blog and hope for the traffic to convert into business, e.g via placing phone numbers, emails or a simple contact form.
Now, all that is standard. Pretty much everyone does it.
An interactive quote request form like a calculator can be the answer to scale up your design leads.
Try out the calculator form here. Just go through the form to see the quote on the Thank-you message (You can keep the email field empty for demo purposes):