3. Use Multi-Step Forms
To generate leads on your website you need a channel to capture them. It should be as easy as possible for users to get in touch to you. The best way to capture leads and help increase conversion rates on both a B2B service and software tool (SaaS) site is via lead capture forms. If you are relying on your site visitors to click on your email address or pick up the phone, you will end up getting fewer enquiries. It's useful to show the business phone numbers and email addresses, possibly even prominently on your site header, but the main enquiry channel should be an optimized online form.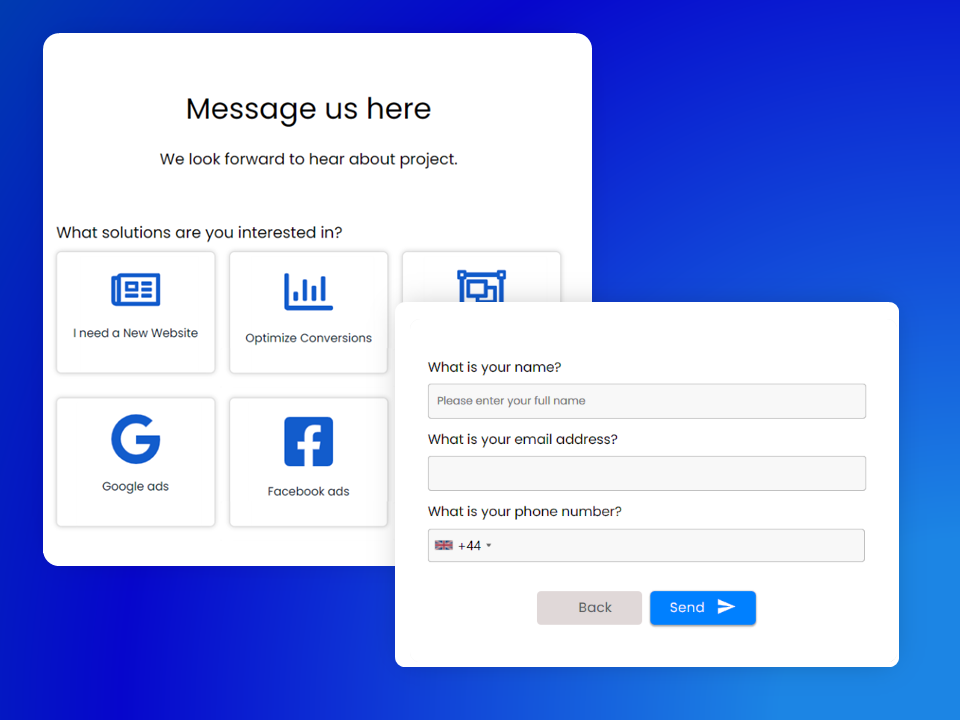 Multi-step form example of a contact form
Instead of using a classical form layout, go with a multi-step form which nicely fits your website design. Simple forms that ask for the typical details, e.g. name, email, phone number and message are not the most user-friendly. Think about it this way. When you go to a store, e.g. to buy shoes or clothes, would the sales person ask for your name and email first? No, they would ask you a questions would type of offer you are interested in.
Multi-step forms, also called wizard forms, provide you with flexibility to ask for service requirement or goal first before showing more steps for asking for personal details. With LeadGen App you can create custom multi-step forms, designed in your branding to match your website in just a few minutes.
You don't always need to ask for the service requirement, e.g. if you have a clearly defined call-to-action, e.g. sign-up for a free trial. In that case you can start asking for details like first name, last name and then get to contact information like email on more form steps.