12 Steps to Create Landing Page Forms that Generate More Leads
Landing page forms play a key role in making your pages convert leads. In lead generation campaigns, the page content and design provide the context for the visitors, but only the form brings the lead to your business. What makes a high-converting form entice more people to fill in their details and complete the form? We studied hundreds of forms and present the 12 best practices to create a user-friendly and high-converting form.
Step 1: Ask Less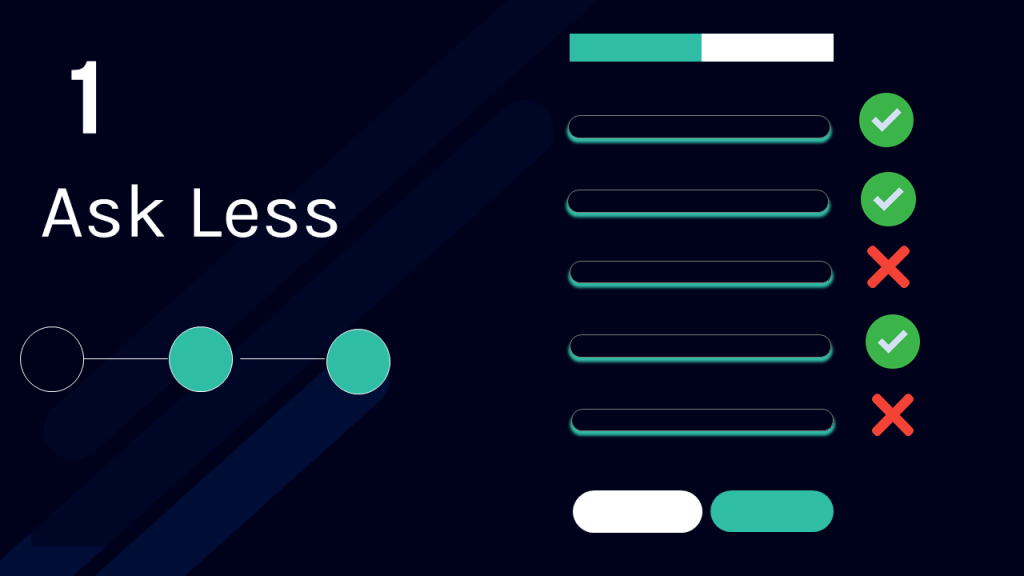 Get more conversions in your landing page lead forms by reducing the number of questions
"He who asks a question remains a fool for five minutes. He who does not ask remains a fool forever" a Chinese proverb says. While there's a lot of wisdom in this quote, the opposite is true in the context of converting users to leads on landing page forms. We are living in a world of information overload where keeping it's a real challenge to keep someone's attention, especially online. Landing page forms should be straight to the point, asking for the right type and amount of information.
Think of it this way: If someone sees your landing page and starts engaging with the form, that person is already invested in purchasing your product or service. They have already gone through your content, checked out competitors, are familiar with the type of product or service they need, and understand the pain point they want to solve. Make your form and messaging crisp, and centered around the problem you help your customers solve. Shrink down the form questions to a smaller number.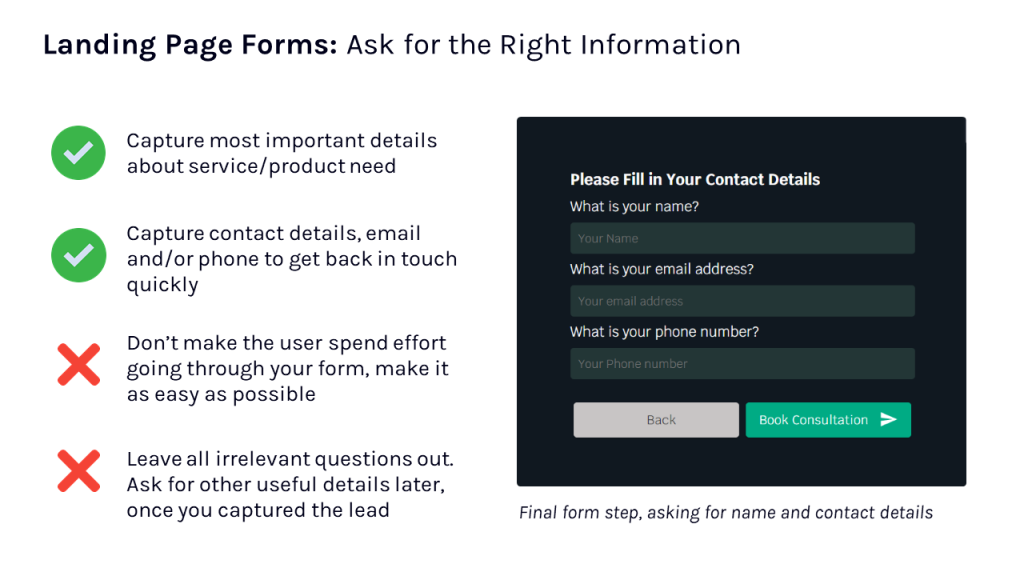 Good and bad practices for landing page contact and lead forms
What number of fields is small enough? There's no universal answer to this, sometimes it may need 7 questions, other times 2 fields of name and email is all it takes. In the context of lead generation though, hold off from using long forms and don't ask for too many details that you as the business don't necessarily need.
Unless your goal is lead qualification (e.g. at a later step in the sales cycle), don't use the following type of questions, especially if your goal is to get the highest conversion rate:
Avoid asking these Question in Landing Page Lead Forms:
Budget: Good to qualify, but too invasive in first contact which causes some leads to bounce.
Role: Can easily be researched, e.g. via LinkedIn, and is the job of your sales team to find out.
Revenue: Similar to budget: Too invasive and for most B2B brands, not a main criteria.
When they need your service: An unnecessary question. If you are fully booked in taking on clients, inform incoming leads via auto-email reply about possible delays. If the lead says they are only ready at a later stage it's mostly not a real objection and something for your sales team to address.
How did you hear about us: A waste of time for you and the user. It makes the user think, whereas your form should be as easy and stress-free as possible.
Step 2: Smooth Experience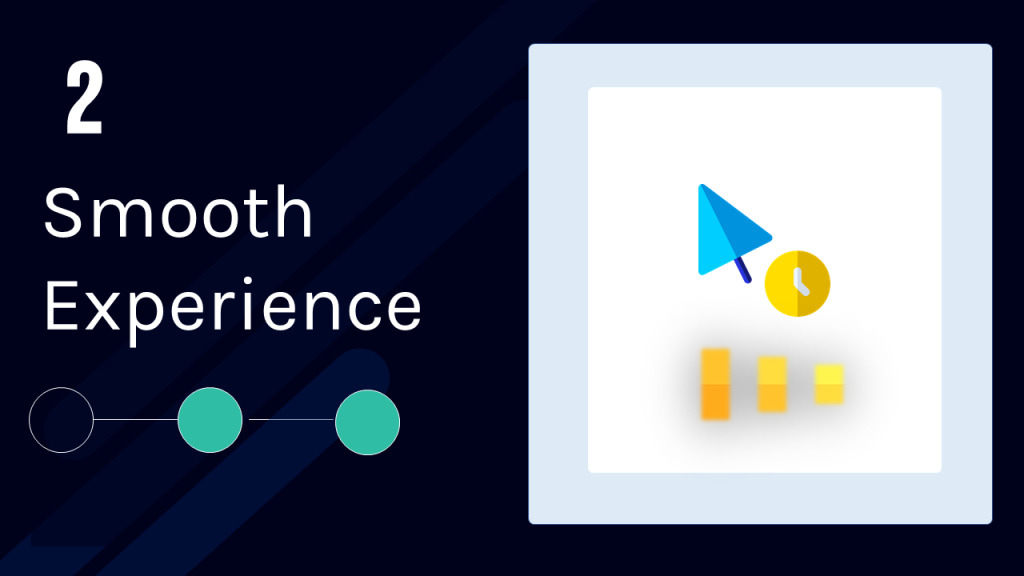 Fast form load time
With low attention spans, people are also quite impatient and easily abort your page if something is not working smoothly. To start with, make sure you have fast page and form load times. Your page and form should load in under 3 seconds. LeadGen App forms can be embedded in your landing page builder via two different methods: The direct embed code and the iframe code. The direct embed code integrates the form in your page and is typically achieving the best form load times.
Form Step Transitions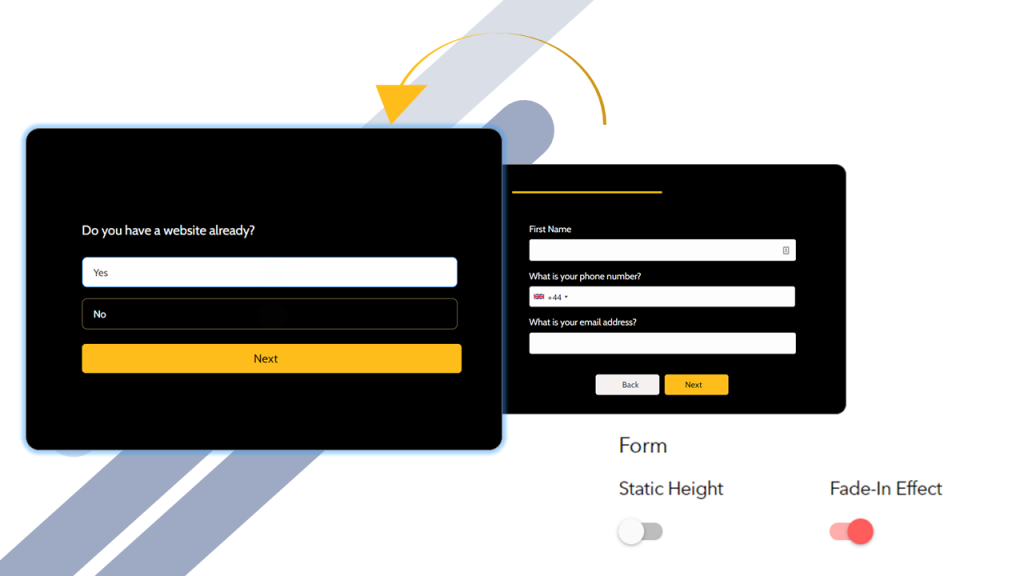 Not only is the time to first form load important, but also the speed while browsing through the form. Nothing would be worse than getting stuck in the middle of a form or having the form step load up with too much delay. To create a smooth form, we provide options to customize the user experience. For example, in a multi-step form, you can either choose the form steps to load up via a transition (fade-in effect) or instantly. Both can be a great experience. If it's a short form, you may want to keep it short and snappy by instantly loading the next step. If you are using a longer form, e.g. with 6 form steps, the fade-in effect can make it easier for the eyes and less interruptive.
Step 3: Progress bars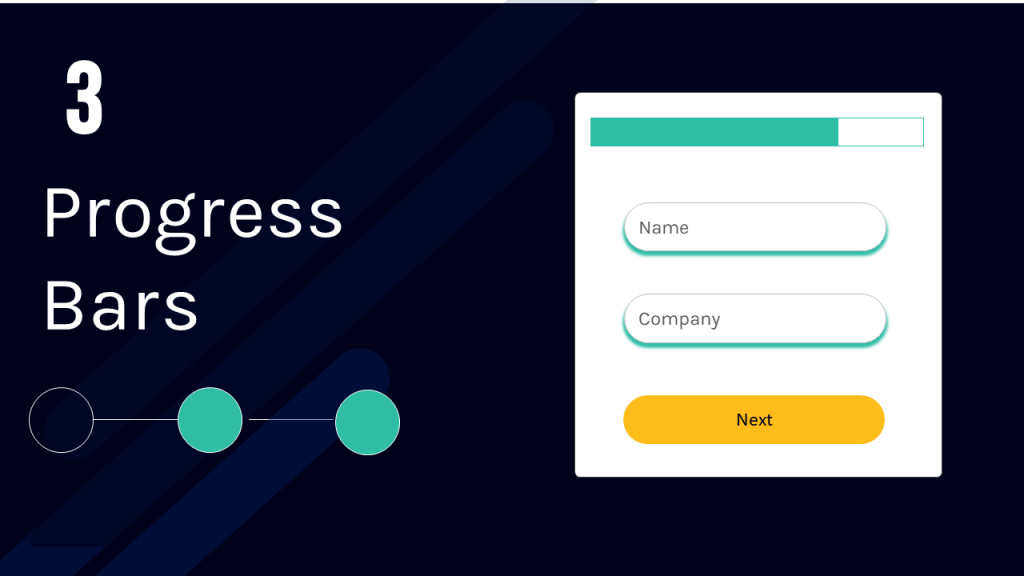 Landing page contact form with progress bars
Forms on landing pages are often very short to just capture the most important information (as highlighted in step 1). Still, you can use multi-step forms which split the form questions and fields into different steps. Multi-step forms are great for user experience and better conversion rates. Breaking down content apart, it allows users to only focus on a smaller part of the information at one time.
Furthermore, it's more enticing to complete a form, knowing you are already halfway or further through a form. In psychology, this concept is called the "Sunk cost fallacy", meaning we are more likely to complete things if we have already invested time into them. Landing page with forms can use this concept by implementing progress bars.
"The Sunk Cost Fallacy describes our tendency to follow through on an endeavor if we have already invested time, effort or money into it, whether or not the current costs outweigh the benefits." Sunk cost fallacy definition, Source: DecisionLab
Besides progress bars, you can customize LeadGen forms with custom text, set-up using textboxes in the form-builder. For example, you can easily add descriptive text on top of each form step, indicating the form step location to the user, e.g. "Step 2 of 3" or "Nearly there, just one more step to complete".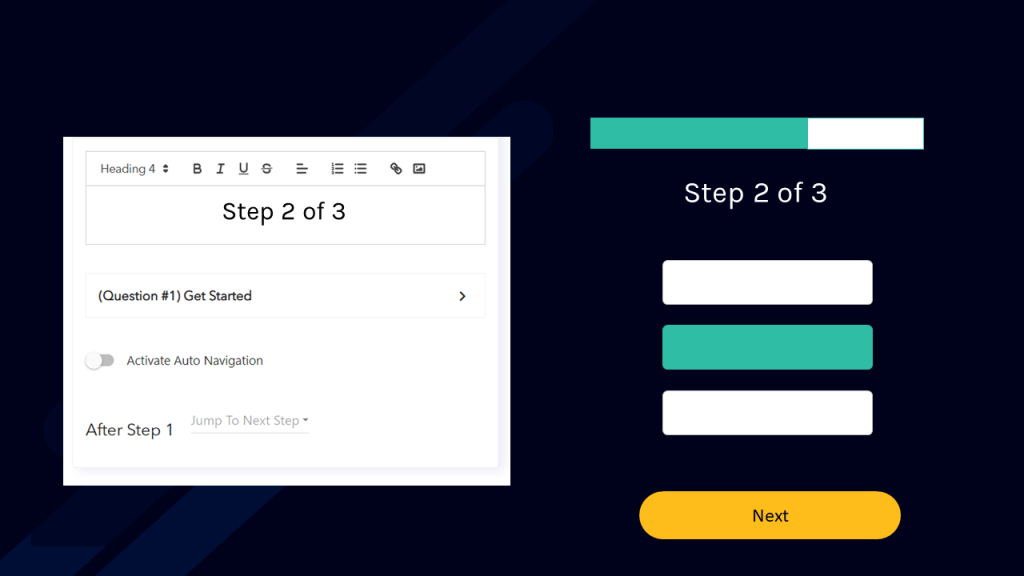 Enhancing your landing page lead capture form with custom text on form steps
Step 4 - Use Auto Navigation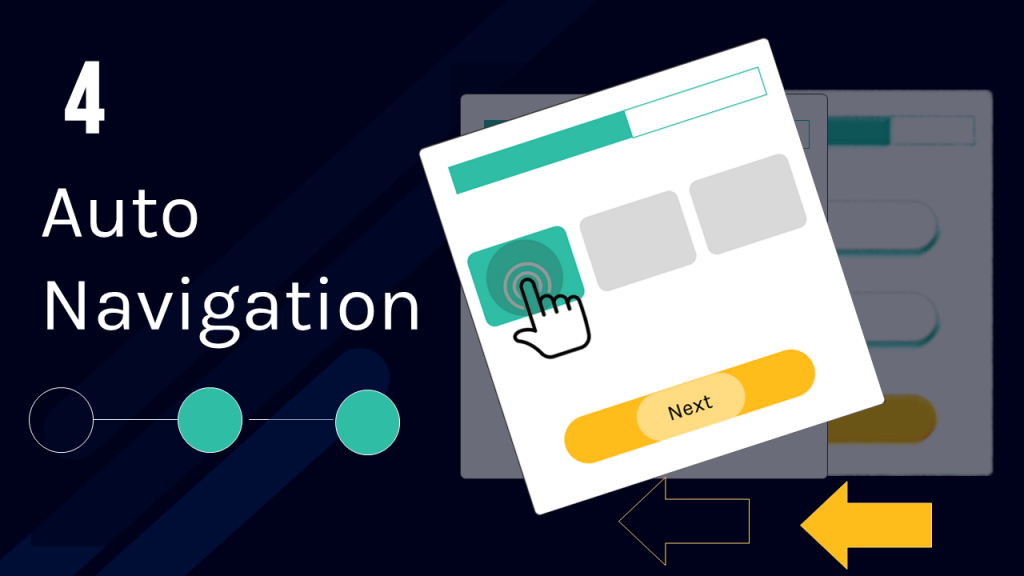 Use auto navigation to make it easier for users to go through form steps
The more work and effort you can take away from your landing page visitor, the better. That also applies to the number of clicks your user has to make to confirm the selection of a choice question. Firstly, let's look into the different ways you can ask users to select a choice.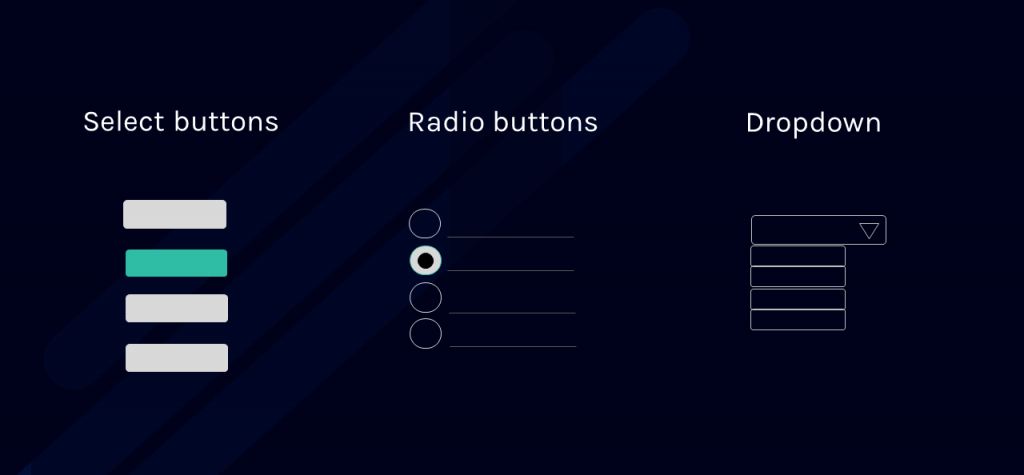 Different types of choice buttons that you can use landing page lead forms
Buttons provide users clickable elements that can change colors when chosen. Radio buttons are similar but provide checkbox-like elements to choose from. Also, choice questions can be built with a dropdown where users see the options only when clicking the downward arrow. All of these choice question types can be a good fit for different types of campaigns. However, select buttons are the best option for landing page forms because they show choices in a very user-friendly style. Buttons are easy to click and compared to the dropdown users save to click one less time to choose their choice.
Another interesting benefit of select buttons is the ability to create an auto-jump where the user no longer needs to click the next button to move to the next step. The result: The landing page form is super smooth and users need to click much fewer elements compared to a normal select choice question, and even 2 clicks less compared to a dropdown question. In a form with 5 form steps of choice buttons, users need to click 10 times less in an auto-jump form vs. a dropdown form.