8 Key Factors to Unlock Your Success on Threads Platform
Meta, a famous tech giant, has taken over most of the top social media platforms like Instagram and Facebook. Now, Meta has introduced a new buzz named Threads. Social media experts say that it is a Twitter-like app made to take over Twitter to become the most used text-based conversation app.
Since Threads is a new app, there is a myth going around that there is literally very less competition. But do you know the platform has gained over 100 million users in less than a week since its launch? So, gaining popularity and success on the Threads app is clearly challenging but not impossible. Let's see 8 key factors to unlock your success on the Threads platform:
Upload Quality Content
High-quality content is the foundation of any social media strategy. Ensure your posts are well-crafted, engaging, and provide value to your target audience. Incorporate interesting facts, insightful comments, and useful tips in your posts. Focus on adding eye-catching images with generic and relevant hashtags.
Leverage Appropriate Hashtags
Hashtags play a major role in making your posts reach a broader audience. Leverage popular and related hashtags to boost your posts' visibility. Note that adding too many hashtags in your content won't make your posts look appealing. So add up to 10 hashtags of which 5 are popular, and the other 5 are niche related.
Engage Your Target Market
Interacting with your target audiences can boost your content visibility and which in turn increases the likes on your posts. For that, you can use a simple strategy which is liking, commenting, and sharing other users' posts which triggers genuine engagement. So concentrating on engagement rate will help you become successful on Threads.
Post At the Ideal Times
Uploading content at a time while your target audiences are online will surely boost your posts' engagement. So you need to take time and experiment with various posting times. This way, you will find out when your audiences are active and post at that time so that you will gain early engagement.
Host Giveaways Or Contests
Hosting giveaways and contests will promptly boost likes and engagement on your Threads posts. You can encourage your followers to like your post and follow your page to participate in the giveaway or contest. And reward the audiences who won the contests with gifts and also others with consolation prizes.
Utilize Visually-Appealing Photos
If you have added an image in your Threads post, ensure it is high quality and visually appealing. Pictures will significantly boost likes and engagement on your Threads posts. Because adding visual elements in text-based content will help you grab the attention of audiences.
Partner With Other Creators
Partnering with other creators on Threads will help you reach a broader audience. So consider collaborating with creators who have the exact target audience as yours and cross-promote each others' posts. Doing so makes your content gain high-level engagement.
Indulge in Buying Threads Likes
Got tired of waiting for organic engagement on Threads? Looking to fasten up your engagement rate instantly? Then, you can go for paid services from top-quality authentic sites. If you don't know where to find reliable sites to buy Threads likes, here are the 7 sites that are recommended by social media experts: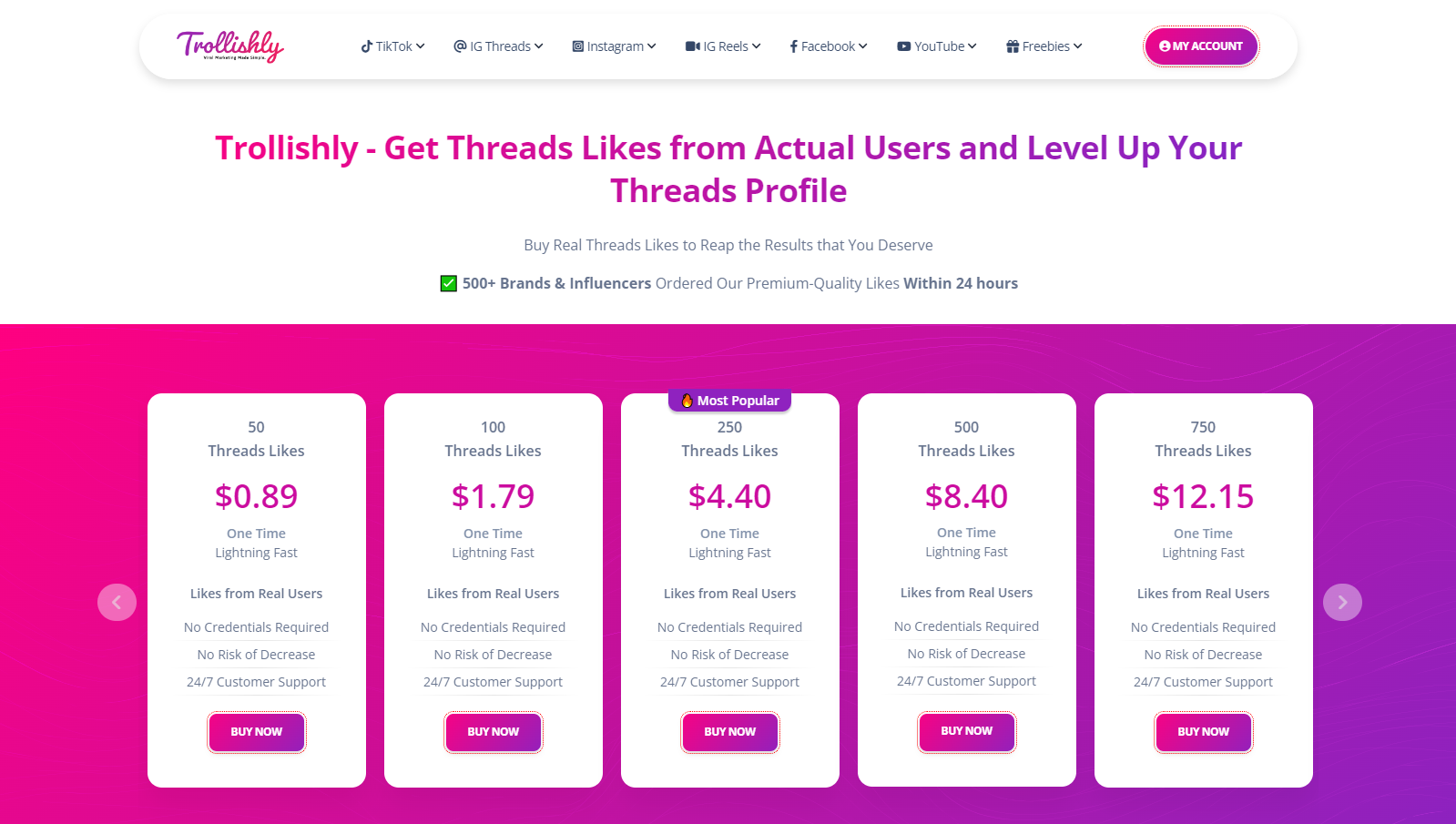 👉 Trollishly is one of the well-known providers in the market. You can buy threads likes from Trollishly which is one of its high-end services. It is the top choice for most social media experts. 
👉 This site has been one of the leading providers that indulge in providing social media growth services for many years now.
👉 Now, the premium site is offering growth services such as likes, followers, and views for the brand new Threads.
✅ Pros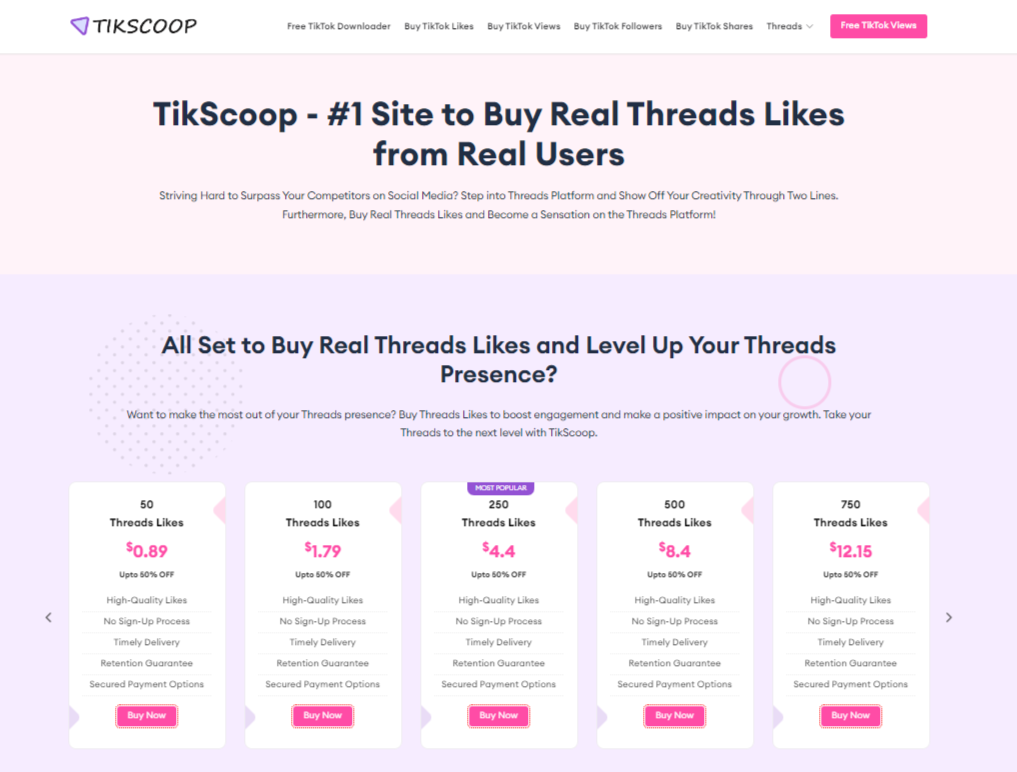 👉 TikScoop is a leading site that is specialized in offering the finest quality Threads likes from real Threads accounts.
👉 They are well-expertized and dedicated to providing their clients with satisfactory results and offer effective and reliable solutions.
👉 TikScoop understands the necessity of amplifying your exposure on Threads. Their team of experts acquires deep-down knowledge to give optimal results.
✅ Pros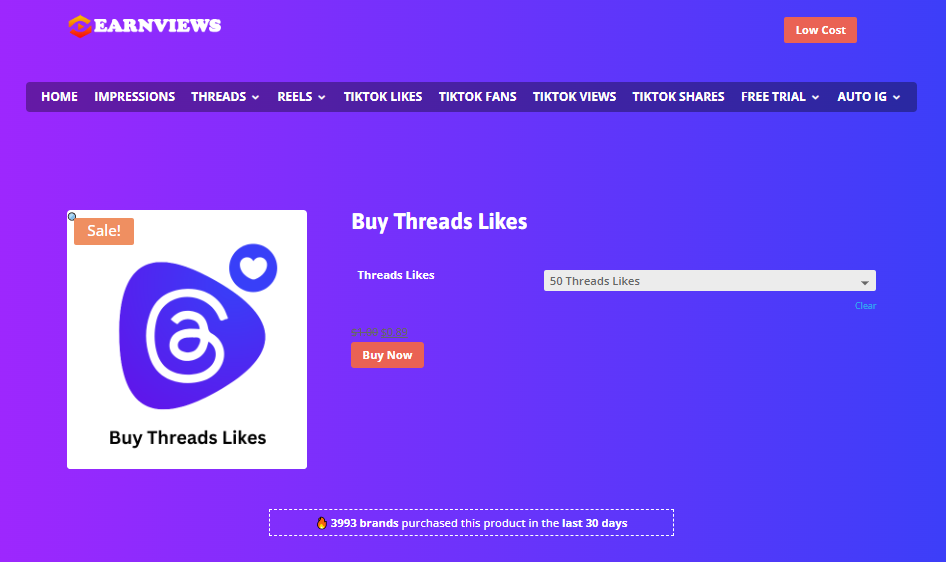 👉 EarnViews has a strong aim of offering efficient and practical solutions that ensure clients can boost their Threads presence.
👉 The experts at EarnViews are skilled in uplifting clients' engagement on the Threads platform by providing 100% real likes.
👉 EarnViews' one of the standout features is its commitment to delivering faster and more reliable results. In the fast-paced social media world, EarnViews ensures timely results.
✅ Pros
Prioritizes authentic engagement.

Ensures efficient and faster delivery.

Proven track record and expertise.

Contributes organic growth.

👉 TikViral, a premium site for buying first-rated Threads likes for your posts, and targets providing their customers with exceptional results.
👉 Customers who choose TikViral to purchase Threads likes will experience personalized and professional support and care.
👉 TikViral sets itself apart from others with its devotion to providing remarkable services at affordable costs.
✅ Pros
Delivers prime quality likes.

Enhances credibility and engagement.

Doesn't rely on third-party tools.

Secured site with no ads or pop-ups.

👉 LikesGen is distinct not only because of its real services, speedy delivery, and customer support but also because of its versatile payment options.
👉 Many brands and influencers on the Threads app have used this site to buy Threads likes, so without reluctance, you can use this site.
👉 You may buy the cheapest or the most expensive package, but you will get great customer care with outstanding outcomes.
✅ Pros
No password or signup requirements.

Advantageous for brands and influencers.

Accelerated engagement and growth.

Adaptive to multiple payment options.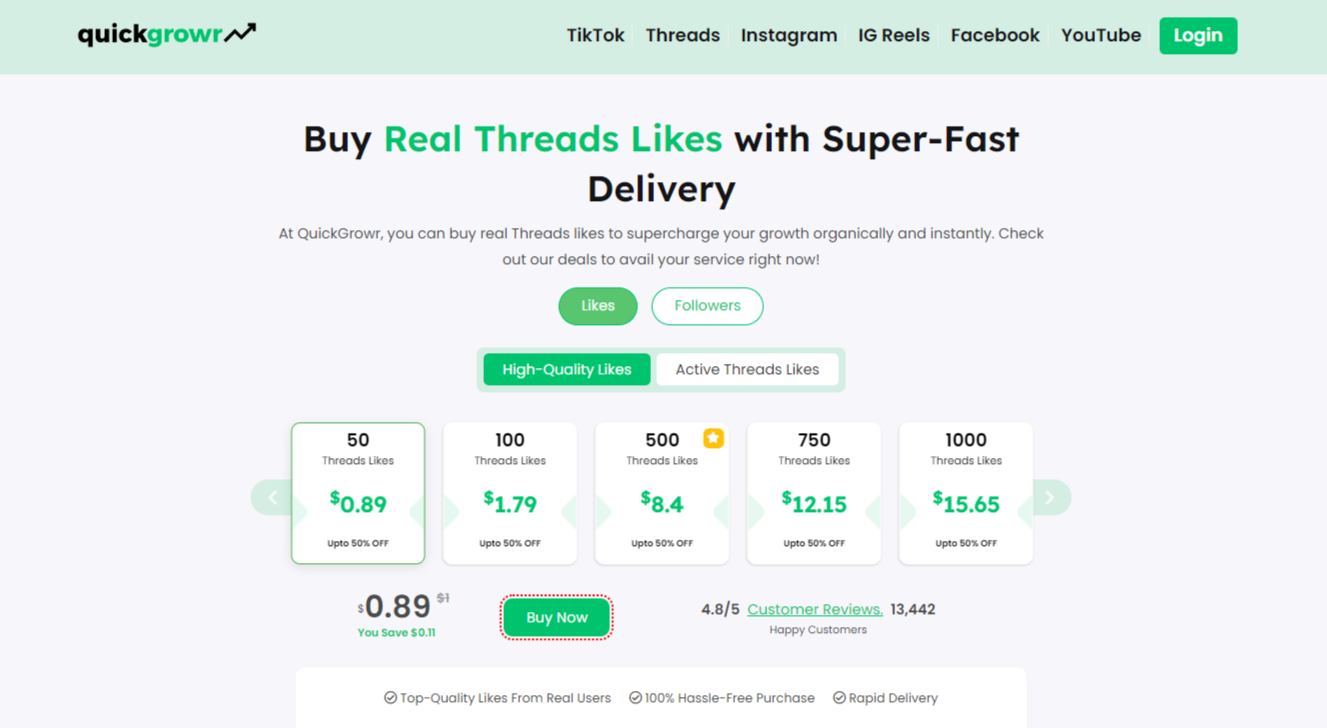 👉 QuickGrow is an authentic website to increase your engagement with their Threads likes package.
👉 With a proven legacy of boosting social media presence, QuickGrowr has become a trusted provider for the new Threads platform.
👉 They provide customized packages for Threads that ensure remarkable results and fast turn-around time.
✅ Pros
Dedicated support team.

User-friendly site interface.

Clear & straightforward gateway.

Accommodates diverse budgets.

UpViral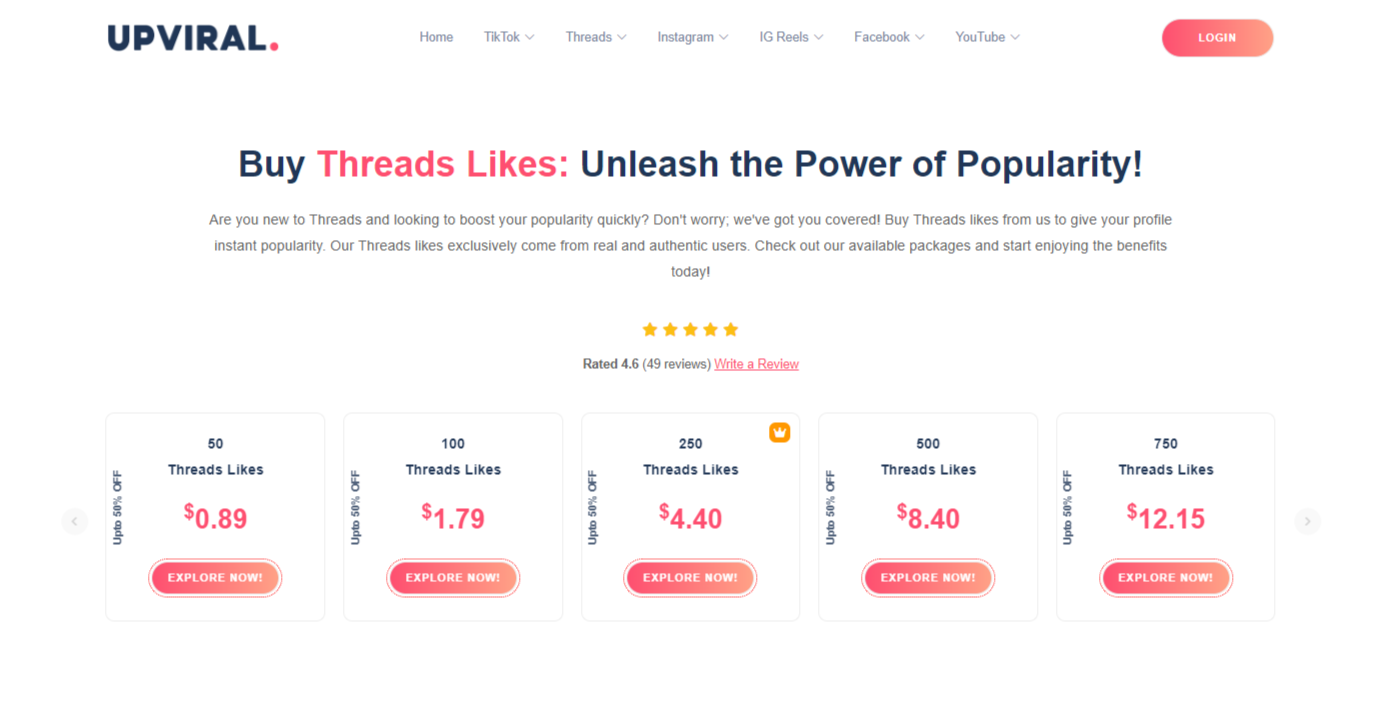 👉 UpViral is a reputable social media growth service provider. Now, the site offers growth services for the brand new Threads app, such as the Threads likes service.
👉 Their committed client support team is ready to assist you and also provides assistance and guidance throughout your Threads likes purchase.
👉 As a well-expertized site, UpViral provides a satisfying and smooth buying process if you opt for purchasing likes for your Threads posts.
✅ Pros
Top-quality Threads likes service.

Swift delivery process.

Guaranteed customer satisfaction.

Hassle-free and seamless purchase.
To Sum Up
Engagement holds a major impact on the Threads app, which serves as a triggering element for the reach and exposure of your posts. If you want to make a better and more cultivating presence on the Threads platform, purchasing Threads likes plays a crucial role.
All you have to do is choose a site from the 7 we have mentioned above. Now sit back, relax, and let the site do the rest while you focus only on creating engaging and attractive content.