Insurance Lead Generation Guide
Attract and convert more leads for your insurance business.
5 Best Tactics For Insurance Lead Generation

Even the strongest insurance agents can't do their job without qualified leads.
You need tactics that don't just bring people into your sales funnel. They need to bring in the right people with a need for insurance cover that you are a specialist in.
And in order to form a strong bond with a lead, you need to build trust. Smart insurance lead generation tactics can boost your close rate and start bringing in qualified leads who trust you and want to work with you.
Below, we'll be taking a look at some practical tactics and insurance lead generation ideas you can use for inspiration.
Now, here's how to start generating more insurance leads.
We'll Cover: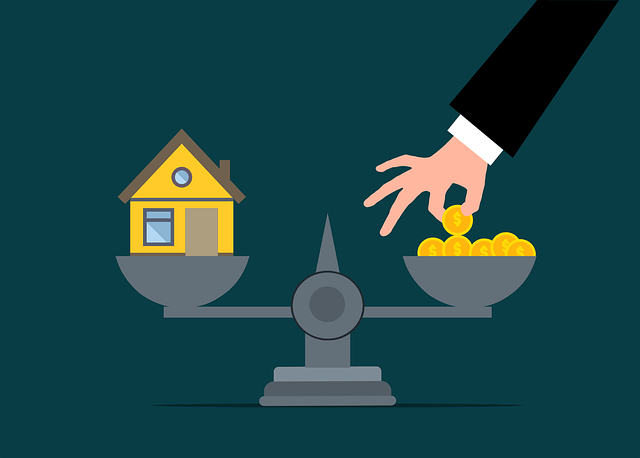 Top 5 Lead Generation Tactics For Insurance Agents
Top 3 Insurance Landing Page Examples
Top 3 Insurance Lead Form Examples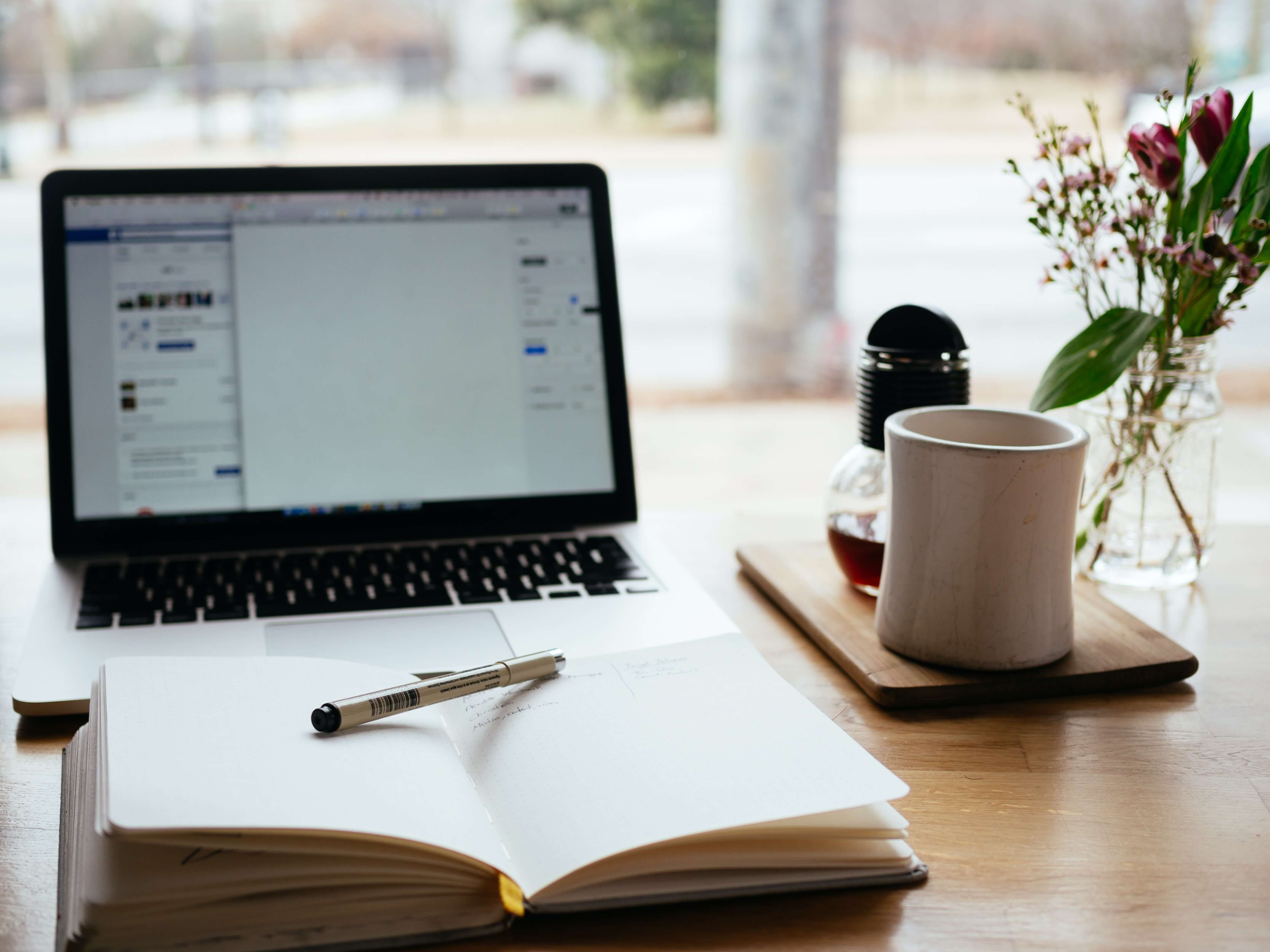 Top 5 Lead Generation Tactics For Insurance Agents
Generally speaking, insurance leads are prospects who have requested quotes for insurance projects from you, or expressed a desire to work with you in any other way.
Depending on your budget and lead generation tactics, there are many lead options available to you.
And as an insurance agent, you've probably encountered a few different types of insurance leads you can buy, like:
Real-time leads – Leads who come to you, usually after filling out a request form. Real-time leads usually cost more but have a higher payout too.

Live transfer leads – Process of handing off a live call between a lead and a call center rep to a call buyer who then speaks with the lead. Typically, the call center receives an inbound call or an outbound call to connect with a lead.

Search insurance leads – Direct result of prospect's internet hunt for insurance, like paid Google ads or clicks from Search Engine Optimization (SEO).

Exclusive insurance leads – Leads sold only to you.

Shared insurance leads

– Leads sent to multiple contractors. Depending on the filters you use with leads, you can acquire some leads other agents don't want due to their filter types. 
1. SEO-optimized educational content about your insurance services

When focusing on SEO for insurance lead generation though, consider niching down. The more specific – the better. Think about your solution (different insurance claims, process, know-how) and who it is for.
Then, write educational content about the process a prospect has to go through when applying for a quote, or the information they need on what goes behind the process. Tools like Writesonic can be very valuable here
For example, consider the type of person that would search for homeowner's insurance.
Probably someone thinking about buying their first home and is interested in knowing how much the insurance will cost, right? 
By offering free and educational resources related to that topic, you can attract ideal customers to your website directly. You can also create interactive insurance calculators or online web forms that take your prospect's information and send an instant quote to their email directly.
In regards to optimizing your website for SEO, it's essential to have fast website load times and up-to-date technical site optimization. Using a minimum amount of added scripts, plugins, using a dedicated server, organized back up management helps maintain a lightning fast, SEO-optimized web presence. To ensure your website ranks well in search engine results and attracts organic traffic, partnering with a reliable web design company is paramount.
We'll cover more examples of this tactic below – keep on reading.
Once you establish your email subscriber list, it's critical you optimize your email marketing strategy.
This may include:
Then, you can start automating your email flows to drive valuable leads on autopilot.

Source: Automizy
If you are an advanced digital marketer, interested to build complex automation, then check out our webcast/podcast episode on marketing automation with ActiveCampaign: Video and Audio
Email marketing ties in directly with the above point.
Once you have prospects consistently coming to your website, the next step is to collect their contact information and retarget them through email (an in-depth guide about sending bulk emails with the help of a bulk email sender).

This works especially well if you've got lead magnets or other valuable content that's getting you emails consistently.
A few insurance lead generation ideas to grow your email list include:
A sign-up form across your website.

Discount on some of your insurance premiums.

E-books or more valuable content that prospects need an email to read.
2. Cultivating insurance leads through email marketing

Source: ReallyGoodEmails
3. Customer service chatbots to educate cold leads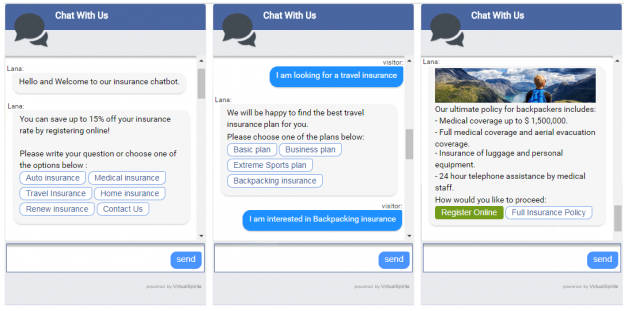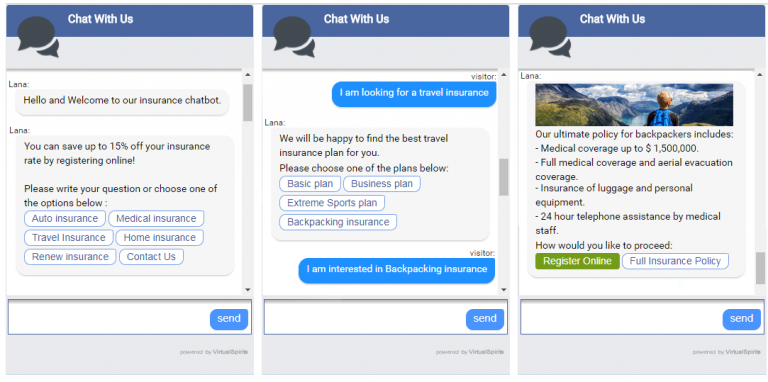 Digital customer experience is more important than ever. Customers have a short attention span and want answers to their questions immediately. And with digital technology growing, online website chatbots now have a lot of use cases for customer service in the insurance industry. Chatbots can identify a user's intent and extract data accordingly. 
They're also available 24/7, can handle numerous conversations at the same time, and automate a lot of your repetitive customer support work. Some common use cases chatbots have for insurance companies include:
Provide customized quotes to new customers.

Answer policyholder queries or common insurance policy questions.

Forward users to relevant content or web page.

Help users file insurance claims.

Give potential customers all the info they need to buy insurance products.

And more.
There are many free and paid chatbot tools out there and you don't need any programming knowledge to get started. Tools such as:
EBI.AI

Drift Chatbot

Agentbot

SnatchBot

HubSpot Chatbot Builder

Chatfuel

MobileMonkey
Essentially, you can create chatbot flows with prepared content, strategies, evaluations, and other information based on what the user is asking. Then, the bot will detect some of the common words or questions, and respond accordingly with a pre-loaded answer.
4. Social proof to convince first-time website visitors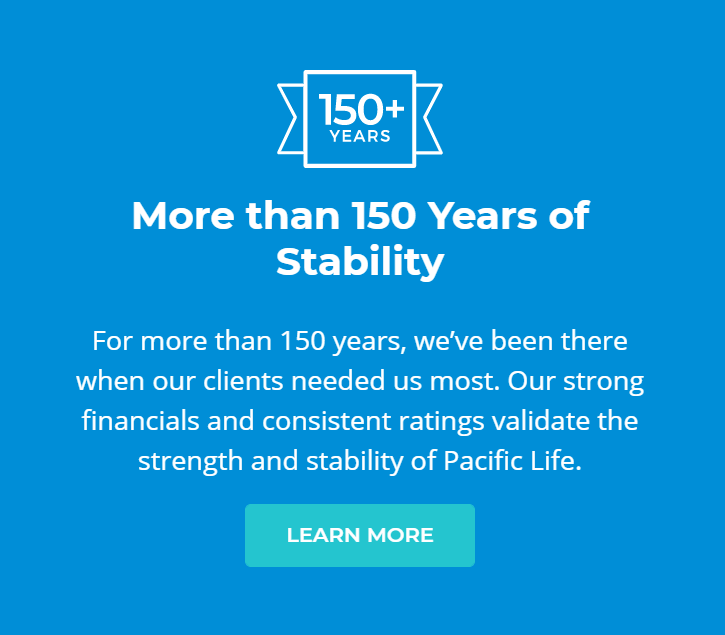 Leveraging social proof and customer feedback is another proven marketing tactic in the insurance industry. The principle is simple: Social proof refers to any piece of evidence that supports your claim or success rate from previous clients.
Social proof includes reviews, testimonials, and even social shares that make it easy for your leads to trust you and allows you to win more customers with marketing psychology.
Here are a couple of different types of social proof you can leverage for your insurance business:
Case studies

– In-depth analysis of the product, service, or process you provided current or previous customers with. Show what were the main pain points and your process for solving them.

 
Testimonials – Recommendations from customers that demonstrate your qualities and why people would want to work with you.
 
Reviews

– Reviews are like more objective testimonials. Reviews are usually collected and managed by a third party without the business being involved in the process.

Trust icons

– If your insurance company was featured in or covered by some high-authority brand website, you can add their logo to your landing page to build trust. Check out this

case study

to see how Lemonade Insurance leveraged social proof and other lead generation tactics mentioned in this article to go viral.

 
Data and numbers – Another strong form of social proof. You can mention how many customers you've served in the insurance business, how many years you've been working in the industry, how much money you saved your customers, and more.
5. Use online insurance web forms to convert more leads
Online web forms are ideal for capturing inquiries about your policy quotes or other insurance claim info. As an insurance agency, you probably take pride in the personalized insurance advice and service you offer to your clients.
But let's say one of your leads wanted to file a claim on Sunday – when you're out of the office.
With integrated web forms, your clients don't skip a beat. They can just fill in your forms to submit a claim at any time of the day.
Then, depending on your online form type/ insurance leads app, they will get an answer straight away, or you'll receive an email alert so you can get back to them as soon as you can.
A multi-step form (like the above example) can ask your leads the following questions:
Which insurance policies do you require? 

How long would you like the policy to cover you?

When would you like the cover to start?

What is your current annual income?

Please enter your personal details (name, contact info, address).
Naturally, the questions are fully customizable and interactive.
So, you can even set your forms up so your leads get an instant answer as soon as they fill in your form (e.g. insurance calculator or property valuation) or so that you extract their data and get back to them later.
Be sure to check out our full guide to landing page forms to learn how to capture more leads with your web forms and some of the best practices too.
All in all, web forms are a great way to capture more first-time visitors from your website and extract more specific information from them.
Use LeadGen App as your insurance leads app to start converting up to 5x more traffic into leads and new customers with professional-looking web forms, with templates designed specifically for the insurance industry.
Now, let's take a look at some live insurance lead generation websites, insurance leads apps and brands that are using strong lead generation tactics.
Top 3 Insurance Landing Page Examples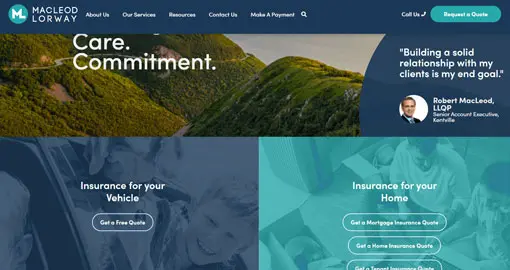 1.  MacleodLorway Insurance
Source:  https://www.macleodlorway.com/
Highly-converting landing page with plenty of information on their offer (what they insure, interactive map for different city locations, their philosophy, etc.).

Social proof quote from senior account executive about their values.

Free quote web forms, for different types of insurance coverages.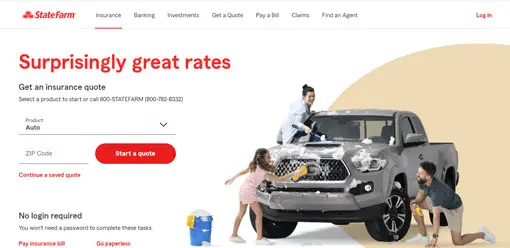 2. Statefarm
Source: https://www.statefarm.com/
Insurance lead generation website with c

lear Unique Selling Proposition for their target market (mostly for car insurance).

More info on how visitors can save money and what makes them stand out.

Different call-to-actions depending on the lead's goal (find an agent, file a claim, etc.).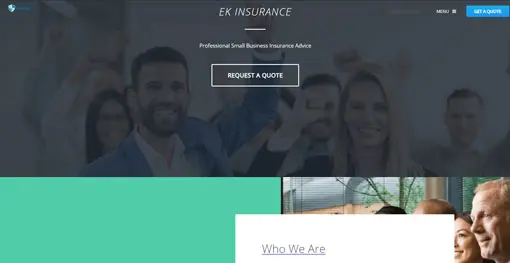 3. EK Insurance
Source: https://ekinsurance.com/
Exit-intent pop-up with a call-to-action to get a free business insurance quote.

Plenty of happy client testimonials, reviews, and other social proof.

What type of insurance coverages they can help with and final CTA in the end.
Top 3 Insurance Lead Form Examples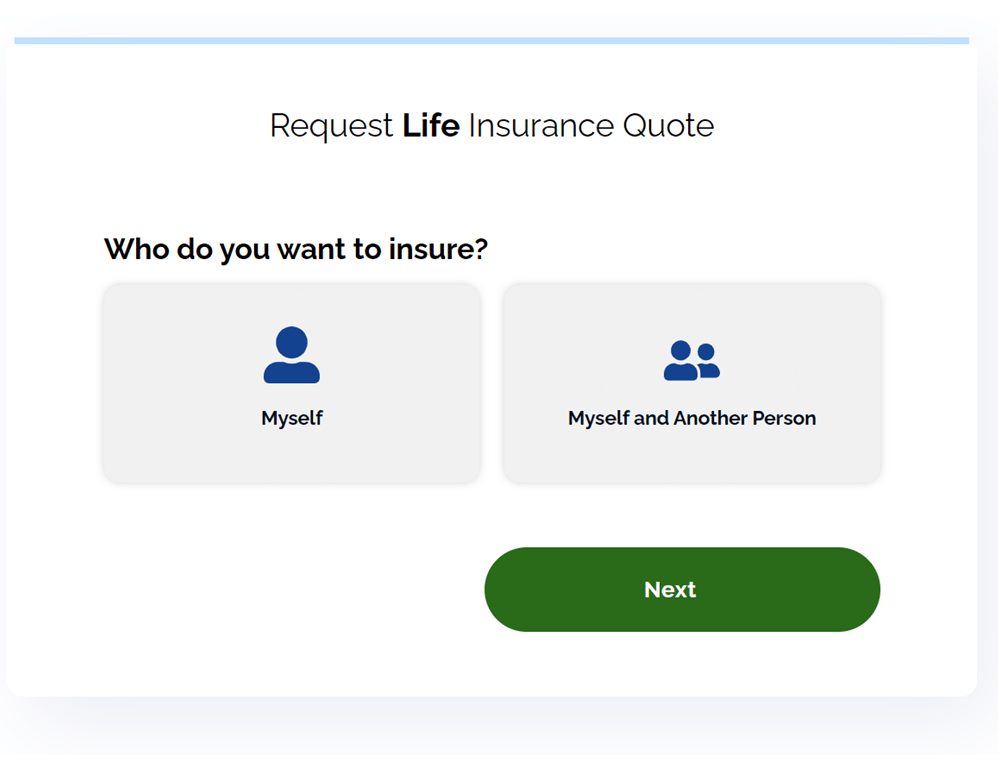 1. Request life insurance quote
Multi-step form that gathers all the essential information about the lead.

Tracks progress so the prospect doesn't get bored and knows how many steps are left to finish the form.

Mix of multiple choices and custom answers to get the most information from your leads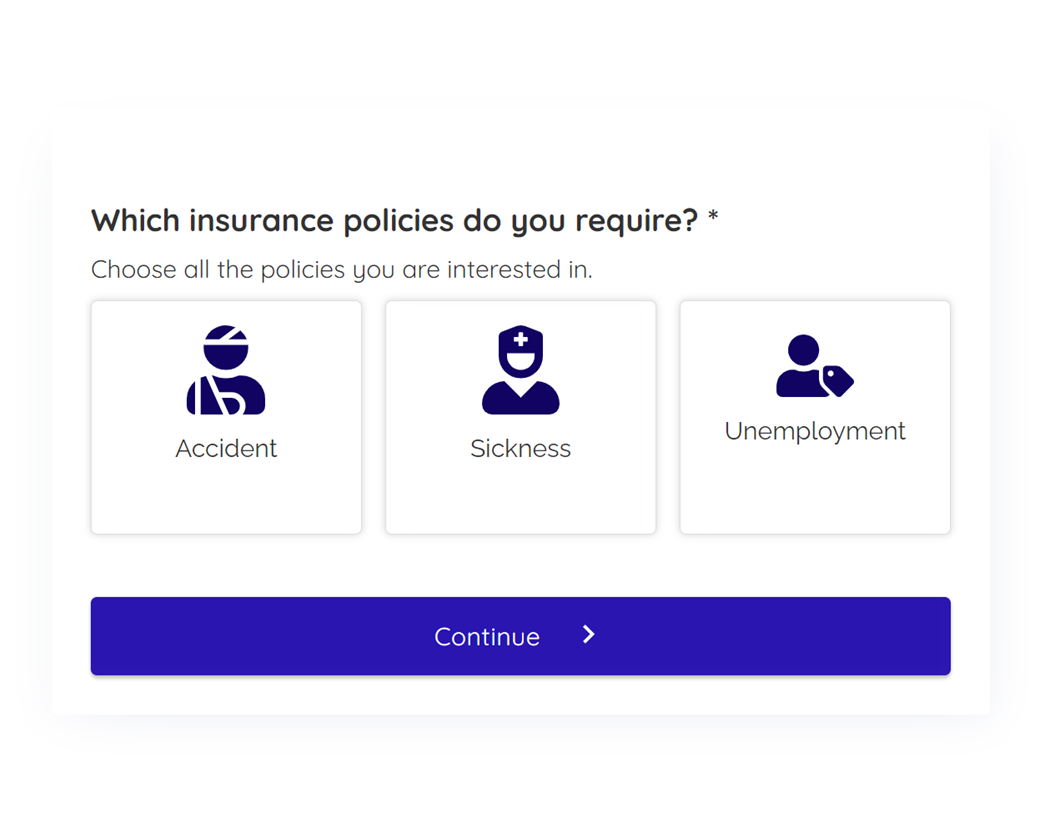 2. Interactive insurance policy choosing form
Interactive web form that takes a prospect through all the steps needed to file a form.

Asks all the essential insurance questions and personalizes a quote based on what they're looking for using conditional logic features.

Ends with contact information to send an email afterward.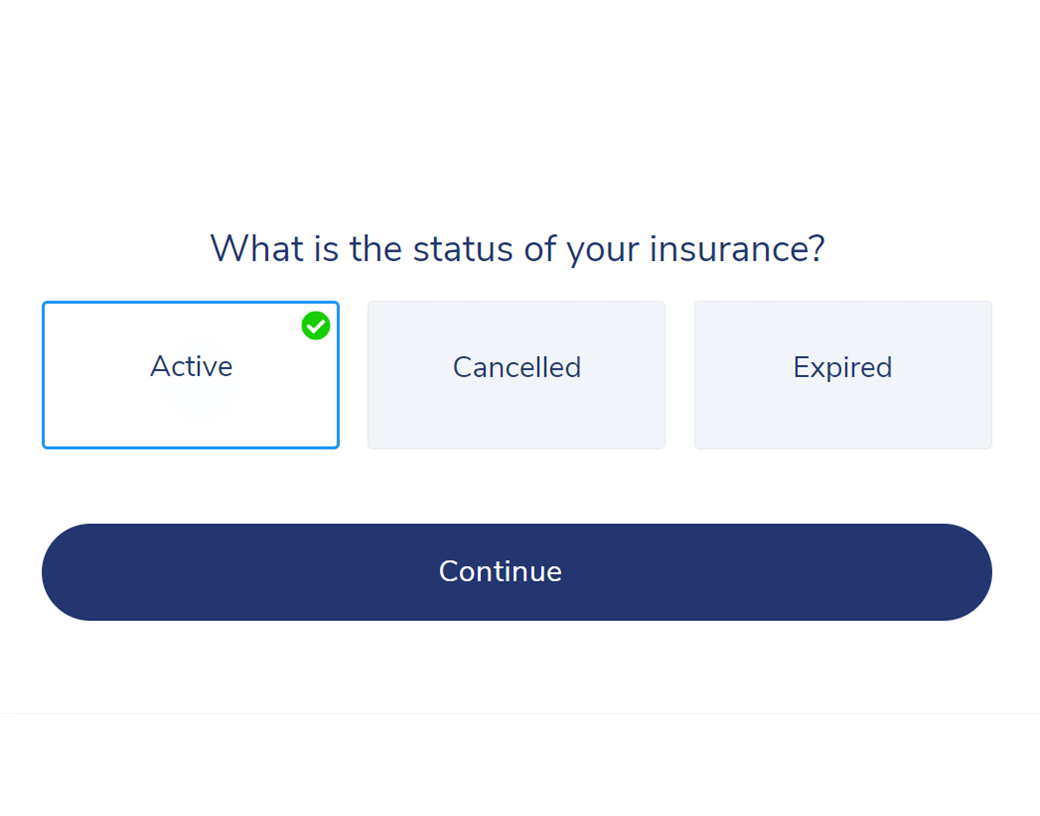 3. Free insurance examination contact form
Multi step form that asks the prospect about their insurance form (when they took it out, which company, etc.).

Uses a long dropdown question to list all kinds of relevant insurance providers that the lead may be insured with.

Customizable branding, colors, and questions according to your brand.
See more high-converting insurance form templates:
Life insurance lead generation templates

Private health insurance lead generation templates

Income protection insurance templates

Home insurance lead generation

Exclusive insurance leads templates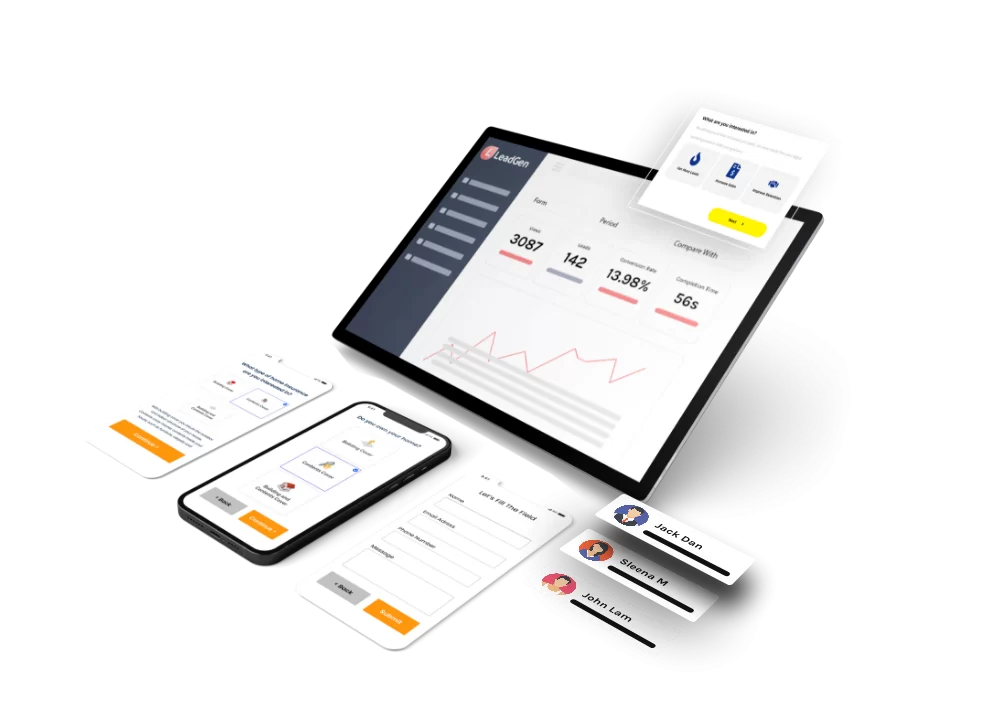 Conclusion
Using the above tactics, you can now focus on increasing your insurance agency sales once the leads start coming in.
At the end of the day though, your data is a learning tool.
And with highly optimized web forms, you can start generating more leads and information to start converting more of your traffic into leads and new customers.
To sum up, let's go over some of the top questions regarding insurance lead generation:
What is lead generation insurance?
Insurance lead generation is the process of identifying and cultivating potential customers for your insurance business through your marketing efforts. Effective lead generation can be the life force of your business. So, be sure to use some of the strategies mentioned in this guide to generate more leads.
How do insurance agencies generate leads?
As an insurance agency, there are many different tactics you can pursue to generate leads. If you want to generate high-quality, qualified leads for your insurance business, you can start using the tactics mentioned above:
SEO content.

Email marketing.

Website automated chatbots.

Social proof to convince first-time website visitors.

Online insurance web forms to convert more leads.
What are leads for insurance agents?
In lead generation for insurance agents, you'll come across many different types of leads you can buy. Some common insurance lead types include:
Real-time leads

– Leads who come to you, usually after the prospect fills out a request.

Live transfer leads

– Leads from a call center rep to a call buyer.

Search insurance leads

– Direct result of lead's internet hunt for insurance.

Exclusive insurance leads

– Leads who have their benefits front-loaded with the fact that they're sold only to you.

Shared insurance leads

– Leads sent to multiple contractors. Depending on the filters you use with leads, you can acquire some leads other agents don't want due to their filter types. But at the same time, you might have to compete for every customer's business.
Now, if you're ready to start generating leads for your insurance agency, you can start using LeadGen App to capture more leads through best web forms – designed specifically for the insurance industry.
Monthly
Yearly

Save 20%
20% yearly discount