4. Outreach

Outreach is a tactic to get leads and appointment booking using campaigns directly targeted towards the audience, e.g. via direct messaging, calls, emails or social media. The most common outreach tactics for software companies are Email or social media, e.g. LinkedIn.
Outreach is a volume game and can be highly effective to grow. Since COVID happened, the outreach landscape has changed a bit. You'll get a lot of out of office replies and email providers like Gmail are constantly trying to put a lid on outreach marketing activities, setting new guidelines, limits and way to filter out "spam" and promotional emails from inboxes.
LinkedIn and syndication networks on the other hand have gained in popularity for outreach marketers in recent times because it's more targeted than email. When using email, you can easily create an outreach blast on scale, reaching lots of companies, trying to make it work as a volumes game. It's not the nicest experience for the recipient, especially if you're including people that are not really your targeted audience and don't have a need for it. Nevertheless, it's still effective when constantly optimizing the approach and seeing it as a volume game.
Outreach should always be data driven. You could probably say, out of my 10,000 leads, I get 1000 responses and I convert 200 of those to paying users. In both email and LinkedIn outreach you can be very data-driven using tools and spreadsheets to monitor your delivery rates, clicks, replies, appointment bookings and new sales constantly.
5. Engagement-based targeting

Use Retargeting via Facebook & Google to attract leads that already engaged with your product and/or websites/ landing pages. Even beyond retargeting, there are dozens of opportunities to advertise to your audience based on engagement with your website and content.
Retargeting people that visited your site is incredibly important. Not only can you re-target from PPC advertising, but also via email marketing for example. You can look at the data of like the open and click rates and say, "This guy read my email at 14 times, which is either creepy or a guy really is excited about my offer for 50% off".
This is an opportunity to build further email marketing automation based on engagement rules which many of the best email marketing automation tools like ActiveCampaign and HubSpot offer.
As a SaaS tool, you can also use analytics software like Intercom, Hotjar or Dashly to understand how your visitors navigate in both your website and your actual software product. It allows you to study user flows, pages visited, heatmaps of areas with most clicks and engagement and more.
As the next level, look into building custom events with those engagement and analytics tools to track certain key engagement metrics that are relevant to your SaaS product, e.g. leads captured, login to the app, forms creates, email campaigns built, etc.
This will help you understand not only your web visitors, but also app users and follow-up up with more relevant and personalized offers.
6. Lead magnets/interactive tools
Make the most of blog post content by providing lead magnets, tools and resources in exchanges for capturing email addresses. Easily build custom lead forms for your website and blog posts with LeadGen App (Try out free)

A lot of businesses including software brands think that creating content and showcasing it on the website or blog is all they need to do. Sending traffic to those pages and posts is unfortunately not enough. As a SaaS brand, you naturally want people to sign-up to your tool, e.g. via free trial offer. Relying only placing one call-to-action to sign-up to your app is however very limiting to your lead generation.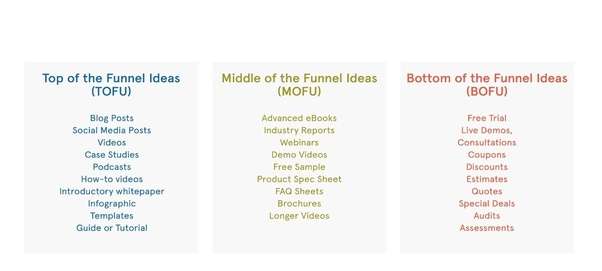 Lead magnet ideas for a web-pages and blog posts to provide value and capture leads for your software product
Think about it from the perspective of the user. Coming back to the example of someone looking accounting software, that person may type into Google "bank feed reconciliation tools" as an example. Then this user would land on your blog post you created to explain this problem of bank reconciliation with solutions. The user has a need to learn about tips, but also may want to learn more about our software, without being in the mindset to sign-up right now.
What is missing are a series of other relevant offers in your blog post content, so called "lead magnets" which can direct users to the next step in their journey, e.g. by proving a free pdf download, "B2B reconciliation made easy – The step-by-step guide" available for email opt-in. This will allow you to capture leads and build up a list of relevant leads that you can build relationships with and sell to over time.
7. Thought leadership content
Knowledge and expertise sells. Invest time & money into content marketing to become known as an authority in your field online. This strategy is less dependant on any article which is a great advantage and opportunity to find the right model which works for each individual SaaS business. The options are enormous: From creating a blog, either self-hosted on your site or on platforms like Medium to creating audio formats like podcasts, using apps like Clubhouse to build a community to video marketing and email newsletters and beyond.
Pick whatever medium suits you best and what you can commit to over a longer period of time, because thought leadership content only gets recognized and works in terms of lead generation when doing it consistently. Double down on quality, invest the time and effort and results will come if you got something valuable to share. You can track your results and see the improvement in your SaaS dashboard.

This strategy is more long-term based and won't necessarily be a quick fix to drive tons of lead generation.
8. Tool comparison
As a software tool, you naturally have a lot of competitors that do the same or similar things with their tools. By creating comparison articles, you can help users make buying decisions easier by putting you in the spotlight next to your competitors. It makes it easier to understand why your solution is better and how you position yourself in the market.
Your software solution may not be the best in terms of the scope of features, but serve a very specific purpose and audience segments. Comparison articles and comparison tables help to point where the difference is. You can also mention the competitor names as most prospects already studied the market and know your competitors. It makes sense to not open up the field too much by writing about dozens of competitors. Instead, pick a couple up to a maximum of 5 and display the difference to keep things simple and the attention still on your software and its benefits.