When Single-Step is a good Choice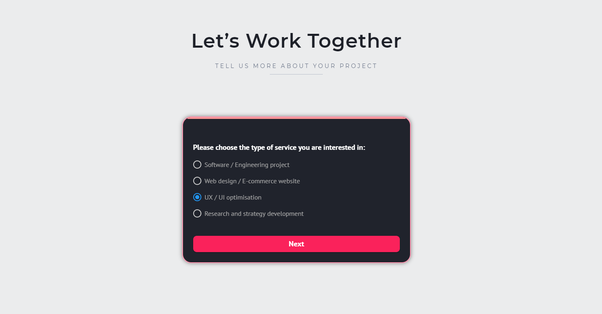 When you just ask for name, email and message, then a simple single-step form could also do the job well.
Multi-step forms are great for lead capture campaigns. If we look at employee feedback forms, it could be better to use a single-step form rather than a multi-step form design. This is because a more formal form design would be appropriate for it.
Trust The Data and Avoid Common Mistakes
The effectiveness of a form varies depending on the purpose of the form. A good tactic is testing two variations for each form until you found a winner. The winner can be tested again with a new challenger variant. This way, you will ensure that forms are most user-friendly and will help you drive better conversions.
You can build both multi-step and single-step forms within our tool LeadGen. Also, test them via A/B form testing where you can test form on only one landing page.
How Multi-Step Forms Improve Online User Experiences?
There are many multi-step lead form examples that come to mind that stand out to make form filling a lot more intuitive.
This is an inquiry form for a digital agency, providing landing page design services: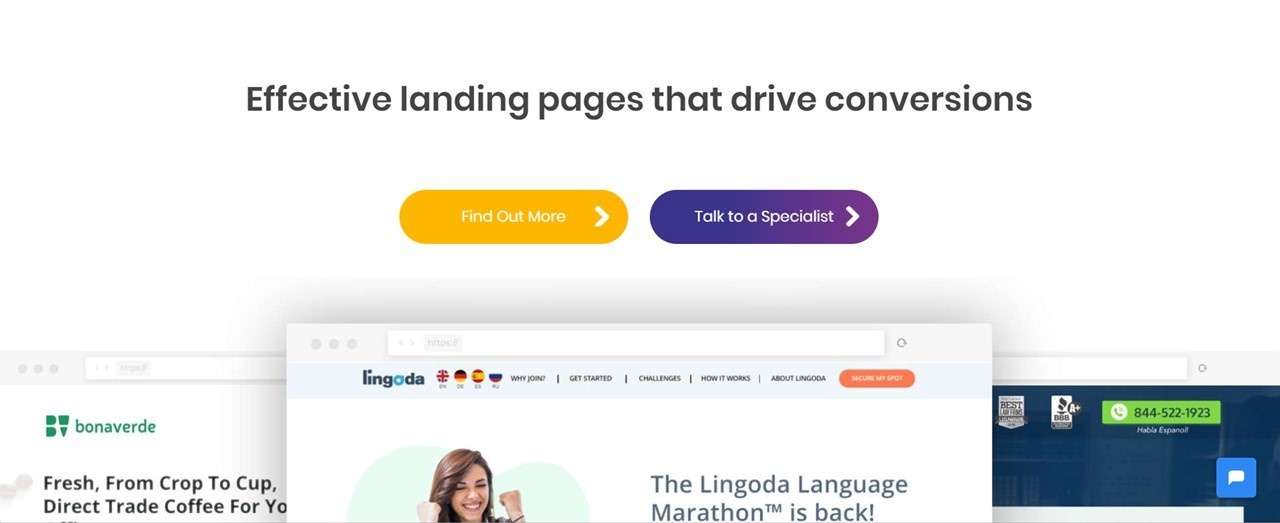 Start screen, landing page with two Call-to-actions, find out more on page + enquiry (talk to a specialist)
Let's assume you are ready to talk to the specialist to get in touch. A multi-step form then opens that features different questions in a very simple and user-friendly 3-step form.
Firstly, it asks a qualifying question on the service you are interested that you can choose via a dropdown.
The page also shows a pop-up of the most recent leads to create authentic urgency for more conversions (Built with LeadProof in LeadGen)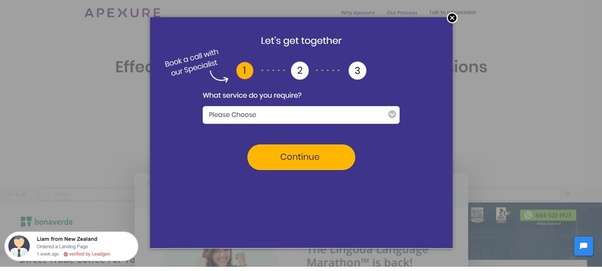 Multi-step form design with first form screen, listing service requirements
Secondly, it features an open text field, asking you to provide project details. This shows the potential lead that you are interested in hearing about the project first before asking for personal information such as email and phone number. The order of questions can really make a difference in forms.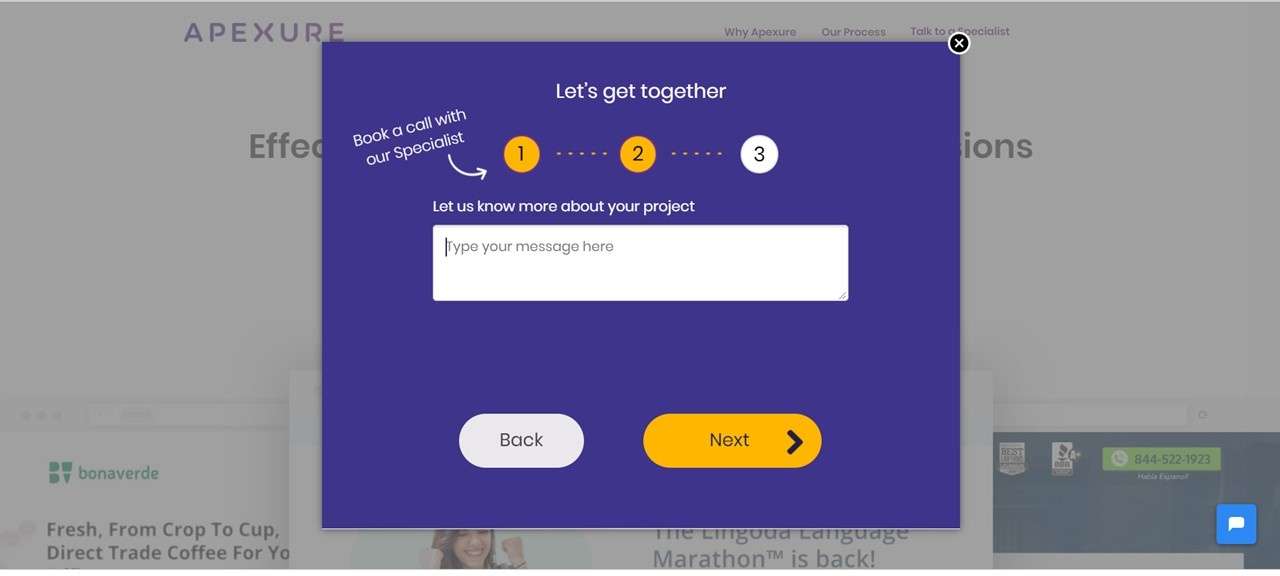 Second screen, taking project information requirements in multi-step lead form
Finally, it will ask for personal information which at that point you are likely to provide because you made the effort to through 2 steps before already. With the step form, you can get micro-commitments and a few buttons clicks to complete steps, which you couldn't do on a single-step form. That's why it's not only great for user experience but also increased conversion rates.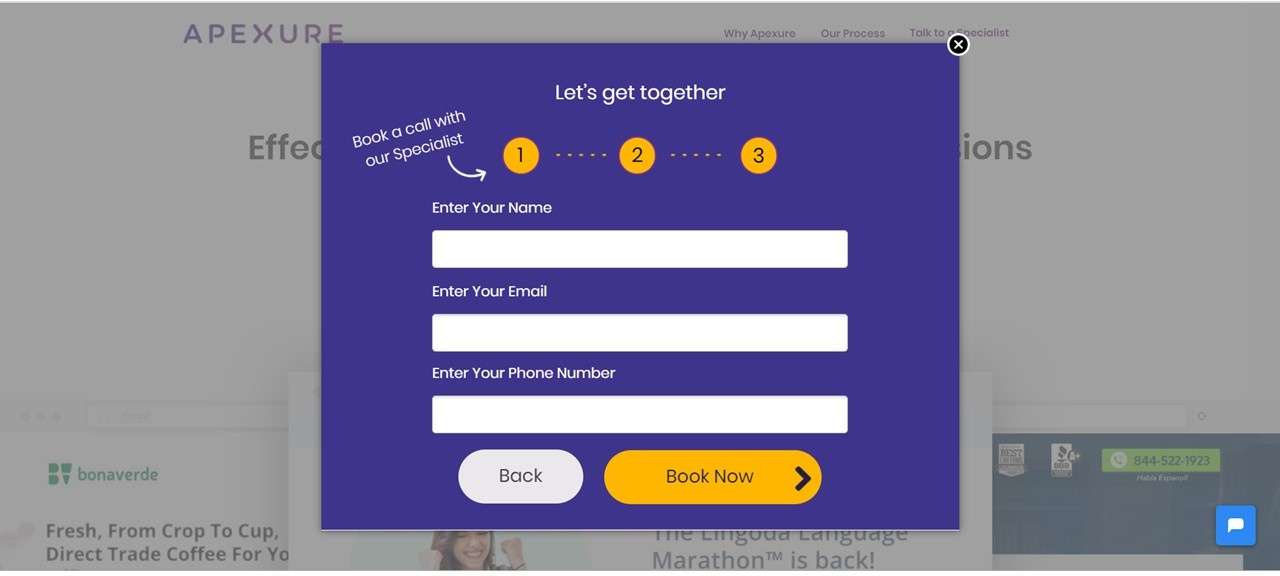 Final form screen, personal contact information and customized "Book now" button
Check our multi-step form design examples on a demo video or start building your own custom forms in  LeadGen multi-step form builder.
Click on the button to build your first multi-step design in LeadGen App: