What are Multi-step forms?
Step forms present different questions on different form steps rather a single page. This way, you can provide an easy and simple user journey for even more complicated inquiry processes, lead forms and surveys.
Multi-step forms are based on the foot-in-the-door technique. The more questions you get a visitor to answer, the more likely it becomes the form gets filled.

Multi-step forms:
An interactive form that presents questions on different steps rather than a single page, creating a complete user journey that only shows the relevant information at the step.

Why Step Forms Can Increase Conversions?
Think about it yourself: If you get into a conversion with a good salesperson, you'll get ask about your need first. You'll explain what you need, what you expect and before you'll get asked about personal details, you have already taken your time to share a lot of information. Because you spent this time, even if it doesn't take long, you are way more likely to take the last final steps. You are happy to provide your email, phone number or address to get more information.
Why do humans do this? Well, there's a few important points that come into effect here. Firstly, every question you answer is a micro-commitment. In real life, every "Yes" and answered question makes you less likely to stop. Online, the more you go through the form, the more reward you feel because you already invested in the process.
This is an effect that you can't really experience in a simple web form.
A multi-page form often has a progess bar which indicates how far you've come which plays into this tendency to continue the journey.
Secondly, multi-page forms are simply much easier to process. If you see 10 questions at the same time, you feel more overwhelmed than having everything nicely presented on different stages.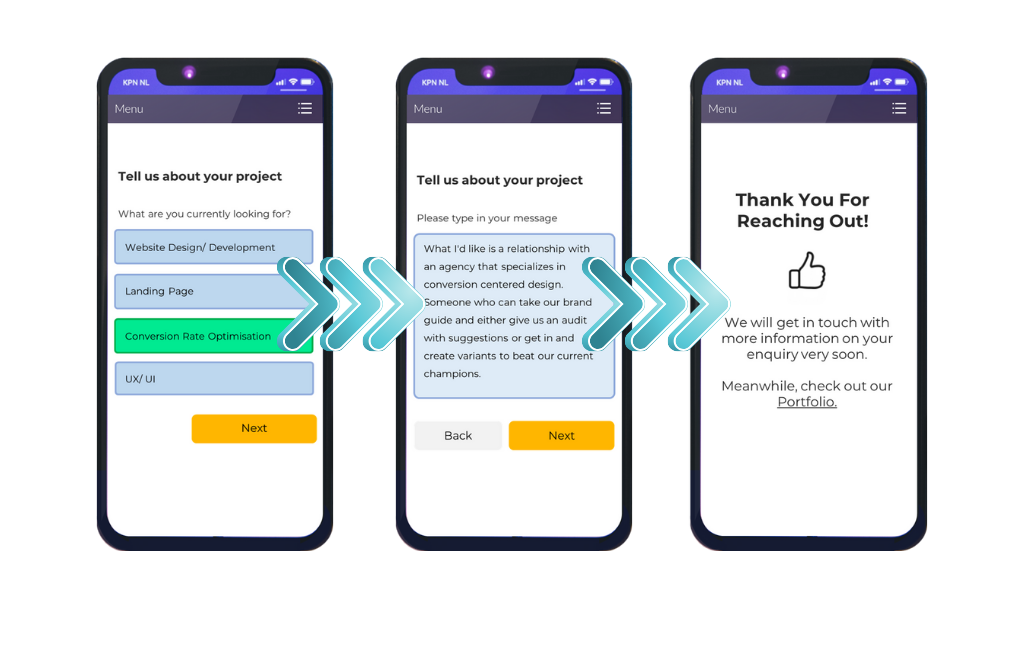 Users step by step process of filling a multi-step page form for lead collection
Finally, you can personalise multi-step journeys which you can't do with single-step forms. For example, you can ask a service requirement question with 5 choices on step 1. When clicking on a certain choice, you can send the onto a different path than for other choices.
This way you provide a chatbot-like experience in a form, providing relevant and personalised information that makes your web visitor feel understood.
Chatbots Vs. Step Forms
Speaking of chatbots, can these not be an to an alternative to lead forms?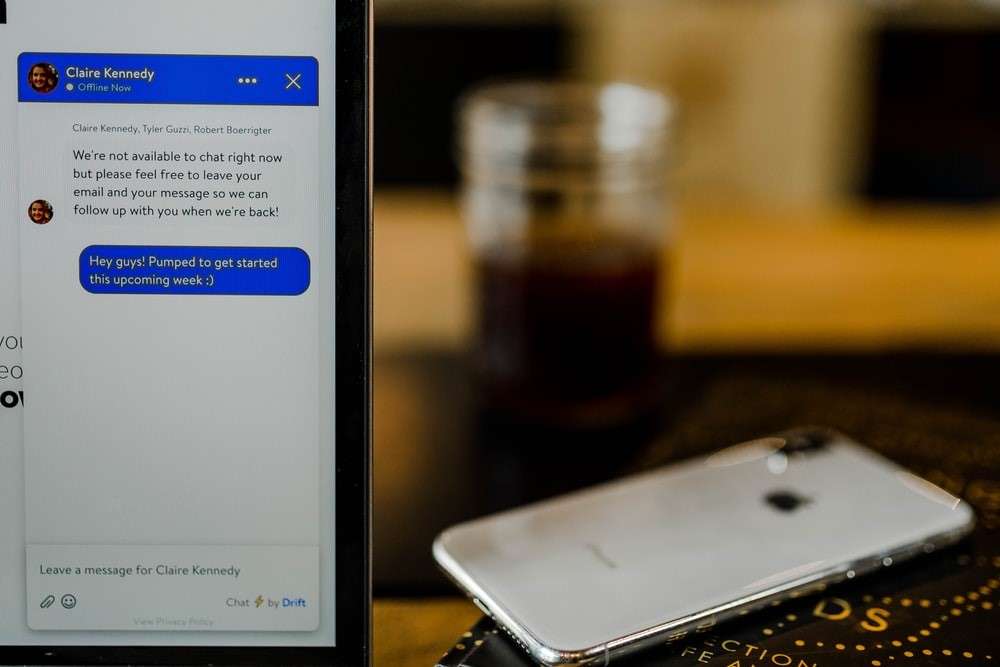 Chatbots for customer support service
Chatbots are great for support request and two-way interaction, less for defined offers and lead capture.
A lead might be ready to inquiry and just wants to get in touch. A chatbot would not be appropriate here because there is no need for a conversion, especially not for a human-like bot with possibly irrelevant answers that makes things more complicated than they have to be.
Who should use Multi-step forms?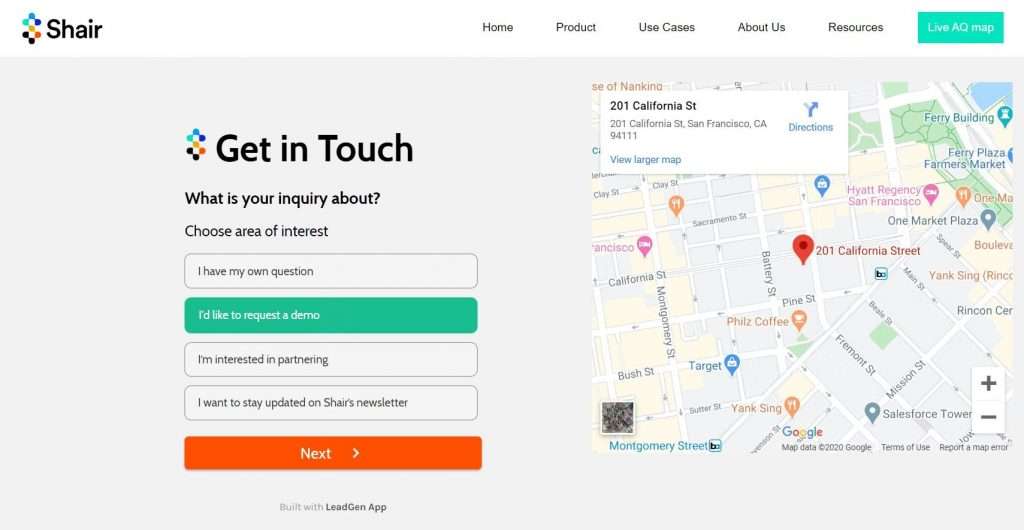 A multi-step form example built with LeadGen App
Multi-step lead forms are a great solution for any type of business that needs to capture more quality leads. No matter how big your organization, lead inquiry forms greatly benefits from step forms because of the user-centric and structure way of presenting information.
Step forms are perfect for B2B brands because these are type of companies which have a huge needs for lead capture. Especially if you are a Small-or Medium-sized business that only works with a limited number of clients, multi-step forms can be a great fit. You can use them for increasing lead quality at the same time.
There is not just a good case for using multi-step forms for lead capture. They are also great for capturing client project details in a briefing. Also, you can use them for hiring processes, questionnaires, conditional forms, calculators, quote generators and more.
If you are a B2C brand, you can use multiple-step forms for the same purposes, including e-commerce checkouts, linking the form to a payment gateway.
Marketing and web agencies use these forms on their own presence, but even more so across their client campaigns.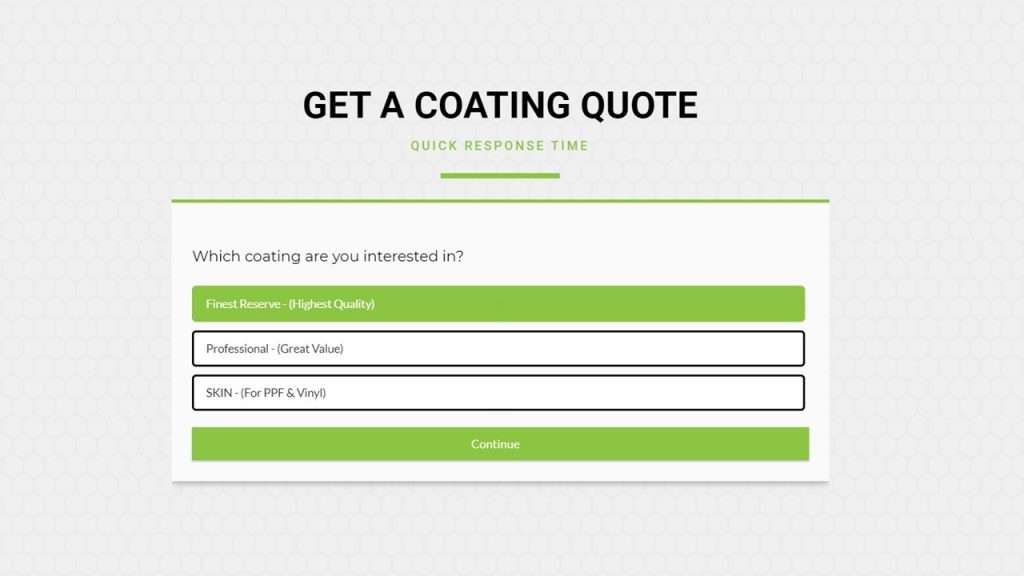 A lot of LeadGen users are agency owners that work on client lead campaigns and web projects. You can use LeadGen to build lead-generating landing page & conversion-focused web-design.

What factors help me increase conversion rates in multi-step lead forms?
Above all, you can increase conversion rates through rigorous testing. Test your lead forms as much as you test your web designs and online ads. This is exactly where most marketers stop. They invest a ton of money into high-quality web design that looks good, but actually doesn't convert. They invest a ton of money in blog content that has no love and just use simple forms.
You can now imagine the result of all this: You are missing out on a ton of conversions because there wasn't enough focus on the different conversion-driving elements, including the lead forms.
You might have the most beautiful lead form, but it just doesn't convert well. Or you might have a form that ticks all the boxes for conversion-friendliness, but your web-page is unoptimized, contains poor text copy or you simply have the wrong type of traffic.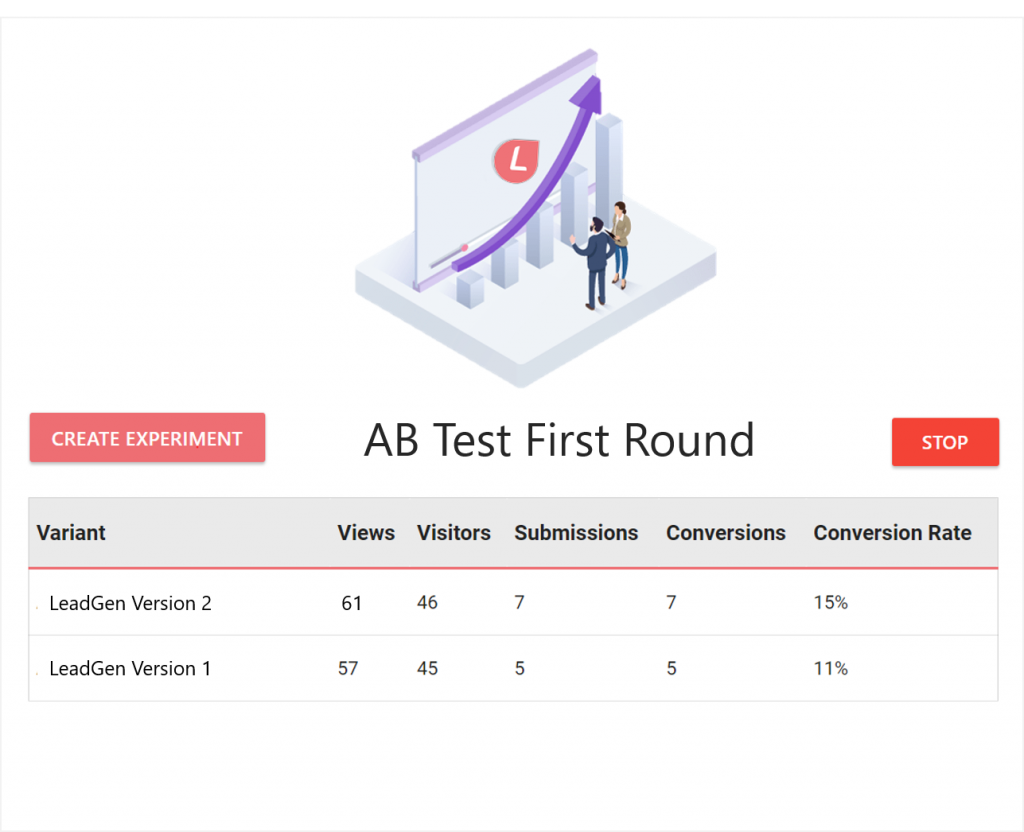 LeadGen AB Testing
This now sounds like a huge mountain to climb, looking at all these different factors. Sure, there is a number of factors, but the lead form is a big one of them, so it's a good place to start purely with the form.
Create two different form variations and run a form A/B test via LeadGen. It's important you don't mix form variations with landing pages variations. Focus on just one factor: Your form.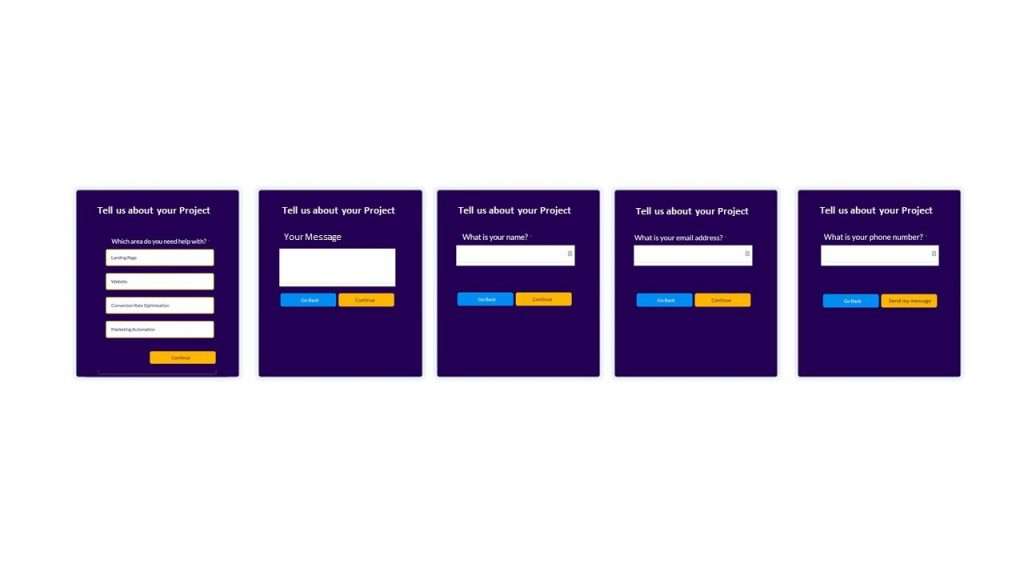 Different form variations to perform A/B test
Simple things that in theory should get you better conversions are a lower number of questions performs and personalization (starting with service need before asking for personal details).
Other factors that matter are form design (match it with your website and brand identity) and fast form load time (dependant on image and content files used in form).