Are Multi-Step Forms Better than Single-Step Forms?
How to Create The Perfect Online Form To Generate Conversions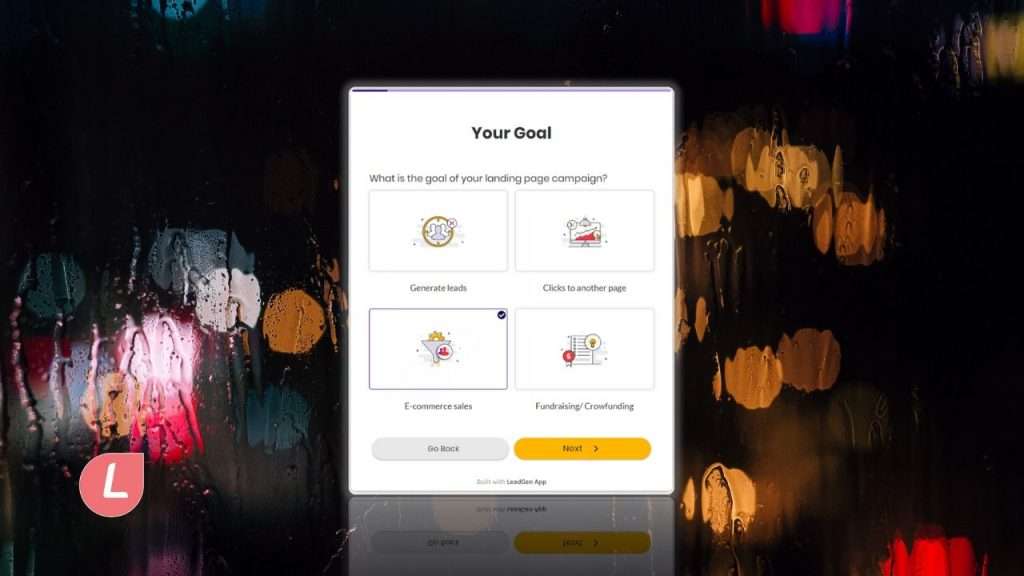 It's an interesting question what type of online form generates the most results in terms of conversions.
If there was a clear answer as to whether multi-step or single forms are better, then probably only one type would be used on the internet.
Single-step forms
Single-step forms just have one form step that contains all questions and content: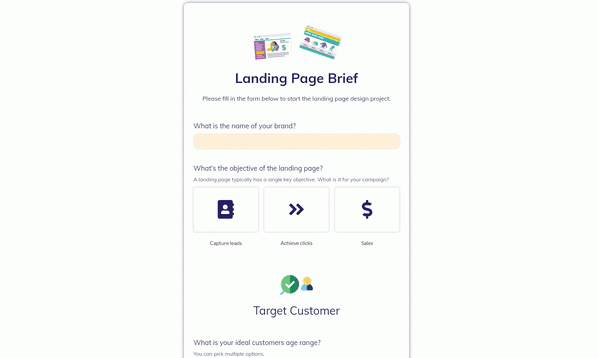 Long single-step online form to collect web design project requirements


Multi-step forms
Multi-step forms present questions on different form steps, one at a time on different screens.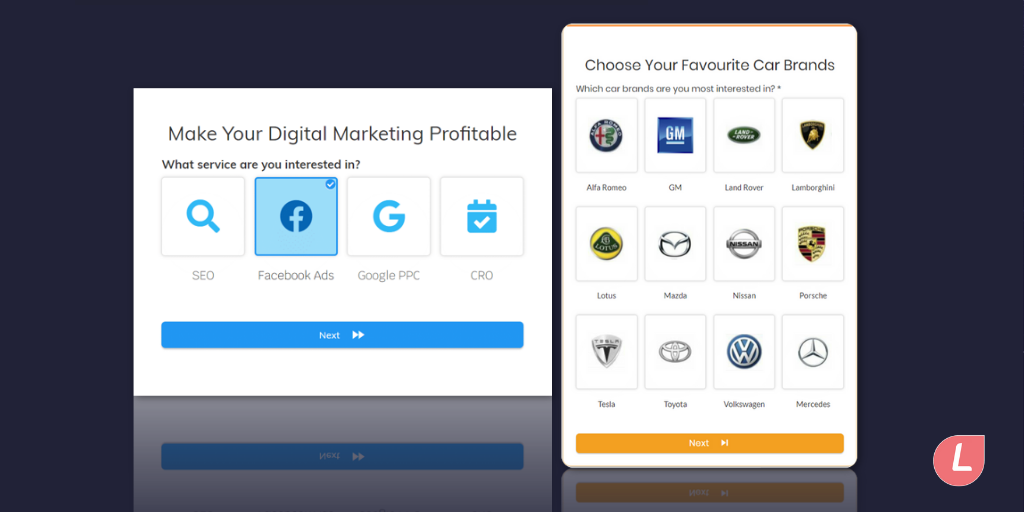 Multi-step online form designs with service selection buttons
Related: 7 Best Practices For Creating Long Forms To Boost Conversion

How to Define The Success of Online Forms
First of all, let's define how to measure the effectiveness of an online form. In nearly every use case, the objective of an online form is to get people to submit the form, to achieve conversions. The higher the conversion rate (Form submissions/ page visitors), the better.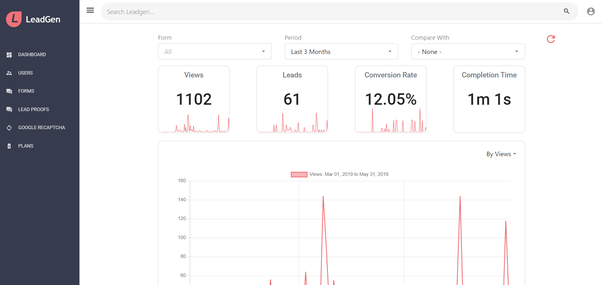 LeadGen dashboard with form and conversion rate metrics
Every Form Has a Different Use Case
Another thing to consider is that online forms are used in a wide range of purposes: Lead capture, contact forms, employee feedback forms, surveys, etc.
To know how LeadGen helps to build different use cases of online forms in the healthcare industry click here.
Just by comparing a lead capture form to an employee feedback form, it becomes clear how different lead forms can be and what type of different audiences they are targeted towards. The lead capture form which is the key to generating leads for businesses should ideally be as simple as possible. Less questions and fewer distractions are more likely to drive conversions than long and complicated forms.
Related: Lead Capture Forms - Basics and Use Cases
The Fewer Questions, The Better The Conversions
In terms of the form length, a more compact and concise form will win over a long form with unnecessary questions, e.g. "How did you hear about us?". You can still ask these questions later but within a lead capture form, this is just one question too much.
It doesn't mean that forms with a lot of question don't work. They can be very useful when you have the luxury problem of too many leads to ask a lot of qualifying questions to get less, but more quality leads.
Importance of Form Testing
To find out if a multi-step or single form works better for your page, the answer can only be found with testing. Form A/B testing is a great way of understanding what type form is likely to generate more conversion over time. An A/B test is a commonly used experiment tactic by marketers when comparing landing pages and website variations with each other.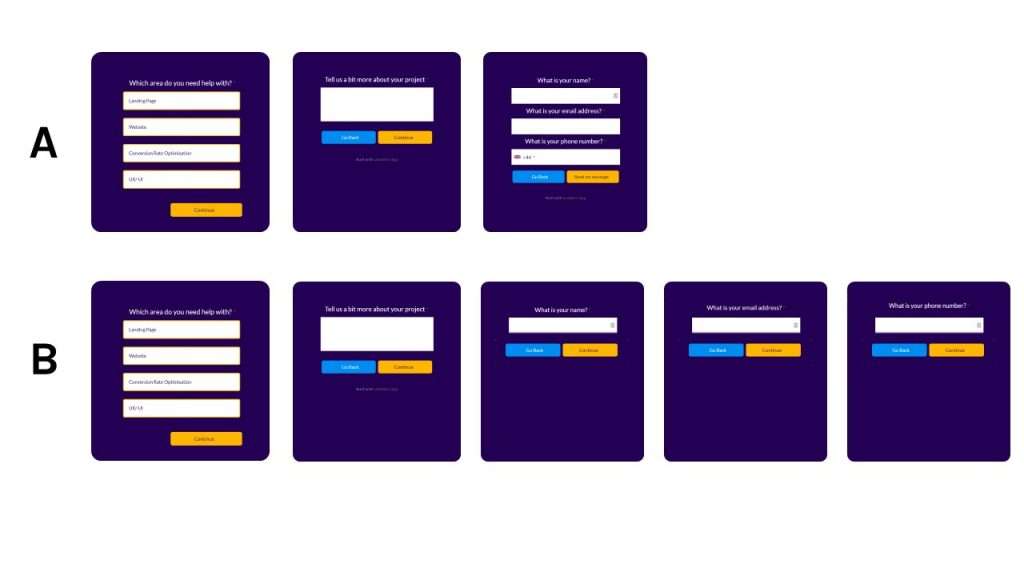 LeadGen dashboard with form and conversion rate metrics
The great thing with LeadGen App is that you don't even need two different page variations. All you need is to create two form variations and start a LeadGen experiment. Give it enough time and a significant amount of conversion data to draw conclusions.
For example, a web form with under 500 visitors will give you "only" 10 leads with 2% conversion rate. This is not sufficient data to confidently understand which form type converts better.
Based on experiments of forms that we have run in our digital marketing campaigns, the multi-step form is the better choice for B2B lead capture forms. It gives the user complete focus on one question at a time rather than showing a long-form with many fields.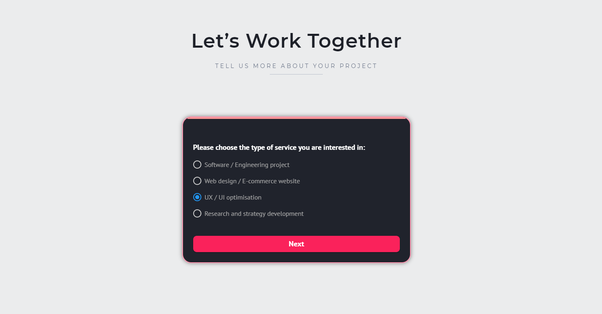 When you just ask for Name, Email and message, then a simple single-step form could also do the job well.
Multi-step forms are great for lead capture campaigns. If we look at employee feedback forms, it could be better to use a single-step form because a more formal form design would be appropriate.
Trust The Data and Avoid Common Mistakes
To summarize, the answer is not that simple because the effectiveness of a form varies depending on the purpose of the form. A good tactic to follow is to test two variations for each form and test these until you found a winner. The winner can be tested again with a new challenger variant. This way, you will ensure that forms are most user-friendly and will help you drive better conversions.
You can build both multi-step and single-step forms within our tool LeadGen and also test them via A/B form testing where you can test form on only one landing page.
Multi-step forms are a great way to improve online user experiences.
There are many examples that come to my mind that stand out and that create a unique experience that makes form filling a lot more intuitive.
This is an enquiry form for a digital agency, providing landing page design services: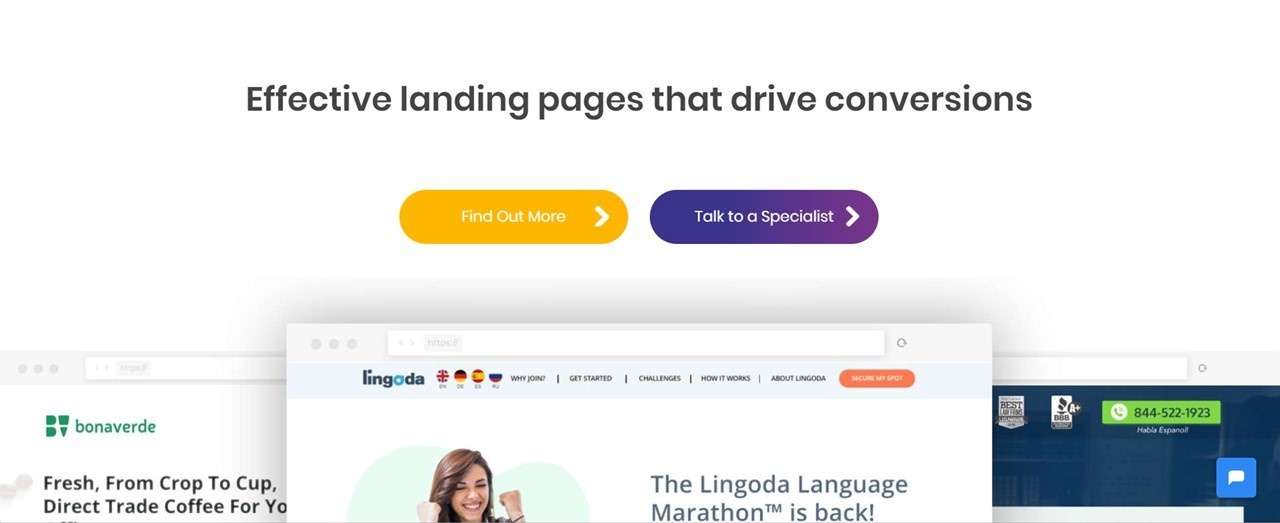 Start screen, landing page with two Call-to-actions, find out more on page + enquiry (talk to a specialist)
Let's assume you are ready to talk to the specialist to get in touch, then a multi-step form opens that features different questions in a very simple and user-friendly 3-step form.
Firstly, it asks a qualifying question on the service you are interested that you can choose via a dropdown.
Also, the page shows a pop-up of the most recent leads to create authentic urgency for more conversions (Built with LeadProof in LeadGen)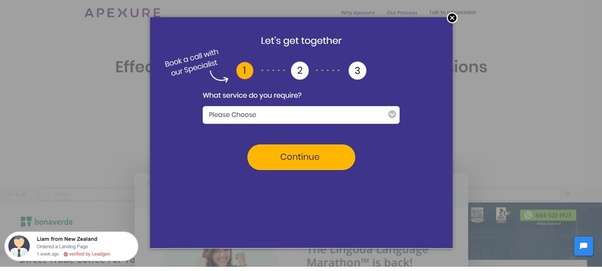 First form screen, service requirements
Secondly, it features an open text field, asking you to provide project details. This shows the potential lead that you are interested in hearing about the project first before asking for personal information such as email and phone number. The order of questions can really make a difference in forms.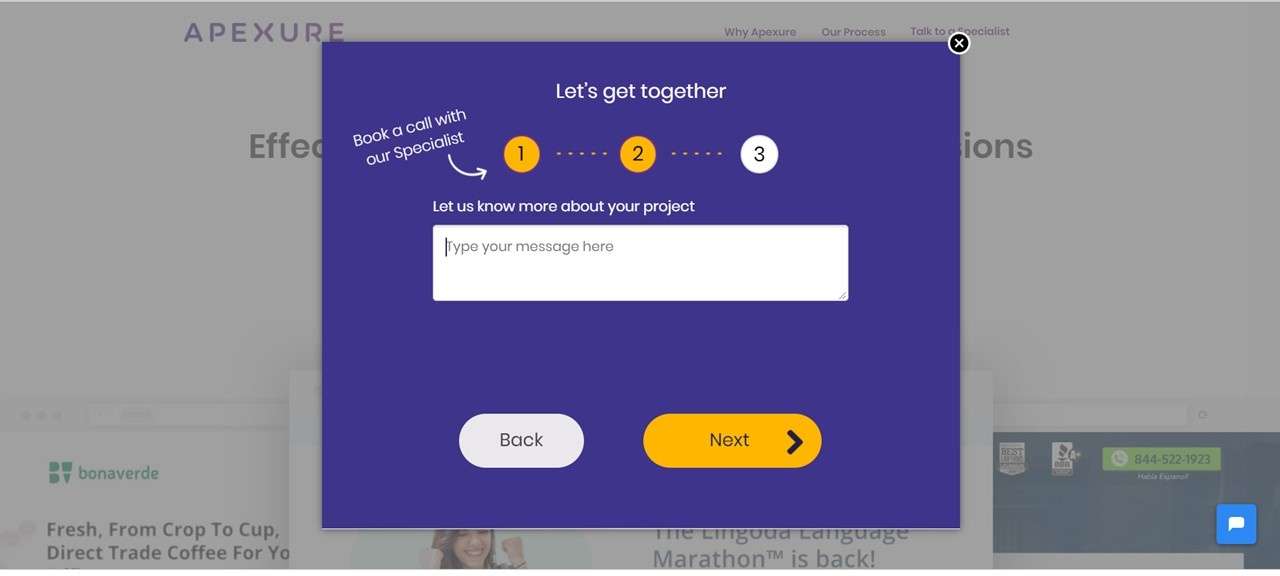 Second form screen, project information
Finally, it will ask for personal information which at that point you are likely to provide because you made the effort to through 2 steps before already. With the step form, you can get micro-commitments, a few buttons clicks to complete steps, which you couldn't do on a single-step form. That's why it's not only great for user experience but also increased conversion rates.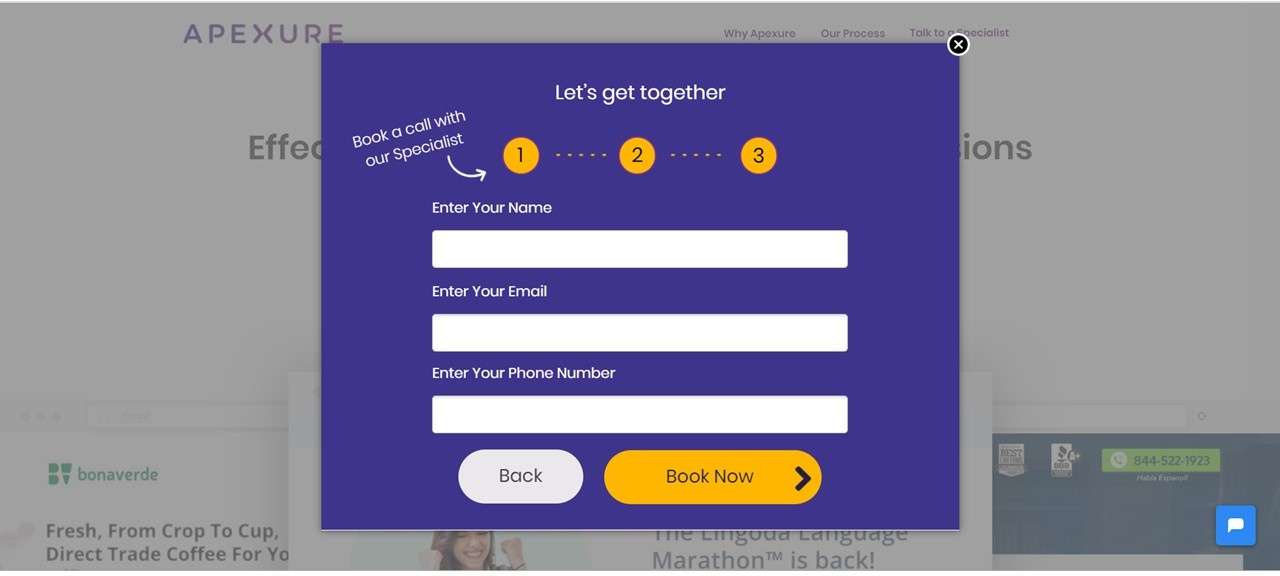 Final form screen, personal contact information and customised "Book now" button
Check our form template page with multi-step demo forms or start building your own custom  forms in LeadGen App.